Need some fun activities to do with your family or friends in North Conway this summer or fall? Visit the Cranmore Mountain Adventure Park for a day filled with outdoor activities; scenic chairlift, summit hiking, mountain coaster, summer tubing, aerial ropes course with ziplining and more.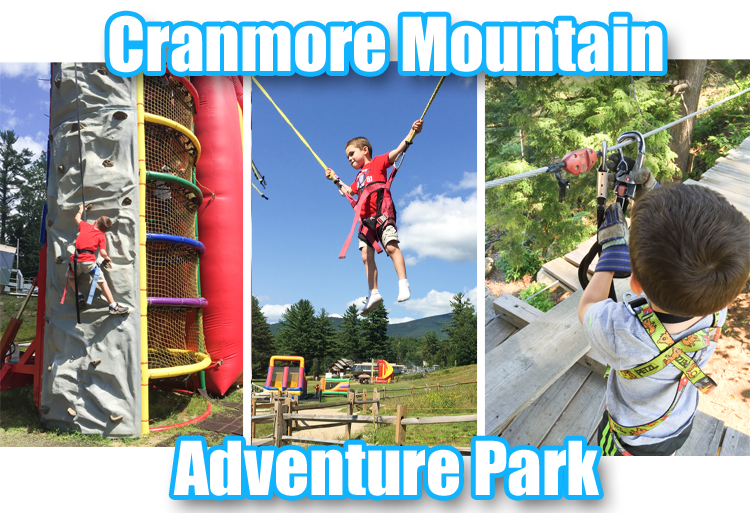 Cranmore Mountain Adventure Park is located in the the heart of Mt. Washington Valley, just a few minutes from the shops at North Conway Village.
Ditch the iPads, the video games, and smartphones, and enjoy a day full of summer fun at Cranmore. Create lasting memories while spending the day outdoors, overcoming challenges on the ropes courses, bouncing on trampolines, flying through the air on the Soaring Eagle, rock-climbing, sight-seeing at the summit with fabulous mountain views and more.
A few weeks ago, Cranmore hosted our family for an afternoon full of adventure.  While we enjoyed all of the attractions, the overall favorite was the Aerial Adventure Park. It didn't take Jonathan long to overcome his fear of being 10 feet off the ground, within a few obstacles he was a pro and was wishing he could go on the more advanced courses, but he was too short by just under an inch.
Cranmore Mountain Adventure Park: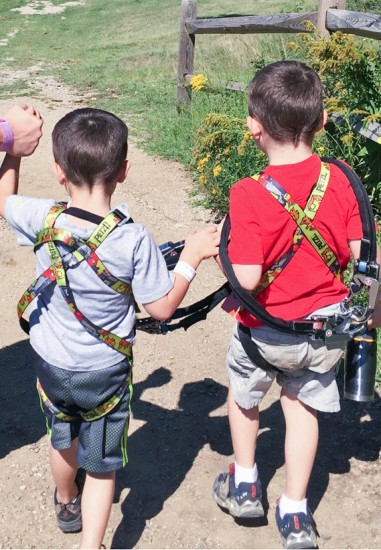 Aerial Adventure Park:
The Cranmore Aerial Adventure Park is an aerial forest ropes course that consists of 5 individual, elevated courses for different ability levels. A specific 2 hour time slot is reserved. Before heading into the ropes course, you will need to participate in a mandatory 30 minute ground school where you will be fitted with a harness, learn course safety and the basics of equipment use. The courses are self-guided but there is trained staff on hand to assist if needed. You will unlatch and latch your equipment from one obstacle to another.
We did the Orange course which is for those who are three years old and up, it's great for those who are just starting to challenge themselves. Throughout the course, you will find yourself between 2 to 10 feet in the air, balancing on wire, and crossing bridges with one short zipline as seen in the video below.
Orange Ropes Course – Perfect for Beginners: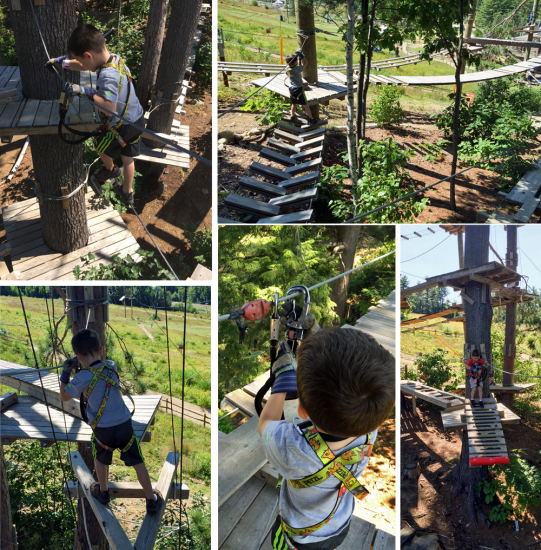 The orange ropes course was a hit for the kids as most ropes courses require a minimum height of 48″ and zip-linging 50 lbs, Jonathan is just shy at 47″ while Trevor is 44″  . They often don't meet the requirements, so they were beyond excited to learn that there was a course for their kid size at Cranmore. By the end of our visit both of the boys were a pro at attaching themselves to the following obstacle. They were both so proud of themselves, and the challenges that they were able to overcome.
Since our two children were too short for four of the courses, we opted to stick together as a family and only do the orange "kid" course, although my husband and I could have split up to do the more advance courses.  With Jonathan over 48" next summer, I'm looking forward to revisiting Cranmore in the furture and trying a more challenging course.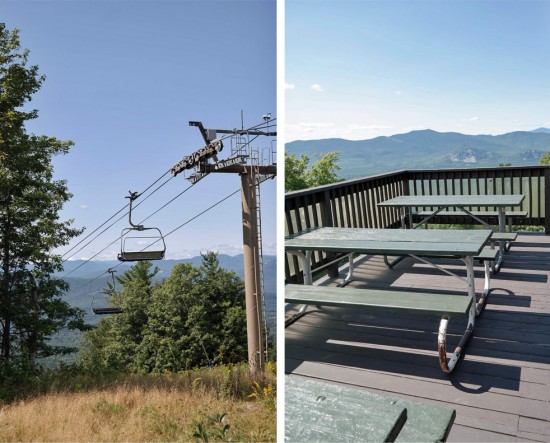 Scenic Chairlift Rides & Summit Hiking:
Take a chair lift ride to the top of Cranmore, where you will be surrounded by great views of North Conway and Mount Washington.  Walk around the summit, pose for family pictures, then stop by Meister Hut and enjoy a snack or lunch while taking in the mountain views.
Bungy Trampoline:
Bounce on over for great fun at the Bungy Trampolines. These Bungy trampolines were the boys 2nd favorite thing to do at the Cranmore Adventure Park. We often skip out on these at carnivals and fairs due to their high price for just 3 minutes of jumping so the boys enjoyed their endless amount of time jumping. The line was very small so they were able to go on multiple times.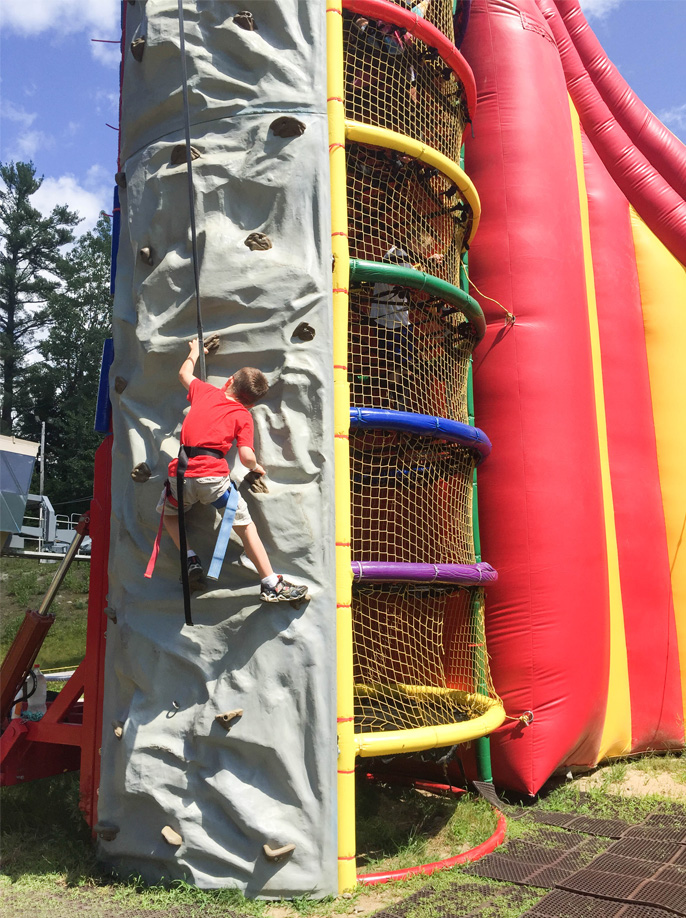 Climbing Wall, Spider Mountain & Bounce Houses:
Take the challenge, scale the wall or climb your way through the netting to the top of Spider Mountain. Once you're at the top, slide your way down. Mom & Dad can join in on the fun too, who will make it to the top first?
The Soaring Eagle:
Experience the sensation of flying on the Soaring Eagle where you will accelerate 700 feet down the mountainside on a suspended cable. Don't forget to view your photo once the ride is over, as it will automatically be taken and available to purchase.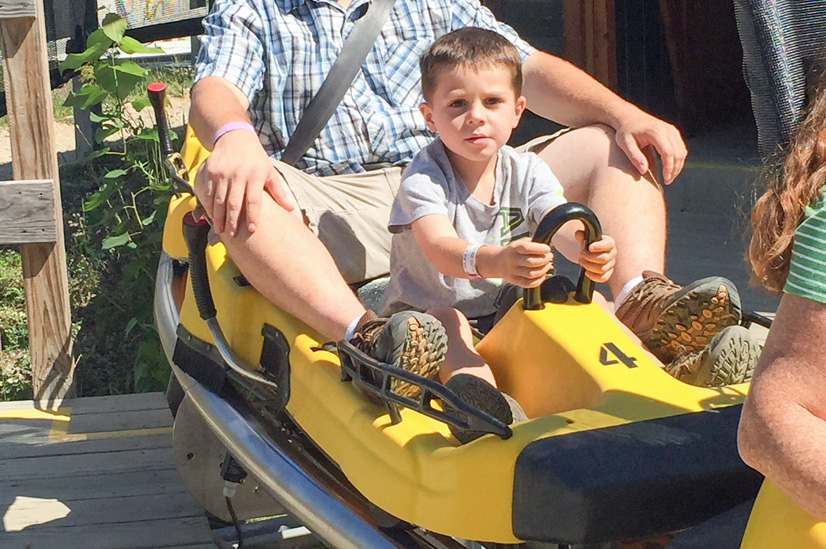 Mountain Coaster:
Reach speeds of up to 25mph with over 2390 feet of downhill track, twisting and turning through the woods. Take a scenic leisurely ride or trilling fast run on the Mountain Coaster, as you control the speed.
Summer Tubing:
Downhill tubing is not just for the winter. Summer tubing puts a twist on a favorite winter activity. Located next to the Soaring Eagle, grab a tube and take a ride on the conveyor to the top and race down 400 feet to the bottom.
Giant Swing:
The Giant Swing will give a whole new meaning to"push me higher & higher" on a swing.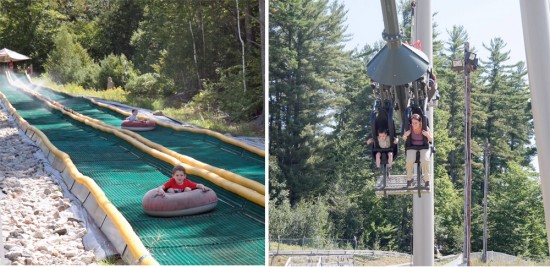 Cranmore Mountain Adventure Park Tickets:
There are a few different passes available depending on what attractions you would like visit.
All Park Pass:
Includes admission to both Aerial Adventure Park and Mountain Adventure Park, 2 hours in the Aerial Adventure Park and unlimited rides in the Mountain Adventure Park.
Mountain Base Pass:
Includes unlimited rides in the Mountain Adventure Park, featuring the Mountain Coaster, Soaring Eagle Zip Line, Giant Swing and more.
Aerial Adventure Pass:
Up to a 2 hour self guided adventure in the trees which includes a mandatory 30 minute ground school sessions where participants learn course safety and basics of equipment use. Includes access to all courses (must be 16yrs + for black course).
Tips for Visiting Cranmore Mountain in the Summer:
Wear comfortable clothes and closed toe shoes. They are required for a number of attractions including the scenic chairlift ride, ropes course, and summer tubing.
Outside food is allowed, parking lot is just a short distance away if you pack a cooler.
Pay only if you plan on going on the rides/attractions. If you're a parent or friend and do not plan to go on any rides, there is no admission fee.
With fall foliage at it's peak in the White Mountains, now is the perfect time to plan a last minute trip before winter arrives. Spend a morning driving along the Kancamagus Highway and take in all the beautiful fall foliage views. Then spend the afternoon at Cranmore Mountain Adventure Park. The adventure park is located just a short distance from the Kancamagus in North Conway, New Hampshire.