As a K'NEX Brand Ambassador products are provided quarterly for review. All opinions are my own personal and honest thoughts.
I can remember playing with TinkerToy as a child but I hadn't seen or talked about them in years until I was introduced to them again recently as a K'NEX  Brand Ambassador. Back in the late 1980s when I played with TinkerToy they were made out of wood, they are just as great, but now they are made out of brightly colored plastic pieces. Neither Jacob or Tyler have ever seen TinkerToy and were quite excited when the package arrived, in fact they have played with the TinkerToy pieces everyday for the past two weeks.
Did you know that TINKERTOY's is celebrating their 100th birthday?
I knew they have been around for years, but not 100 years! To help celebrate TinkerToy has launched a Facebook page and also sent us the TinkerToy 100 Piece Essential building set which will be available this fall.
The TinkerToy 100 Piece Essential building set features spools, rods, flags, washers end caps and more. The set includes a colorful instruction sheet filled with thirteen different ideas with easy to read diagrams. The packaging is sturdy and doubles as a storage container, making cleanup easier. We often have pieces of toys scattered around the house so the sturdy storage box was a huge plus. When the boys are finished playing they can easily pile all of the TinkerToy pieces back in the box and place them on the shelf.
This past week as I was packing for our two week vacation to Michigan I was trying to pack toys that I knew would keep the kids busy as we would be in the car for 40+ hours. After watching them play with the TinkerToy all day long I knew they would be perfect for our trip and boy was I right. The boys have two small bags filled with toys as well as their box of TinkerToy and the TinkerToy have been their favorite. constantly building new "inventions" as Jacob calls it. While all of the adults were mingling at my brother-in-laws the kids dumped the box of Tinker Toys out and were busy building robots, planes, people, and animals for hours. We also brought them to my father-in-laws and they have been playing with them non-stop. The pieces are big enough so the can bring them outside, last night they built "water guns" and were chasing each other around in the back yard.
Overall, the Tinker Toys have been a huge hit, and the kids have been playing with them non stop since they have arrived. The kids have always been into building, but the TinkerToys take building to a whole new level, there's not just square and rectangle blacks, there are wheels, bendable rods and more.
Recommended Age: 3+
Buy It: The Tinkertoy 100 pc Essentials Set  will be available at knex.com and other retailer this fall for a suggested retail price is $34.99.
TINKERTOY Giveaway: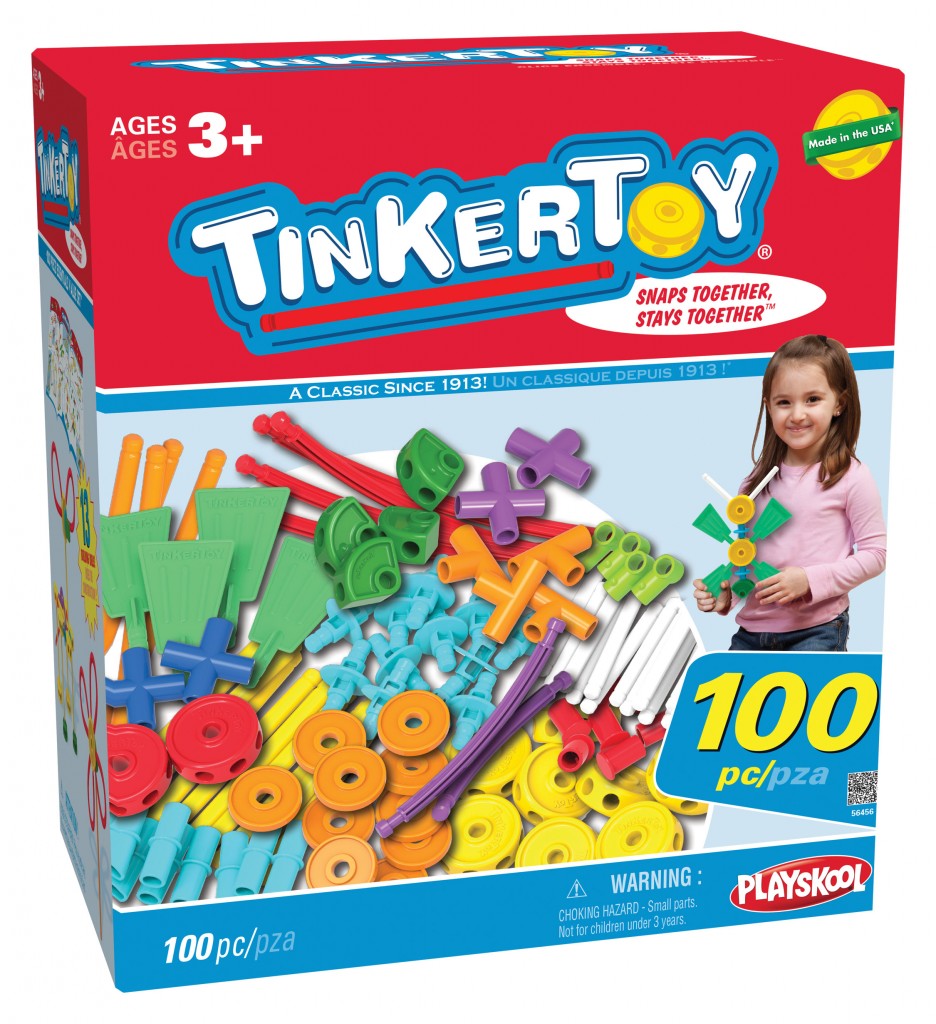 Thanks to K'NEX one lucky reader will win a Tinkertoy 100 pc Essentials Set. To enter, simply fill out the form below.
Visit Giveaway Rules. This giveaway will end on July 22, 2012 at 11:59pm EST. The winner will be chosen via Rafflecopter. The winner will have 24 hours to respond or a new winner will be selected. You must be 18 years or older. Open to U.S. &residents. No P.O. Boxes.
Disclosure: Product, giveaway samples and information have been provided by the representing PR/Sponsor. All opinions are my own.