I participated in an Influencer Activation Program on behalf of Influence-Central for Littlest Pet Shop. I received a sample to facilitate my review and a thank you item for participating.
As  a child we all had our favorite toys, and for my sister and I, it was always dolls, Polly Pockets and the Littlest Pet Shop. Seeing commercials and remakes of toys that I used to play with brings me back to my childhood and playing with my sister. There are a number of toys that I enjoyed playing with in the 1990s that I never imagined my children playing with.   While they have gone through some transformations throughout the years, they are still as fun as I remember.  While we only had a few simple playsets back then, fast forward to today and now there are video games available, collectible playsets, and a Littlest Pet Shop series on the Discovery Family Channel (formerly Hub Network in the United States) with episodes now available on DVD.
I recently took a little trip down memory lane with the newest products available from The Littlest Pet Shop, while we have watched the series on the Discovery Family Channel and own a few of the pets, this is the first time the kids were introduced to the Littlest Pet Shop Style Sets.
Littlest Pet Shop Style Sets:
We had a few of their school friends over after school last week, being cooped up in the house for over a week due to rain, it was the perfect time for a get-together with snacks and laughs as they watched the Littlest Pet Shop – Sweetest Pets DVD and discovered the new way to play with the Littlest Pet Shop Style Sets. Inspired by the "Littlest Pet Shop" animated series, these style sets offer fans the freedom to customize "Downtown City" by designing their own Pet Shop, bedroom, camp and more. These sets can can stacked vertically or horizontally and decorated with furniture and Deco Bits – small accessories that plug into the walls, picture frames, fences, ect for added style & glamor.
"Be who they wanna be!" with the Littlest Pet Shop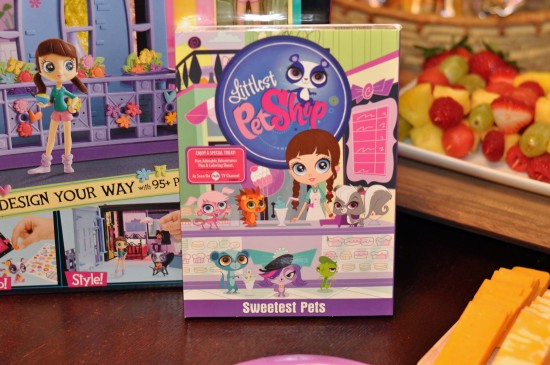 It didn't take long to figure out a few mess free snacks to make, fruit kabobs, cheese & crackers, and pretzels. Since I knew they were already spending recess indoors at school due to the rain, I opted for less sugary snacks so they wouldn't be completely off the wall. New toys + friends over = excitement. Fruit Kabobs are our go-to snack when friends come over, they're always a huge hit and offer a fun healthy alternative to cupcakes and sweets. The fruits/berries are always changing, and I typically make the fruit kabobs with whatever produce is on sale for the week, last week it was pineapple, grapes, strawberries, watermelon, and raspberries.  Cheese and crackers always seem to be another favorite, and are easy to prep.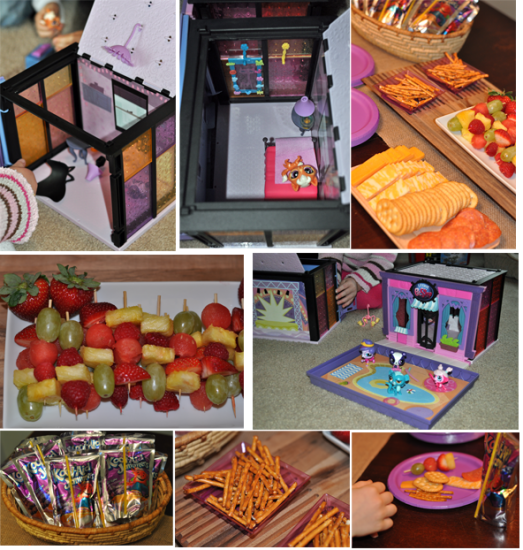 The favorite part of the Littlest Pet Shop playdate was the adorable pets, especially the Penny Ling Pandas whose cute little faces caused quite a stir over who got to play with them, and the ability to customize each room, from putting furniture a specific way, to decorating the frames, walls, fences, and dog house with the hundreds of Deco-Bits. Once the initial excitement was over, we had time to re-play the Littlest Pet Shop – Sweetest Pets DVD, as most of the episodes were missed the first time around as they were too consumed in styling their rooms and playing with Minka Mark the pink monkey, Kitery Banter, Penny Ling, Zoe Trent, and Philippe Boudreaux.
While Blythes's Bedroom Style Set comes with one doll figure and one animal, the Pet Shop Style Set comes with three animal figures.  Collect all of the sets, stack them on top of one another, or side by side,  to create a "Downtown City". Additional sets and over 100 pets are available.
With a few birthday parties in the near future, I already know two girls who are wishing for Littlest Pet Shop Style Sets.
Learn more about the Littlest Pet Shop toy line.
What was your favorite toy as a child?