The Little Tikes 4-in-1 Trike is the perfect first birthday gift, Christmas, or 2nd birthday. It is an all in one trike that can be used for children ages 9 months until 3+. The Little Tike trike has four different modes to grow with the child.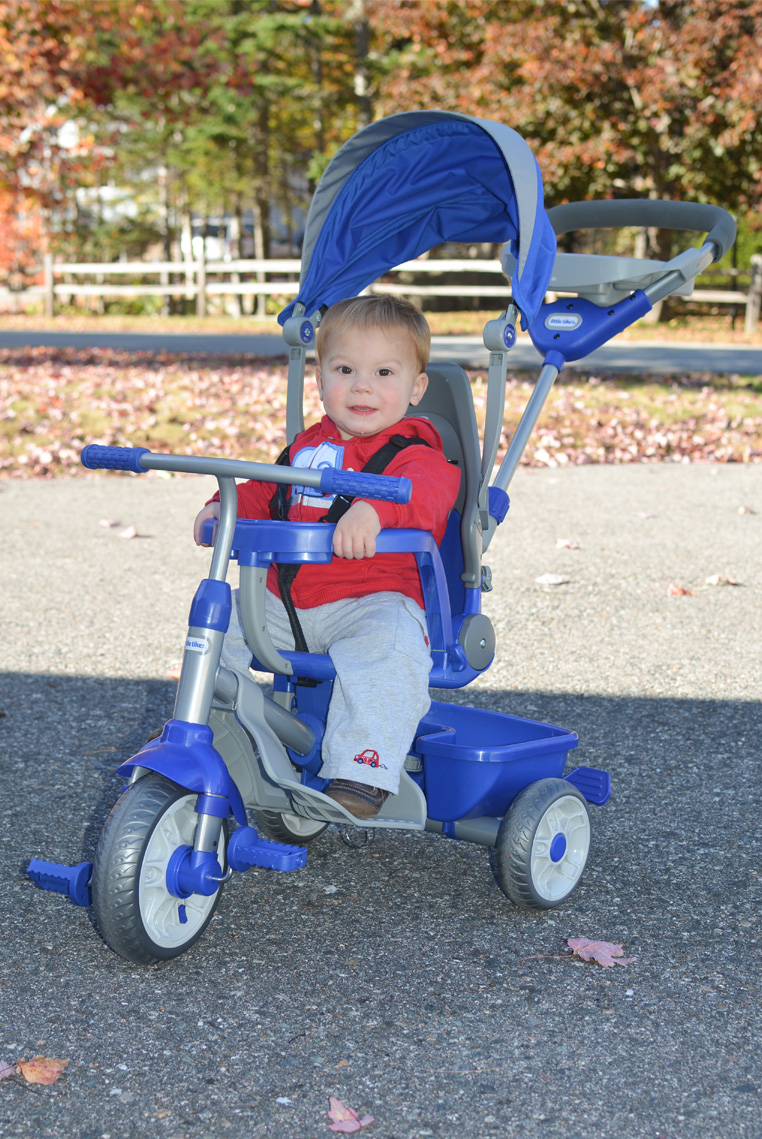 Thank-you Little Tikes for providign the Perfect Fit 4-in-1 Trike.
I can remember the look of disappointment when Trevor found out that his baby brother wasn't able to join him on his bike rides at just a 3 days old. He had seen the bike trailers and the toddler seats on bicycles in the past and automatically assumed that his baby brother would be joining on the family bike rides the week we brought him home from the hospital.
Although still too young to ride his own bike, Baby Boy is now able to join the family on his Little Tikes Perfect Fit 4-in-1 Trike. Instead of pushing him in the stroller during our afternoon stroll, he can ride in his fun Little Tikes Trike while I push it and the older boys ride their bikes. There's even a convenient parent tray with beverage holder and a small child tray to hold small snacks or a sippy cup. We never know where our outdoor adventures will lead us and can be prepared with a few small snacks, water, and sippy cup.
Little Tikes Perfect Fit 4-in-1 Trike
Stage 1-Stroll (9+ months)

Parents push and control with the blue waist bar in place so the child is unable to turn the wheel

Stage 2-Push (12+ months)

Toddlers can learn how to pedal, buy they are unable to steer and turn the wheel

Stage 3-Learn (18+ months)

Remove the waist bar so the child can now steer while parent still has control with the push bar

Stage 4-Ride (30+ months)

Remove the push bar to let kids pedal and steer on their own with parent supervision
Little Tikes 4 in 1 Trike Assembly:
*Our first trike was hard to push but after a call into customer service, we received a replacement and the wheels spin much smoother and the trike is easy to push, there should be no resistance when the break is disengaged. 
Perfect Fit 4 in 1 Trike Features:
Adjustable, detachable parent push handle
Seat belt harness
Easy to adjust seat
Non-slip pedals
Footrest can be removed as the child grows
Extra large storage bucket to hold small toys, ball, ect
Adjustable shade canopy
Ability to disengage pedals
Life with three kids gets busy, but I always try to make time for family activities. One of my older children's favorite activities is riding bikes, so almost every afternoon in the summer and fall we try to get at least a small walk/bike ride in. We usually only have time to walk to the end of the street and back, but other nights when we have no sports or after school activities we'll head out on longer adventures.
The Perfect Fit 4-in-1 Trike makes our little guy feel included and he gets so excited when I pick him up and buckle him in. He loves to be able to grab the handle bars and ride his bike just like his big brothers.
Summer Outdoor Toy for Toddlers: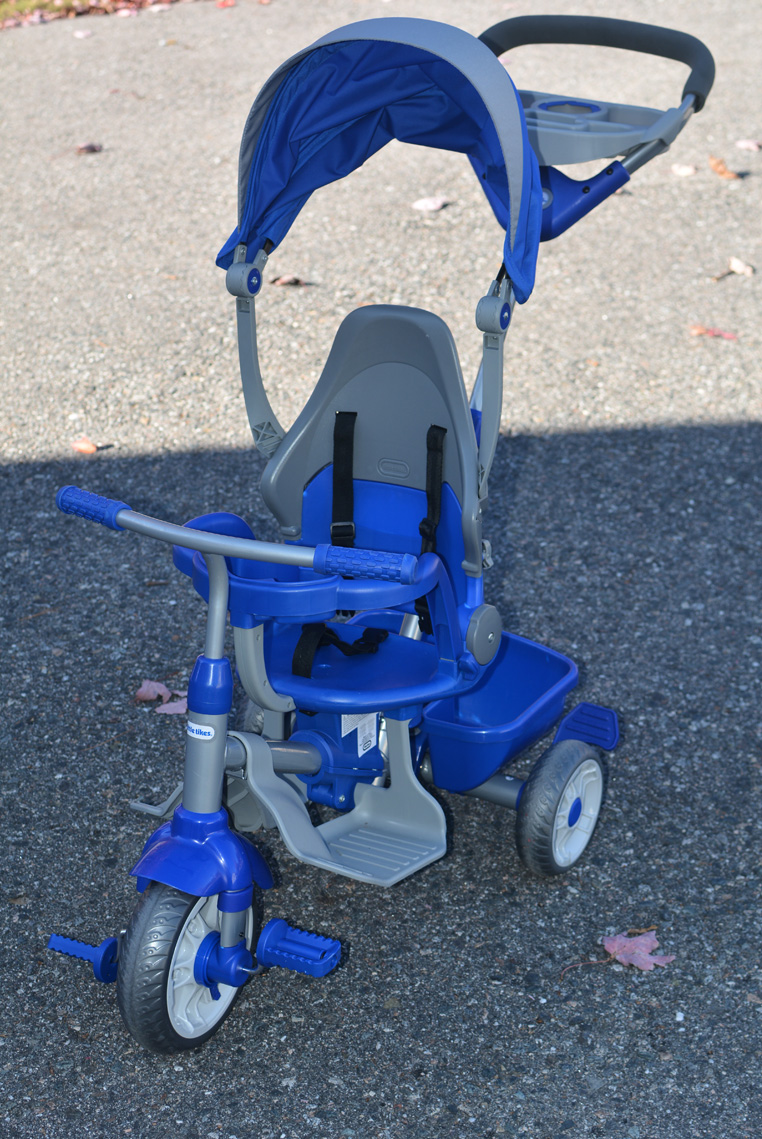 In stage 1 the Perfect Fit 4-in-1 Trike is perfect for walks around the neighborhood and to the bus stop. At 14 months old Baby Boy is on the smaller percentile for his height and still needs at least a solid 5 inches in order to be able to reach the pedals. I'm looking forward to next summer when I'll be able to remove the waist bar. I can't wait to watch him pedal around the driveway just like his big brothers.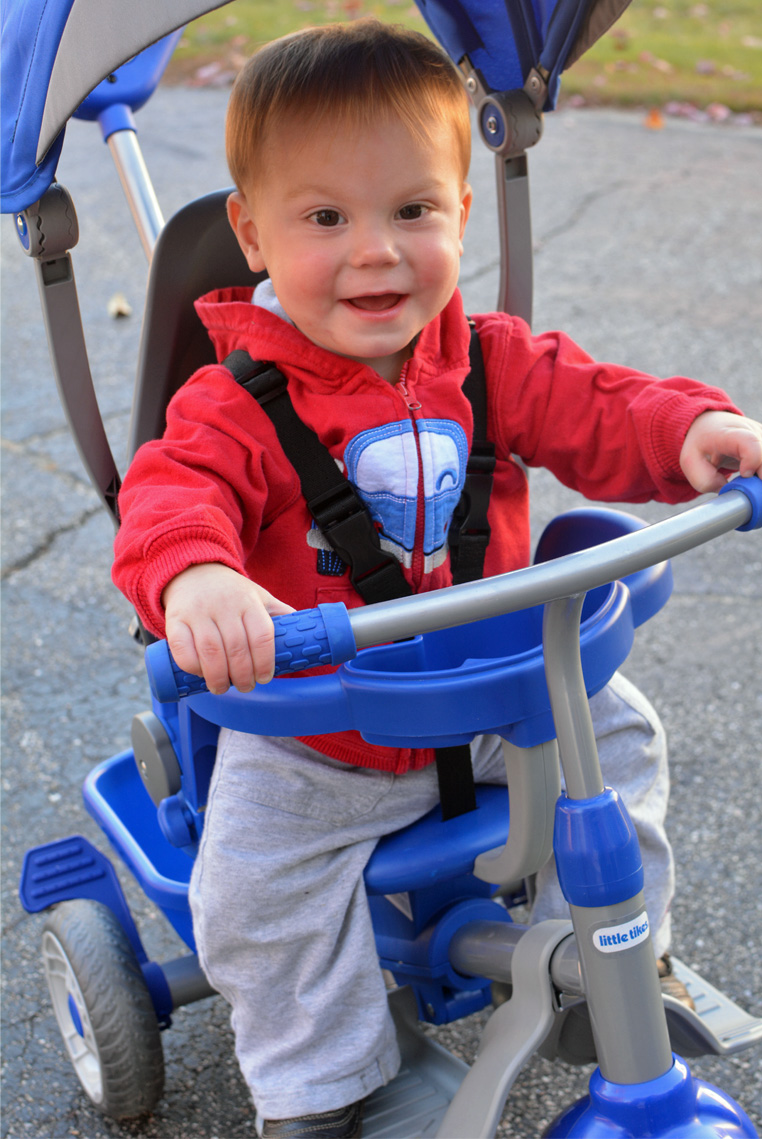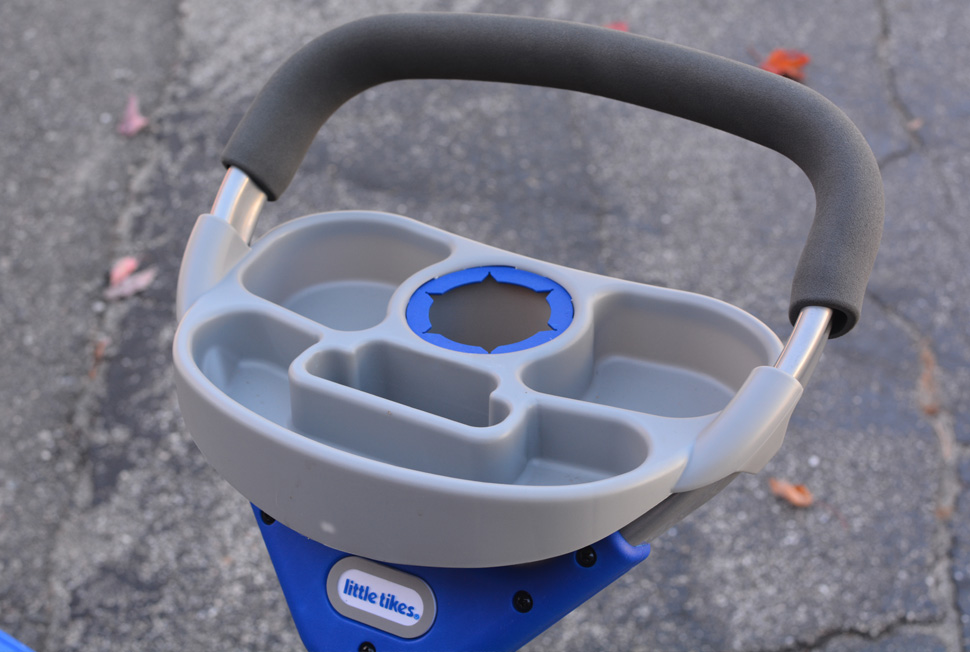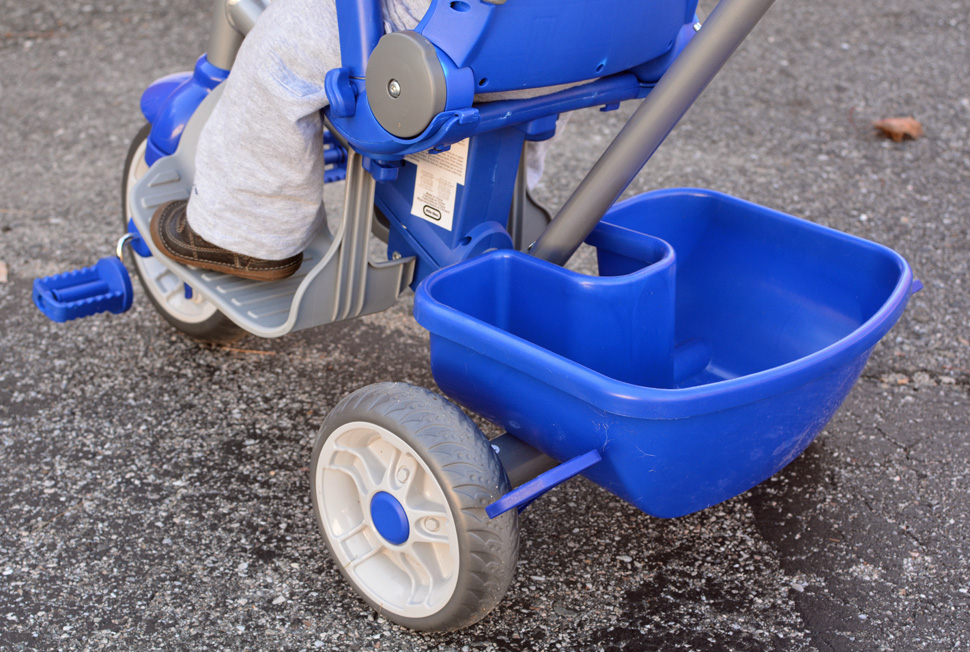 The Perfect Fit 4-in-1 Trike can be used for infants as young as 9 months all the way up to 5 years old, or 50 lbs. The first stage is for the younger children and the parents can push and steer. As the child grows the child can learn how to pedal while the parent steers.  In the third stage after the toddler learns to pedal the bike and the parents can remove the waist bar. The parent can still have control when needed with the push handle. Once the child pedals and can steer all on their own, the parent push handle can be removed.
If you're looking for Little Tikes outdoor toys for your child or grandchild, you'd get a number of yeas out of this all in one trike.
Purchase the Perfect Fit 4-in-1 Trike on Amazon, available in Pink, Blue, or Teal.