This past weekend we celebrated Trevors's third birthday with cake, ice cream, and Little Tikes! We have been a huge fan of Little Tikes for a number of years and I couldn't wait to see Trevor's face when he opened up our newest Little Tikes toy, the Patio Barbeque Set. Trevor is a miniature version of his dad and takes after him with the love for outdoors, whether it's fishing, hiking or grilling up burgers on the grill. During the spring and summer months the grill gets used on a daily basis, it's always Daddy & Trevor on the grill while Mommy and Jonathan prep in the house.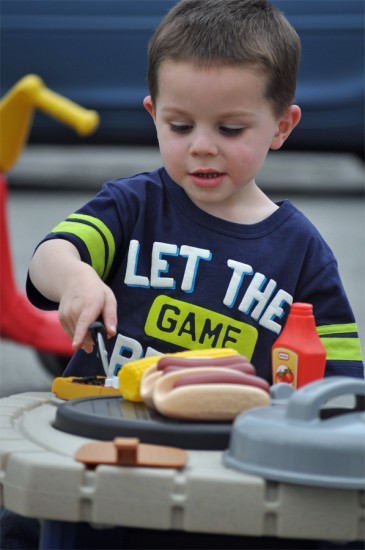 As soon as Trevor ripped open the wrapping paper he started jumping up and down, not only did he have a NEW GRILL but it came with hot dogs and pizza too!  He was so excited for his new outdoor toy. The built-in pizza oven features a working oven door and the table-top hibachi grill has real sizzling sounds and lights up.  When not in use the oven can be used for storage, the top grill also has a cover and the play food can be stored in there as well
Little Tikes Patio Barbeque Set includes:
1-Pizza cutter
1-Pair of tongs
1-Pizza pan
1-Pizza board
2-Hot dogs with buns
4-Plates
4-Pieces of pizza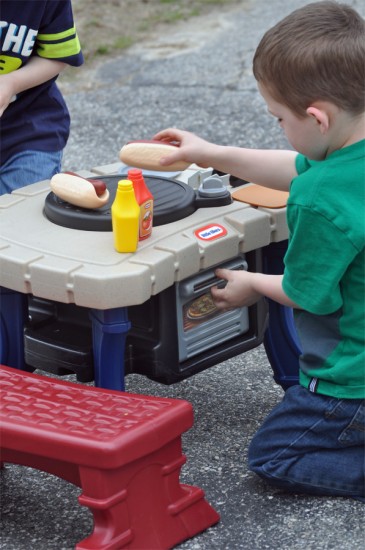 Assembly was fairly easy, and only required snapping in a few pieces and a handful of screws. One thing I did notice is that when you are putting in the screws for the legs, to make sure to put the screw in at an angle towards the table or the screw will stick out the opposite side. Although an electric drill is not required, I highly recommend one. It will not only save time, but cuts down on the work. There were also limited stickers, about 6, which made this Mommy happy as I dread stickers.
In just the past week the Little Tikes Patio Barbeque Set has provided hours for creative, imaginative fun for my children and their friends. Throughout the day the boys love to grill up hot dogs and cook pizza in the oven, Trevor even found some condiments that we have previously purchased and makes sure to put ketchup and mustard on Daddy's hot dog. It's fun watching them role-play, especially watching Trevor as he carefully takes the pizza out of the oven while telling me to back up and not too touch because it's too hot. I'm always telling him that he needs to back up while I open the oven since it's too hot, and he made me do the same thing. The pizza cutter makes him feel like such a big boy cutting his own pizza, what a neat tool to include.
Little Tikes Outdoor Play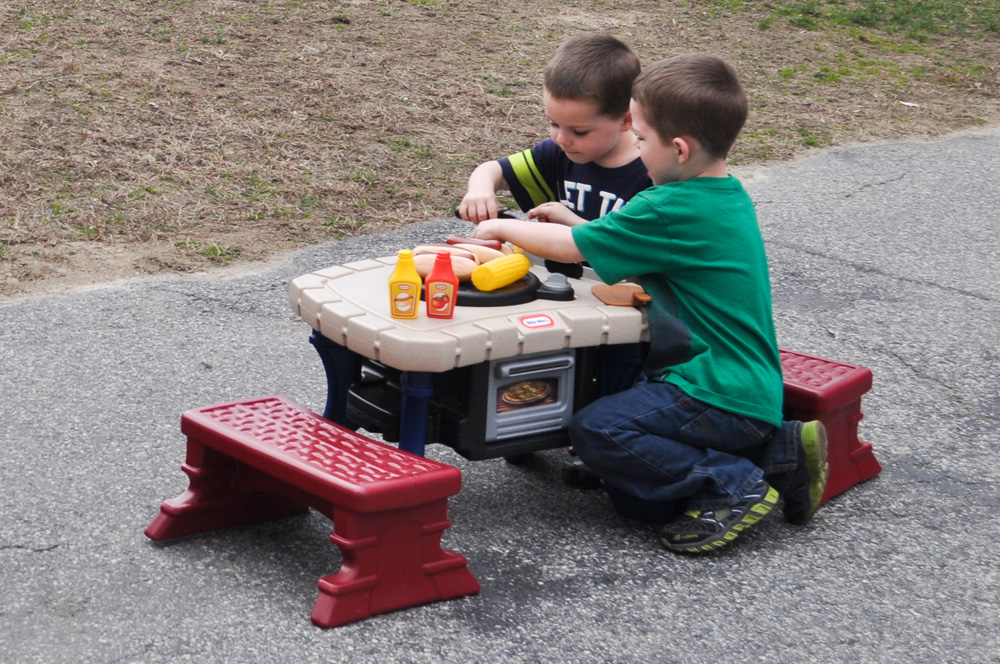 The Patio Barbeque Set was a great choice. I knew it would be the perfect size for 3 year old Trevor, but I was worried that the seats would be too small for almost 5 year old Jonathan, but it was just the right size. The Barbeque set is recommend for 1 1/2 to 5 years old, it fits my almost 5 year old who is small for his age, I know my 5 year old nephew who is much taller then my son would not fit comfortably.
Batteries: 3 "AA" not included.
Buy It: The Little Tikes Patio Barbeque Set retails for $74.99, but is currently available for $46.99 online at LittleTikes.com with free shipping.
The product, giveaway samples and information have been provided by the representing PR/Sponsor.