My husband finally had a few days off from work so we decided to spend one of those days at Liquid Planet Water Park in Candia, NH, about an hour away. Liquid Planet Water Park is locally owned family run business that has New England's largest spray ground, water-slides, as well as a spring fed swimming hole with over 2000 square feet of sandy beach. Jacob and Tyler love to swim and play in sprinklers, so we packed a lunch, bathing suits, and sunblock  and headed out for the day.
We arrived about noon time on a Tuesday and there was plenty of room to park. There is no outside food allowed inside the park, except a bottle of water per each person, but there can be some exceptions. The parking is very close, so it was convenient to pack a lunch in a cooler and tailgate on the back of our SUV.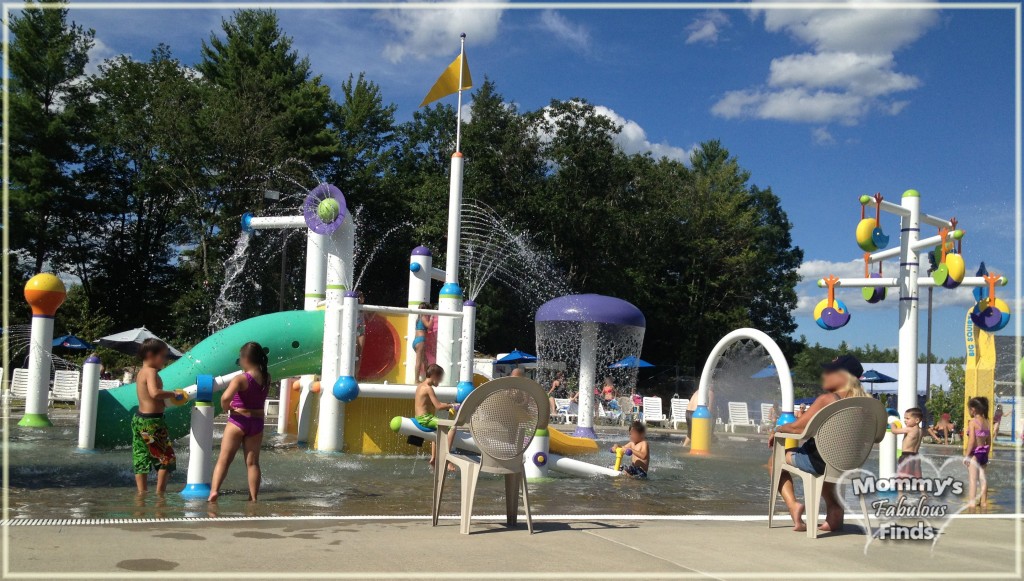 Fountain of Youth:
Upon arrival the kids spotted the Fountain of Youth and couldn't wait to change into their bathing suits and get wet. The spray ground was filled with 5000 square feet of interactive Water Toys including slides and water cannons. The area was surrounded by lounge chairs, where parents could sit and watch their children play.
After playing in the spray ground for about an hour the kids decided it was time to head over to the water slides, both of them were too afraid to go on the slides themselves so we rented a locker for $5 to store our cellphones and wallets so my husband and I could go on the slides with them. The locker came in handy, we were able to explore the park and I didn't have to worry about my phone, car keys or wallet getting wet. When you rent a locker you receive a key on a bracelet for a specific locker that you can keep all day, opening and closing it as many times as you want.
Trevor's Time Warp & Haley's Comet Water Slides:
There were two water slides that were open, Trevor's Time Warp (green) and Haley's Comet (red). Children can ride with adults only on one of the slides, Trevor's Time Warp – a 272 foot long body slide, Haley's Comet – a 246 foot long enclosed body slide only allows one person to ride down at a time. When we got into line for the water slides we had to look up and try to figure out what line went for which side of the stairs, on the right side of the stairs was one line, and on the left sign there were others – there were no signs which would have made it easier.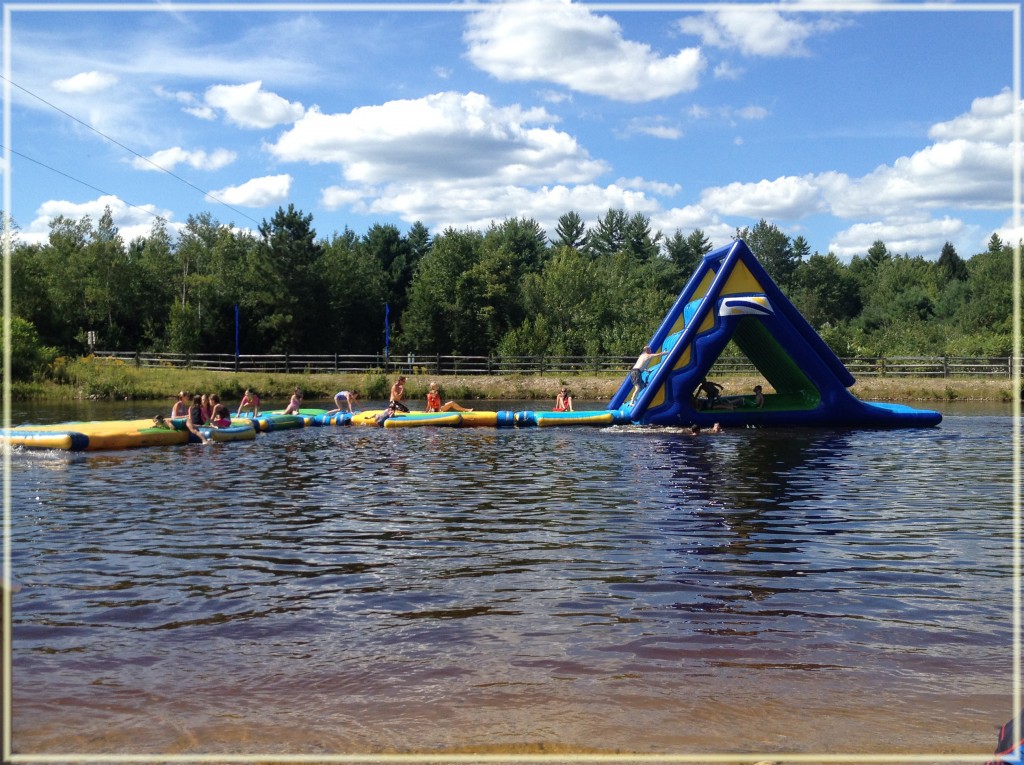 Crater Lake:
After the water slides we decided to go check out Crater Lake which is a spring fed "swimming hole" with over 2000 square feet of sandy beach. You can bring your chairs and umbrellas and spend hours at the beach area while the children swim. There are big inflatables that children can swim out to, kids can run, bounce and slide on them. There's also an inflatable slide with a little bouncy area underneath. Although we brought our own life jackets there were plenty of life jackets hanging up to borrow – free of charge.
I swam out to the inflatables with Jacob and helped him up, but there were plenty of children around that would have gladly helped him up. He stood in line for the inflatable slide and was quite excited when it was his turn. He did pretty good maneuvering his legs and arms to the correct handles to get up, but he had some trouble at the top, he was on the small size compared to most of the kids climbing up it and since he was shorter and there was no handle at the top he had a hard time pulling himself over the top. After about the 15th try he finally made it, but was too exhausted to do it again.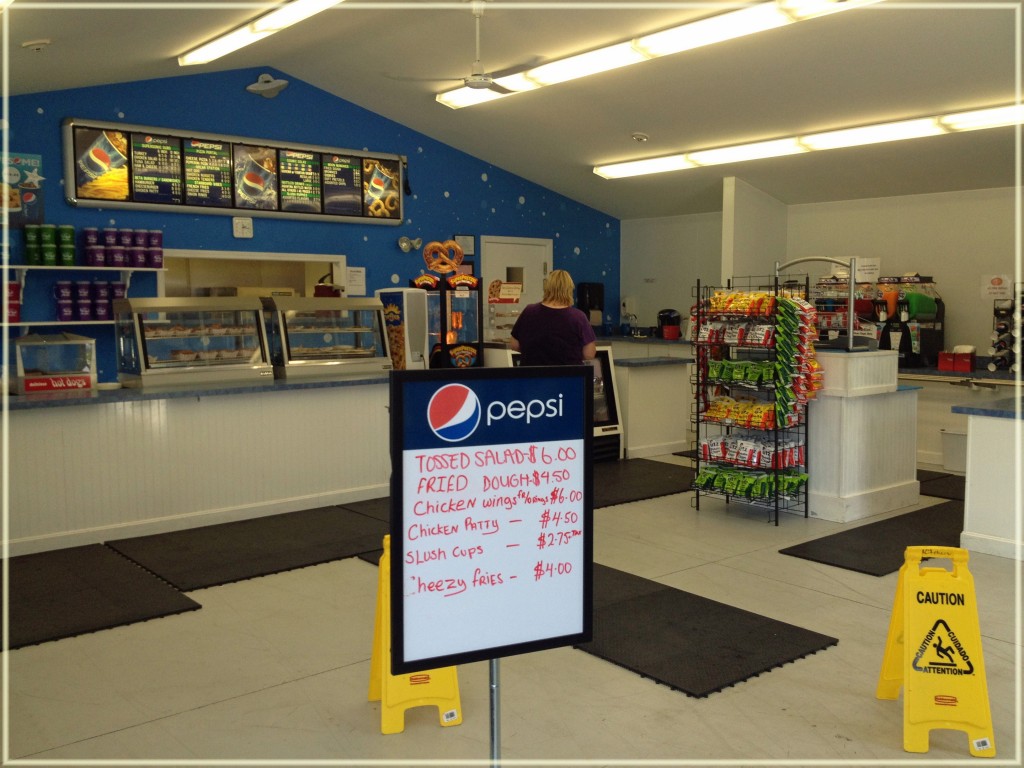 The Lunch Pad & Milky Way Cafe:
After swimming in Crater Lake for over an hour we headed to get a snack, Tyler decided on a pretzel from The Lunch Pad while Jacob wanted ice cream from the Milky Way Cafe. The Lunch Pad had quite the variety including pizzas, sandwiches, salads, beverages, and desserts, the Milky Way Cafe serves snacks including ice cream and nachos, and beverages including beer and wine.
Mini Golf & Zip Lines:
After a snack break the boys wanted to head back to the spray ground before it was time to head home. There was also an area for Mini Golf with 9 holes, but we didn't play and Zip Lines available for an additional cost – $10 for the first ride, all additional rides are $5. The 1000 foot dual rider zip lines are 2 separate lines (side by side) and take you over the entire park including Crater Lake from over 35 feet in the air. Jacob really wanted to do the Zip Lines but there are weight restrictions, individuals need to be between 50 and 250 lbs, At 5 1/2 Jacob is only about 40 lbs. The rate he's growing he will have to wait a couple more years, he felt left out since he saw other young children riding that were 5 but weighed more. Since the Zip Lines are a new attraction, it would be nice to see a smaller edition added for the lighter weight children.
Overall, we had a great time at Liquid Planet Water Park. The park is on the smaller side which is great for families with young children – it was perfect for our 5 and 3-year-old. There were plenty of things to do and the walk was not far from one attraction to the next, the boys especially loved the huge splash area and Crater Lake. Next year we will remember to bring sand toys and chairs for the beach, since parking is so close I can easily run out to the car to get them when it's beach time.
Liquid Planet Water Park is located at 446 Raymond Road Candia, NH 03034
Liquid Planet Water Park Hours:
Monday – Saturday: 10am-5pm
Saturday Evening: 6pm-SUNDOWN
Sunday: 11am-5pm
General Admission Price:
General Pass: 48 inches tall and over: $25
Junior (under 48 inches tall): $25
Under 2 & Active Duty: Free
Season Passes & Half Day Admission is also available
Right now you can purchase the Big Dipper Package which includes 1 admission, 1 zip line, 1 mini golf, for $19, a $40 Value. There's no limit on number purchased. Expires: 08/31/2013. Print the coupon and present it at the ticket counter.
Disclosure: Tickets were provided. All opinions are my own personal and honest thoughts.