This easy oatmeal recipe is made with fresh fruit and is not only delicious but healthy. Make this Baked Strawberry Banana Oatmeal recipe the first thing in the morning or prep the night before to save time.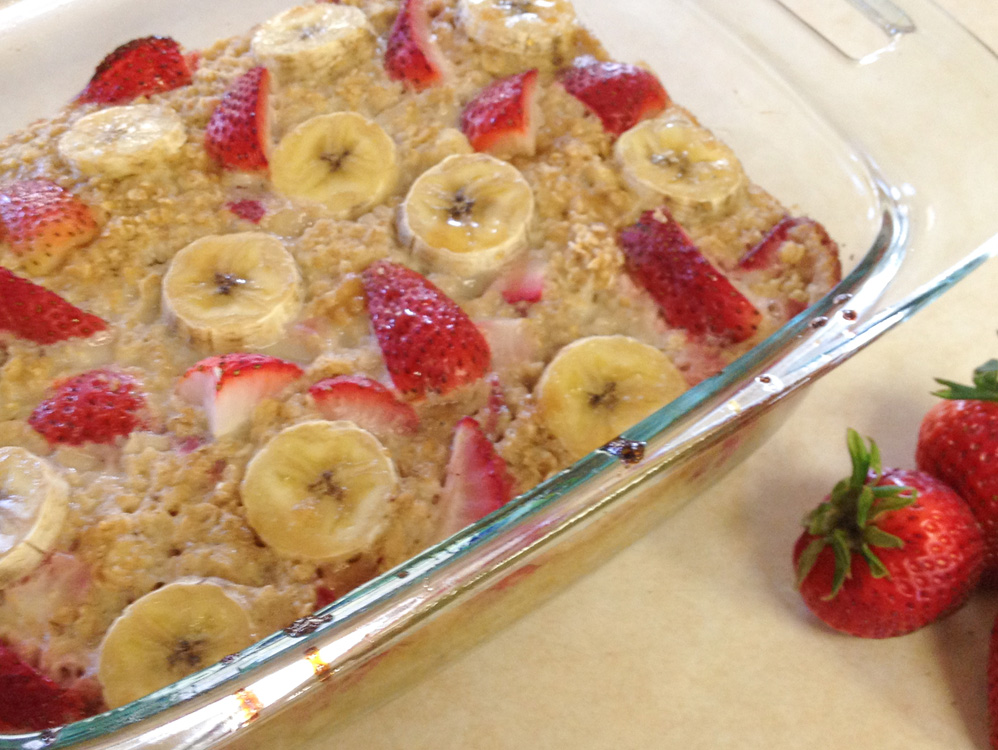 When it comes to breakfast time, I'm all for the quick and easy options, especially during the school week. I prefer meals that I can prep ahead of time and freeze, or that take under 10 minutes to prep in the morning.  Lately I've been into oatmeal and often purchase the apple cinnamon blend that I can heat up in the microwave, but this past week I decided to give homemade oatmeal a try. I remembered seeing a Baked Strawberry-Banana Oatmeal recipe a few weeks ago and knowing that we had quick cooking oats and over-ripened bananas sitting on the counter I knew it was the perfect time to make it.
Baked Strawberry Banana Oatmeal
Baked Strawberry-Banana Oatmeal
Print
Ingredients
1-1/2

cups

milk

1

egg

2

overripe bananas

smashed

1

overripe banana

thinly sliced

1

tablespoon

vanilla extract

¼

teaspoon

ground nutmeg

¼

teaspoon

ground cinnamon

1

teaspoon

baking powder

2

cups

quick cooking oats

1

cup

chopped strawberries

¼

cup

dark brown sugar
Instructions
Preheat oven to 375 degrees F.

In a small bowl, beat together the milk, egg, smashed bananas, vanilla, nutmeg and cinnamon until combined.

Add in the baking powder & oats and half of the strawberries. Mix well.

Coat a baking dish with non-stick cooking spray and pour the oatmeal mixture in the dish, spreading evenly.

Top with the remaining strawberries and bananas slices.

Sprinkle with brown sugar and bake 25 minutes.

Turn broiler on low and broil 5 minutes until topping is caramelized.

Serve warm.
Notes
The natural sugars from the over-ripened bananas will add sweetness,if your bananas are not over-ripened, you may want to double the the brown sugar.
This baked oatmeal recipe was delicious with the bananas and strawberries, there was enough leftovers that I was able to eat it for more then one breakfast. It's so nice to wake up to a home cooked meal with fresh fruit. Although the Baked Strawberry Banana Oatmeal was sweet enough for myself – the overripe bananas add sweetness, if you prefer your oatmeal extra sweet like my husband I'd recommend using 1/3 cup brown sugar.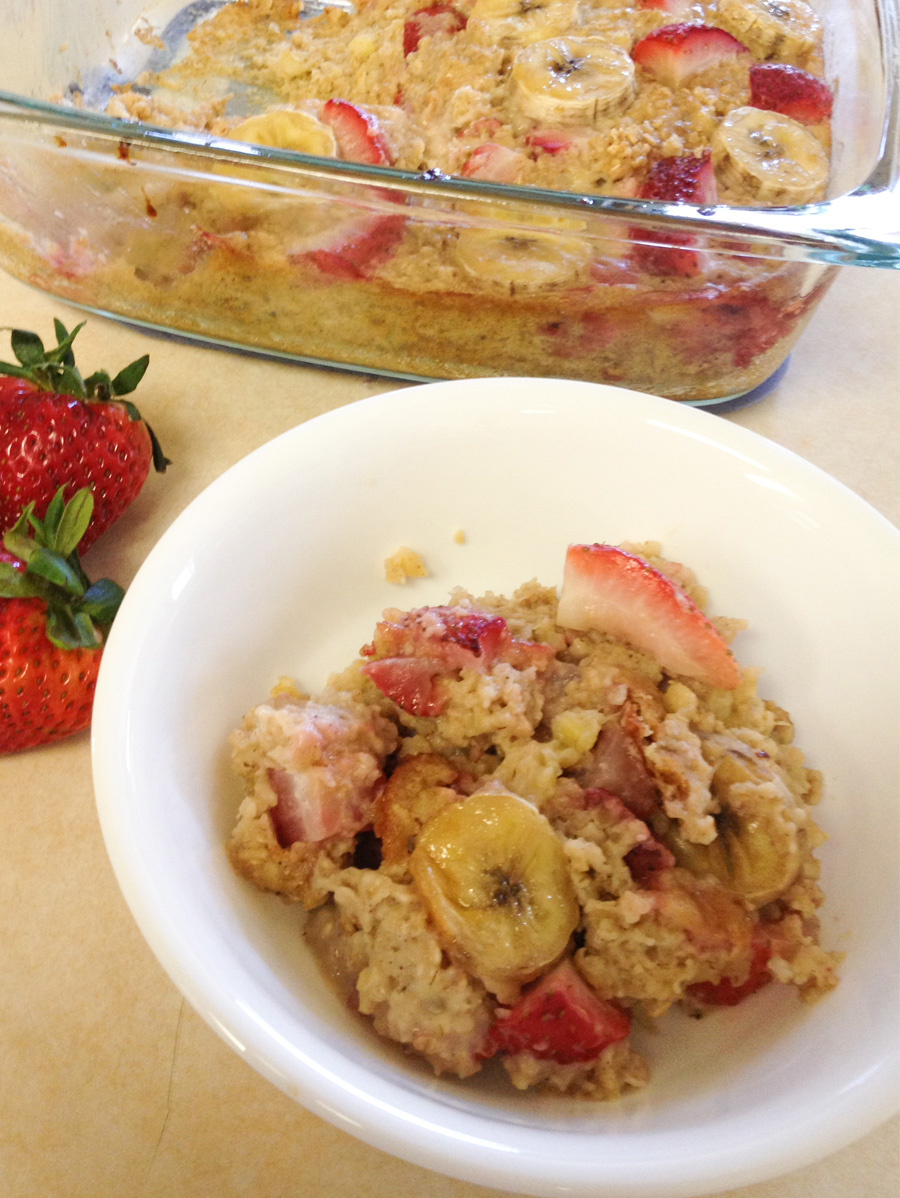 This week we have peaches and blueberries so I plan to try baked Blueberry & Peach Oatmeal.