I participated in this program on behalf of Champions for Kids and The Motherhood. All opinions are my own.
Throughout the year, T & J enjoy helping me give back to the community by donating food, clothing, school supplies and gifts for local children and families. It's important for them to grow up realizing that there are families and children that do not have a house over their head, do not have a fridge that they can go in 24/7 and don't have a drawer full of clothes. That they should feel fortunate and give back whenever we can. One organization that we are quite familiar with is Champions For Kids. Champions For Kids makes it simple to help give  children in local communities the resources they need to thrive whether it's food or school supplies.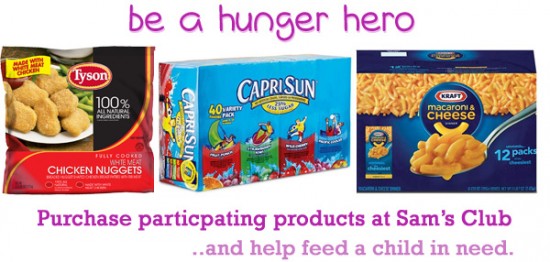 This August Champions for Kids, Tyson Foods, and KRAFT Foods are partnering together to help feed children. Throughout the month of August,  you can "Be a Hunger Hero" at Sam's Club by purchasing any of the participating products at Sam's Club.
Tyson® Fully Cooked Chicken Nuggets 5 lb. bag,
KRAFT Macaroni & Cheese Dinner 7.25 oz., 12 pack
CAPRI SUN Juice Drink Variety Pack – 40 pouches
*Child will be provided with 4 oz. of protein, 6 fl. oz. of CAPRI SUN, and/or 2.5 oz. of KRAFT Macaroni & Cheese Dinners
Visit your local Sam's Club today and be a superhero.
Put on your cape and share the power of giving. There are over 16 million children currently living in poverty, many are unable to receive a balanced diet to help them strive academically and socially, every child deserves a chance to succeed. We can't do it alone but together we can make a difference.


Join myself (@mommysfabfinds) as well as The Motherhood, Champions for Kids,  Tyson Foods, Kraft and Sam's Club  for the #HungerHeroes Twitter party this Thursday!
When: Thursday, August 21, 2014, at 1p ET / 12p CT / 10a PT
Where: Follow the #HungerHeroes hashtag on Twitter to track the conversation. RSVP here: http://twtvite.com/hungerheroes
Hashtag: #HungerHeroes
Prizes: There will be five prizes given away to randomly selected participants who answer the trivia questions correctly. Each prize includes a $50 Sam's Club gift card.
Hosts: Follow @theMotherhood, @theMotherhood25, @CooperMunroe, @EmilyMcKhann
Sponsor: @Champions4Kids
Will you be joining us to help fight hunger?