I participated in an Influencer Activation on behalf of Influence Central for OshKosh B'gosh. I received an OshKosh B'gosh gift card to purchase product and to thank me for my participation.
This year has just flown by, I can't believe Thanksgiving is Thursday, before I know it, it will be Christmas Eve. Which means, time to get prepped for the holidays and take our annual family photo for our holiday card that I send to friends and relatives. The past two years, I was late taking pictures so this year I am determined to have them ordered and delivered before the holidays. We can always count on OshKosh B'gosh for the latest fashion trends and quality apparel for the children, and the children's holiday apparel. We don't get too dressy for our photo cards, but I do enjoy having a new set of pants and holiday themed shirt for the boys.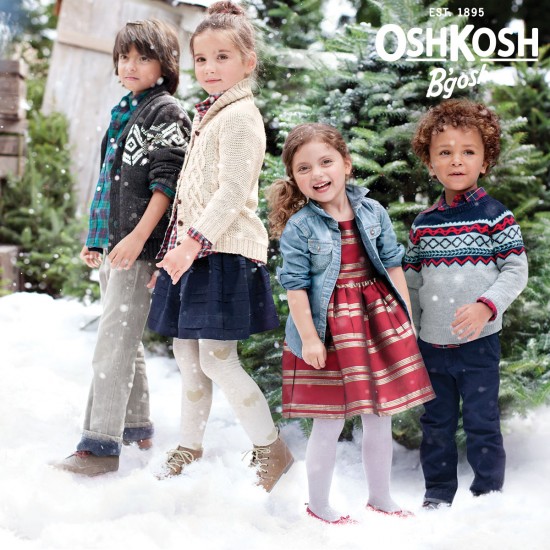 This holiday season, GiveHappy with OshKosh B'gosh
We headed to the outlets this past weekend to jump start our holiday shopping and to get ready for the winter. Living in the mountains, we often get a lot of snow and I don't foresee us going into town too often so I wanted to make sure we had the children's holiday apparel and winter clothes ready. Both the boys are currently going through a growth spurt, I feel like I just got finished purchasing them all new pants for school, but Trevor is already growing out of those clothes and needs the next size up. He was especially needing new jeans, which I prefer to purchase at OshKosh B'gosh as almost all of the pants have adjustable waists which is a must-have with my children.
Trevor who is not a big fan of shopping but was more than happy to help me choose new winter apparel at OshKosh B'gosh, any and all size 5's he could find soon started to pile up in his hands. I loved seeing him so happy and full of smiles, I've never seen him so excited over clothes shopping. He felt so independent being able to choose what he wanted, he's my picky child when it comes to clothing, while Jonathan will wear anything I buy, Trevor has his own sense of style and what he likes.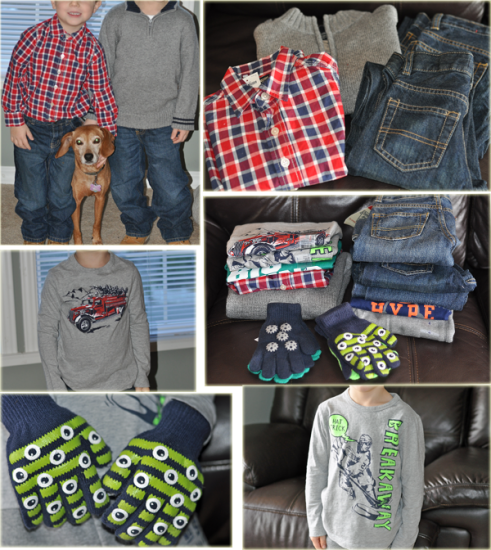 I had planned to purchase sweaters for our holiday card but Trevor preferred the red button up shirt and there was no budging him, while Jonathan was set on the sweater as it was warmer. As soon as he spotted the graphic apparel displayed on the wall, he immediately picked out the hockey shirt, and the firetruck shirt as he is obsessed with both. He also picked out a pair of "warm and cozy pants", winter gloves, and warm socks. I went in the store with two kiddos that wanted nothing to do with clothes shopping at first, but left the store with two happy boys with of smiles.
 "#GIVEHAPPY should generate feelings of joy, happiness, and smiles. It's in the simple, everyday moments that  #GIVEHAPPY lives."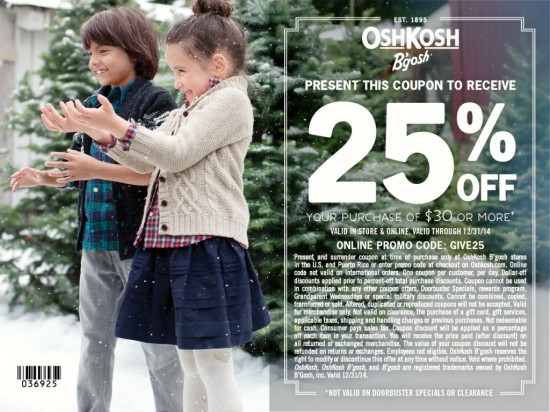 Between the sales this past weekend combined with a coupon, I was able to get the most for our money. Here's a OshKosh B'gosh coupon for you to save as well! Print the coupon to save 25% off your purchase of $30 or more in-store, or use the promo code to save online as well.
Visit OshKosh B'gosh, shop the latest holiday and winter fashion, and GiveHappy.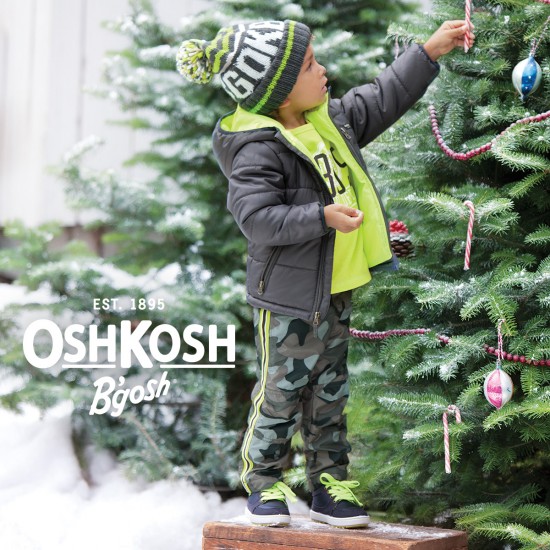 How do you plan to #GIVEHAPPY this holiday season?