As a mother of two elementary school children, I try to do everything to keep them from becoming sick. I've taught them to wash their hands,  keep their hands away from their face, drink plenty of fluids and stay active, but as you know sickness can sneak up no matter how much you try to prevent it.
This year has been one of our better years when it comes to cold & flu season, while we all started out sick with colds, it's been a good month or so since the last temperature, sore throat or cough. I still make sure to always have our cabinet stocked with cleaning supplies and flu & cold medicine for those unplanned moments.

It seems like every time we head out of town, is when one of the kids get sick.   This past time was when we headed to the Cape for the weekend with extended family, luckily I was prepared and didn't have to run to the store to grab medicine last minute. I could grab the children's cough and cold medicine right out of our luggage. Whenever we travel whether it's 30 minutes away or 20 hours away, I make sure to pack the "regulars" in the kids overnight bag. There can be a handful of trips that we do not need to use it, but that one time we do need it, it can be a lifesaver, and prevent un-needed stress especially when we are traveling on the highway in the middle of nowhere.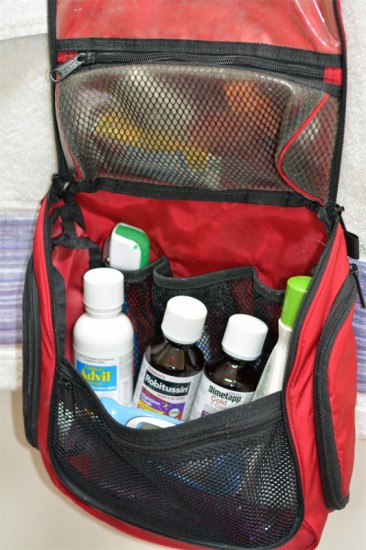 Kid's Overnight Bag:
Toothbrush

Toothpaste

Floss

Mouthwash

Shampoo/All-in-one soap

Thermometer

Fever & Pain relief: Children's Advil®

Cold medicine: Children's Robitussin® DM Day/Night and/or Children's Dimetapp® Cold & Cough

Inahalers/Nebulizer

Band-Aids

Clothes

Extra set of shoes, flip flops, or sandals.
Ease those aches and pains, while reducing a child's fever fast with Children's Advil®, a great solution for kids as young as 2 and up to 11. Children's Advil® comes in several great-tasting flavors, including: Sugar-free Dye-free Berry, Bubble Gum, Grape, Blue Raspberry, Fruit and Dye-Free White Grape flavors. While we often use the liquid at home or while traveling and I always keep the tablets in my purse which have been convenient more then once while someone spiked a temperature while we at a sporting event or a friends house.  There's also Infants' Advil® White Grape, which provides unsurpassed fever relief with a syringe for easy dosing for children 6-23 months.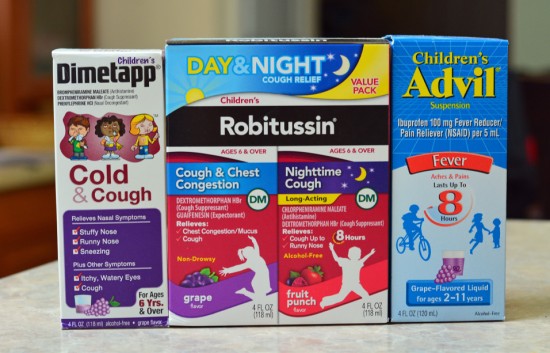 Formulated just for kids, Children's Robitussin® DM Day/Night Pack (Children's Robitussin® Cough & Chest Congestion and Children's Robitussin® Nighttime Cough) is a non-drowsy daytime formula helps break up chest congestion, while the long-acting nighttime formula relieves coughs and runny noses to help kids get the rest they need.
All in a great tasting grape flavor, Children's Dimetapp® Cold & Cough tackles a child's most bothersome stuffy and runny noses, all while working to relieve cough. Along with Children's Advil, Children's Dimetapp® Cold & Cough is a must-have in our medicine cabinet, you can always find at least one bottle, usually two.
*It is important to remember to always read and keep the cartons for complete warnings and dosing information on Pfizer Pediatric Platform products and to use as directed.
Are you prepared for the cold and flu season?
Shop Pfizer products at Target to help you get through unwelcomed moments.
Pfizer Consumer Healthcare provided the products, giveaway prize and  information. By entering this giveaway you agree to the Giveaway Rules. This giveaway will end on April 20, 2016 at 11:59pm EST. The winner will be chosen via Rafflecopter. The winner will have 24 hours to respond or a new winner will be selected. You must be 18 years or older. Open to U.S. residents only. Allow 4-6 weeks for prize fulfillment.