When it comes to quality educational products, I know I can always count on LeapFrog. Through the years, we have acquired a number of their toddler and preschool products, and now that Trevor is in Kindergarten, he enjoys spending time with his favorite characters playing games and reading on the LeapPad Platinum. As a member of the LeapFrog Mom Squad, we were recently sent three of their products that are perfect for holiday gift giving, the Number Lovin' Oven & Scout's Build & Discover Tool Set for children ages 2+, and the new LeapFrog Epic for children ages 3-9.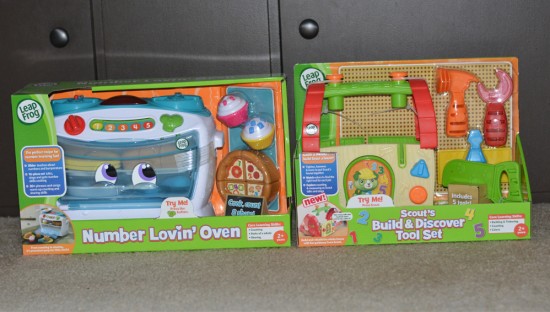 Number Lovin' Oven
Ages 2+ years | MSRP $24.99  |  Available at Amazon
 $18.74
Little chefs can enjoy hours of pretend play fun with the Number Lovin' Oven. Use it at home, or pack it up to bring to grandma's house as all of the accessories store neatly inside the oven. The oven lights up, plays over 30 phrases and songs about counting, sharing, and even the importance of washing hands before touching food. Move the number slider between 1 & 5 to explore numbers, time, and temperature. 16 fun ingredients are included. 4 pizza slices, 3 pieces of bread, 2 cupcakes, 1 fried egg, 1 skillet, 1 spatula, 1 baking tray and 2 plates. Parents will enjoy the two levels of music, as well as an off switch.
"This pizza has 4 pieces. One for you and 3 for me!"

"As easy as 1-2-3"
"Let's fry an egg "
"Now it's really Hot Hot Hot!"
Scout's Build & Discover Tool Set:
Ages 2+ years | MSRP $19.99 |  Available at Amazon ($14.99)
Count, measure, twist, and hammer to help Scout build his house. With fun sound effects and 5 tools, Scout will introduce children to counting and colors through songs & phrases while encouraging them to explore each tool. Scout encourages children to count nails with him and helps them to find the right tool for each job by naming  the tool and matching colors.
Hammer, ruler, saw, screwdriver and wrench are included. On/off switch.
"How about the green saw"
"How many red bolts does my house have?"
"Will you help me build my house, touch my door when you're ready"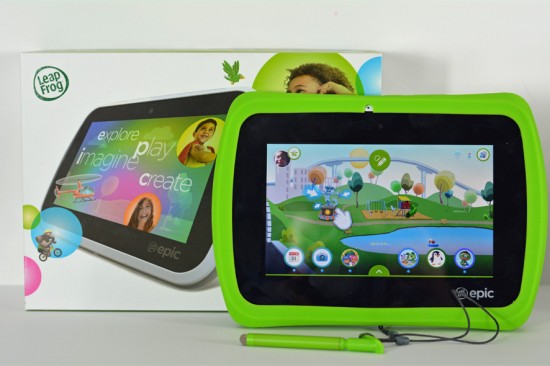 LeapFrog Epic:
Ages 3 to 9 years | MSRP $139.99 | Available at Amazon
Explore. Play. Imagine. Create. with the new LeapFrog Epic tablet.
7″ screen
Front and back cameras and video recorder
1.3 GHz Quad core processor
16GB memory with expandable SD port
Interactive home screen – Children can design their own town, add animated characters and express their personality with their own interactive home screen. A built in clock allows children to see what time of day it is, they can also watch the sunrise in their town or see the moon. Integrated into the home screen is a weather app so children can always know the weather for their town.
Word of the day – Children can learn a new vocabulary by checking their special mailbox every day for a new word!
LeapSearch Kid-Safe Web
Removable bumper: When children get older, you can remove the green bumper for a cool sharp look.
Unlike the LeapPads, the Epic is an Android based tablet, the only buttons are the power and volume, there is no home button. Trevor is loving the look of the new Epic from LeapFrog, and says that it looks more like an adult tablet, then a kid tablet, especially when the bumpers are taken off, but we are keeping them on for now. The Epic is compatible with our already purchased games from the LeapFrog App store, they just need to be downloaded plus there are others available since it is an Android tablet, including Fruit Ninja, a favorite of my children. The only thing that is not compatible, is our  LeapPad cartridge games, there is no slot to place them into the Epic.
Are their any LeapFrog toys on your children's wish list?