This is a sponsored post written by me on behalf of Blue Bunny Ice Cream. All opinions are 100% mine.
November is typically a month where people take the time to consider who they are thankful for, but it's also National Diabetic month. For me, those two go hand in hand as not only my father is a diabetic, but both of his parents are as well. I have seen through the years the toll that Diabetes can take, especially when individuals do not take care of themselves when they have this disease.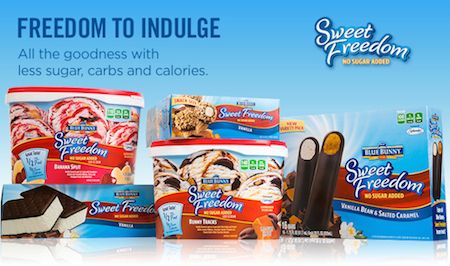 I can remember the day my father was diagnosed with diabetes like it was yesterday, being during Halloween week made it a lot worse. From being able to eat any type of sweets or ice cream any time he wanted, to only limited sugar free options had to have been hard. For a while, my mother would stop purchasing certain foods to help my father transition his eating habits. One thing that was missed most was ice cream and at the time I don't remember any diabetic options. Through the years I started to notice no sugar added options like chocolate and vanilla but the variety was limited.
Diabetics can now lead a healthy lifestyle and still indulge in sweet treats with the Blue Bunny Sweet Freedom No Sugar Added line. The Blue Bunny Sweet Freedom Ice Cream provides diabetics with a sweet treat, without the added sugar, not only chocolate and vanilla ice cream, but exciting flavors like Bunny Tracks, Butter Pecan, Banana Split, and Salted Caramel.

Sweet Freedom® Ice Cream Varieties:
Sweet Freedom® Ice Cream Cherry Vanilla
Sweet Freedom® Ice Cream Chocolate
Sweet Freedom® Ice Cream Vanilla
Sweet Freedom® Ice Cream Double Strawberry
Sweet Freedom® Ice Cream Bunny Tracks®
Sweet Freedom® Ice Cream Banana Split
Sweet Freedom® Ice Cream Butter Pecan
Sweet Freedom® Ice Cream Mint Chocolate Chip
The no sugar added varieties also include snack size cones and ice cream sandwiches.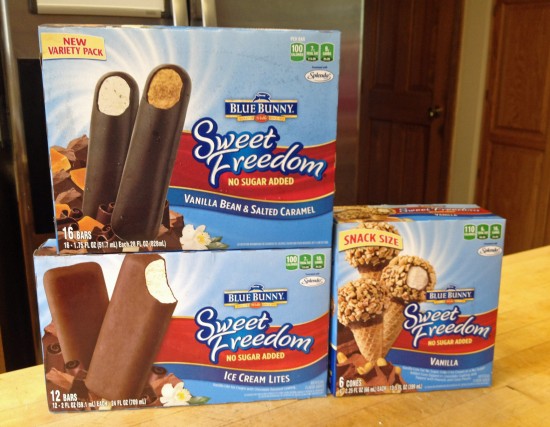 Growing up with a diabetic, I know how hard it can be not to be able to enjoy the same foods as everyone else, especially when you are diagnosed in your adult years and have enjoyed sweets for most of your life. With the Blue Bunny Sweet Freedom® ice cream the no added sugar options are great for diabetics who need to watch their daily sugar intake but want the freedom of enjoying ice cream.
To learn more about the Blue Bunny Sweet Freedom® line, visit Blue Bunny. Also, connect with Blue Bunny on Pinterest and Facebook.