I participated in an Influencer Activation on behalf of Influence Central for Dunkin' Brands. I received a promotional item to thank me for my participation.
Living in New England, I have always been surrounded by Dunkin Donuts, in fact there are still four Dunkin Donuts within a couple miles of my parents house, and two within a mile of my house. As a child, my parents use to surprise us with a dozen donuts on Sunday morning, I can always remember my dad requesting a cruller, while my mother preferred a butternut, which is also my favorite. Throughout high school, my friends and I would stop by for an iced coffee, even during the cold winter months and now in my adult years, my go-to drink of choice  is either a Caramel Swirl Iced Coffee or Caramel Swirl hot coffee.
As the new year begins, one of my New Year's resolution was to eat out less to help save money, which not only means eating at restaurants, but stopping by Dunkin Donuts for my coffee as well. But thanks to the DD Perks program, I have been able to indulge in my caramel swirl hot coffee on the way to hockey practice a little more often, and stretch my money a little more with the special offers and free beverage rewards. A few weeks ago I received a free beverage of choice for my birthday and this week I received another free beverage thanks to the DD Perk's One Year Anniversary promotion. The free beverages have been my favorite perk' so far, and I have received at least 5 in just the past two months, one for signing up, one for my birthday, one for the One Year Anniversary promotion, and twice when the Patriots won.
Celebrate the DD Perk's One Year Anniversary with a free beverage!
One year ago, January 27, Dunkin' Donuts launched its DD Perks® Rewards program that rewards guests with free Dunkin' Donuts beverages as well as special promotions. For each purchase, points will be awarded, and once 200 points are acquired, the guest will receive  one free any size beverage of your choice. To help celebrate DD Perk's One Year Anniversary, Dunkin' Donuts is offering members an extra 200 points with any purchase from January 27 – February 1. 200 points =  one free beverage of choice, any size!
A little more about the DD Perk's Program:
Earn five points for every dollar spent on qualifying purchases at Dunkin' Donuts when paying with an enrolled Dunkin' Donuts Card, either plastic or via the Dunkin' Mobile App.
Accrue 200 points and receive a coupon for a free beverage of choice, any size.
Receive a coupon for a free beverage of choice, any size on your birthday.
Access to exclusive, personalized, special offers to earn bonus points for specific food and beverage purchases. (ex. free beverage when Patriots win, free donut with purchase of beverage.)
I use the DD Perk app, which makes tracking points, viewing promotions, and paying easy as you can load gift cards into your account, and pay directly with the app.  Some of the promotions are location based, like the free coffee when the Patriots win, so if you want to increase your special offers you will need to opt into the location option in the app.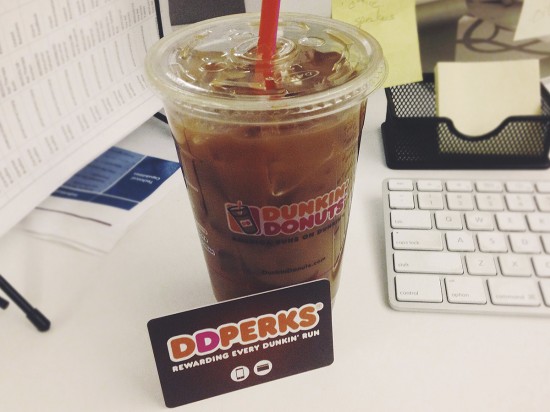 Are you a DD Perks member? If not, sign up today and start earning free beverages!
Learn more about the DD Perks reward program: Website | Twitter | Facebook
Which free beverage would you choose? Coolata, iced coffee, hot coffee…?