I participated in an Ambassador Program on behalf of Influence Central for Hood Cream. I received product samples as well as a promotional item to thank me for my participation.
This year, we have significantly cut down on eating out which not only helps to stay on budget, but also allows our family to sit down and eat a home cooked meal together. I grew up in a household where we all sat down for dinner at the same time at least 5-6 days a week, and no one left the table until everyone was done. I always planned to do the same with my family but for a few years it didn't happen nearly as much as I wanted it to.  Until recently, we rarely ate dinner as a family as my husband was always working the late shift, but now that he works during the day we make it a priority to spend dinner time together. It gives us all a chance to wind down and share about our day, the kids love having dad home for dinner, and so do I.
You may remember back in August when I shared about my dinner at the Deuxave Restaurant in Boston as a Hood Cream Ambassador. I was surprised to find out that many of the meals we enjoyed, can be made at home with quality ingredients found at local grocery stores. While Hood® Cream is a frequently reached for ingredient in our kitchen, it is also found at many restaurant kitchens as well. After sampling all of the courses at Deuxave I couldn't wait to get my hands on a copy of new Chef Creations Inspired by Hood Cream E-Cookbook that was created by award-winning Chef Chris Coombs, chef/owner of Deuxave and Hood® spokesperson.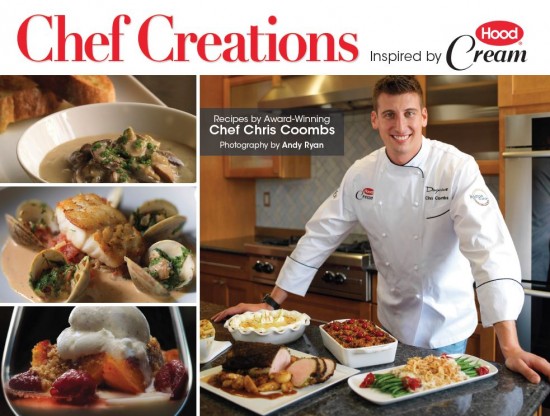 The Chef Creations Inspired by Hood Cream E-Cookbook features more than 25 recipes made with Hood® Cream so at-home cooks can create delicious chef-quality meals.  The interactive eCookbook features a  step-by-step "cook view" mode, and can be viewed anywhere you go – on your tablet, desktop computer or smartphone.  The easy-to-use social media sharing buttons for each recipe, make it easy to link to Facebook, Pinterest and Twitter to share with friends, or to serve as a reminder to make on a future occasion.
I've been getting tired of making the same meals over and over so this past week I stepped outside our comfort zone and served corn at dinnertime with a little twist. The kids helped me to make this Corn in Cream with Cherry Tomatoes instead of our usual simple steamed corn.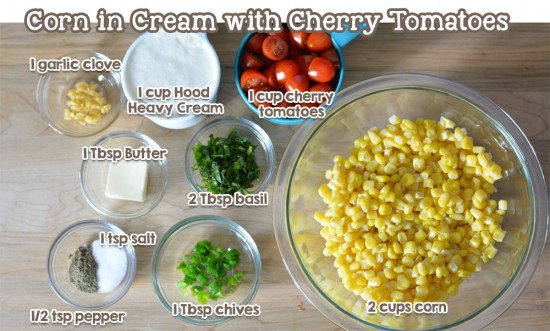 This Corn in Cream with Cherry Tomatoes recipe is found in the Chef Creations Inspired by Hood Cream E-Cookbook and can be made in just a few minutes. Melt butter in large sauté pan over low heat. Add in the chopped garlic and cook just until the garlic begins to color.  Add the corn kernels, Hood® Heavy Cream, salt and pepper. Turn the heat up to high. Once the cream has reduced to a very thick consistency, coating the corn, remove from heat and add tomatoes, herbs and chives. Stir gently until just combined and serve immediately.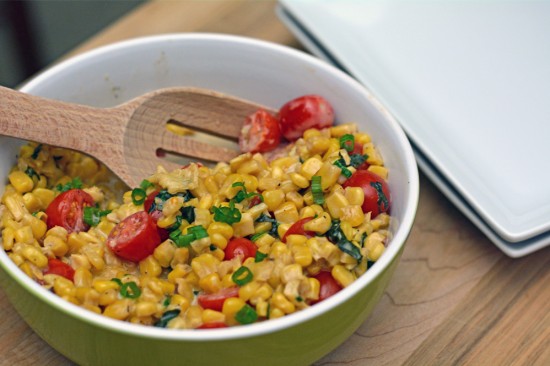 Eating at home doesn't mean you have to miss out on restaurant quality meals. Download the interactive eCookbook  and see how easy it is to create restaurant-quality dishes using Hood® Cream at home.
Which recipe would your family enjoy trying?