After moving away from family 10 years ago, our vacations have always been about traveling to visit friends and family, especially in the summer. The kids have each gone on their first road trip at 2 weeks old including our youngest who was born this past summer. I can remember the struggle packing up my car 8 years ago when my oldest was born, trying to fit all of the comforts of home in my trunk. It was quite the challenge fitting my luggage, plus a full size swing, bouncy seat, and a pack 'n play into my tiny trunk.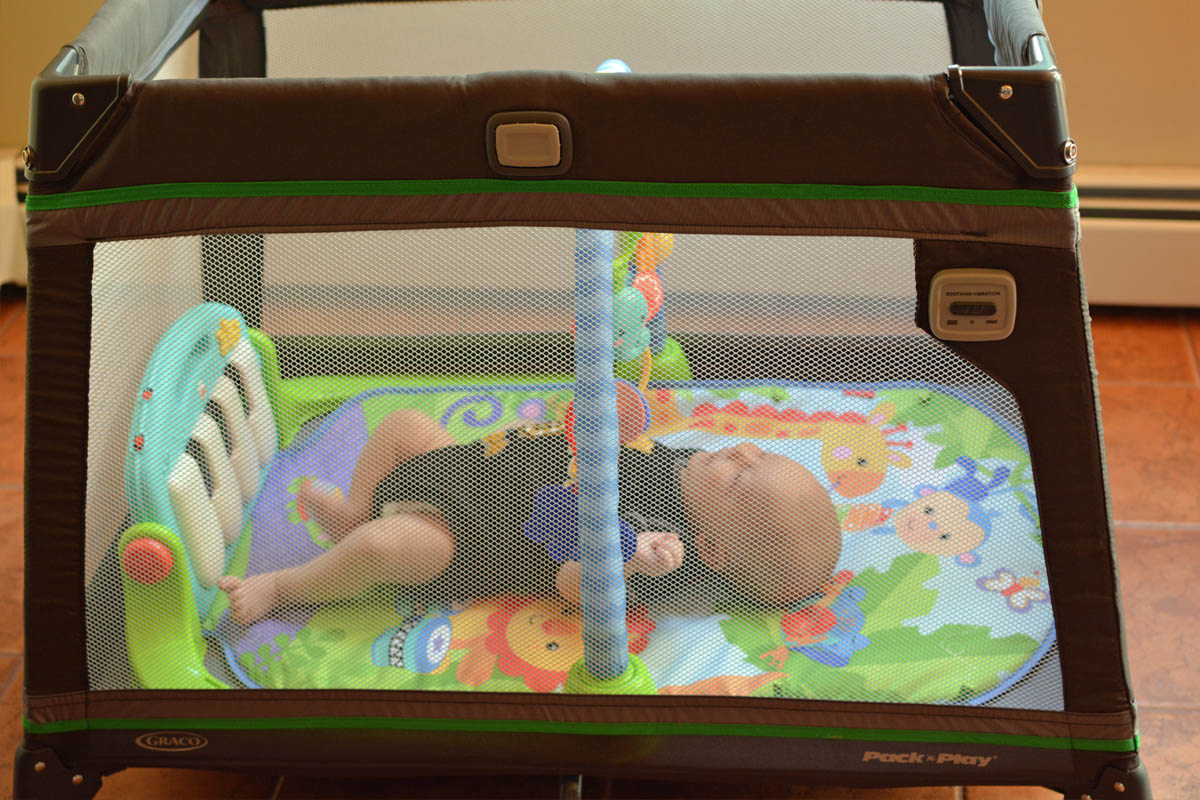 This summer has been one of the busiest summers that we have had yet with vacationing and the birth of our third son but one of the easiest when it comes to packing for the little one with the addition of a portable swing and the Pack 'n Play Playard® Jetsetter™ that Graco sent for baby boy.
Baby products have come a long way in the eight years since our first child was born. Graco knows how challenging it can be to travel with little ones which is why they have created gear to help ease the travel stress.
6 Products to Simplify Traveling with Baby:
Extend2Fit 3-in-1 Car Seat  – features a 3-position extension panel that provides 5" of extra legroom allowing children to ride safely rear-facing longer. The seat can be used rear-facing from 4-50 lbs., forward-facing from 22-65 lbs. and as a high back booster for 30-100 lbs. As the child grows, Simply Safe™ Adjust enables height of the harness and headrest to be adjusted.
Pack 'n Play Playard Jetsetter – has a lightweight frame and folds compactly into a portable backpack. Also includes bassinet with built-in vibration, portable changing pad and a wide base that gives growing children ample room to play.
Pack 'n Play Playard Sport – a safe, comfortable and secure spot for babies and toddlers to play. Packs up into a convenient shoulder bag, weighing just 12 lbs. for easy portability, and has pockets for carrying essentials.
Swivi Seat 3-in-1 Booster – easily attaches to a dining chair and has smart swivel seat design to rotate baby in any direction. Can accommodate infants and adapt to a toddler (up to 50 lbs.)
Modes 3 Lite Click Connect Stroller – innovative fold design enables easy, one-handed fold and two different ways to store the stroller with or without the toddler seat. There are 5 different ways to ride on the 3-wheel stroller frame including an infant seat that faces parent or the world, a stroller seat that faces the parent or the world, or a traditional travel system.
Breaze Click Connect Stroller – a lightweight, folding umbrella stroller that connects seamlessly to all Graco Click Connect infant car seats. With an extra-large canopy and multi-position recliner seat, this stroller will keep children from birth up to 50 lbs. safe and comfortable.
More about the Pack 'n Play Playard® Jetsetter:
When looking for a place for baby to sleep or play while traveling the Pack 'n Play Playard® Jetsetter™ has it all. Not only it a compact play yard, but it also features a bassinet and a portable changing table. The bassinet has a built-in 2 speed vibration to help sooth baby, my first two children loved the vibration feature on their play yard. The domed canopy shields bright lights for daytime naps and also helps to keep the bugs away when used outside. There is plenty of airflow while the canopy is attached as there are mesh sides to provide air flow.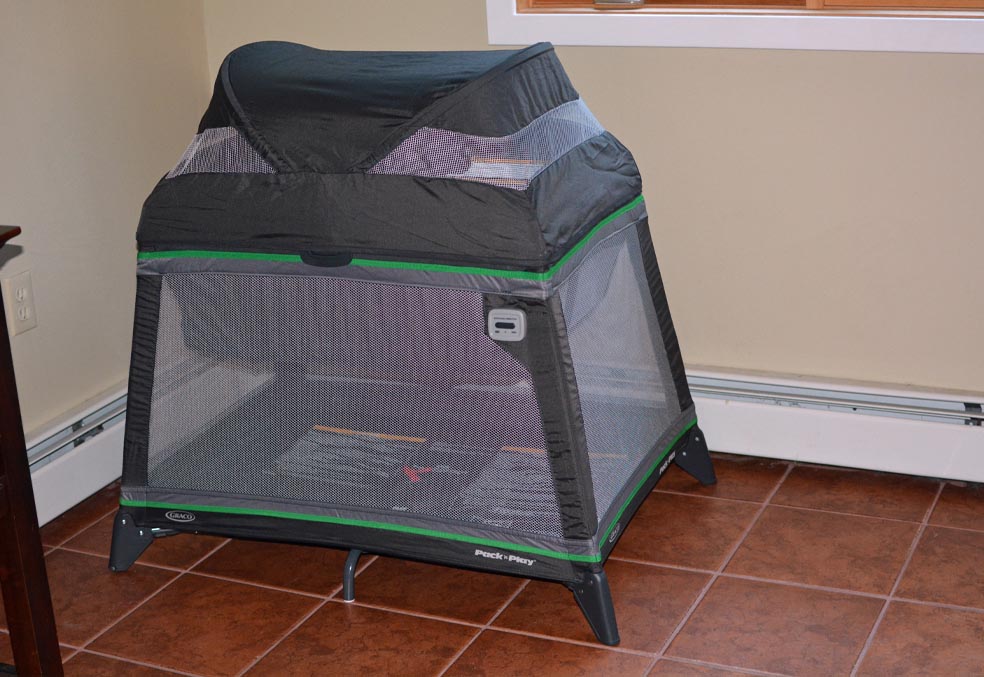 Unlike our previous pack n' play there is no struggle when my husband tries to set it up. With the Pack 'n Play Playard Jetsetter, you pull up on the sides to lock them and then press down on the center to make the floor flat, it takes seconds.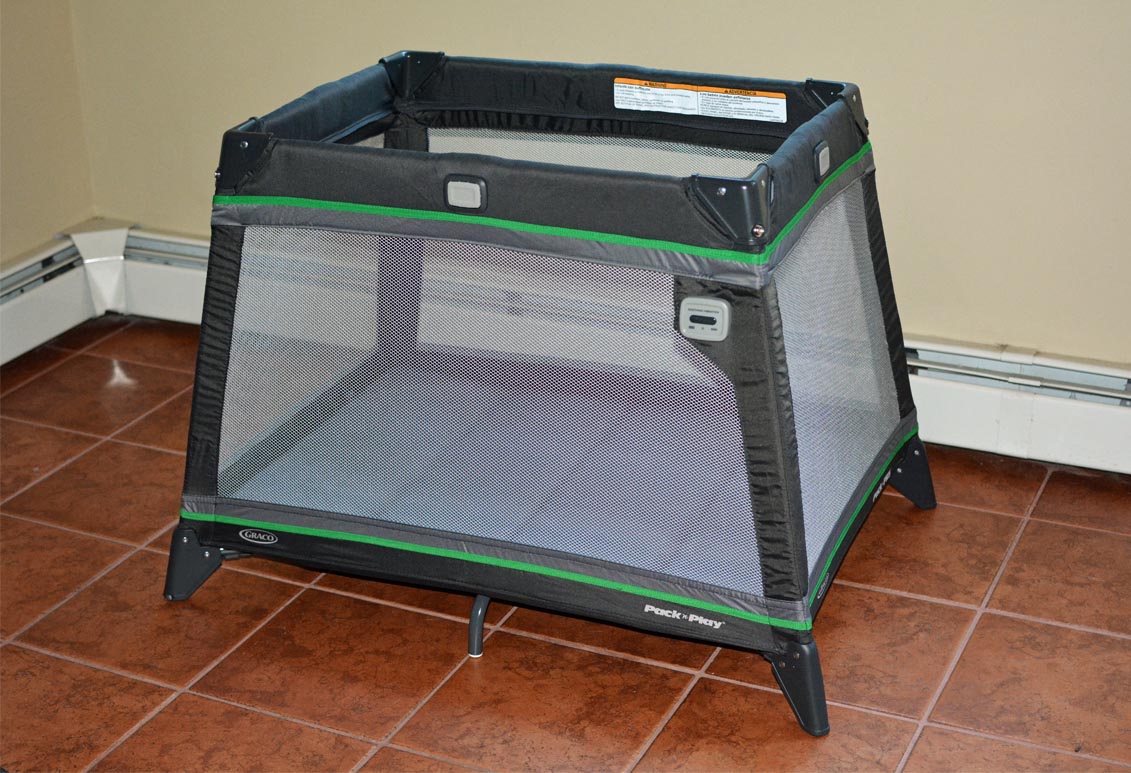 One of my favorite features of the Pack 'n Play Playard Jetsetter is the multi-use feature. It can be used at home, at grandmas, at camp, and even outside at the park or the beach as it is compact and easily carried.
Pack 'n Play Playard Jetsetter Set Up:
Initially the bassinet took a few minutes to figure out, as the Jetsetter features a wrap around zipper, no clips or poles. Once you plug-in the vibration module, you start the zipper on one side, and zip all the way around, and then place in the mat. The two sides of the mat will fold up on the sides, place the two sides in first and then press down on the middle to make the mat flat.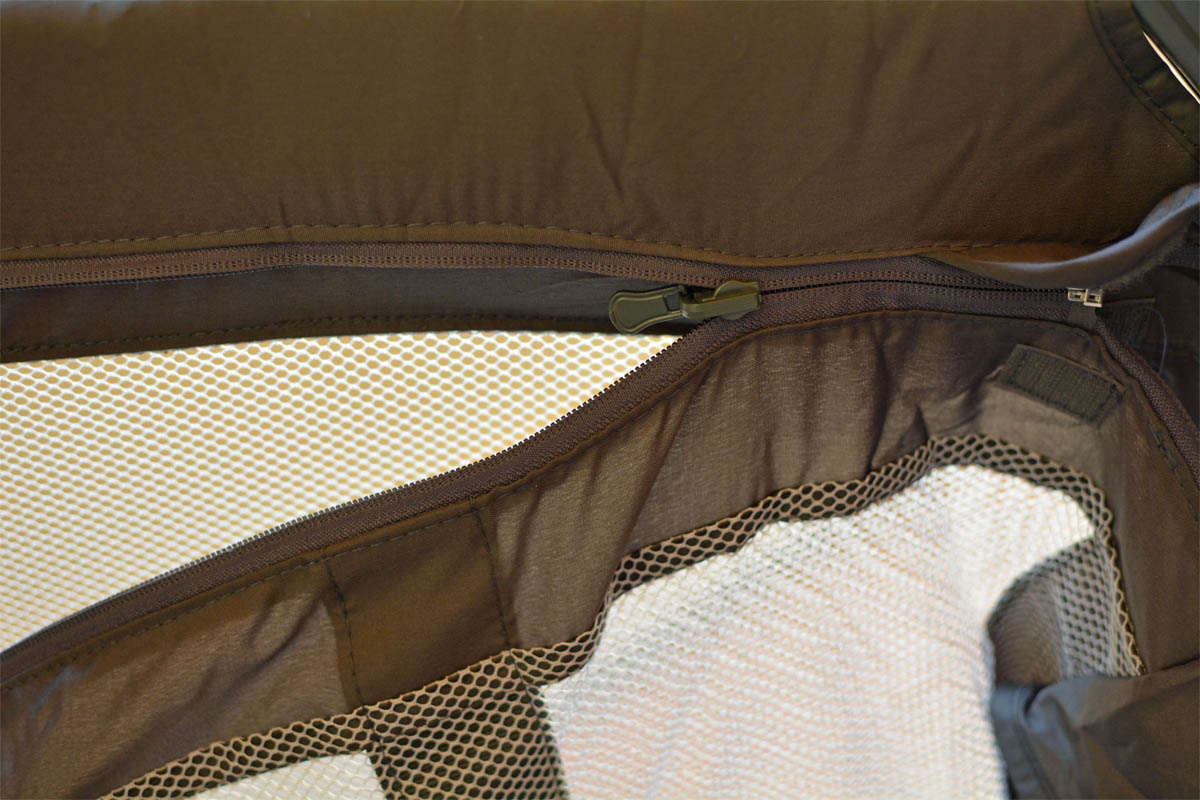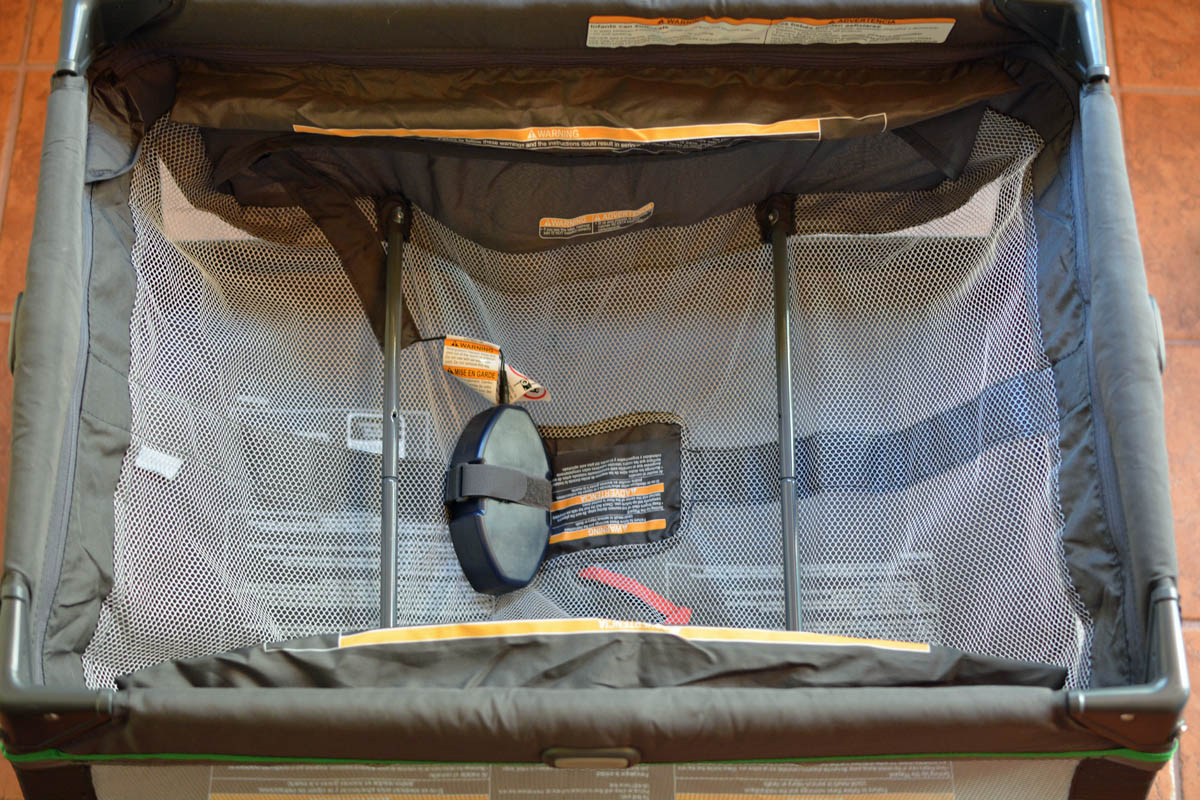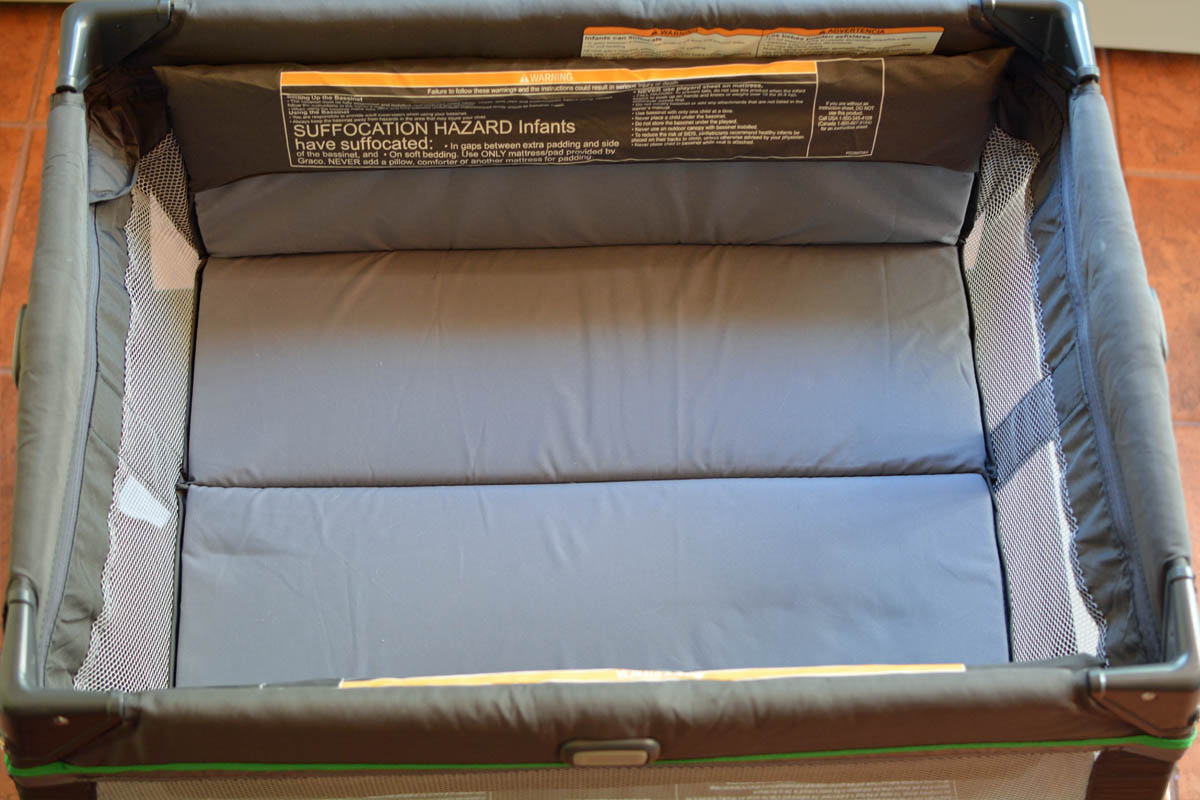 Right now the bassinet is the perfect size for our son, and high enough so that you don't strain your back constantly having to bend over to get baby in and out.  The changing pad flips right on top of the mat for quick and easy diaper changes, and can also be removed to change baby anywhere. Pockets are attached to the changing pad that can be used to store diapers and wipes.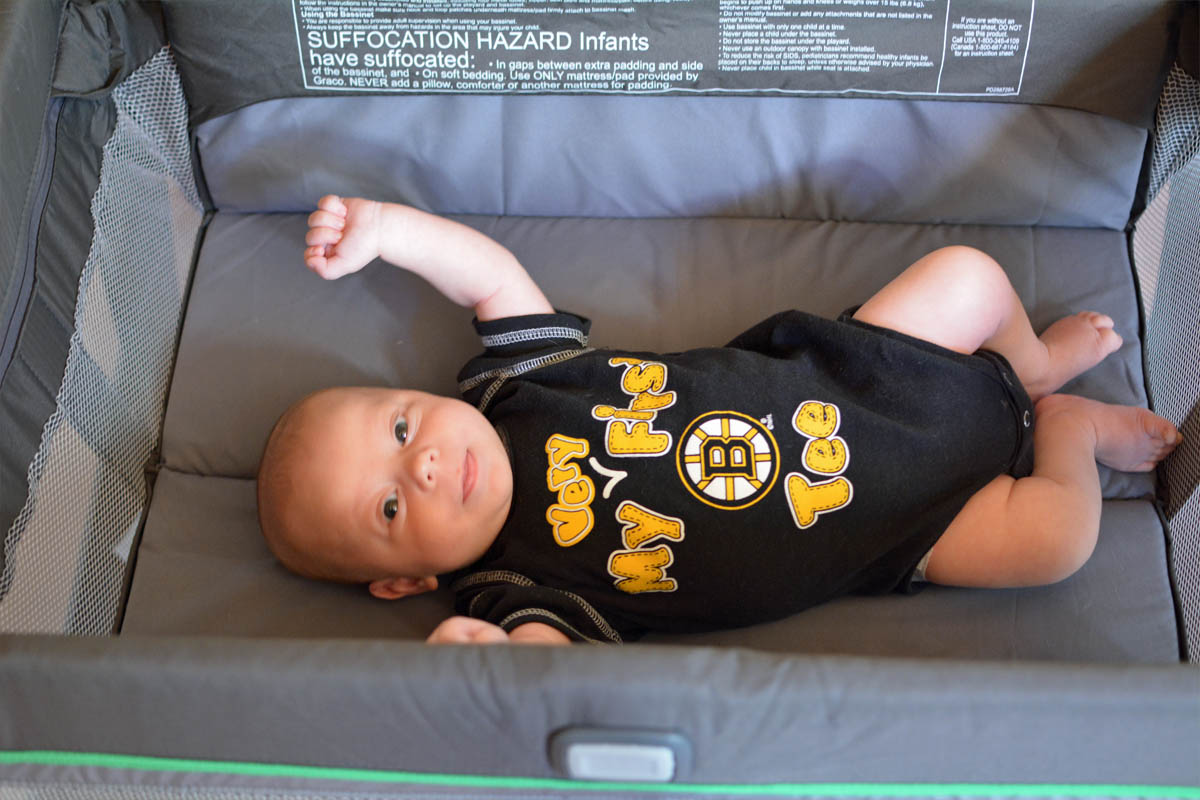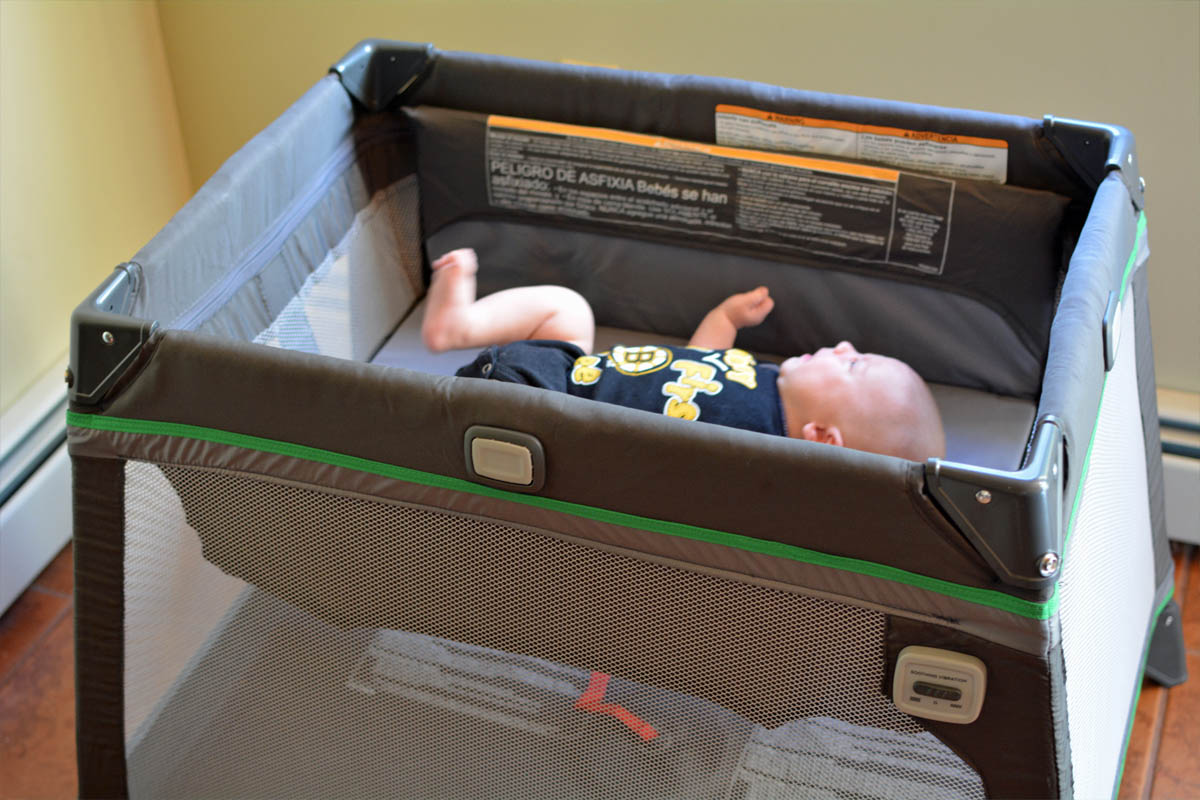 To adapt to your growing child, simply remove the bassinet, or do not attach it during set up. The sleeping/playing area of the Jetsetter is smaller than your average pack 'n play but the smaller area allows it to fit in smaller spaces or at a hotel.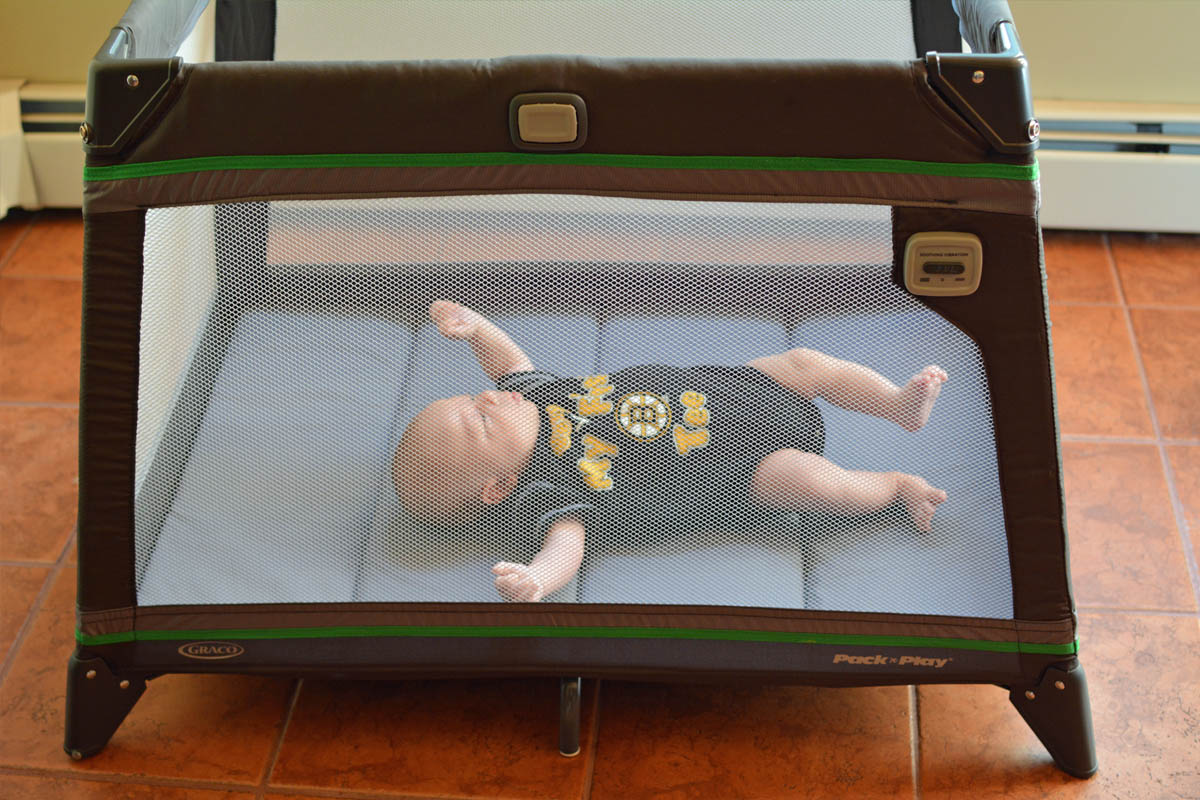 To make traveling more convenient the Pack 'n Play Jetsetter folds into a handy travel backpack allowing you to easily carry it wherever you go.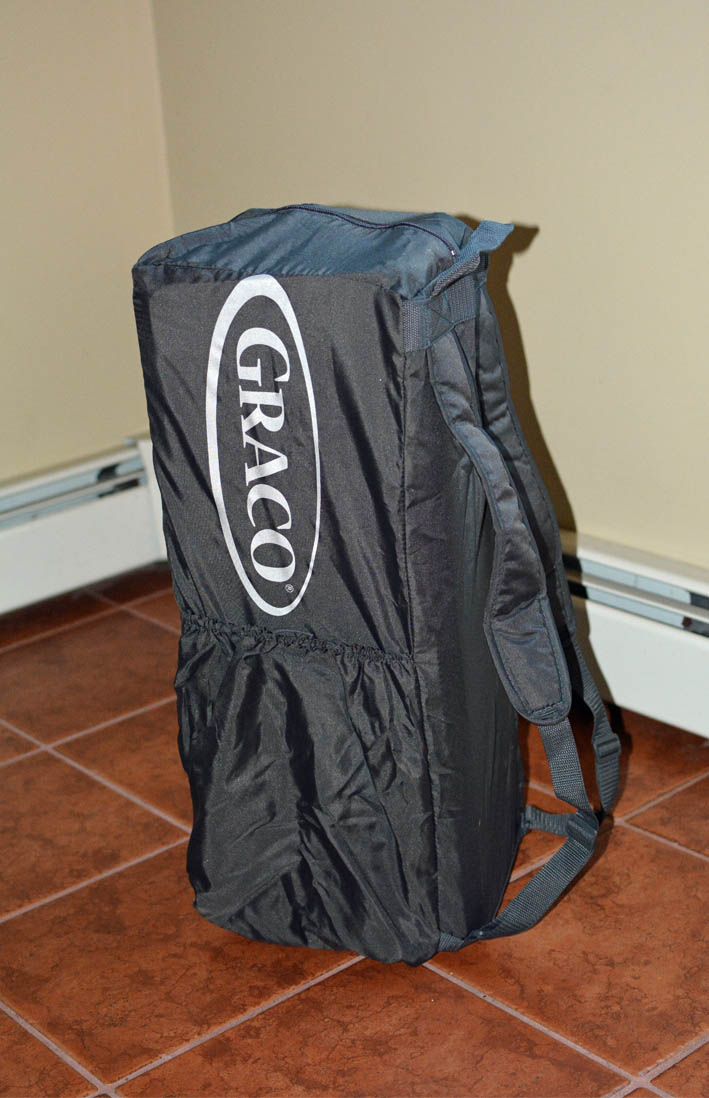 The playmat we have is the perfect size for the Jetsetter, not just for on-the-go but at home as well. While at home I keep the play yard in the corner of our living room so that baby is up off the floor and away from the dogs. Plus with a number of kids running in and out of the house I know that he is safe.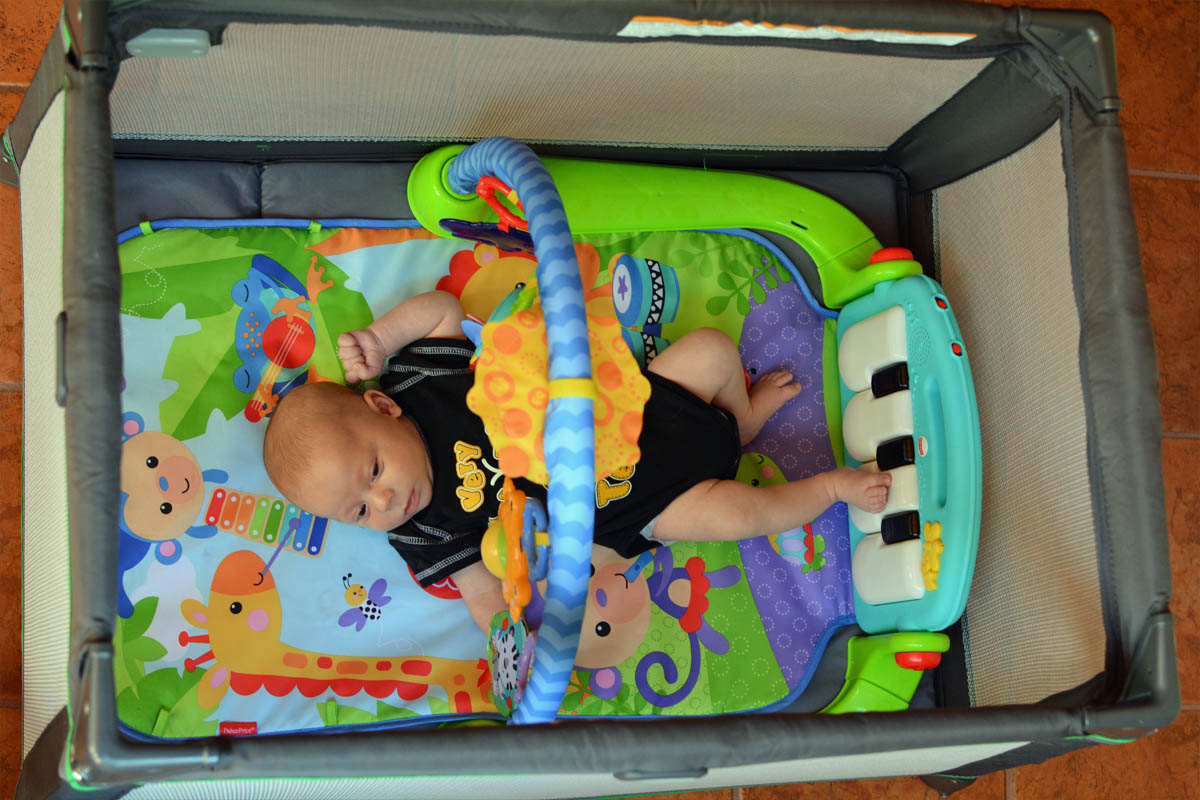 Purchase the Graco Pack 'n Play Jetsetter at Amazon.
Additional accessories:
What are your must-haves when traveling with baby?