After spending 7 days in sunny Florida, I didn't want to return to the freezing cold temps and snow in Boston. It was so hard checking out of the hotel and heading to the airport knowing that we would be returning home to the first snowstorm of the season. In fact, it snowed 5 out of the 7 days we were in Florida. We planned this trip just right! As everyone was posting pictures of snowmen, school delays and shovels, we were soaking in the sun at Disney World, exploring Mini-land at Legoland, getting muddy at Revolution Off-Road, cheering on knights at Medieval Times, and going head to head at an intense game of glow in the dark mini golf.
Most think of Disney, Universal, and Sea World but there's a lot more to see in the Orlando area. Having a few months to plan for this vacation, I explored a variety of options besides the theme parks. I was a bit overwhelmed by the amount of attractions and places to eat at first but then started making a list of my top choices. We planned two days at Disney, one at Magic Kingdom and one at Animal Kingdom, and one full day at Legoland but for the rest of our vacation I chose mini trips that only took an hour or two out of each day.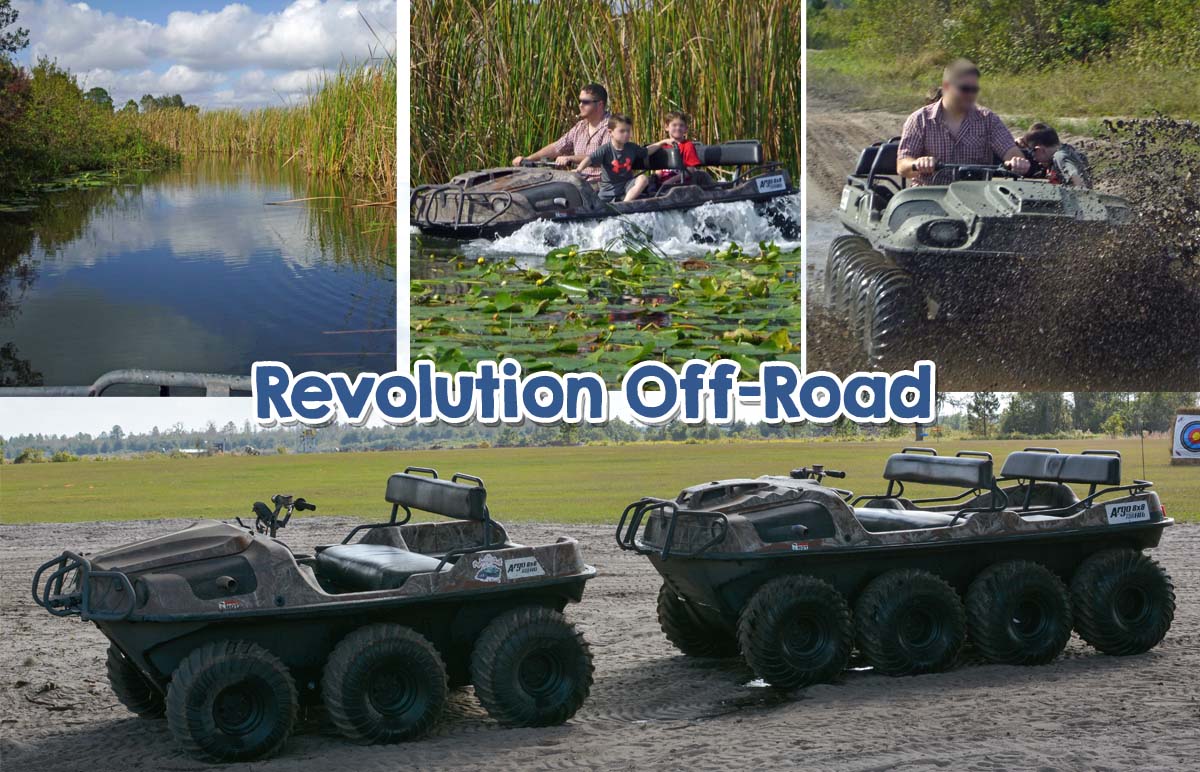 Revolution Off Road:
4000 State Road 33 Clermont, FL 34714 | Website
Located about 30 minutes west of Disney World is Revolution off Road, an off road motor and fishing venue, where you can go on a guided tour driving ATVs, dune buggies or an ARGO amphibious Mucky Ducks. In addition to the off road experience, visitors can also go bass fishing, take archery lessons or go clay shooting.
Knowing my husband and two boys love the outdoors and off-roading, I knew this was a unique experience would be a great surprise. During our visit, my two oldest boys and my husband went on a guided tour driving The Mucky Duck,  an 8 wheeled amphibious vehicle that can drive over all types of terrains and can even float on the water!  I stayed behind with the baby as the ride would be too rugged for him.
After meeting the tour guide, a quick safety lesson and getting instructions on driving the Mucky Duck they were all off on their adventure through the Florida countryside. As you can see from the pictures, my family had an absolute blast. It was well worth the 15 mile drive from Disney World.
Reservations required.
Drivers need to be 18 and have a proper driver license.
Make sure you're prepared for getting dirty – no nice clothes, shoes ect.
Since you'll be outside I also recommend wearing sunblock and sunglasses.
Keep an eye out as you may even spot an alligator, or two!
The tour guide (in the lead Mucky Duck) also takes pictures of the off-road adventure which are available to purchase after the ride. (This was a nice surprise as I was unable to go on the ride, and wished that I could have taken pictures.)

Medieval Times Dinner & Tournament:
4510 W. Vine St., Kissimmee FL 34746 | Website
Take a trip back in time and catch the thrill of a live jousting tournament while you are served a four-course meal…that you eat with your hands! Yes, that's right, there's no utensils served. There are six different sections, each for one knight, and you're seat will determine which knight you will be cheering for. During this dinner show you'll enjoy a feast that includes garlic bread, tomato bisque soup, roasted chicken, buttered corn on the cob, herb-basted potatoes, a pastry, coffee, and two rounds of select beverages.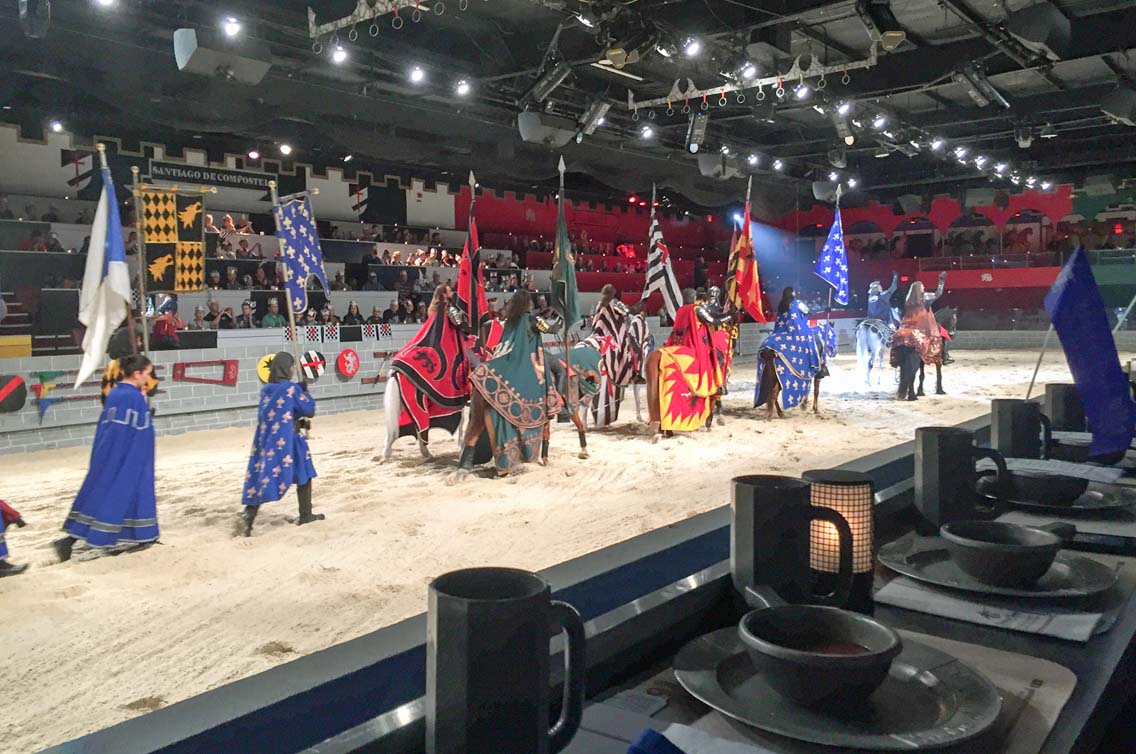 The entire show lasts 2 hours, and it's best to get their as soon as the up 75 minutes early and guests will have access to gifts, photo opps and an open bar. During the show guests will enjoy live flight of the royal falcon, watch Knights compete and show off their jousting skills, swordsmanship, hand-to-hand combat, and stallions.

Putting Edge – Glow in the Dark Mini-Golf
5250 International Dr, Orlando, FL 32819 | Website
Putting Edge puts a new twist on a traditional game of mini-golf with "black lit" courses. Escape the heat of the Florida sun, and head indoors for a fun game of glow in the dark mini-golf. Before you start your game, or while you're waiting for tee time, you'll also find a few arcade games including my children's favorite, air hockey. Kids and adults will enjoy the glow-in-the-dark scenery & music while completing the 18 holes.

LEGOLAND Florida:
One LEGOLAND Way  Winter Haven, FL 33884 | Website
Located about 45 minutes from Disney World, this family theme park is every young LEGO fan's dream. There is plenty to do at LEGOLAND for the whole family including rides, attractions, shows, restaurants, and of course shopping for LEGO souvenirs. In addition to the rides, my children's favorite part is trading their Minifigures, we choose 5-6 and bring them along in a ziploc bag to trade. Guests can purchase or bring their own LEGO Minifigures to trade with LEGOLAND employees. As you walk around the park, keep an eye out for the employees name badges, some of them will have some pretty cool LEGO Minifigures to trade.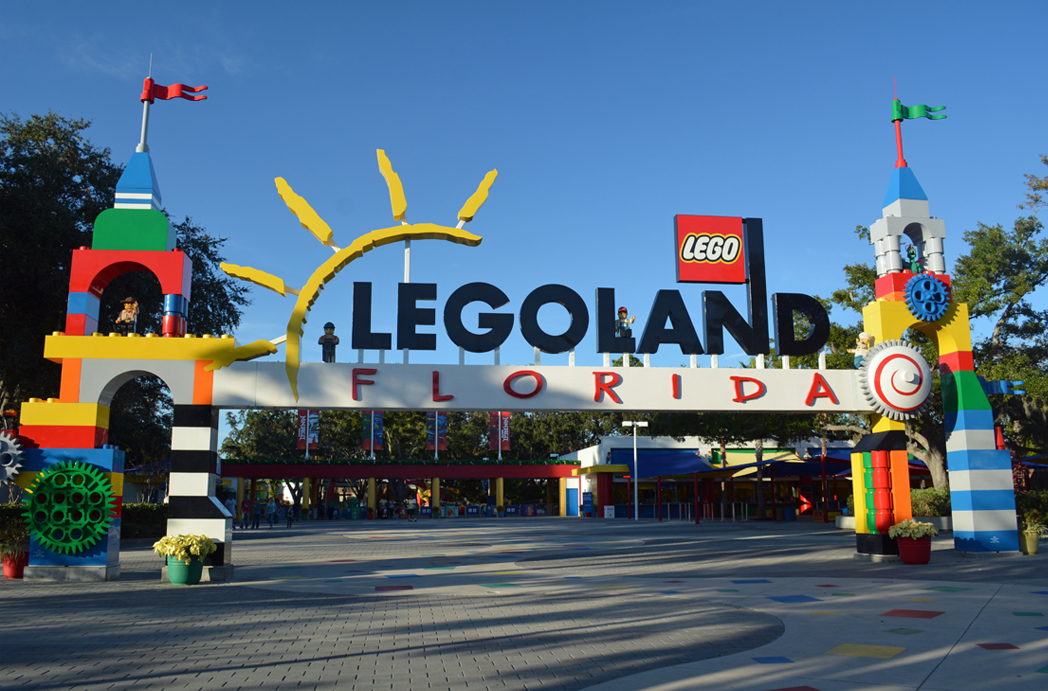 One of the 10 themed zones includes Minland USA. You could easily spend an hour in this area looking at all of the LEGO creations including Daytona International Speedway, Kennedy Space Center, Washington D.C, and Star Wars.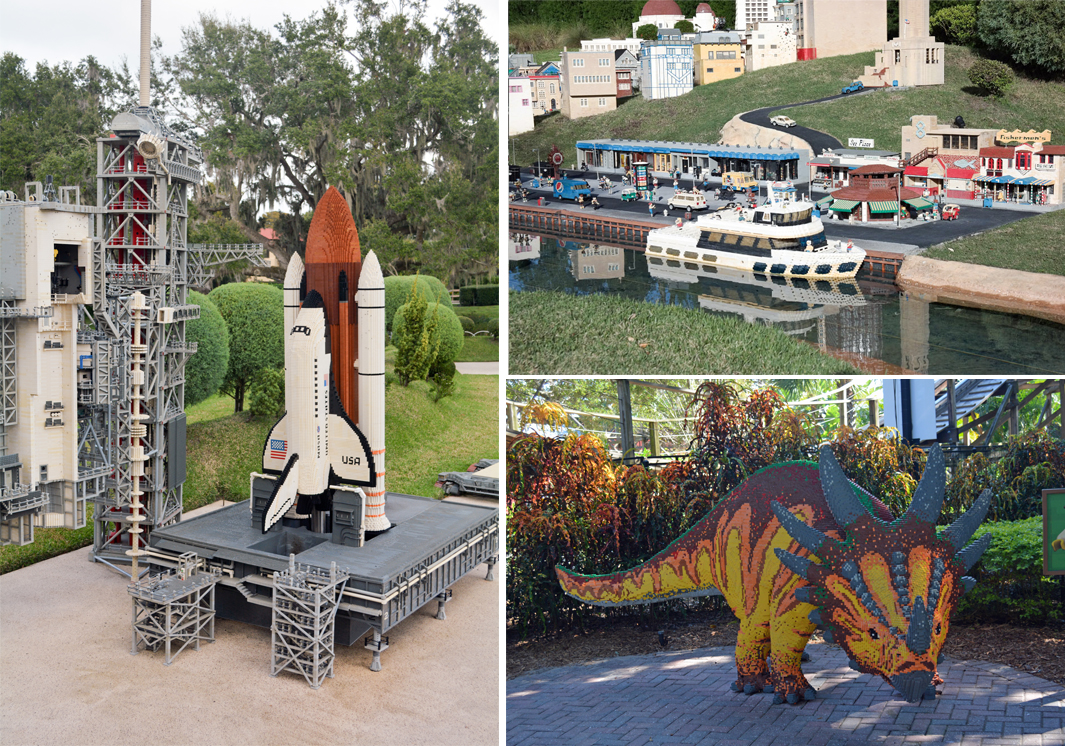 DUPLO Village is great for toddlers, at Medieval Times you will find knights and dragons themed rides & attractions, and at LEGO City is our top favorite area, kids will be able to take a driving course and get their own LEGO license (additional purchase).
One show that you don't want to miss is the Pirates' Cove Live Water Ski Show. We missed out on it the first time we visited LEGOLAND Florida and made sure that we had the correct time during our second visit. If you're there early enough, choose the seat closest to the water cannon, but just beware, you will get wet!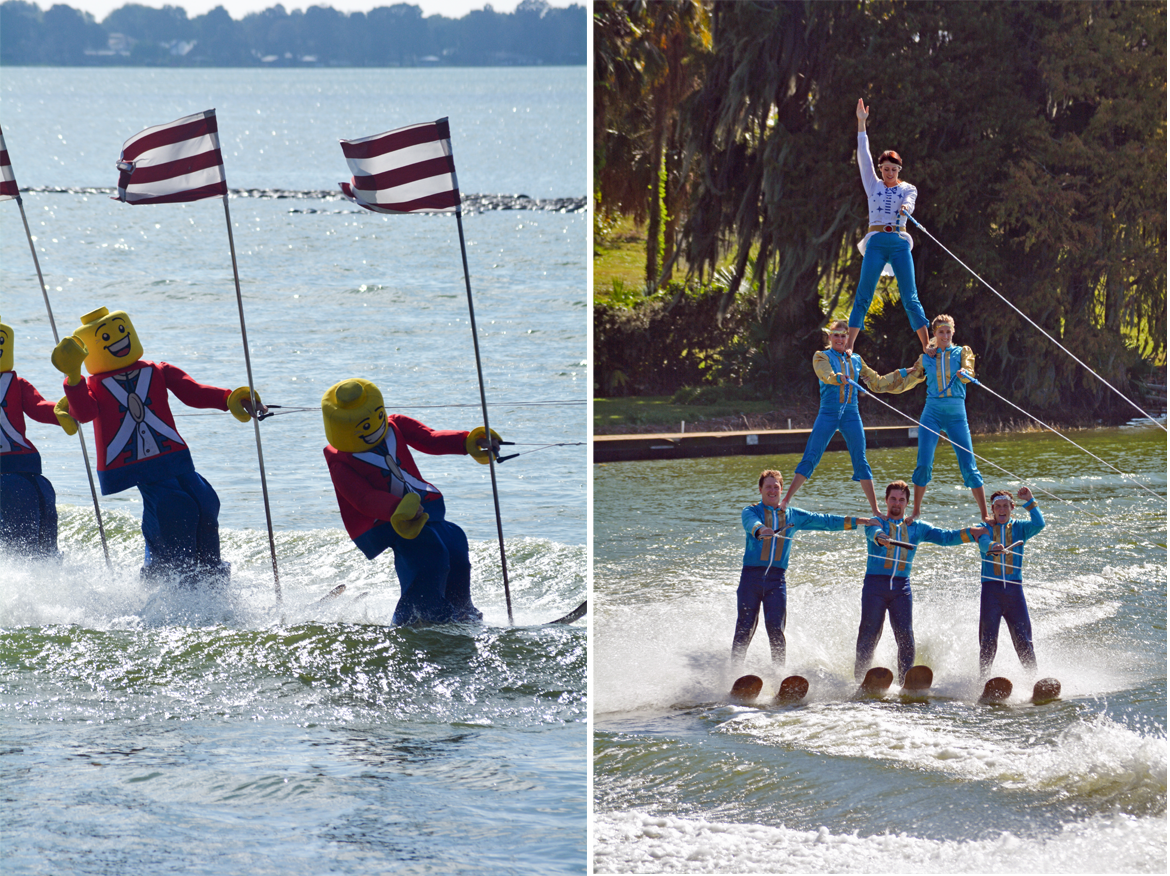 Since our trip was during the winter the water park was closed, but I'm hoping to one day be able to visit during the warmer months. We also be missing the grand opening of LEGO® NINJAGO® World by a month which is one more reason to plan a future trip.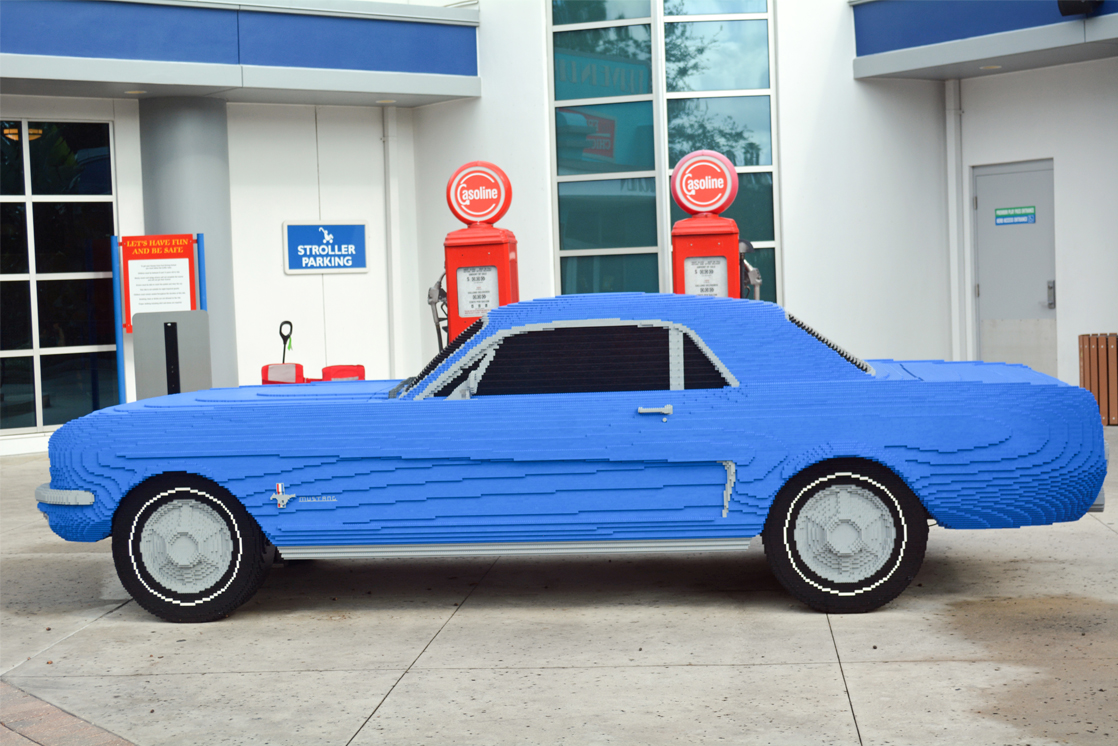 Planning  a trip to Orlando?
Make memories that last a lifetime with any of these four family friendly attractions.
What attraction would your family most enjoy visiting?
*Tickets provided.