The leaves are starting to turn here in New Hampshire, and you know what that means – fall is almost here! I'm looking forward to apple picking, cider donuts, corn mazes, pumpkin picking and the fall foliage! The Mount Washington Valley is a popular vacation spot among families in the fall as the leaves turn colors, not only is the scenery beautiful but there is also so much to do with the kids.
This past weekend we traveled to East Conway, New Hampshire, (just over 10 minutes from the North Conway outlets) for the grand opening of The Maize at Sherman Farm for the 2017 season. They've been rated one of the best corn mazes in New England by Yankee Magazine and now I certainly know why. The kids had THE BEST time navigating their way through the maze, bouncing on the massive jumping pillow, riding the Moo Express, playing human foosball, eating cider donuts and feeding the goats just to name a few. Just like a few friends of mine, I'd love to make a visit to Sherman Farm a family tradition in the fall every year and update all of the fun photo opp pictures.
There is plenty to do for the entire family at The Maize at Sherman Farm. If you get hungry during your stay, there are concessions available including farm-raised beef burgers, fresh-made kettle corn, pulled pork sandwiches made with Sherman Farm's own pork, french fries, pretzels, local chocolate milk, and my children's favorite – cider donuts made with local cider & the gummy bears.
Open on Weekends Sept. 16th – Oct. 29th 10 am to 5pm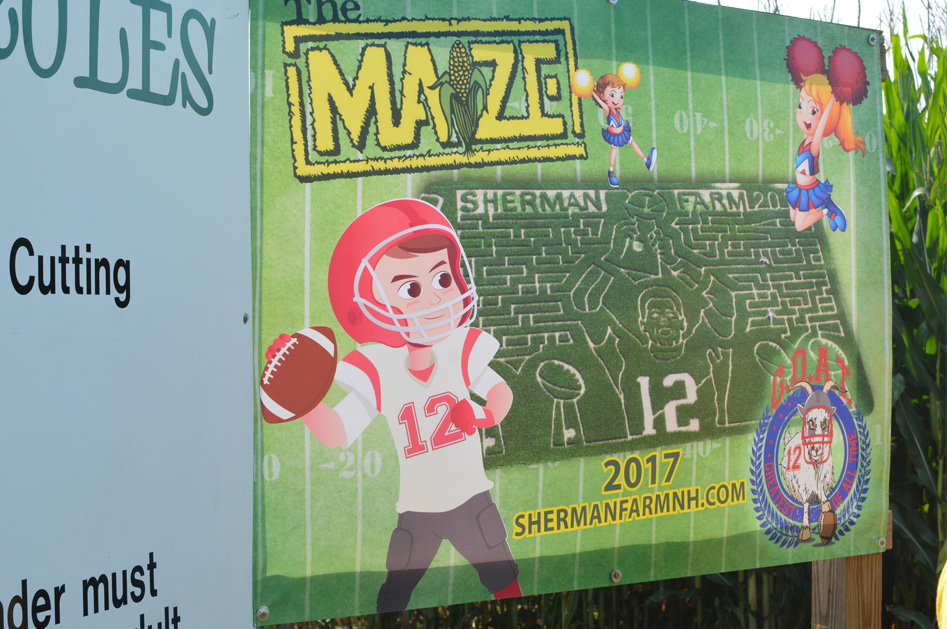 Thank-you to Sherman Farm for inviting our family and providing admission & beverages/snacks.
The corn maze boasts 12 acres of paths and three different phases; a Mini Maze, phase 1, and phase 2 (more complex). The kids loved the mini maze, they were able to do it themselves and they even had a few competitions trying to see who could make it in and out in the fastest time. We also did phase 1, make sure to grab the paper with the tips before entering, along the way you can answer questions, the correct answer will lead you in the right direction.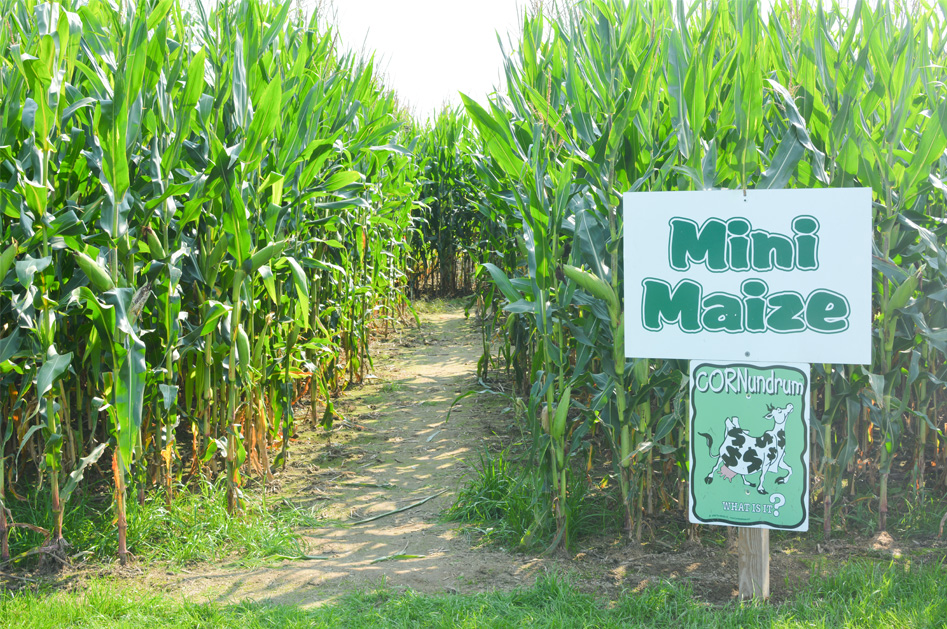 Along with trying to navigate your way correctly through the maze, there are also two games that can be played; Farm Scene Investigation (similar to CLUE) and Barnyard Bing-oh! Make sure to get the game pieces before entering the maze.
Barnyard Bing-oh! and Farm Scene Investigation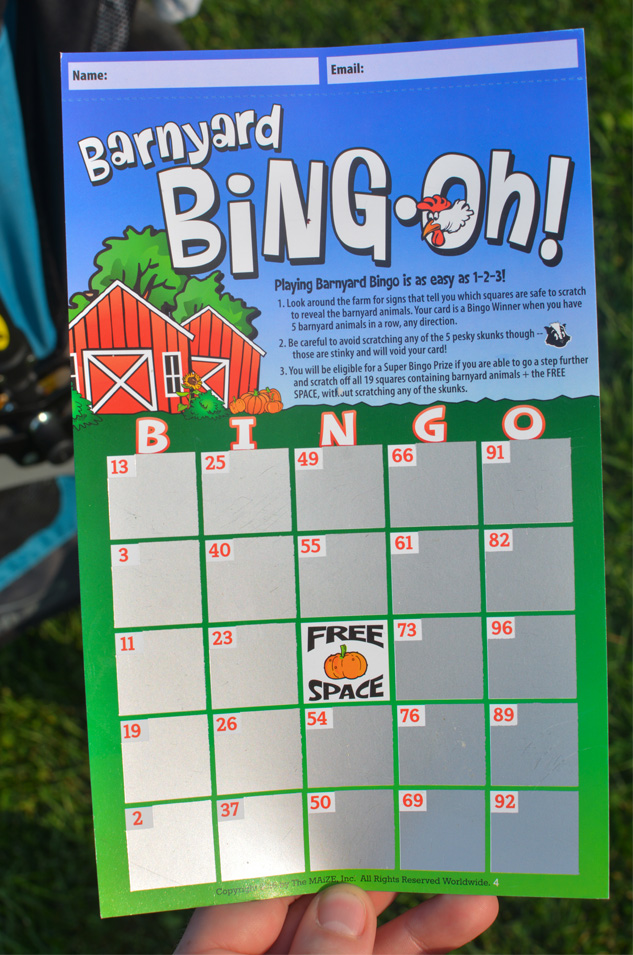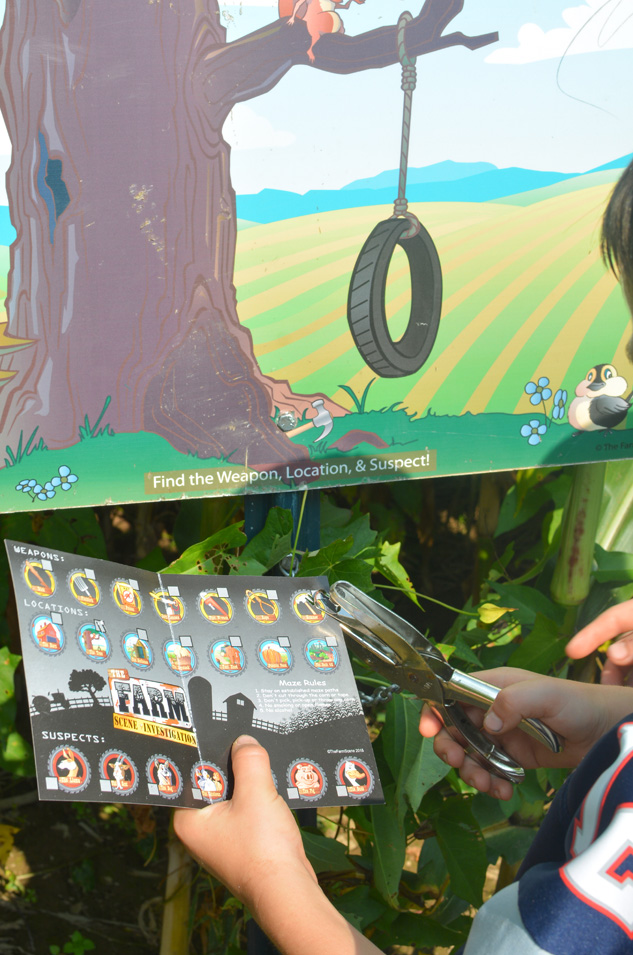 I let my two older boys (7 & 9) take charge of navigating our way through phase 1 of the maze while I pushed baby boy in the stroller and they really had no sense of direction, but slowly started to catch onto clues and areas that we passed multiple times. Phase 1 took us about 45 minutes but the time passed by quickly as we were busy trying to find our way around all of the pieces to Farm Scene Investigation, Barnyard Bing-oh!
*TIP* The cornfield maze is a real cornfield and there are uneven surfaces, if you plan to bring a stroller, the ones with bicycle type tires work best. I brought our Bob Revolution Stroller and had no issues on the terrain, but a regular stroller would have been challenging.
I didn't realize how big the corn maze was until I spotted this lookout area about 1/2 way. I have to say after climbing up the stairs I was a bit overwhelmed but the second half of phase 1 went a lot smoother than the first half, thanks to me helping the kids with the directions.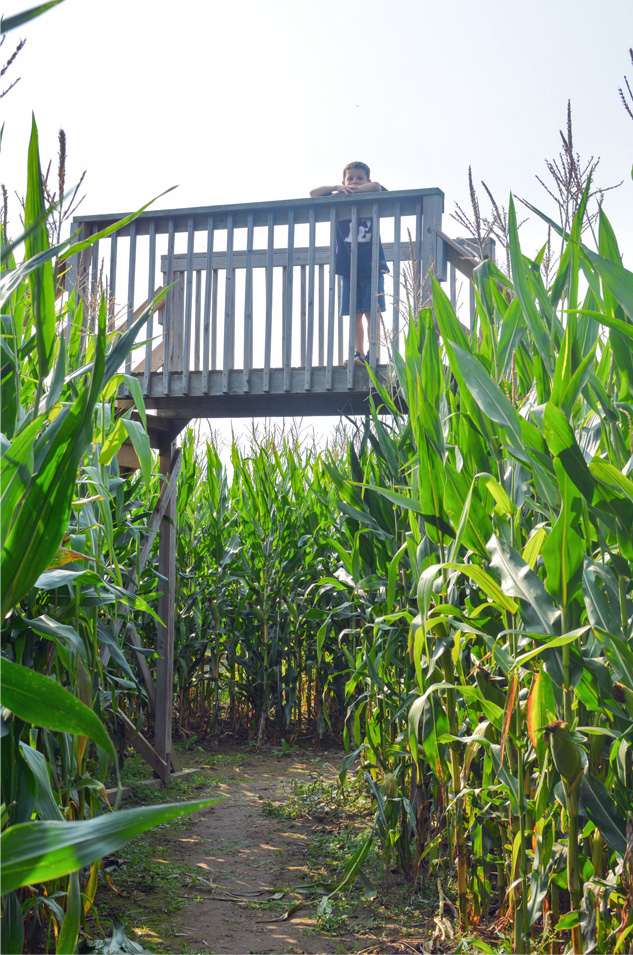 Human Foosball:
If there's not enough people in your group, make some new friends and play a game of human foosball.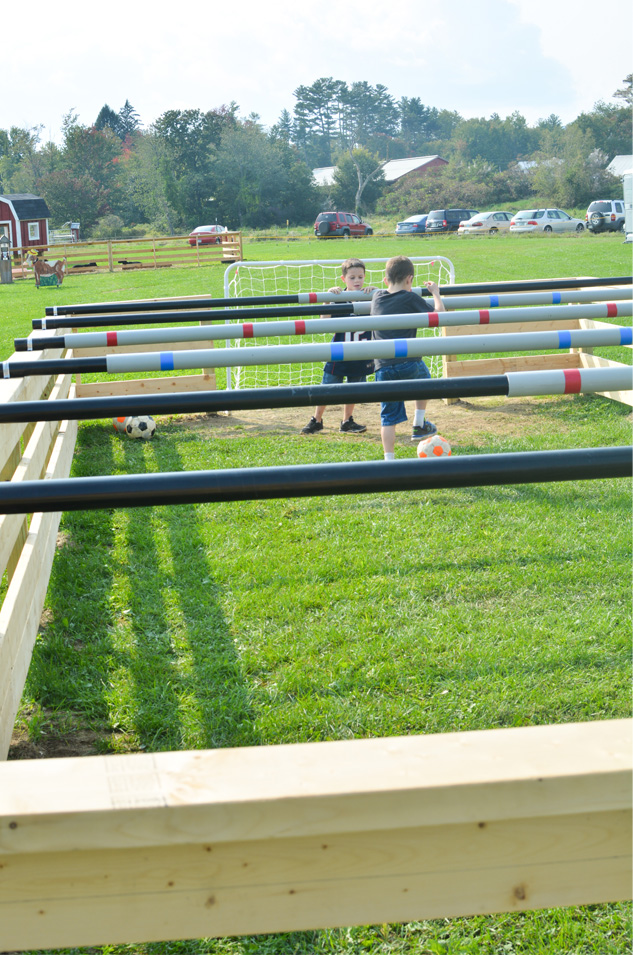 Pumpkin Checkers:

The Jumping Pillow: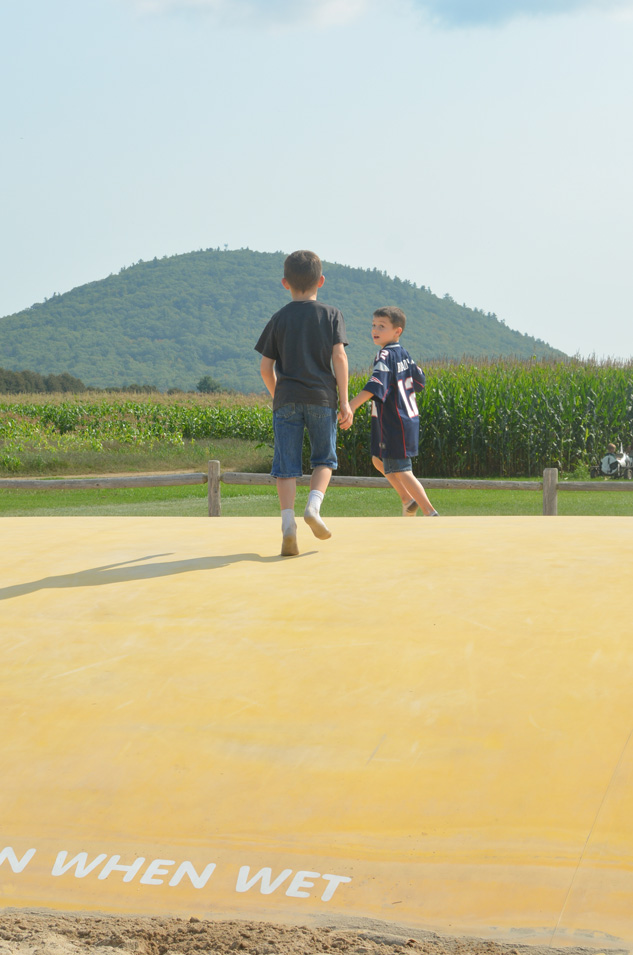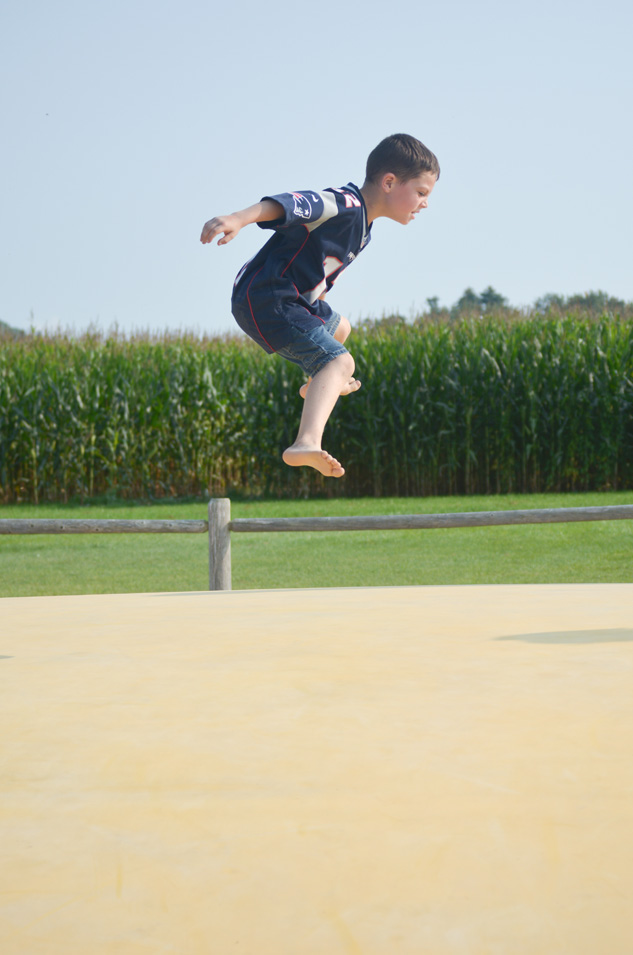 Take a ride or two on The Moo Express!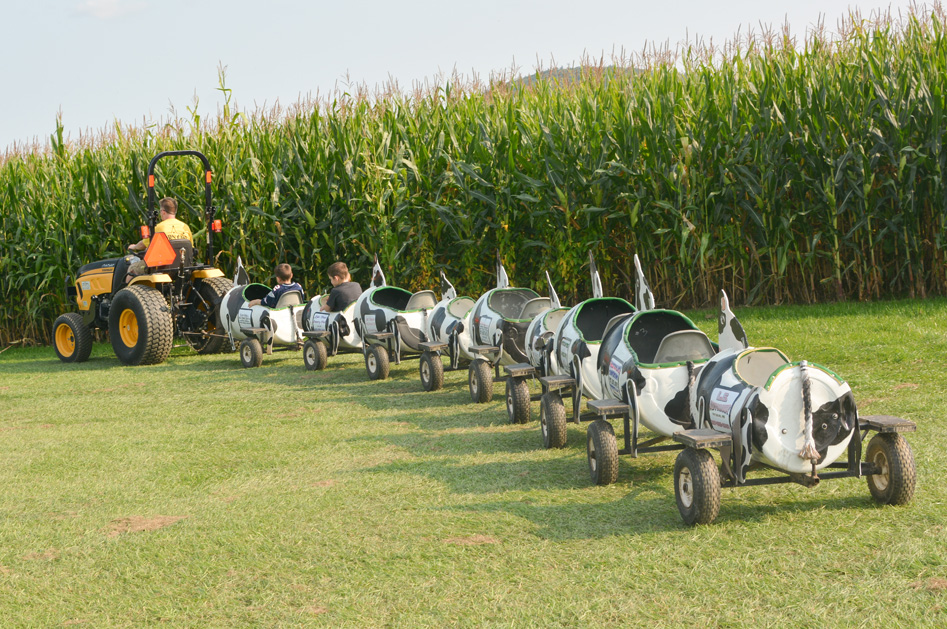 Play Area:
The play area was great for my 14 month old as his older brothers were on the jumping pillow. All three of my kids would have spent hours playing in the play area if I let them, swinging on the swings, climbing the structures, digging in the sand, and riding the tractors.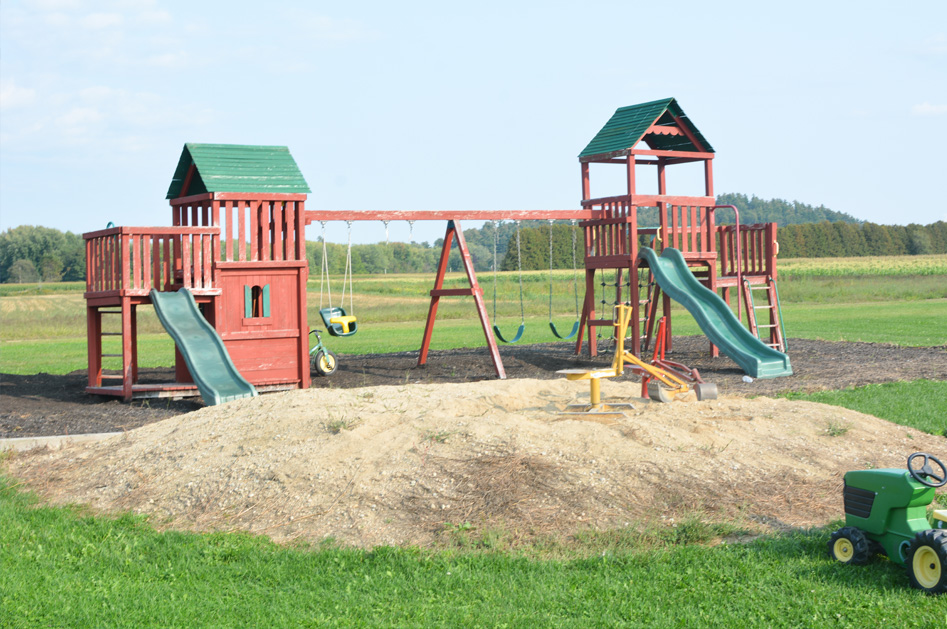 Photo Opps:
 The kids and I both agree, the photo opps are pretty amazing.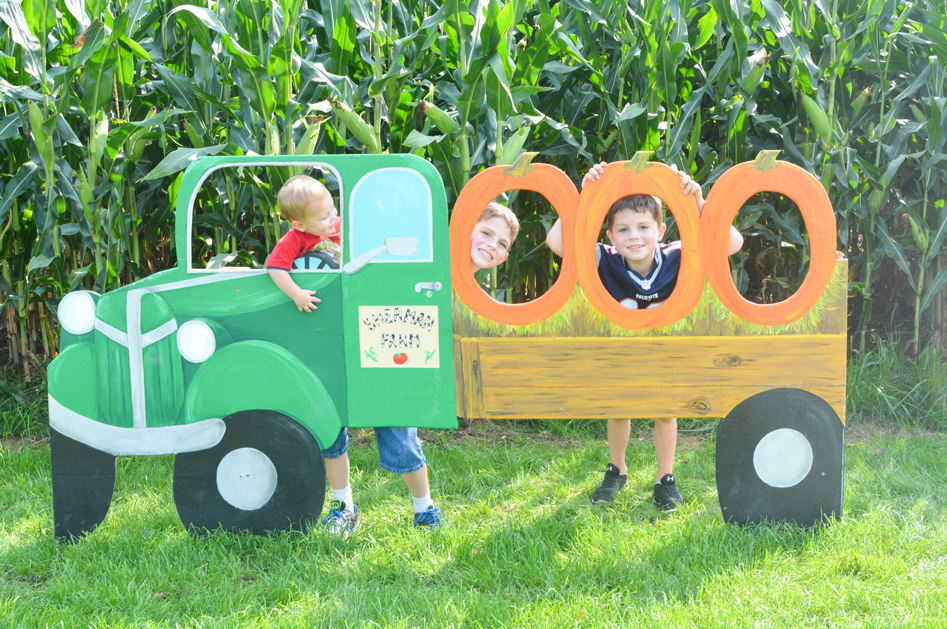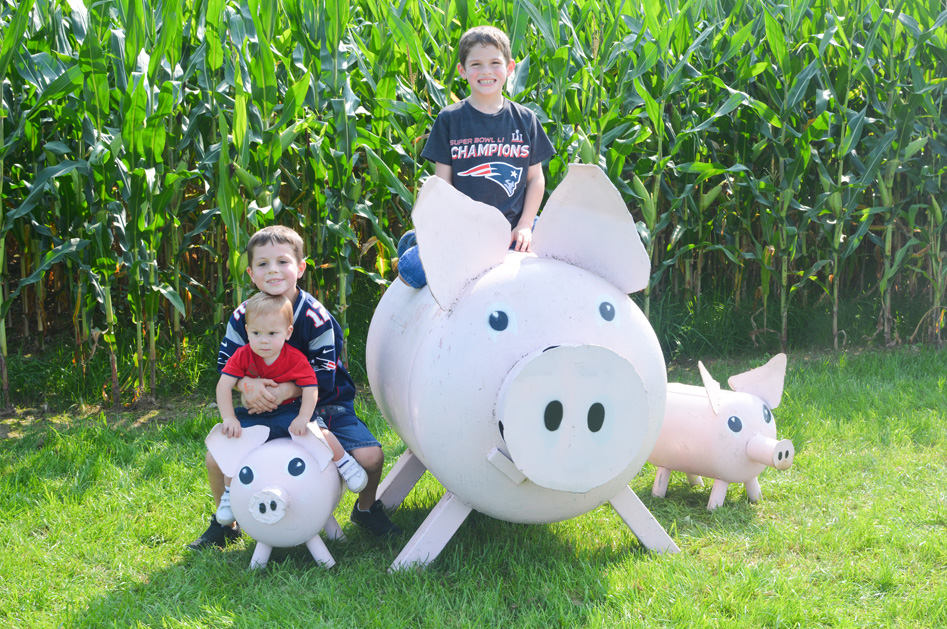 Petting Area: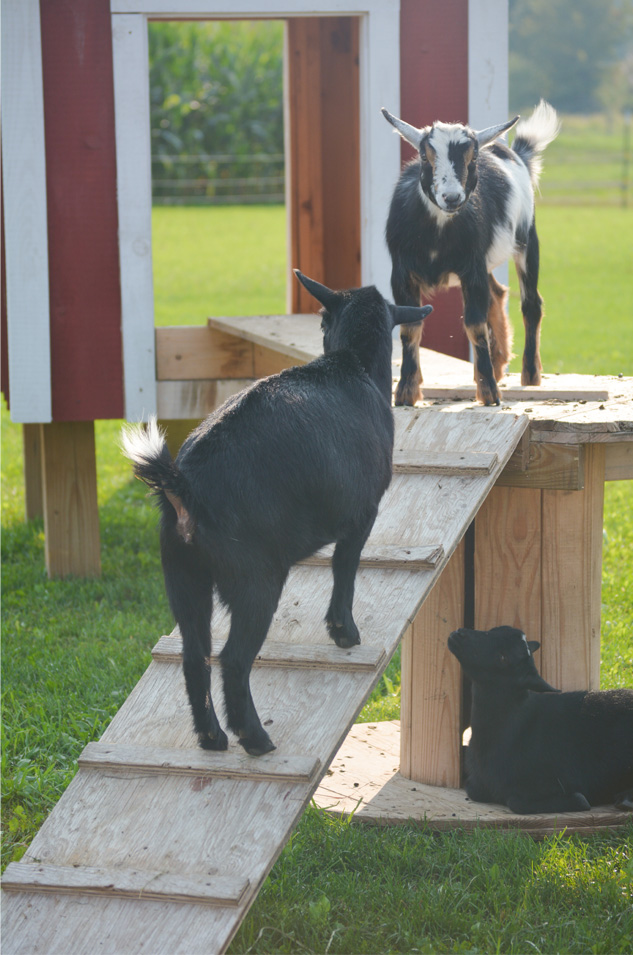 Corn Boxes:
Like a sandbox only with corn.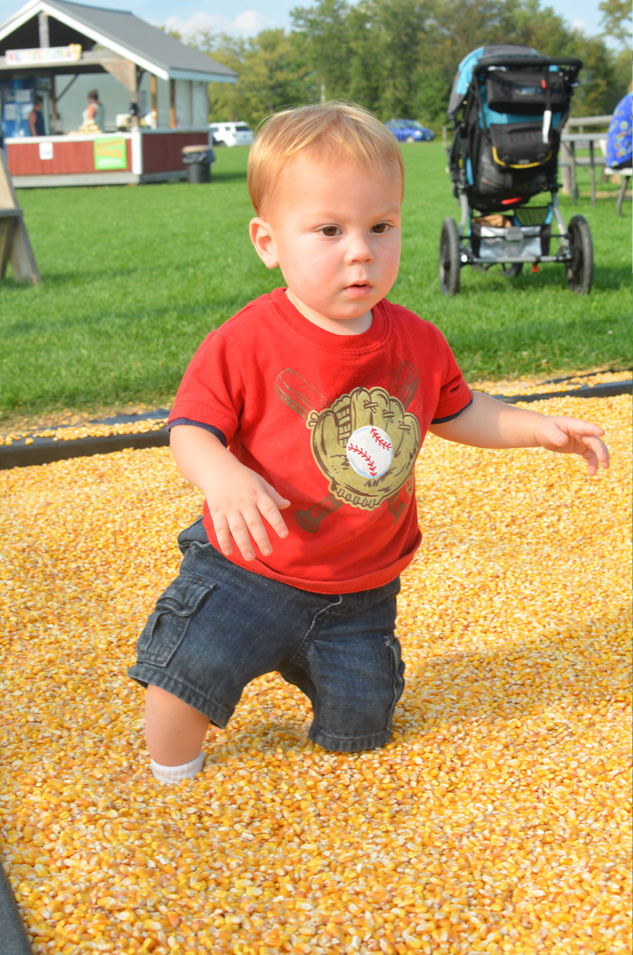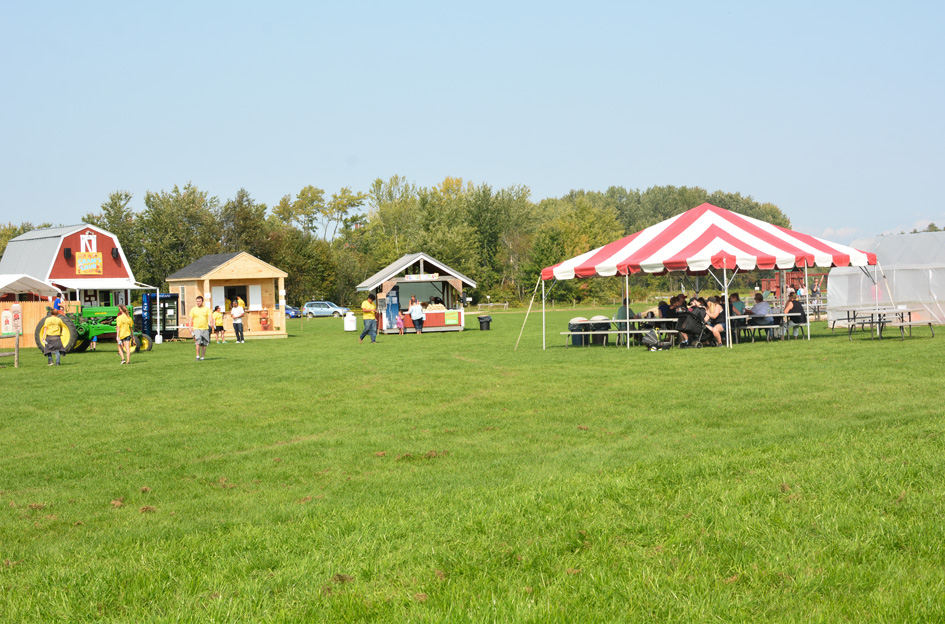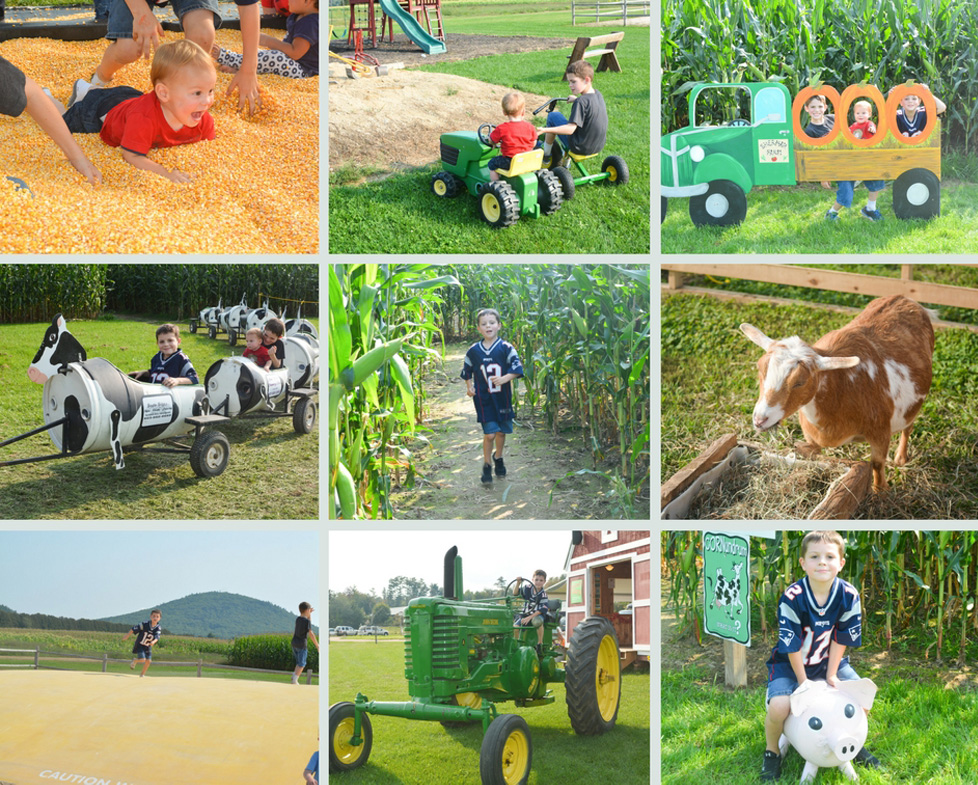 There are also Hayrides to the Pumpkin Patch, we didn't take the hayride this time, but plan to visit in the coming weeks to pick up our pumpkins. The pumpkins are an additional cost and are sold by weight.
Upcoming Events:
Hometown Heroes (Sept. 23-24) – Police, Fire and Emergency Medical Personnel free with proper ID. Sherman Farm's way of saying thank you to those who serve the communities.
Touch a Tractor (Sept. 30-Oct. 1) – Farming, Digging, Logging… they'll have it all!
Locals Day (Oct. 9) 1/2 price admission for residents of Oxford, Cumberland, Carroll and Coos counties.
Lights on Afterschool (Oct. 12, 5-8 p.m.) – A nationwide event celebrating the 20th anniversary of afterschool programs. All proceeds to benefit the local Project Succeed.
Grandparents Weekend (Oct. 21-22) – One free grandparent with a paying child.
Halloween Party (Oct 28) – 1/2 price admission for children under 12 in costume. Rain date Oct. 29.
If you're planning a trip to the Conway area this fall, or live in the Mount Washington Valley, make sure to add a visit to The Maize at Sherman Farm on your to-do list.
For ticket information and directions, visit www.shermanfarmnh.com/corn-maize/.
Save
Save
Save