I have become in love with my crock-pot over the last couple of months. I love being able to combine ingredients in the morning and by dinner time all I have to do is scoop and serve. After I pick up Jacob from school I'm not always a fan of hanging out in the kitchen for an hour prepping dinner. It's so nice to just be able to take things easy in the moments before my husband gets home instead of rushing to get something cooked.
I have found a number of crock-pot dinner recipes that we love and recently came across this Rocky Road Cake Crock-Pot Recipe. I have heard about making a cake in the crock-pot but I never tried to until this past weekend. Much to my surprise it came out amazing, the cake in a crock-pot was a huge hit and I will definitely be making it again.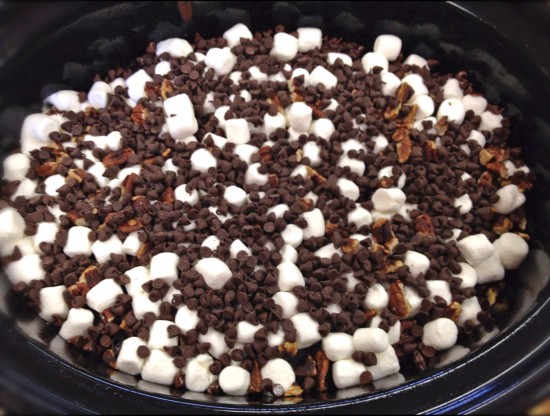 Rocky Road Cake - Crock-Pot Recipe
Ingredients
1 (18.25-oz.) package German chocolate cake mix
(I used Devil's)
1 (3.9-oz.) package chocolate instant pudding mix
3 large eggs, lightly beaten
1 cup sour cream
⅓ cup butter, melted
1 teaspoon vanilla extract
3¼ cups milk, divided
1 (3.4-oz.) package chocolate cook-and-serve pudding mix (I used vanilla since we already had it at home)
½ cup chopped pecans (optional)
1½ cups miniature marshmallows
1 cup mini chocolate chips
Instructions
Beat cake mix, instant pudding mix, eggs, sour cream, butter, vanilla, and 1¼ cups milk at medium speed with an electric mixer for 2 minutes. Pour batter into a lightly greased crock-pot.
Cook remaining 2 cups milk in a small saucepan over medium heat, stirring often, 3 to 5 minutes or just until bubbles start to appear (do not boil); remove from heat.
Sprinkle cook-and-serve pudding mix over batter. Slowly pour hot milk over pudding. Cover and cook on LOW 3½ hours.
Heat pecans in a small nonstick skillet over medium-low heat, stirring often, 3 to 5 minutes or until lightly toasted.
Turn off slow cooker. Sprinkle cake with pecans, marshmallows, and mini chocolate chips. Let stand 15 minutes or until marshmallows are slightly melted.
Scoop and serve.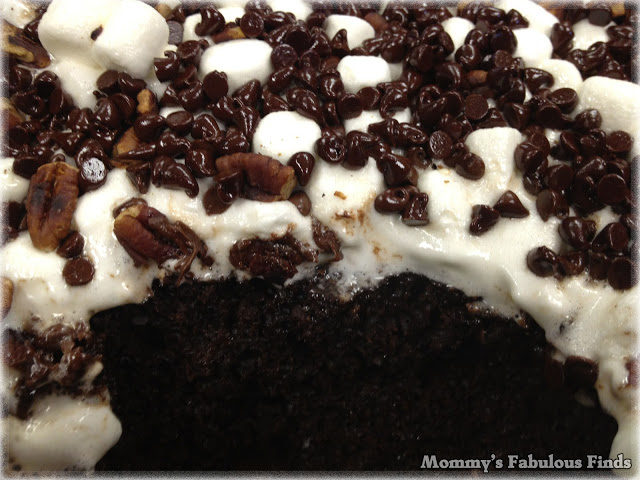 The cake is amazing by itself but is even better served with a scoop of vanilla ice cream!