This spring Tiny Love has introduced two new designs to their popular 3-in-1 Rocker Napper – "Blue" & "Flow", the Rocker Napper was previously only available in red and brown. The "flow" design features purple, red, blue, yellow and green stripes with a lime green border while the blue" Rocker Napper is blue with a grey and ivory striped seat pad.
I was first introduced to the Rocker Napper at the Drool Baby Expo in Boston just over a year ago, and was excited to hear about the two new designs that are now available. The 3-in-1 Rocker Napper features three different recline settings and easily converts from a playtime seat to a napper. Combining three great features in one, the Rocker Napper provides a place for baby to play, a place to sit, as well as a place to sleep.
Tiny Love 3-in-1 Rocker Napper Features:
Easy switch from sit to sleep using one hand – lever on back of seat.
Adjustable toy bar for easy access
Baby activated electronic toy with 9 different tunes to soothe
1 removable soft toys
Calming vibrations felt through entire seat
3-in-1: rocking, napping, playtime
Raised border provides a safe & cozy napping environment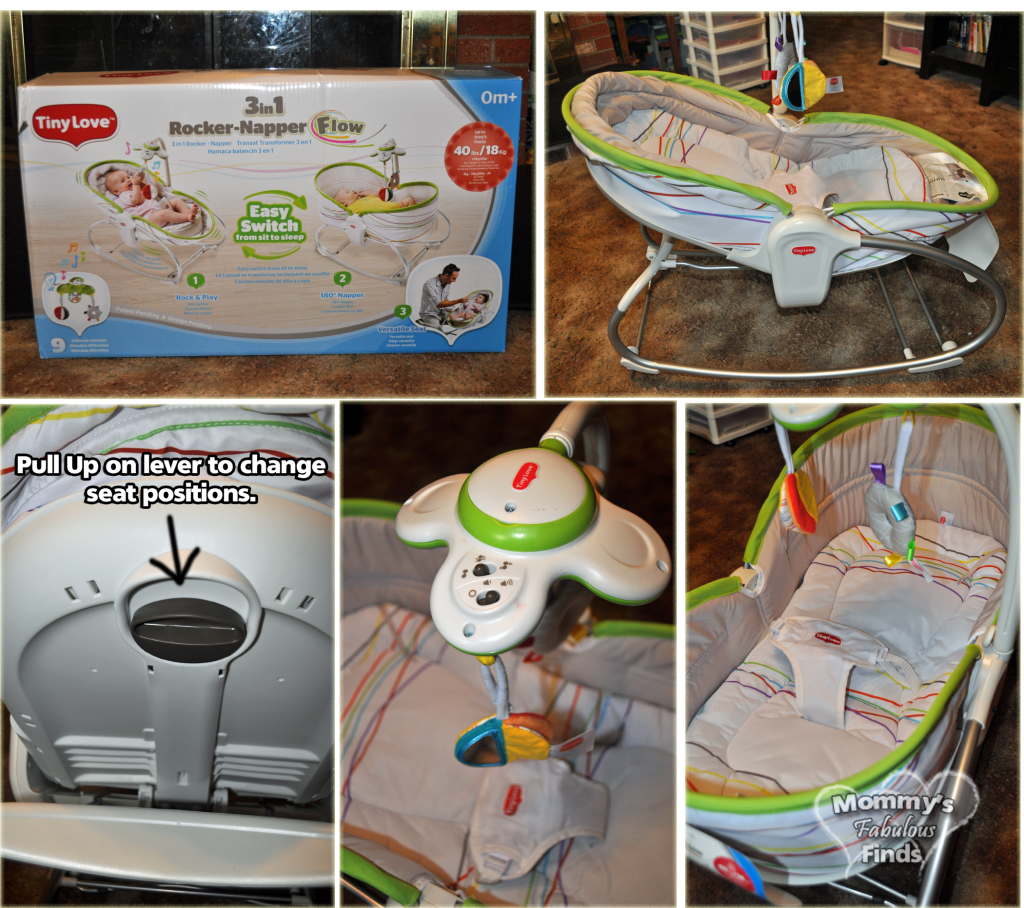 Two of my favorite features of the Tiny Love 3-in-1 Rocker Napper is the ability to use it as a seat as well as recline it to 180° for nap time and also the vibration option. Unlike music that soothes some babies, I found out that my children both preferred vibration which was a must have feature on our baby gear, the vibration was especially comforting to Tyler who suffered from Colic. When baby falls asleep while playing just simply lift up on the lever on the back of the seat using one hand to change the position, some children need to sleep on an incline so instead of laying the Rocker Napper 180° you can put the recline to position number 2. There's no need to wake baby to lay them in a crib or play yard.
The 3-in-1 Rocker Napper is great for homes with limited space or for that families the frequently travel. We traveled quite often, and having an infant seat was a must have as well as a place for baby to safety sleep. As much as I loved holding the boys, I needed my hands free at times to mingle with family members, or to cook, clean, and sleep. The 3-in-1 Rocker Napper comes apart easily for travel, great to bring to Grandma or Grandpa's and can be easily stored in the back of a vehicle.  I know first hand how hard and stressful it can be to travel with infant, you can ease a little stress knowing you have a safe place for baby to sleep and play.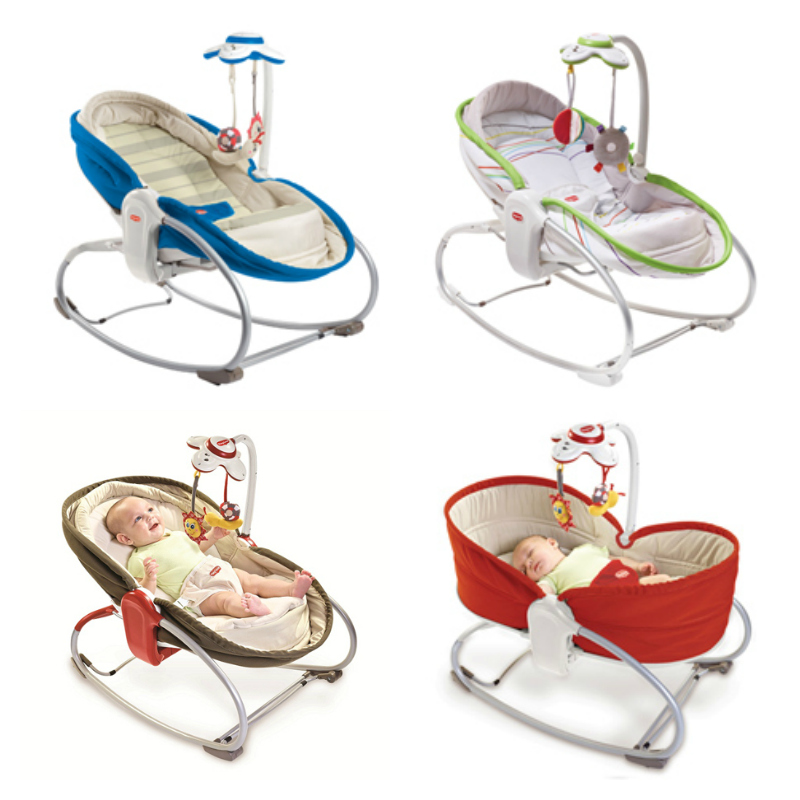 Buy It: You can purchase the Tiny Love 3-in-1 Rocker Napper at retailers nationwide including online at http://store.tinylove.com for $99.99.
Tiny Love 3-in-1 Rocker Napper Giveaway:
Thanks to Tiny Love, one lucky reader will win a 3-in-1 Rocker Napper in either Blue or Flow – Winner's choice. To enter, simply fill out the form below.
Visit Giveaway Rules. This giveaway will end on July 31 2012 at 11:59pm EST. The winner will be chosen via Rafflecopter. The winner will have 24 hours to respond or a new winner will be selected. You must be 18 years or older. Open to U.S. &residents. No P.O. Boxes.
Disclosure: Product, giveaway samples and information have been provided by the representing PR/Sponsor. All opinions are my own.