Product provided by K'NEX. All opinions are my own personal and honest thoughts.
Being a K'NEX Ambassador has given our family the opportunity to try out new products. One product that my children love to play with on a daily basis thanks to my Ambassadorship is TinkerToy. I'm not sure why I never purchased them before but it is one product that I can guarantee to keep my children busy for hours. Earlier this year we packed up a a box of TinkerToys to take the 14 hour trip to Michigan with us, not only did they keep the boys busy during the long car ride, but we were able to bring them to  aunts & uncles houses and grandparents since they pack up neatly in the box. Since there are over 100 pieces, there are plenty for more then once child to play with.
The boys were excited to receive the TINKERTOY: Super Tink Building Set that can be used to create animals, skyscraper, fighter jet, getaway cars, houses, bunk beds for stuffed animals…the options are endless. The Tinkertoy Super Tink set includes 150 durable, plastic pieces including spools, straight rods, bendable rods, wings, eyes, panels, a Super Tink buildable figure and a color sheet with 15 different building ideas.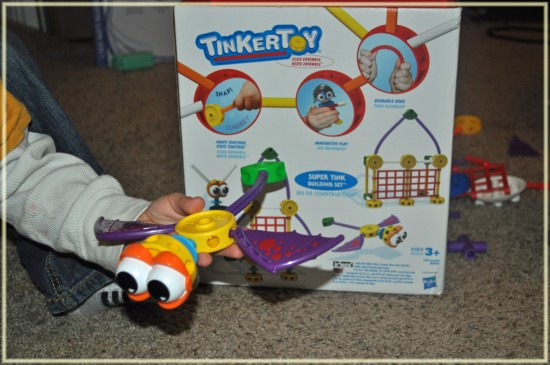 My favorite feature of this set is the sturdy box with lid that makes for easy storage and portability. It fits neatly on the toy shelf keeping all of the pieces in one spot, and can be packed up for on-the-go.
The boys will pull out their TinkerToy sets and just let their imaginations go wild. I couldn't believe when I walked into the room and saw them making bunkbeds for their stuffed animals. They also enjoy building rocket ships, towers, planes, helmets, and animals. The TinkerToy is definitely one toy that I can guarantee to keep them busy for a couple hours.
Buy It: The TINKERTOY: Super Tink Building Set retails for$44.99 and is available on knex.com, Amazon.com, HomeDepot.com and at toy retailers nationwide.