With school out for summer this week, I have been looking for ways to keep the kids entertained and active this summer. Most of our days are spent outside playing in the yard, so I have been slowly adding to our outdoor bins that we store in the garage. On nice days, we pull the whole bin in the driveway and the kids are free to pick and choose whatever they want to play with, trucks, sidewalk chalk, balls, and Nerf toys.

3 Favorite Outdoor Activities:
Chalk roads: A few years back a friend of mine drew roads out of chalk in our driveway for my oldest son, and ever since that day, our driveway is often turned into chalk city. While I often get stuck drawing all of the roads, and parking lots, the kids often add their own personal touches with houses, sidewalks, restaurants, and stop signs. It takes me just a few minutes in the morning to draw up all the roads, but it provides hours upon hours of imaginative and active play all day long.
Riding bikes/scooters: Riding bikes and scooters is my youngest son's favorite outdoor activity. As soon as he wakes up in the morning, he asks to go outside and ride his bike, and he'll be out there until nightfall. During the rain, you can catch him riding his scooter or bike in our garage, there's no stopping him once the snow melts.
Nerf toys: Even as a child, Nerf toys have always been a big part of summertime fun. Between the Nerf balls, super soakers and the Hasbro's Nerf N-Strike Elite Demolisher 2-in-1 Blaster, the boys are sure to have a blast this summer. Trevor has been spending his days outdoors with his Nerf N-Strike Elite Demolisher 2-in-1 Blaster looking for tracks and "hunting" just like his Dad.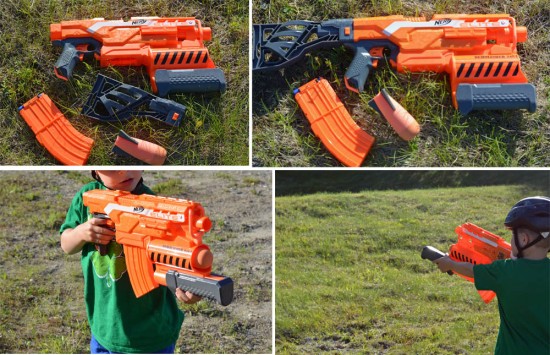 Toys "R" Us is the perfect one stop shop to pick up your favorite summer toys and game.  But in order to get those toys working, make sure to pick up Duracell batteries while at Toys"R"Us! Batteries are often needed, but rarely come pre-packaged in toys, so don't miss out on the fun, and make sure to stock up on Duracell the next time you're at Toys"R"Us .
 A little more about Duracell Battteries:
AA Coppertop offers up to 15% longer lasting vs. leading competitive brands.
Duracell Quantum batteries last up to 35% longer vs. the next leading competitive brand.
Guaranteed to protect devices from damaging leaks.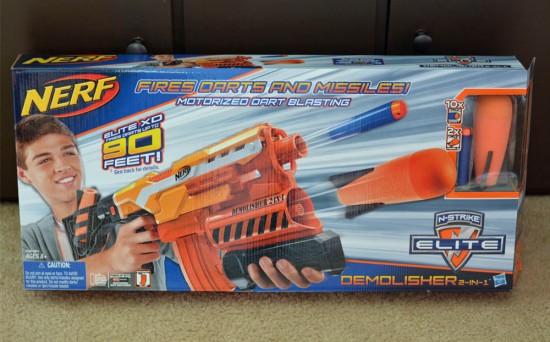 Hasbro's Nerf N-Strike Elite Demolisher 2-in-1 Blaster:
Launches two types of ammo and has a maximum impact whether you're blasting big missiles with pump-fire action or unleashing a powerful barrage with motorized blasting.
Pump-fire missiles and motorized blasting can be fired at ones to truly demolish the competition!
Missiles can be stored in detachable stock for easy access.
Special offers on Duracell and Nerf blasters at Toys R Us:
During the week of 6/14:
Buy 1 pack of Duracell and get 2nd pack at 40% off
Nerf blasters are 20% off
Join us for the #TRUPowerUpFun Twitter party on 6/15 at 1pm EST to talk about fun and creative activities to keep kids entertained and active throughout the summer
Enter to win a Toys"R"Us & Duracell Prize Pack!
Giveaway prize includes a $50 Toys"R"Us gift card & Two packs of 4 AA Duracell Batteries.
a Rafflecopter giveaway

This post is brought to you in partnership with P&G and Toys"R"Us. By entering this giveaway you agree to the Giveaway Rules. This giveaway will end on July 9, 2015 at 11:59am EST. The winner will be chosen via Rafflecopter. The winner will have 24 hours to respond or prize will be forfeited. You must be 18 years or older. Open to U.S. residents only. No P.O. Boxes. Giveaway prize and information provided by sponsor. Allow 4-6 weeks for prize fulfillment.  All opinions are 100% my own.