Jonathan and Trevor love to play outside, they'd stay outside all day and night if I let them. We walk up to our local park often in the summer and the boys love to play in the wooden playhouse, and little man loves to use his imagination to cook me up some dinner so I have had my eye on a Step2 playhouse for quite some time. When I received a call to set up a delivery time for a shipment from Step2, I could not have been more excited, I felt like a little kid on Christmas. Before long the Step2 Gather & Grille Playhouse was sitting in a huge box in our driveway patiently waiting to be assembled.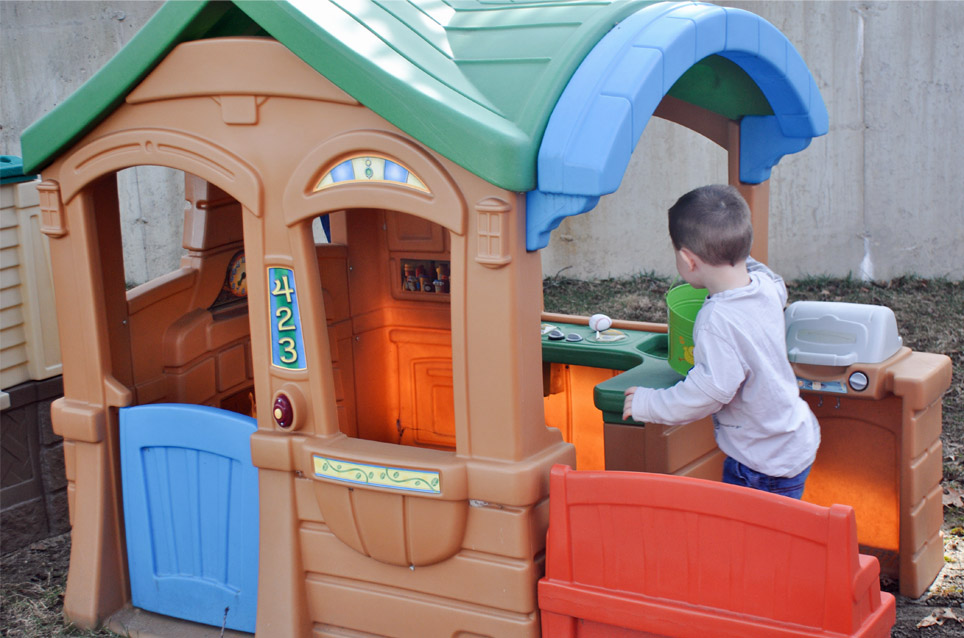 Step2 Gather & Grille Playhouse
Outdoor patio area with built-in "grill" and bench for two
Built-in kitchen with sink and fun decals
Electronic doorbell (requires 2 "AAA" batteries, not included)
Dutch door and large windows
Playhouse interior 54″ (1.37 m) tall
Includes 5 piece accessory set
Minimal adult assembly required
Step2 Gather & Grille Playhouse Assembly:
The box was huge and I thought it would take a little while for my husband and his friend to put together the Gather & Grille Playhouse, but within 30 minutes the playhouse was all set up and ready to use. The directions were easy to read and had diagrams, it mainly included sliding the pieces into each other and screwing them in, I highly recommend using an electric drill to make assembly faster.
Outdoor patio area with a grill and bench for two:
Little Man loves to help his Daddy grill and was quite excited to have his own little grill. He went right to work grilling up some hot dogs & hamburgers topped with ketchup and mustard. The bench is a great play for the kids to eat their burgers or just to hang out, it is a great size for both of the boys and they can sit next to each other.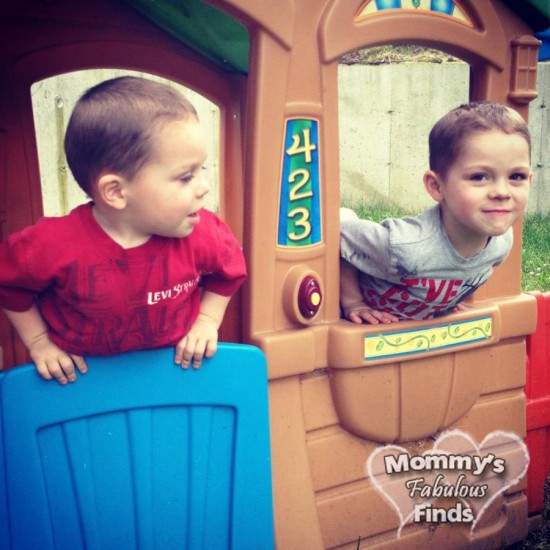 Built-in play kitchen with sink and fun decals:
The built in sink reinforces good behavior, it reminds Little Man that he has to wash his hands before he cooks food. It is cute to watch him wash his hands after he touches the "raw meat" just like Daddy. There are also fun decals in the play kitchen that depict a stove top, so Little Man can cook up his veggies and beans while the meat is cooking on the grill, and there is also a "spice set" on the side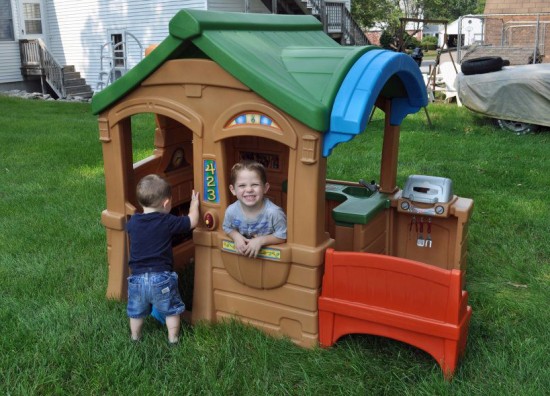 Attractive Design / Electric Doorbell:
The boys love their playhouse, and it looks great in the yard, I like how it blends in and doesn't instantly scream "kids!" I really like the 2 in 1 feature, not only is it a playhouse but there is also an extended area for grilling & hanging out with friends. Baby Boy's favorite feature is the electronic doorbell, he loves to press it before he walks into the house.
Durable, Well Made, Easy to Move:
The Step2 Gather & Grille Playhouse is durable and well built, it can be easily transported if you happen to need to move it from one side of the yard to the other, you do not have to worry about pieces falling off. All of the pieces are sturdy, and I can see this playhouse lasting for years to come.
Where to buy the Step2 Gather & Grille Playhouse:
You can purchase the Step2 Gather & Grille Playhouse for $399.99 at a variety of retailers nationwide including www.step2.com and Toys R Us.

*The representing PR or Company provided a product for review and will be providing the giveaway prize.