This #HolidayAdvantEdge shop has been compensated by Collective Bias, Inc. and its advertiser. All opinions are mine alone. #CollectiveBias
Today we picked out a Christmas tree which means I can officially start to decorate the house! It has been a tradition ever since I was a child to put up our Christmas tree the weekend after Thanksgiving, and a tradition that I now carry on with my family. This year it began to feel like winter early with all of the snow that is already on the ground and I have been anxiously waiting to put up our tree and to start baking holiday recipes. Last year we rarely got enough of the "right" snow to build a snowman, but this year we are living in the mountains and have already made our first snowman of many.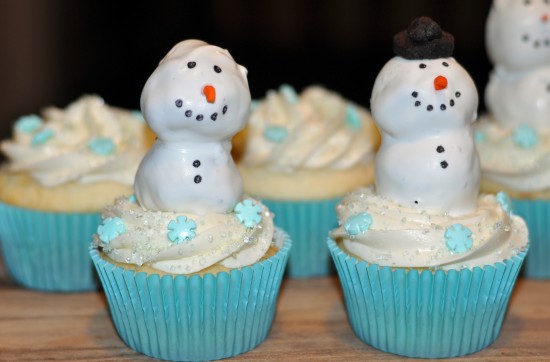 While there are a few go-to holiday recipes that we make throughout the month of December, I also enjoy making new recipes and desserts especially when it is something that the boys will enjoy. Oreo Truffles are always a huge hit, so this past weekend while we were stuck in the house due to a snowstorm the boys and I decided to tweak our usual recipe to make cupcakes topped with Snowman Peanut Butter Oreo Truffles.
With a snowstorm in the forecast we headed off to Price Chopper to pick up a few ingredients that we would be needing including Jif® Peanut Butter and Crisco Vegetable Oil. While I typically make the cupcakes and frosting from scratch I decided to take the simple route with boxed cake mix, and pre-made frosting. If you have a favorite recipe, feel free to make your own cupcake batter /frosting.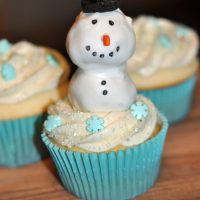 Ingredients
Cupcakes:
White cake mix

1 1/4

cup

water

1/3

cup

Crisco Vegetable Oil

3

egg whites

1 16

oz

container vanilla frosting

18

cupcake wrappers

Sprinkles

optional
Snowman Peanut Butter & Oreo Truffles:
14.3

oz

package Oreos

6

oz

cream cheese

about 3/4 of 8 oz block

1/4

cup

Jif® Peanut Butter

White chocolate candy melts

Black food marker

Orange sprinkles

Toothpicks

Shortening

if needed
Instructions
Bake cupcakes according to directions, allow to cool. Once cooled, top with frosting, and sprinkles.

Blend Oreos in food processor until well blended, add in cream cheese & Jif® Peanut Butter, blend until smooth.

Roll mixture into bite sized balls.

Melt 1/4 of candy melts and apply a dab to act as glue to hold two Truffles together in the shape of a snowman.

Place in fridge for 30 minutes and allow to harden.

Once hard, melt the remaining candy melts in the microwave in 30 second intervals, 50% power until smooth. Add a tsp of shortening if needed.

Place a tooth pick into snowman and dip into melted chocolate, once dipped, tap to remove excess chocolate and place on wax paper. Remove toothpick and apply a dab of melted chocolate on top if needed to fill whole.

Add a orange sprinkle for the nose before chocolate hardens.

Once chocolate hardens, use food marker and dot eyes and mouth. Add to top of cupcake.
Notes
While cupcakes are baking, start on the Peanut Butter Oreo Truffles.
While these Snowman Cupcakes with Peanut Butter Oreo Truffles were a huge hit, I realized a major shortcut after the fact that would have made them quicker. To make the snowman a little easier, next time I plan to use the small cake pop sticks and stack two Oreo truffles on a stick instead of using the candy melts as the glue. The stick & Oreo Truffles could then be dipped in the melted chocolate and then go right into the center of the cupcake to make them sturdier, especially if you plan to travel with them.
Since the boys became expert snowman builders this past week with all of the snow we have outside, they also mentioned to me how I forgot the arms, hat, and scarf which are all great ideas to add next time we make them. We were able to construct a few hats out of left over Oreo, Peanut Butter, & Cream Cheese mixture.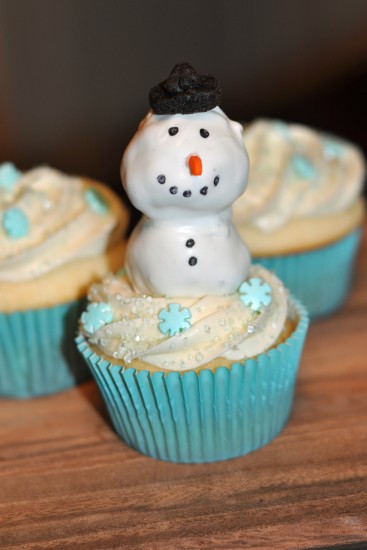 Do you enjoy baking for the holidays? What are your favorite go-to holiday recipes?