I grew up learning how to tell time with an analog clock as well as a digital clock, but it amazes me how many people didn't. My brother is a high school teacher and a few weeks ago we were talking and he mentioned how a few of his students didn't know how to tell time with an analog watch. In today's society it seems like everything is digital, instead of trying to figure out what time it is with the analog clock on the wall, children and adults simply look on their phone.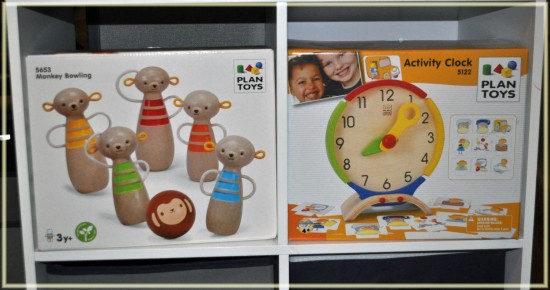 Jacob and Tyler are constantly asking what time it is, so we have been working on the reading a digital clock as well as an analog clock. PlanToys recently sent us their Activity Clock to help the children learn about the timing of activities as well as lean how to tell time with an analog clock, they also sent along a Monkey Bowling Set.
PlanToys® is not only well-known for the first company in the world to manufacture wooden toys from preservative-free rubberwood, it is one of the leading company to create new material and process to minimize waste up to zero.
PlanToys Activity Clock: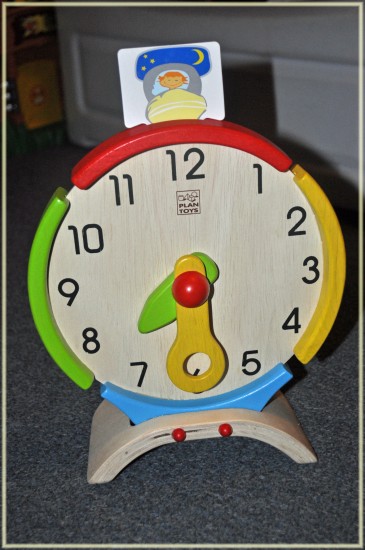 The wooden clock features 9 activities cards: brushing teeth, waking up, going to sleep, eating, reading, playtime, watching T.V., bath time, and getting on the bus. Three blank cards are also included so parents can write down their own activities.
Children can place the activity card on the clock and relate the activity with a specific time, for instance the boys go to bed at 7:30pm, so we place the "bedtime" activity on the top of the clock, and change the time to 7:30.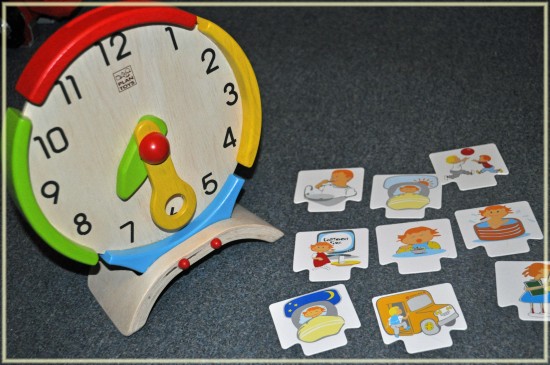 The PlanToys Activity Clock has not only been a learning tool to help the children learn how to tell time, but they are starting to realize what the hours in the day means. Before 5pm meant nothing to Jacob, but now he realizes that 5 pm is dinner time, and that the higher the numbers get at night, the later it gets.
PlanToys Monkey Bowling:
In addition to learning how to tell time, the boys have had a fabulous time bowling with PlanToy's Monkey Bowling! We seem to only go bowling once a year, during our annual trip to Cape Cod, but that doesn't mean the boys don't enjoy it. Monkey Bowling is made with real wood and water-based dyes. It includes 5 funky monkey pins and a monkey ball, stand all of the monkeys up and try to knock down two or three at a time, or maybe even all five! Recommended for ages 3 and up.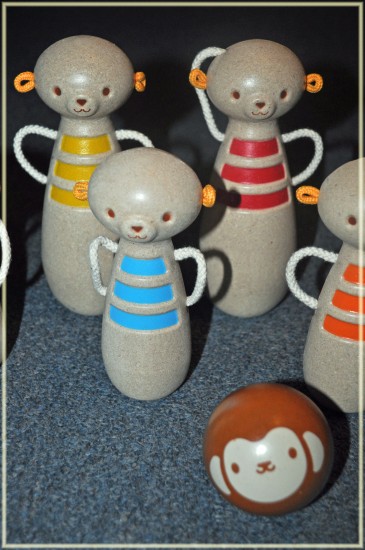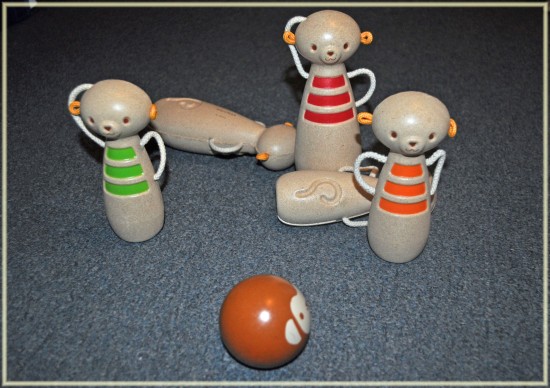 Buy It:
Available to purchase at PlanToys.
Monkey Bowling – $25.00.
Activity Clock – $35.00
Connect with PlanToys on Facebook & Twitter.
Disclosure: Samples & information provided by sponsor. All opinions are my own personal and honest thoughts.