I knew moving to the northeast that we would bet getting our fair share of cold weather and snow, but 6 feet in 30 days! While the kids have been having a blast sledding, riding snowmobiles and making snowmen, I'm more than ready for the spring to arrive and for all of this snow to melt.   With the harsh winter that we have been having, it was the perfect time for Panasonic to send me their Snow Storm Work From Home Survival Kit.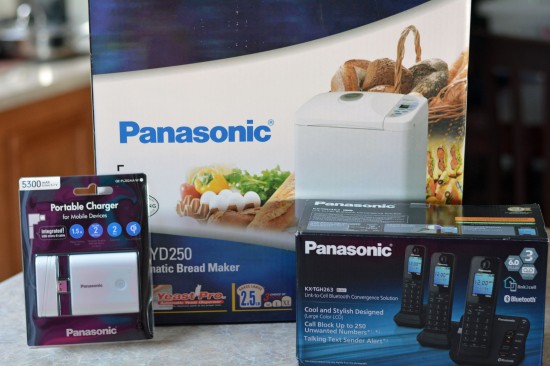 Panasonic  Bread Maker with Yeast Dispenser :
Every winter when we visited my husband's grandmother, she would always have a loaf of fresh bread on the counter with homemade jam. I have been wanting a bread maker for a few years now and the Panasonic Bread Maker with Yeast Dispenser has been a perfect addition to my kitchen.  It features an automatic yeast dispenser, 13-hour preset timer, and non-stick pan with an easy carry handle. We have been snowed in for way too many days, and since we can only play outside in the freezing temps for so long, the kids and I have been enjoying trying new recipes. Cinnamon raisin bread has by far been the favorite, and I love how the bread maker is not only limited to just breads, but we can make our own pizza dough as well which has been perfect for our Friday homemade pizza nights.
The Bread Maker with Yeast Dispenser is available to purchase at Panasonic for $179.95 $124.95.
Qi Mobile Charger for Smartphones and Tablets:
One of my biggest fears about loosing power, is not being able to charge our smartphones. Our smartphones are more than just a cellphone, they're our line of communication as we do not have a land line. In addition to staying in contact and being able to make phone calls, I also rely on the alarm on my phone, so does my husband. My husband's job also requires him to be on-call 24/7, so it's necessary for him to have his phone on and charged 24/7. With the Qi Mobile Charger for Smartphones and Tablets, I have a little more peace of mind, knowing that we can charge our smartphones during a power outage or if we are on the go and our battery is running low.
Ability to charge two devices at once
Compact and fits easily in purse, glove box or bag.
Convenient for on-the-go charging
Micro-USB cable included
Recharge via USB. (We use a USB wall outlet.)
The Qi Mobile Charger for Smartphones and Tablets is available to purchase at Panasonic for $49.99.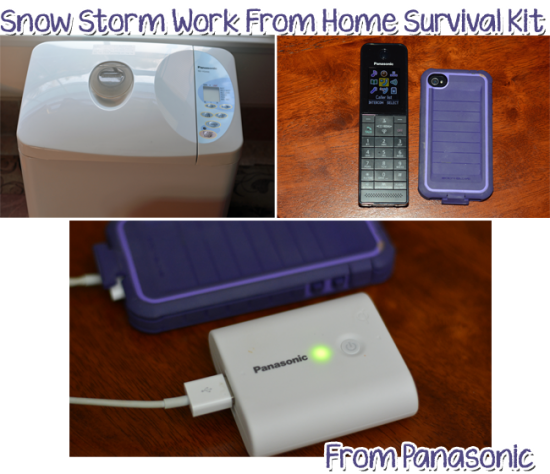 Link2Cell Bluetooth® LCD/2 Handsets:
One of the major downfalls to not having a landline,  is missing calls and texts due to it being in a different room than our phones. My husband also has major issues with dropped calls in our house as he doesn't have good service in our new neighborhood and tends to pace back in forth the whole time he is talking on the phone, it is impossible for him to sit down and stay in one spot. With the Link2Cell Bluetooth® LCD/2 Handsets we can sync our smartphone to the home phone, even without having a land line. Once the Bluetooth is turned on, the calls sync and ring through the Link2Cell handsets. Not only are the ringers louder, but with the additional handsets we are able to place them on opposite side of the house. My husband can leave leave his smartphone near the front corner of the house where he tends to get the best service, and doesn't have to worry about loosing service and dropped call since he no longer needs to walk around with his cell phone, the calls are synced to the Link2Cell handsets.
Battery back-up for when the power goes out.
Talking caller ID.
Silent mode. Program phones to stay quiet during specific time (sleeping/baby napping).
The Link2Cell Bluetooth® LCD/2 Handsets is available to purchase at Panasonic for $119.95 $87.99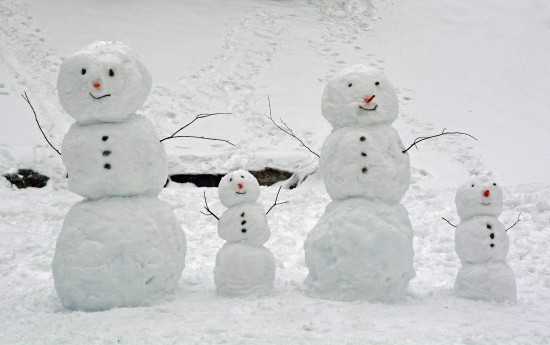 How much snow have you received recently?
Product provided. All opinions are 100% my own.