Product provided by Panasonic.
Since my husband and I got married 7 years ago, we have never owned a house phone, we have always used our cellphones. We simply didn't have a need for a land line and since most of our communication is now through email, the minutes we had on our cell phone was enough. Using cell phones as your only phone line can be beneficial in some areas but since we have moved we have been having trouble with dropped called especially with my husband's phone. He has always been one to walk around when he is on the phone with friends and family members, and can't stay still. In the summer time he'll pace back and forth outside our house on the phone sometimes for an hour plus with his father. But since we have moved, he can only stay in certain parts of our house and can't walk around or his phone will lose connection. After a while this gets irritating especially when we're having a conversation and it's constantly fading in and out and dropping calls.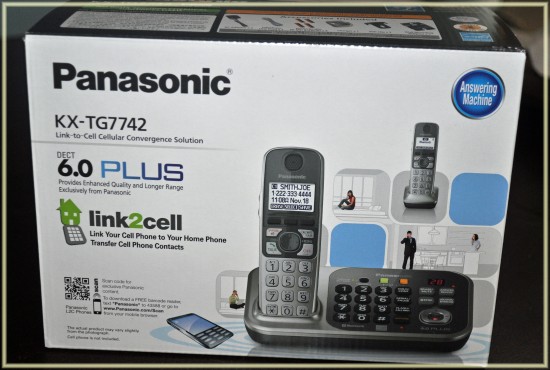 Panasonic Link2Cell KX-TG7742S
I recently learned about the Panasonic Link2Cell, which looks like a everyday landline phone, but you can use it with your cellphone in addition to using it as a landline. Simply place your cellphone in the area of your house where you get the best reception and sync it up via Blutooth with the Link2Cell handset. You can make and receive calls and talk on the phone for hours without the hassle of drop calls.
The Panasonic Link2Cell includes two handsets and features text-to-speech technology which announces the caller's information in between rings so if you're not near the phone or in another room you can hear who is calling. After opening the instruction booklet I was a little worried the complexity about setting up the phone but it was fairly easy. Once I plugged the unit in the wall outlet and let it charge for 7 hours I started connecting my iPhone via Bluetooth.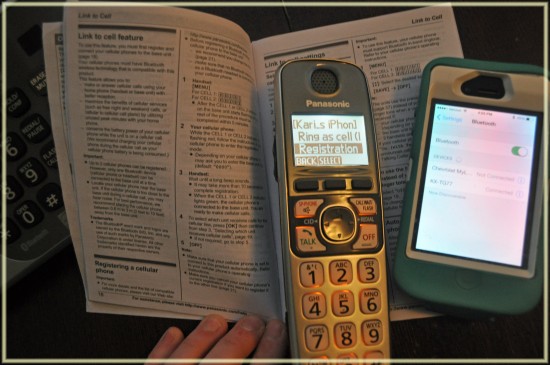 With just a few short steps I was able to start receiving calls on the Panasonic Link2Cell KX-TG7742S. The sound on the other line was crisp like when I'm on my cell phone and without saying anything my Aunt would have never known I was not directly on my cellphone. I really like having the two handsets, we can keep one upstairs and one on the main floor and no longer have to miss phone calls due to not hearing the cell phone ring in the other room, and it will be convenient for my husband to not constantly have to deal with dropped calls.
The Panasonic Link2Cell KX-TG7742S is available for $89.95 and is available at retailers nationwide including online at Panasonic.
#SavedCall Giveaway: Win a Panasonic Link2Cell KX-TG7742S!
By entering this giveaway you agree to the  Giveaway Rules. This giveaway will end on March 21, 2014 at 11:59pm EST. The winner will be chosen via Rafflecopter. The winner will have 24 hours to respond or a new winner will be selected. You must be 18 years or older. Open to U.S. residents. No P.O. Boxes. Please allow 6-8 weeks for prize fulfillment by sponsor.