This post brought to you by Huggies® Little Movers. All opinions are 100% mine.
I have always loved being around children since I was a young age. Growing up my mother used to have an in home day care and few of the children she started watching at 6 weeks old. It was amazing how much they grew within the first year, from newborns that just slept and ate all day, to climbing and getting into everything at 9 months old. Now that I am a mother of a precious baby boy I love watching him grow and achieve new milestones, sitting up by himself, crawling, and walking.
He's always been an active boy and has been walking full tilt since he turned 10 months old. While he's always on-the-go and hates to sit still it's important to have a diaper that is not only comfortable but durable. The new Huggies® Little Movers diapers with Double Grip Strips provide a comfy fit that lasts with trusted protection of Huggies LeakLockTM system.
NEW Huggies® Little Movers diapers with Double Grip Strips:
The Huggies Little Movers diapers with Double Grip Strips feature Velcro strips on the sides of the front diaper panel, new colors & graphics and the SnugFit waistband provides an all-around stretchy fit kepping baby comfortable and protected.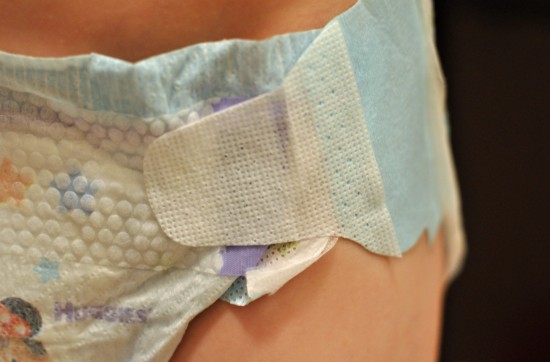 Check out the video for exclusive movements and activities to celebrate baby's moving moments with Huggies and celebrity fitness instructor and mom, Nikki Glor. Parents can get up and moving too!
Activities for Getting Active With Baby:
Patty Cake Crunch and BackRoll:
Lay on the ground with your knees bent in sit-up position; baby sits on your stomach allowing baby to rest their
back on your thighs.
Slowly sit up in a crunch motion and play patty cake with baby; then descend back to the ground.
Repeat 5 times.
On the 5th repetition, gently grab baby by the waist and flip them backwards over your knees to have baby laying
with their back against your shins.
Lily Pad Jump
Have baby squat next to you.
Squat and jump beside baby landing in a squat – like a frog. Encourage baby to mimic as you cross the room.
Repeat 10 times.
Do you have a favorite #MovingMoments video or image?

Share your moving moment and get a Huggies coupon!
Join me in sharing your special moving moment. Visit Huggies.com/moments to upload a photo or 15 second video and Share your Moving Moment. Once submitted you'll also receive a Huggies coupon for Save $2.00 and the chance to be featured on the Huggies Facebook Page. How awesome would that be?!