I participated in an Influencer Activation Program on behalf of Influence-Central for Jif To Go Dippers. I received a sample to facilitate my review and a thank you item for participating.
Between fall sports and after school activities, our family is always on the go. Tuesdays and Wednesdays are two of our busiest days and by the time Jonathan gets off the bus, he has a few minutes to change and get homework done and then it's off to kickball. Convenient snacks that he can eat while on the go are a must, or the crankiness sets in as he cannot last until dinner time on empty stomach. Forgetting a snack at home never turns out good, so I make sure to always leave at least one grab and go snack in his sports bag.
Pretzels and peanut butter are two of Jonathan's favorite things to eat,  but I've never thought about pairing them together, especially not on the go due to the fear of peanut butter making a huge mess.  With the new Jif To Go® Dippers conveniently packaged containers he can now enjoy a tasty snack of pretzels and peanut butter on those busy afternoons. If you have children, you know that snack time is much exciting fun when dipping is involved.

The all new portable all in one snack, Jif To Go® Dippers, are available in two different varieties: Creamy Peanut Butter with Pretzels or Chocolate Silk Peanut Butter Spread with Pretzels.   Creamy Peanut Butter with Pretzels seemed to be the overall favorite in our house. These conveniently packaged snacks are easily transportable and come sealed. They're small and fit perfect in my purse or a sports bag, and since the dip is double sealed I don't need to worry about peanut butter, or chocolate spilling all over the bags.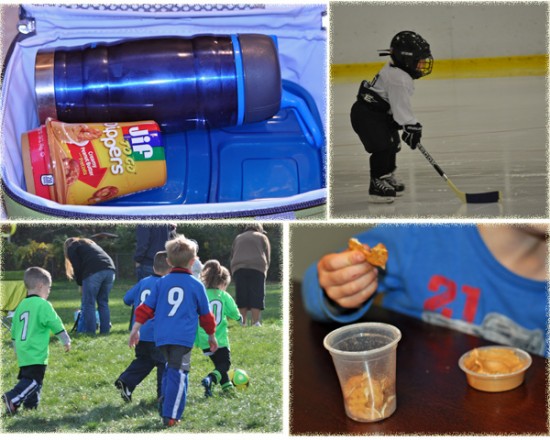 Between running to kickball practice, or to the arena for a hockey game, Jif To Go Dippers provide an easy and delicious solution for any snacking occasion, not only for the kids, but for mom & dad as well. Pack a couple in your bag for on the go snacking between activities, or for a fun snack while enjoying an afternoon at the pack.
Jif To Go Dippers are now available in grocery stores nationwide, in a 1 pack, 3 pack, and 8 pack. To find a store near you, visit the store locator.
Have you tried the Jif To Go® Dippers? Which variety would you prefer?