Disclosure: Samples provided by sponsor in exchange for sharing the sweepstakes. All opinions are my own.
As a huge Crock-Pot fan, I'm excited to announce the
Crock-Pot™ Seasoning Mixes Slow Cookin' Recipe Contest
where one lucky entrant will win a year of free groceries worth $8,500!  With $8,500 I'll have plenty of ingredients to try new recipes that I have been saving on my Pinterest board. Do you have a favorite Crock-Pot recipe? It is a dessert, entree, or appetizer?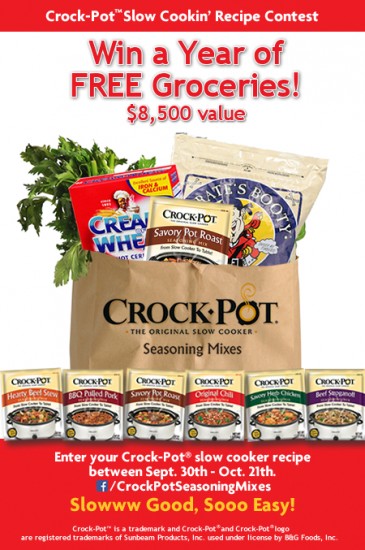 To enter, head on over to the
Crock-Pot Seasoning Mixes
Facebook Page, click on the Recipe Contest tab, and share your favorite slow cooker recipe.
Recipe submissions will be accepted through Oct. 21st
Ten semi-finalists announced on Oct. 28th  & public voting begins
Voting ends on Nov. 18th
Grand Prize winner will be announced on Nov. 25th. The contest judges will judge all the finalists and take into consideration public voting. They will select the top entry for a total of three (3) potential winners based on the following criteria: (a) creativity and inspiration; (b) appearance/presentation, and (c) taste.