Since Baby Boy was born this past February I have been looking for a stroller that I could use as a double stroller or a single stroller. I currently have a double stroller but it is huge and I have given up using it, it was too much work to try to maneuver it around and to squeeze it into my trunk, and my husband doesn't like to use it in stores because it is too bulky. I recently heard about the Britax B-Ready stroller and was beyond excited when I learned that they were sending me one to review! This stroller is everything I have been looking for, I have the option to use it as a single stroller or a double stroller (with the purchase of the 2nd seat) and there is plenty of storage room underneath for the diaper bag or additional bags!
Britax B-READY
The BRITAX B-READY is a full-size, modular stroller capable of growing with your family. The B-READY can accommodate multiple combinations of infant car seats, a bassinet, or dual toddler seats to create an in-line double stroller.
Britax B-Ready Features
Reversible top seat with 3 recline positions
Large under seat storage accessible from all sides
Large canopy with sun-visor and ventilation window
Simple fold with automatic chassis lock
Adjustable handle height with comfort grip
No re-thread, adjustable, 5-point harness and head pad
One-step, linked parking brake with indicator
Comfort ride 4-point suspension
Removable storage bag with insulated drink holders
Set Up:
The B-READY was very simple to set up, all of the pieces snapped into place, no screwdrivers or tools needed. Within minutes our stroller was put together and ready to use. The B-READY is very comfortable to use and moves around easily. The maximum child weight that the B-READY can hold is 55 lbs. Little Man is just under 30 lbs so he will have plenty of time to use our stroller. The seat is very comfy and comes with a padded head rest, padded shoulder straps, an adjustable 5-point harness and a sunshade. There is no air in the tires so you do not need to worry about having a flat tire (like our old stroller) and you do not have to run to the gas station to fill up the tires. Although it is nice not to get a flat tire, the stroller does not have smooth as a ride in bumpy areas becuase there is no air in the tires.
Storage Basket:
The storage basket underneath has openings on both sides of the stroller as well as the front so it is easily accessible. There is plenty of space to put all the bags when you go shopping.
5-point Harness System:
The only thing I do not like about the B-READY is the layout of the 5-point Harness System. The waist and shoulder straps attach together and then clip into the buckle assembly. The straps are able to separate for safety, but it is an added hassle when Baby Boy or Little Man are cranky since they come apart very easily when I am trying to clip them in. The bottom seat is even harder to buckle if you have a squirmy baby.
One-Step Brake System:
I love the One-Step Brake System, when you step on the brake it turns red so you know it is engaged, and when you step again it turns green. Our old stroller had a break on each wheel that you had to engage, so the one step is very convenient and a great feature. We live on a hill so while we were out for a walk yesterday I stepped on the break to try it out, the stroller didn't move at all.
14 Different Configurations:
The B-READY has 14 different configurations that include an infant seat, bassinet, a standard seat and a second seat. You can only use one or you can use any combination of two together.
Use the Britax B-Ready as a double stroller.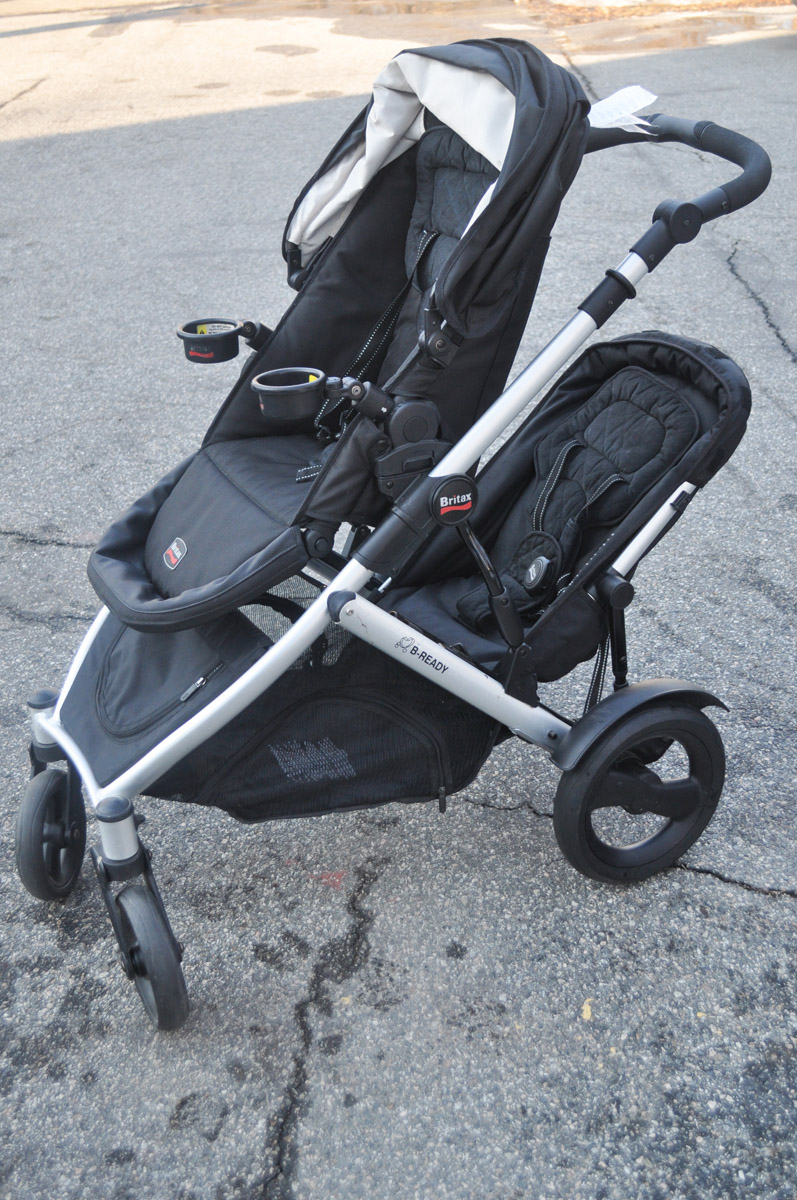 B-READY with the Second Seat: (additional purchase)
Easily converts B-READY stroller to an in-line double in seconds
4-position seat recline
Large canopy with ventilation window
Stroller folds with second child seat attached
5-point harness with 3 harness heights
Built-in seat suspension
The Second Seat takes seconds to install. All you have to do is hook the arms of the Second Seat into the frame, it clicks right in and in seconds the B-READY is ready to use as a double stroller. The Second Seat is smaller than the Toddler Seat, it can only hold up to 35 lbs compared to the top at 55 lbs but the seat is still a good size and can fit Little Man with plenty of leg and storage room available. The Second Seat also has a padded head rest, an adjustable 5-point harness and a sunshade.
I like that you can fold the stroller with the Second Seat attached, you do not need to disconnect it and then reconnect it every time you want to use it as a double stroller. If you want to use it as a single stroller with a press of two release buttons the second seat comes right out which is great if I run to the store with only one child.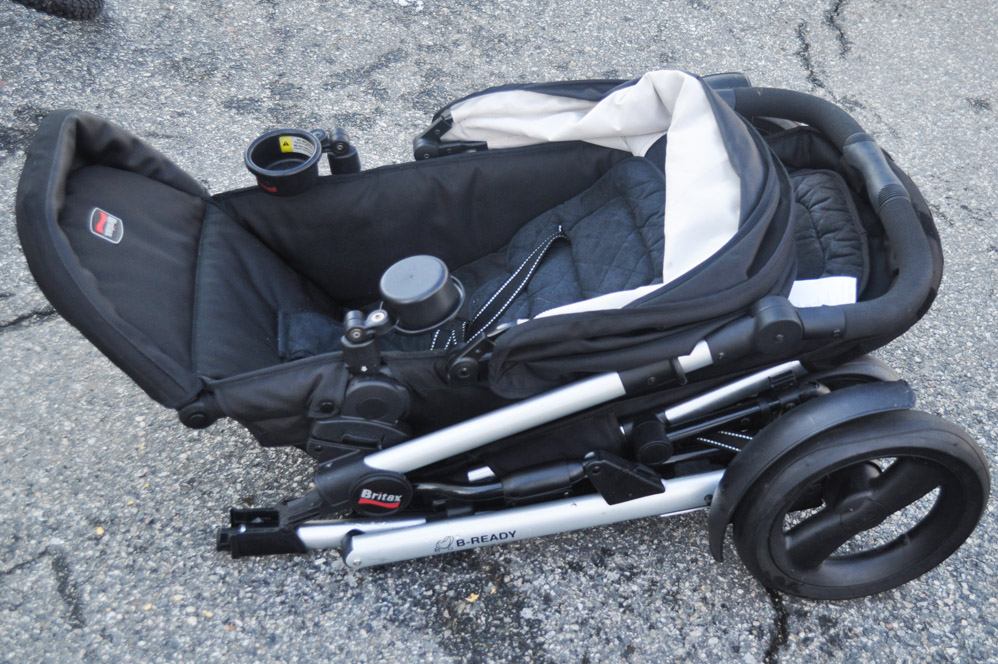 Folds Flat:
This stroller packs up pretty flat with the second seat attached unlike most double strollers that I have seen. Folding up the Britax B-R-READY with the second seat attached is the same size as when I fold up my single Jeep stroller. I had to struggle to get my old double stroller in my trunk and had no room left over, look how much extra space I have now and the second seat is attached also!
With the holiday shopping coming up I am so excited have the Britax B-Ready stroller on my side, shopping with my two little ones has gotten so much easier.
Buy It:
You can purchase the Britax B-READY for $499.99 at a variety of stores including Amazon.com & Buy Buy Baby. The B-READY comes with an adult cup-holder, a rain cover, click & go Britax Chaperon infant car seat adapter. You can purchase the second seat for $149.99.
Disclosure: The author, manufacturer, or representing PR provided me with
a
Britax B-READY stroller for my review. No other compensation was provided. The opinions expressed are my own personal and honest thoughts.