I have been using these Easy Lunchboxes to bring sandwich lunches to the park for the past couple of years, but now with J heading off to 1st grade they have been perfect for school lunches.  While most of the children in his class purchase hot lunch, we made the decision to pack our own lunch, that way I know what he's eating everyday. Even in first grade, "hot lunch" is the cool thing to do, but I couldn't see paying $2.60 a day for food that I know he wouldn't eat. While I wouldn't call him picky,  an egg & sausage English muffin sandwich, or diced chicken & gravy isn't his ideal lunch.  Once in a while I'll let him pick out one hot lunch, which is usually pizza on Fridays.
My preschooler & 1st grader are always asking for lunchables when we head to the grocery store, so I decided to use our Easy Lunchboxes to make DIY Lunchables. Each weekend we brainstorm and write down a list of healthy school lunch ideas. We make a trip to the grocery store and the kids help me pick out a variety of fruits and vegetables, with an emphasis on what is on sale to make bento style school lunches. Cucumbers and carrots are always on the list as well as flat bread for their "make your own pizza".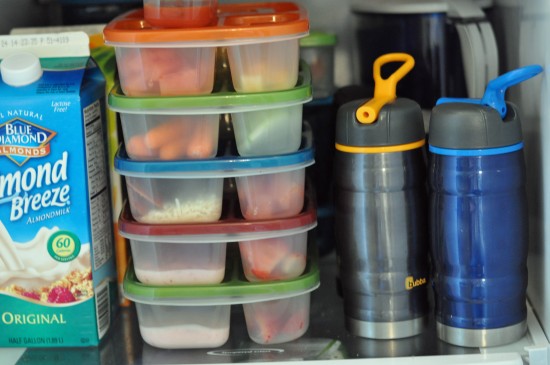 Along with a few additional accessories and cookie cutters, we prep all of our fun and healthy lunches on Sunday evening. In the morning, the bento lunches for kids are already in the fridge, which can be a huge timesaver, I can just grab one along with a freezer pack and put it in their lunch bag.

Variety of cookie cutters
We also use the Rubbermaid Lunch Blox containers, but my go-to is the Easy Lunchbox Containers. The Easy Lunchboxes are not spill proof, so avoid liquids, and use a lunch box that allows the container to sit flat. I do occasionally serve yogurt and have yet to have a problem, but sometimes I'll wrap an elastic band around to be on the safe side. Pizza sauce is also always stored in a separate container.
Healthy lunch ideas for kids: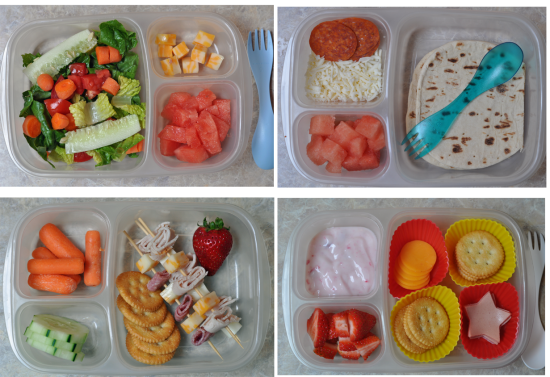 Make your own pizza with Hungry Girl Foldit Flatbread.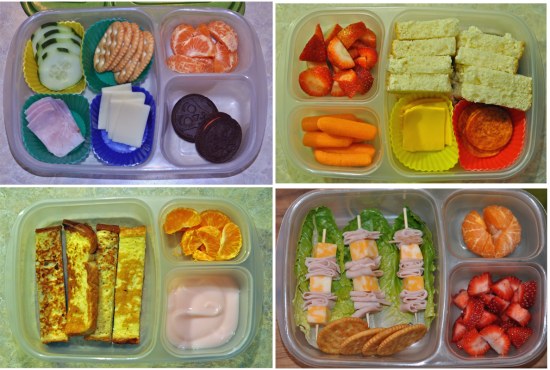 Make your own sandwich, french toast sticks.
Add a little orange food coloring into the waffle mix. Leaf shaped sandwiches.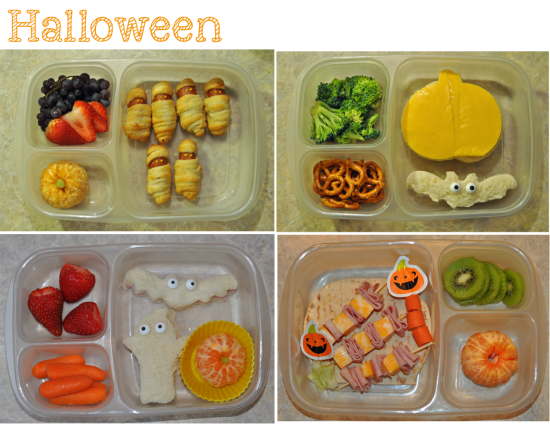 Mummies are made with  refrigerated crescent roll dough and Hillshire Farm Lit'l Smokies.
Have you hopped on the Bento lunchbox wagon?
I think I have more fun putting these together, then the kids do eating them. It's a close call.
Save