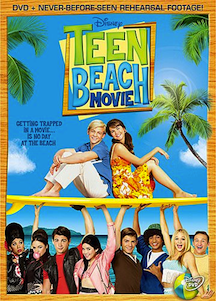 About a month ago while they boys and I were at the theater's to see Monsters University, we got a sneak peek at Teen Beach Movie during the trailers. I noticed the boys enjoyed the singing and dancing but since they have real life characters I didn't think they would be interested in watching the full length movie. I missed the premier a couple weeks ago on The Disney Channel, so I was excited when Disney sent us Teen Beach Movie on DVD.  I knew my husband wouldn't be interested so I popped in in the DVD player one night when he was working late.  The boys were busy playing in their room but as soon as they heard all of the singing they came running in the room. Ty fell asleep shortly after, but much to my surprise Jacob watched the whole entire movie with me, it had to be because of all of the singing and dancing. The fun beats had me wanting to get up and dance a few times.
"Teen Beach Movie" follows teen surfing sweethearts Brady (Ross Lynch) and McKenzie (Mitchell) as they try to catch the last big wave of the summer before McKenzie heads off to boarding school. That last epic waves lands them into a summer beach party from Brady's favorite musical, West Side Story. There, it's surfers versus bikers for control of the beach hangout…and everyone spontaneously breaks into song and starts dancing.  Brady and McKenzie must now try to return to present day, but their lives may be changed forever when they inadvertently alter the movie's romantic storyline when handsome surfer Tanner falls for McKenzie and biker girl Lela starts swooning for Brady.
Teen Beach Movie Clip:
To help celebrate the release of Teen Beach Movie on DVD, one lucky reader will win a Teen Beach Movie prize pack!
1 Teen Beach Movie DVD
1 Sweet Surfer Makeover Kit (Includes: 1 hibiscus flower hair clip, 1 pair of pink sunglasses, 1 tube of pink lipstick, 1 beach ball)
1 Biker Gal Makeover Kit (Includes: 1rose hair clip, 1 pair of aviator sunglasses, 1 tube of red lipstick, 1 red paisley bandana)
By entering this giveaway, you agree to the Giveaway Rules. This giveaway will end on August 15, 2013 at 11:59pm EST. The winner will be chosen via Rafflecopter. The winner will have 24 hours to respond or a new winner will be selected. You must be 18 years or older. Open to U.S.  residents only. No P.O. Boxes.
Disclosure: Product, giveaway prize, and  information have been provided by the representing PR/Sponsor. All opinions are my own.