I participated in an Influencer Activation on behalf of Influence Central for BAND-AID® Brand. I received product samples to facilitate my review as well as a promotional item to thank me for my participation.
As a military family, you never fully get used to the deployments and spending months away from family, but with the sacrifices and stress also come with positive relationships and pride. Pride for being an American and for serving our country and positive relationships as we have met friends along the way who have become more like family. Through the years we have been introduced to a number of organizations that have helped to make the deployments as well as my husband transition back into civilian life easier.
The deployments were not easy for either of us, and during his last deployment I had to take care of the house and raise a newborn in a state 12 hours from our closest family. But though those organizations I was able to meet other families in the same situation and bond together as we were going through the same thing. While I was keeping down the fort at home, my husband was thousands of miles away missing out on a number of milestones; watching his son as he took his first steps, his first Easter, his first Halloween, Thanksgiving, Christmas, and his first birthday. He came home to a child who didn't even recognize him and it was hard. While we missed spending time with each other tremendously, even once he came home, it took time to used to being around each other.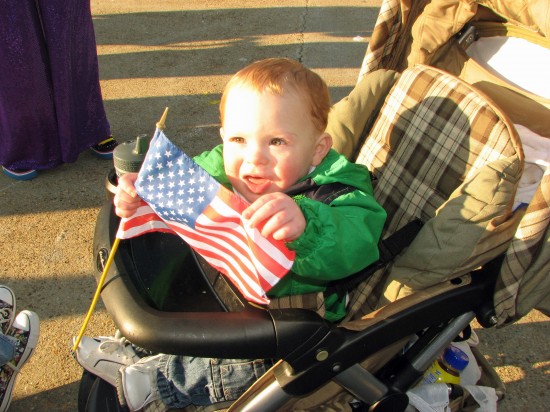 When his time in active duty was ending, it was just as nerve wrecking as the deployment, it was worse at first, but after sitting down with a few other veterans and exploring our options, we were more at ease.  He was so used to the same daily regimen every single day for almost 6 years and it took quite a few months to get used to the civilian life, as the military life was the only thing we had known as a couple, we had met shortly after he first joined. Finding jobs, trying to figure out where we wanted to move to, and not having that close knit military community, that I miss most. But I have found that through it all, the deployment and transitioning to civilian life, surrounding ourselves with friends, family, and activities has helped us tremendously.
Support our Veterans with BAND-AID® Brand
When retuning home, it's important for veterans to have the support of friends and family and activities to stay busy, and the BAND-AID® Brand wants to help. BAND-AID® Brand has partnered with Team Red, White & Blue to help improve the lives of America's veterans by connecting them to their local communities through physical and social activities.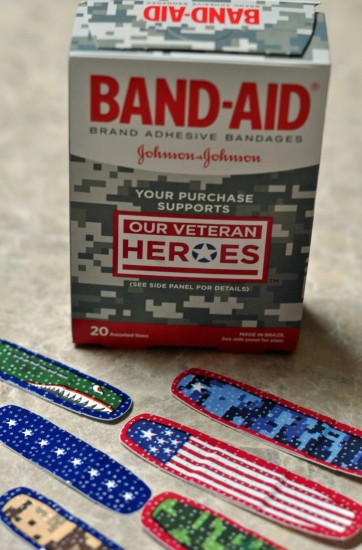 Through the sale of the recently launched OUR VETERAN HEROES™ BAND-AID® Brand Adhesive Bandages, featuring patriotic and military-inspired designs, BAND-AID® Brand will donate 5% of the sale price of each box sold to Team Red, White & Blue.
Pick up a box of OUR VETERAN HEROES™ BAND-AID® Brand Adhesive Bandages  at Walmart, Target, Walgreens, CVS or Rite Aid.
Team Red, White & Blue Old Glory Coast to Coast Relay:
In addition to raising funds through the OUR VETERAN HEROES™ BAND-AID® Brand Adhesive Bandages, BAND-AID® Brand is sponsoring the Team Red, White & Blue Old Glory Coast to Coast Relay. Through November 9th, runners will be carrying an American flag 3,800 miles across the country, from Palo Alto, CA to Bethesda, MD, to raise awareness and funds in support of veteran communities throughout America.  BAND-AID® Brand will donate $1.00 for each consumer message encouraging the Old Glory Coast to Coast Relay runners and thanking veterans, up to $25,000.
Show your support and cheer these runners on, while helping to support those who have sacrificed so much.
Visit www.bandaid.com/heroes to cheer on these runners or use #RunWithGlory on Facebook, Twitter and Instagram.
It takes just a few seconds to upload a status to Facebook or Twitter, together we can help make a difference.
Will you support our veterans with BAND-AID® and Team Red, White & Blue?