Hop on over to find out how to make these fun Jello Easter Eggs. Children will love biting into these Jello Eggs in their favorite fruity flavor…that's if Mom and Dad don't eat them all first!
These jello eggs can be made in a variety of colorful flavors. Jello Jigglers are a family favorite, we've been making them for years and adapt them to fit into birthday parties and even our gender reveal party when we served pink and blue cubes.
How to make Jello Eggs
What you'll need to make these Jello Easter Eggs:
1-1/2 cups boiling water
1 pkg. (6 oz.) JELL-O Gelatin, any flavor
wisk
bowl or measuring cup with spout
---
 
Where can I buy jello egg molds?
This specific Jello egg mold is hard to find as they are no longer made. We have two that have been passed down to my family from my mother, and I was lucky enough to find two more at a local yard sale a couple years ago for less than $1 a piece. You can also find some second hand on Ebay.
---
Directions:
Slightly spray the insides of both sides of egg mold with cooking spray.
Close mold. Snap each of the 6 egg together until each egg is closed and sealed.
In a large bowl add boiling water to gelatin mix, stir until completely dissolved, about 3 minutes.
Use a bowl or measuring cup with pour spout to carefully pour the jello mixture into the mold through the fill holes on the top until each egg is filled.
Refrigerate 3 hours or until firm.
Open mold using a dull butter knife to gently pry between the halves of each egg.  Turn mold over and shake gently to remove eggs.
Keep Jello Eggs refrigerated until ready to eat.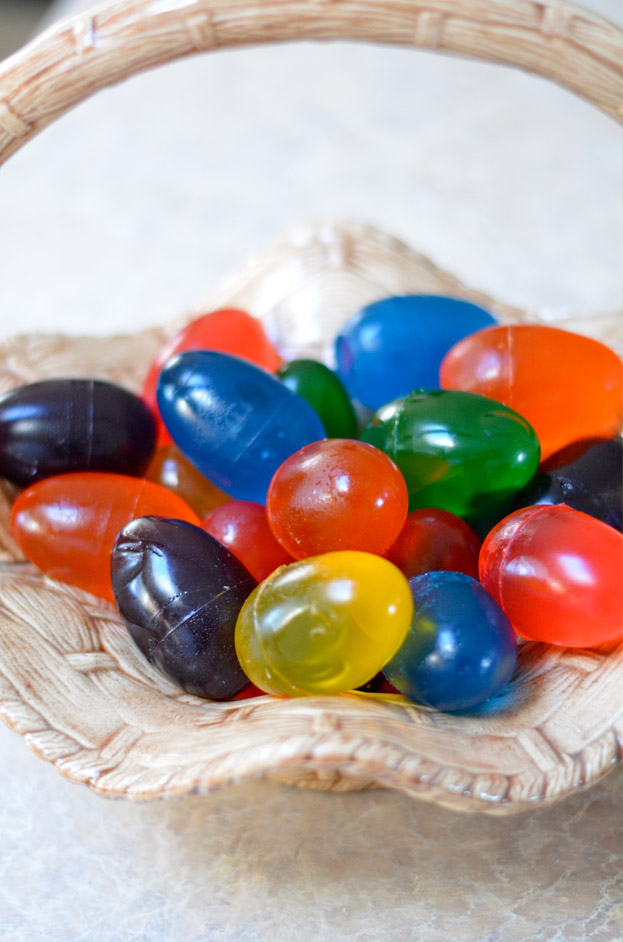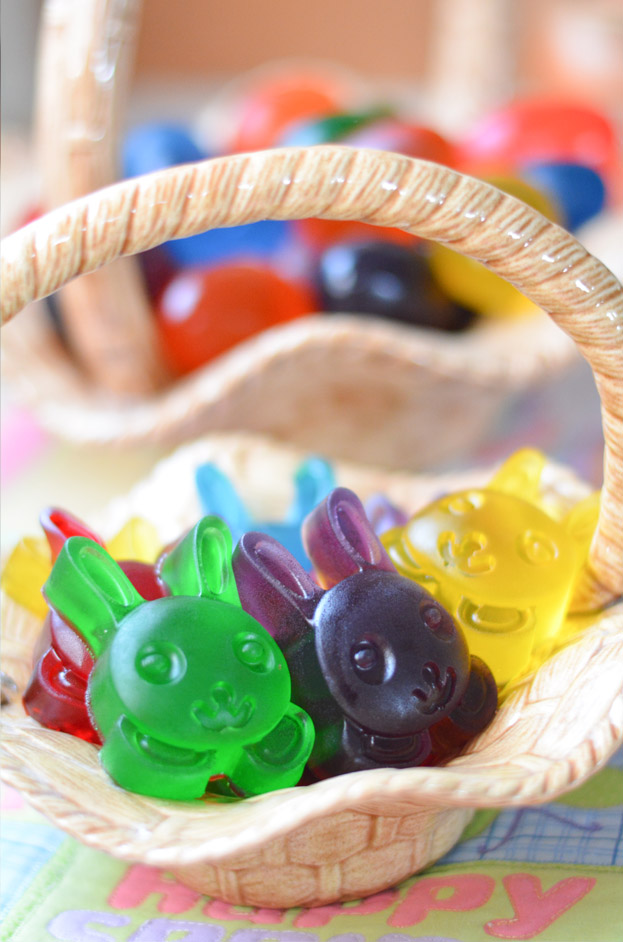 If you have Easter Silicone baking trays, you can also use them to make Bunny Jello Jigglers.
Can I Make Jello Eggs using Plastic Eggs?
Yes you can. You'll have to be careful and cut a small hole on one end of the egg. You can use an empty egg cart to help hold the eggs upright. Lightly spray both side of the eggs, prepare the Jello mixture, and use a small funnel to pour the gelatin into the egg. Place in the refrigerator for 3 or more hours until firm. Open the plastic egg and gently remove the Jello Egg.
[mv_create title="Jello Eggs" key="8″ type="recipe"]