Get ready for summer travel with the Graco 4Ever Extend2Fit Platinum 4-in-1 Car Seat! Keep on reading to see how you can enter the Graco 4Ever Extend2Fit Platinum Car Seat giveaway!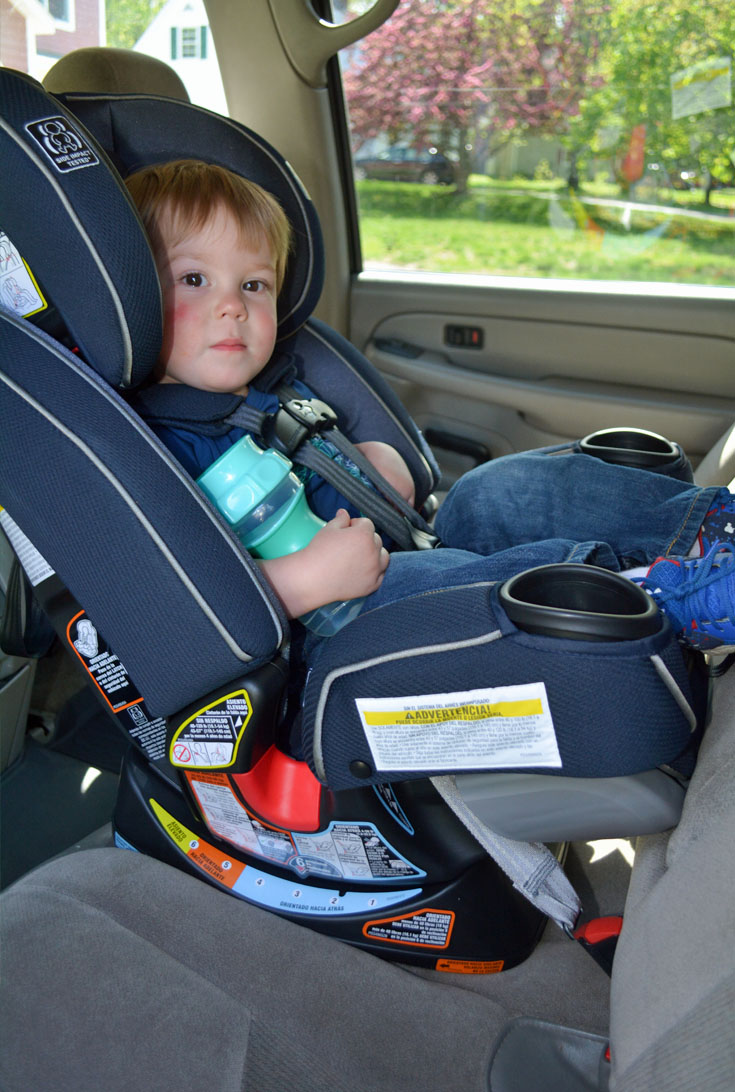 Graco 4Ever Extend2Fit Platinum 4-in-1 Car Seat in color: Ottlie
The older kids are almost out of school for summer break and I couldn't be more excited. I'm looking forward to lots of swimming, play dates, barbecues, hikes, and visiting some of our favorite New Hampshire attractions as well as a few new ones. I'm known to over pack when it comes to taking road trips, but when something comes up, I'm always prepared.
Must-have, family road trip essentials:
Extra set of clothes for the toddler
First aid kit
Sunblock/bug spray

Snacks
Cooler with lunch/fresh fruit/veggies
Compact stroller
Small toys / Tablets with pre-downloaded movies & games
Printable Road Trip Games/Activities for older kids
Plastic grocery bag (my middle son sometimes get car sick)
Leak-proof sippy cup
Comfortable car seat
At 20 months old, baby boy has outgrew his infant car seat. He is still only 25 lbs but he is now over the height limit. Both of my older children were out of their infant car seat before a year old, but I had a tough time transitioning baby boy to a convertible car seat. Maybe because there is a possibility that he is my last baby? I held onto that "baby stage" as long as I could.
Since we do a lot of traveling and spend almost every weekend in the car especially during hockey season, there was a few things I wanted in a convertible car seat. In addition to the safety aspect, it needed to be comfortable, easy to install, and the ability for extended rear-facing. Cup holders are also a big plus as we are sometimes in the car for a few hours at a time and eat/drink on the go.
Graco 4Ever Extend2Fit Platinum 4-in-1 Car Seat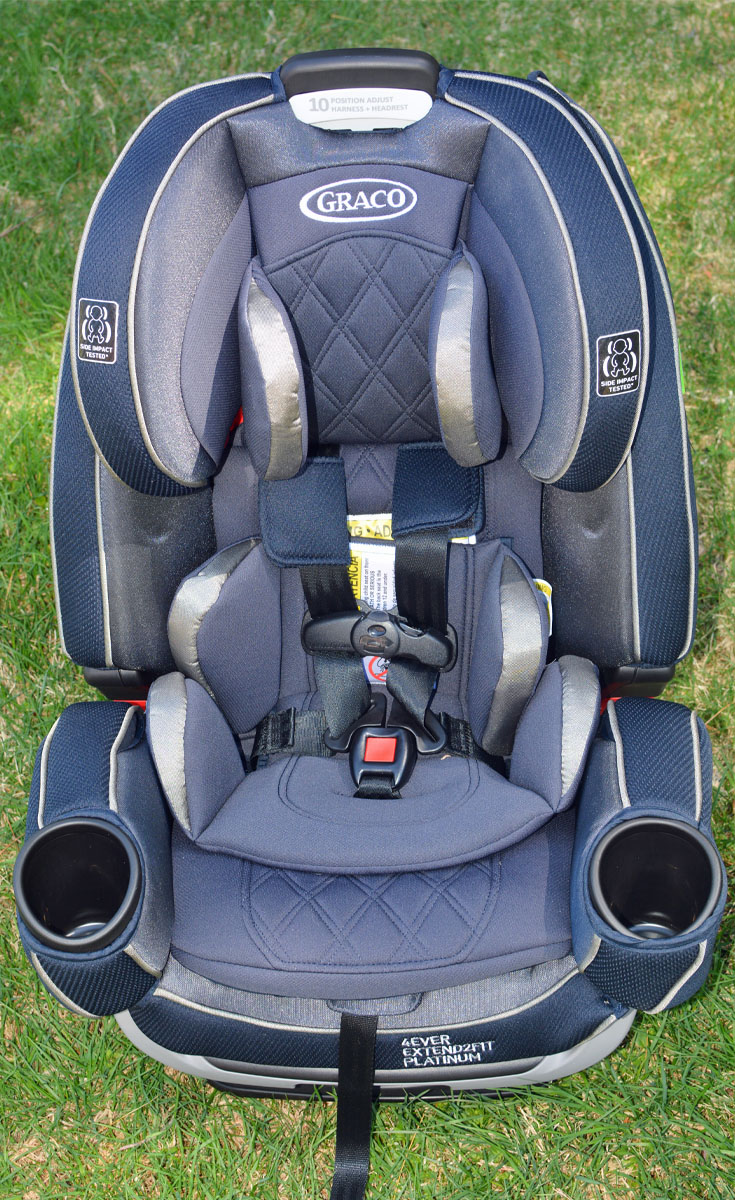 The Graco 4Ever Extend2Fit Platinum 4-in-1 Car Seat offers all of that and even more. It goes from infant to booster seat giving you 10 years of use with one car seat. It's easy to transition from a rear-facing infant car seat to forward-facing 5-point harness seat to highback belt-positioning booster, and then to backless belt-positioning booster.
10 Position Harness & Headrest:
Adjust the harness and headrest together with no rethreading using the Simply Safe Adjust Harness System. Simply pull the lever at the top of the head rest adjust the headrest and harness for a proper fit as your child grows.
6 Recline Positions: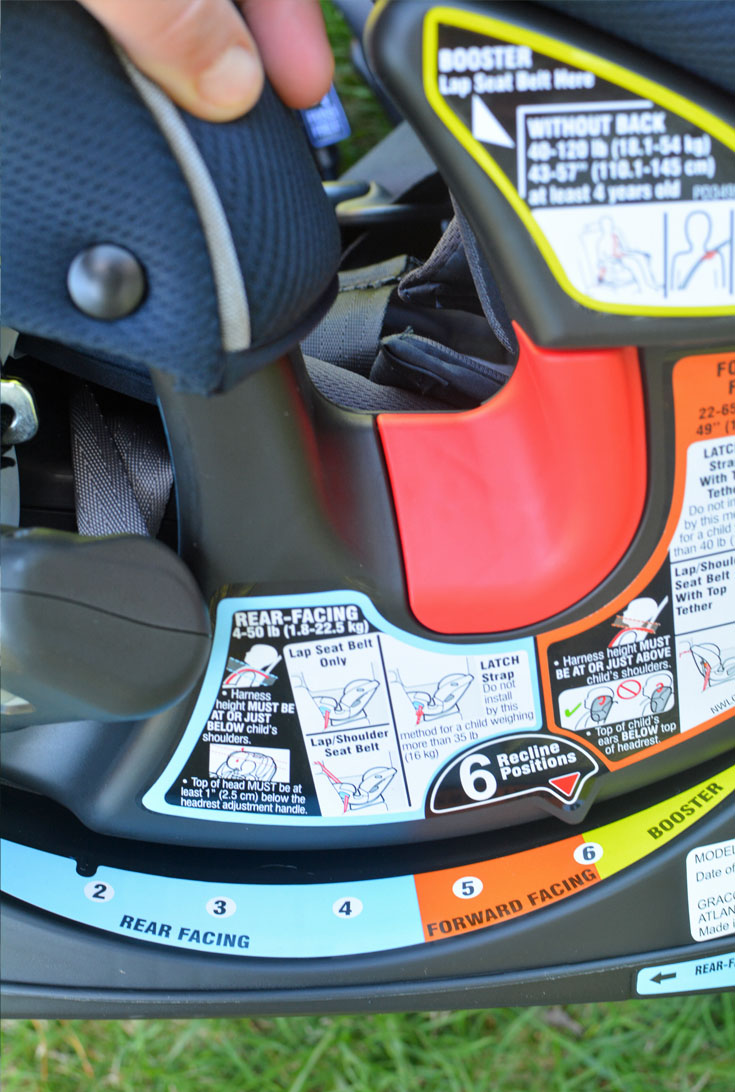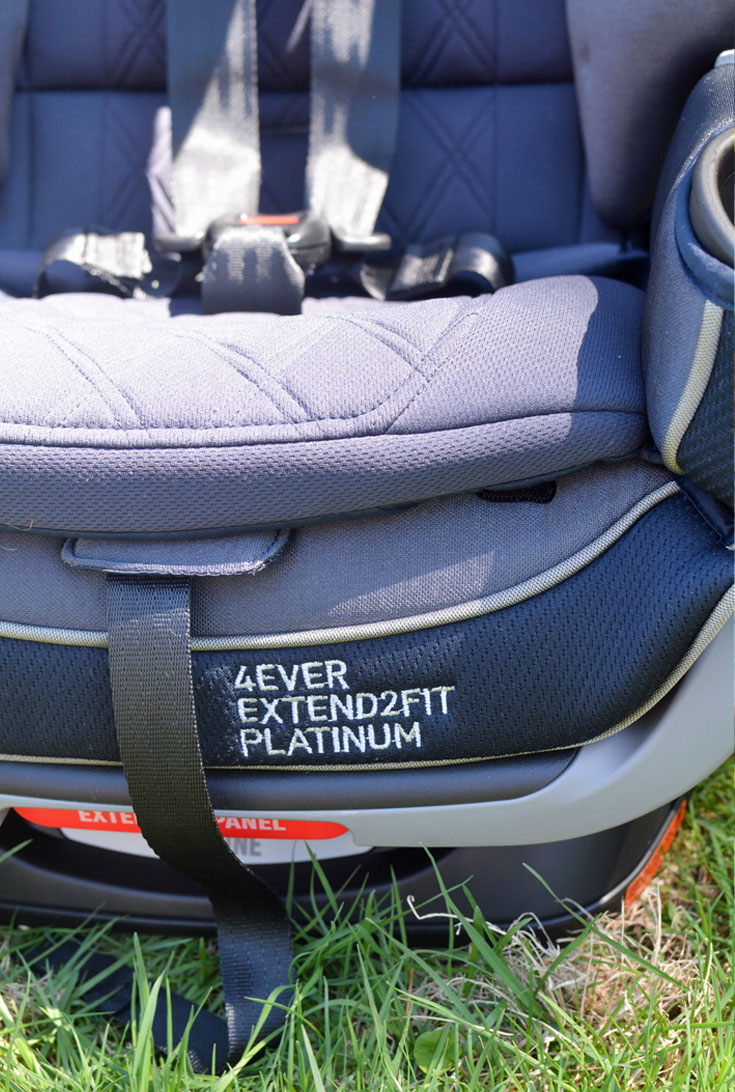 Extend Rear-Facing:
With extend rear-facing becoming more and more popular, the Graco 4Ever Extend2Fit Platinum has a 4-position leg extension panel. The extension panel pulls out and provide an extra 5" of legroom allowing children to safely ride rear-facing longer.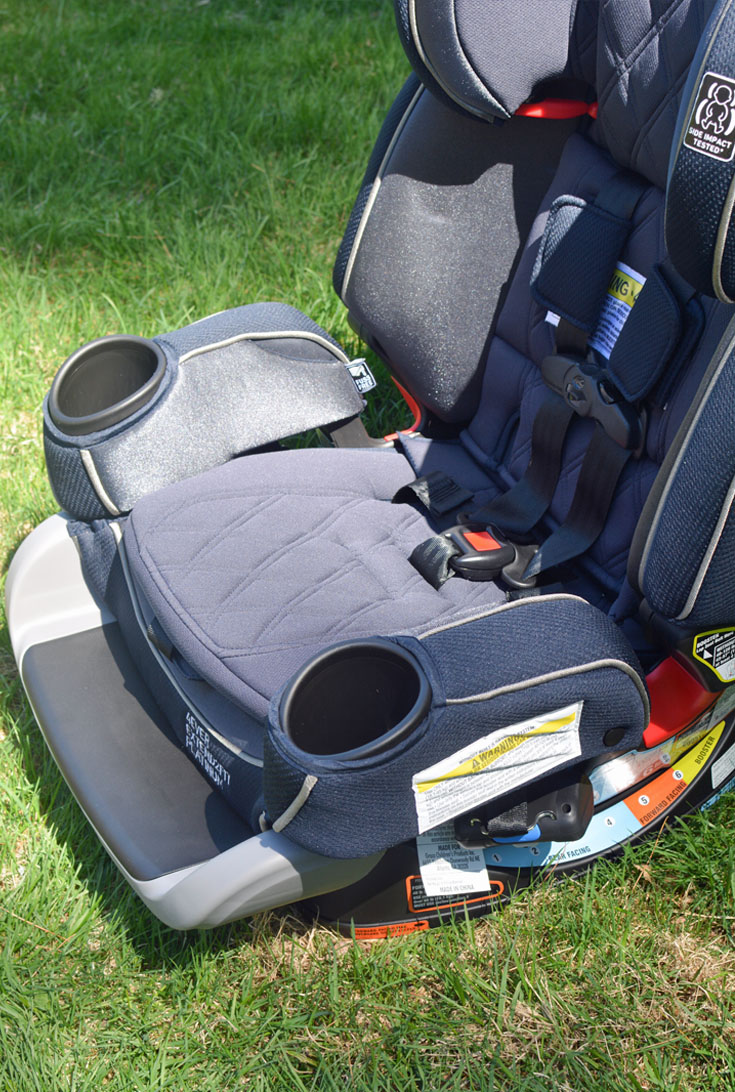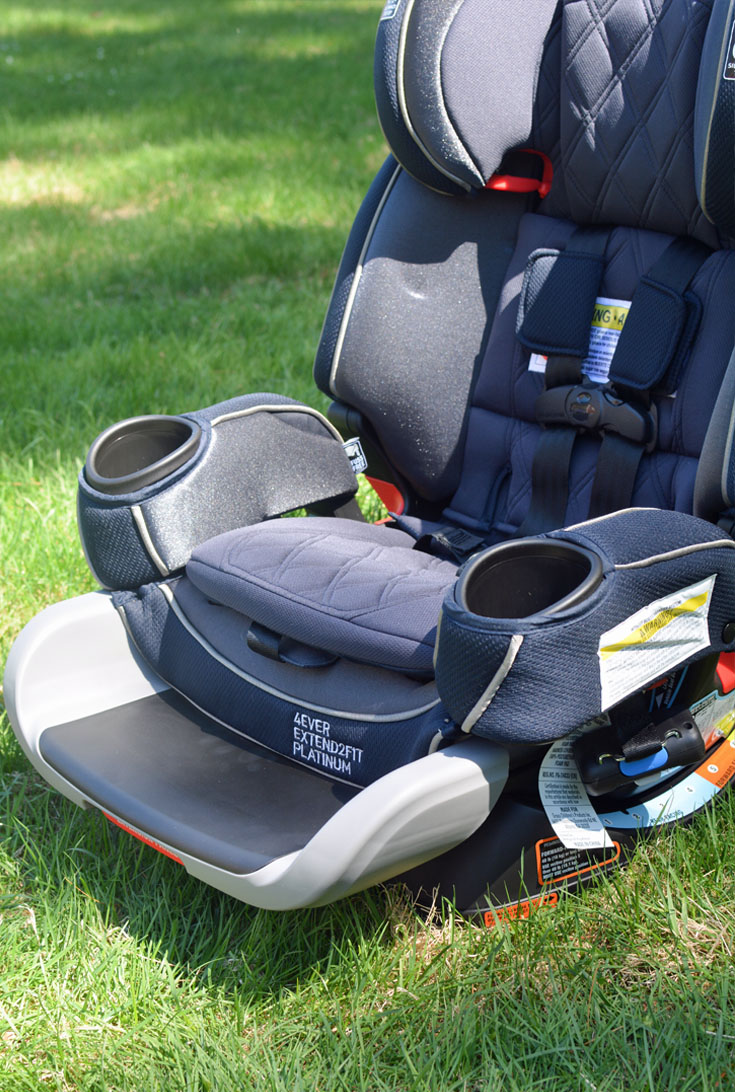 New EZ Tight LATCH:
As a mom of three, two of which are in car seats, I was impressed with the new EZ Tight LATCH. I usually leave the car seat installs to my husband as I usually have trouble getting a snug fit. With the new EZ Tight Latch, I was able to get a correct install every time.
Graco 4Ever Extend2Fit Platinum Install:
Install the Graco 4Ever Extend2Fit Platinum with 3 easy steps: release and attach the LATCH, retract the LATCH and then push down on the center of the seat to tighten. As you push down on the center of the seat, the LATCH retracts as much as it can automatically. For me, I always had a tough time pushing on the center while trying to tighten the LATCH myself, now the EZ Tight LATCH helps out and provides a secure install so I don't have to wrestle and pull on the LATCH as hard as I can.
Graco & NUK Gift with Purchase:
Now through May 25, 2018 , purchase any of the following Graco products and receive a free NUK Everlast 360 Cup:
Graco 4Ever 4-in-1 Car Seat
Graco 4Ever 4-in-1 Car Seat featuring TrueShield Technology
Graco 4Ever 4-in-1 Car Seat featuring Safety Surround Side Impact Protection
Graco 4Ever Extend2Fit 4-in-1 Car Seat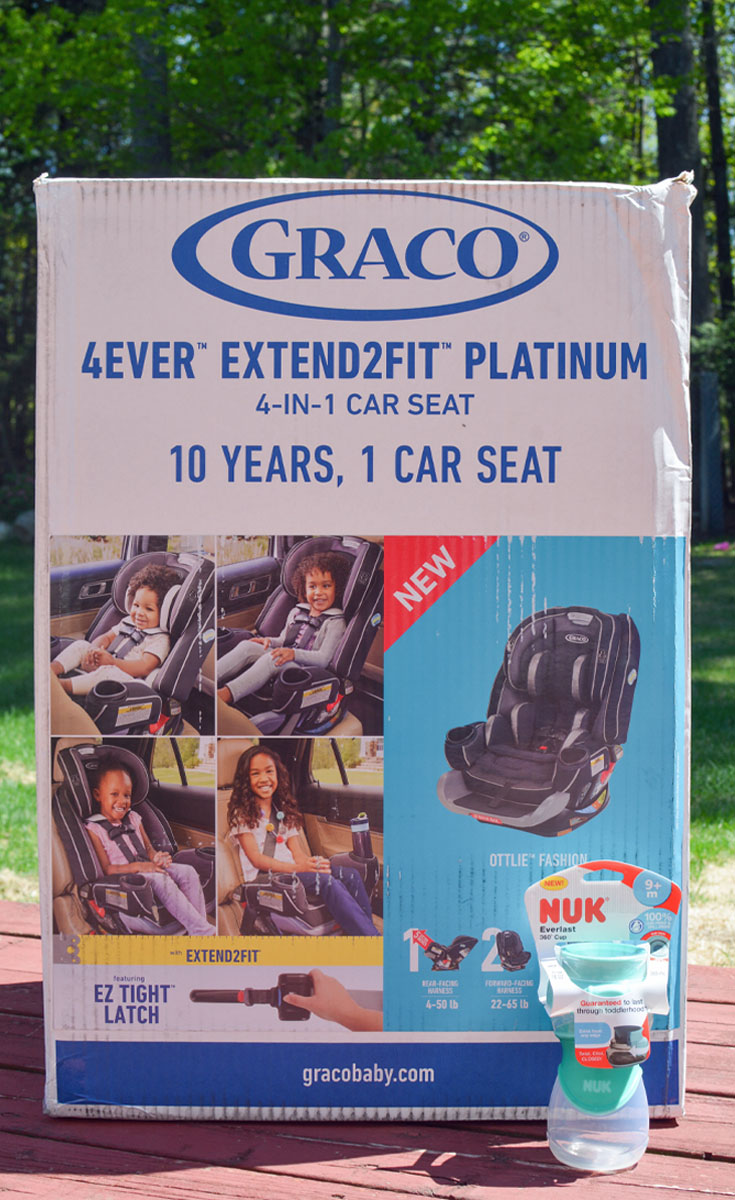 How to receive your free NUK Gift:
Once you have purchased the Graco car seat, all you have to do is submit a photo of your receipt at 4EverBonus.com. You will then receive a confirmation and a registration form to fill out to get your free NUK Everlast 360 Cup.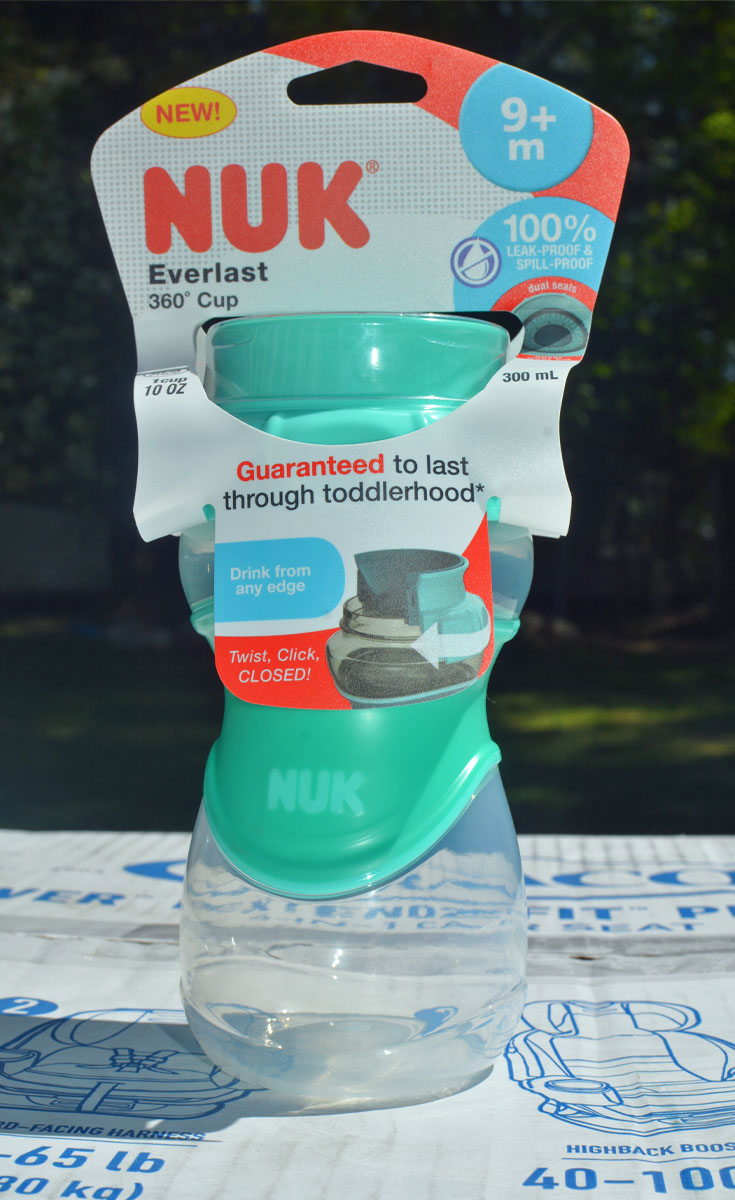 NUK Everlast 360 Cup:
With three kids we've gone through our fair share of sippy cups. I've also had my share of soaked diaper bags due to those cups spilling and having to dry a car seat mid trip. If you're traveling with a toddler, a 100% leak-proof and spill-proof sippy cup is a must. The NUK Everlast 360 Cup has a unique double seal technology with a twist-and-click mechanism so you hear a "click" sound when the lid is tightly secured. The 360 spout allows toddlers to drink from any edge, which helps to transition them to drinking of a regular cup.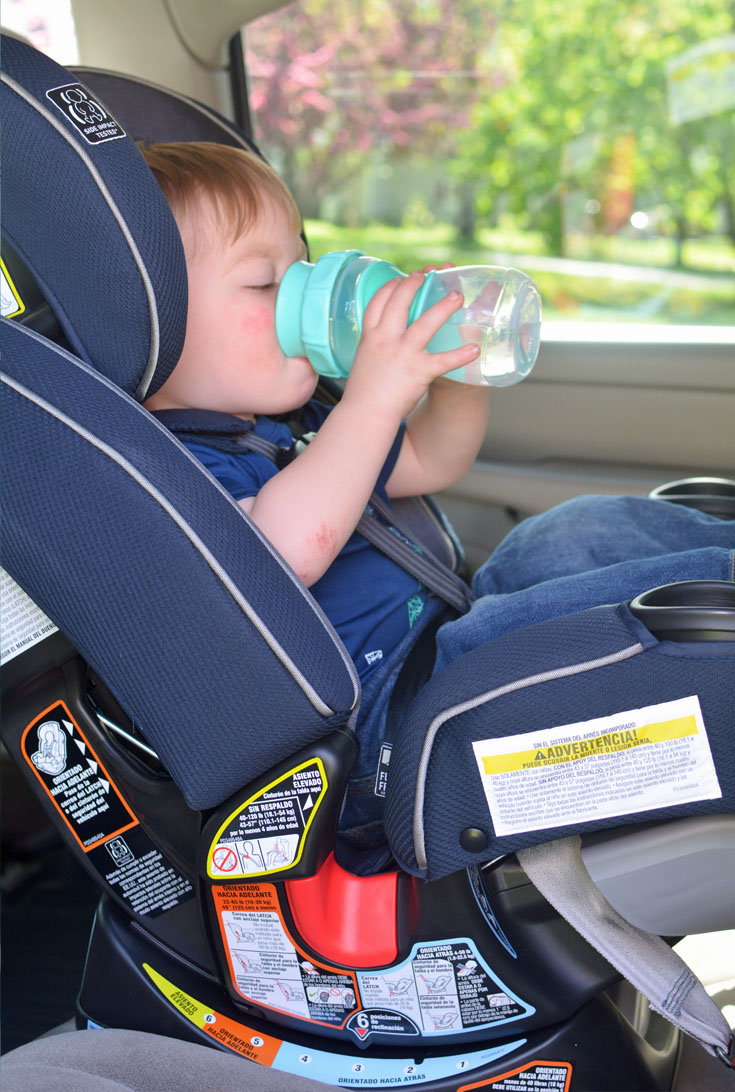 Win a Graco 4Ever Extend2Fit Platinum 4-in-1 Car Seat
Yes, that's right. One lucky reader will win a Graco 4Ever Extend2Fit Platinum.

Product, information and giveaway prize provided by client. All opinions are my own personal and honest thoughts. By entering this giveaway you agree to the Giveaway Rules. This giveaway will end on June 5 at 11:59pm EST. The winner will be chosen via Rafflecopter. The winner will have 24 hours to respond or a new winner will be selected. You must be 18 years or older. Open to continental U.S. residents only. No P.O. Boxes.