This is a sponsored conversation written by me on behalf of Tyson Foods, Inc. The opinions and text are all mine.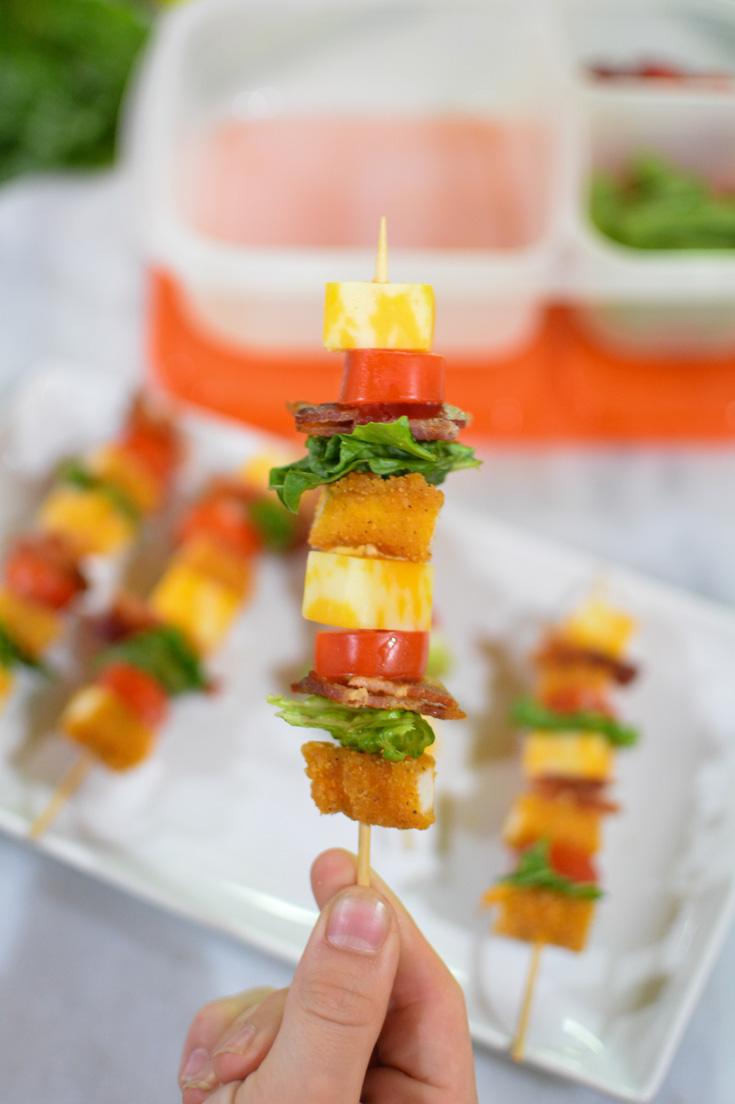 Make meal times easier, more wholesome, and more interesting with meal prepping!
With after school sports five days a week, it's important to keep my kids well fed and fueled throughout the day. One way I keep up with their busy routines, is by meal prepping. I prep breakfast, school lunches, and crockpot freezer meals.
I make a variety of breakfast sandwiches, pancakes, and waffles to freeze for breakfast. Prep 15-30 crockpot freezer meals every couple of months and make all of the kids' school lunches on Sunday night.
By having the school lunches prepped ahead of time, the kids can just grab one out of the refrigerator in the morning along with a freezer pack, and they're ready to go. Some days it's a simple sandwich, other days it is fun pinwheels, or kabobs. They LOVE food on a stick. It makes my day when they walk in the house telling me all about how great their lunch was, all of their friends wish I would make their lunches too.
You don't have to spend hours making fancy lunches, you can easily make a variety of meals using one main ingredient and changing the way it is served: cubed, slice, on bamboo skewers, in a wrap, etc. Below are 4 different school lunch ideas using Tyson® Any'tizers® Chicken Fries as the main ingredient.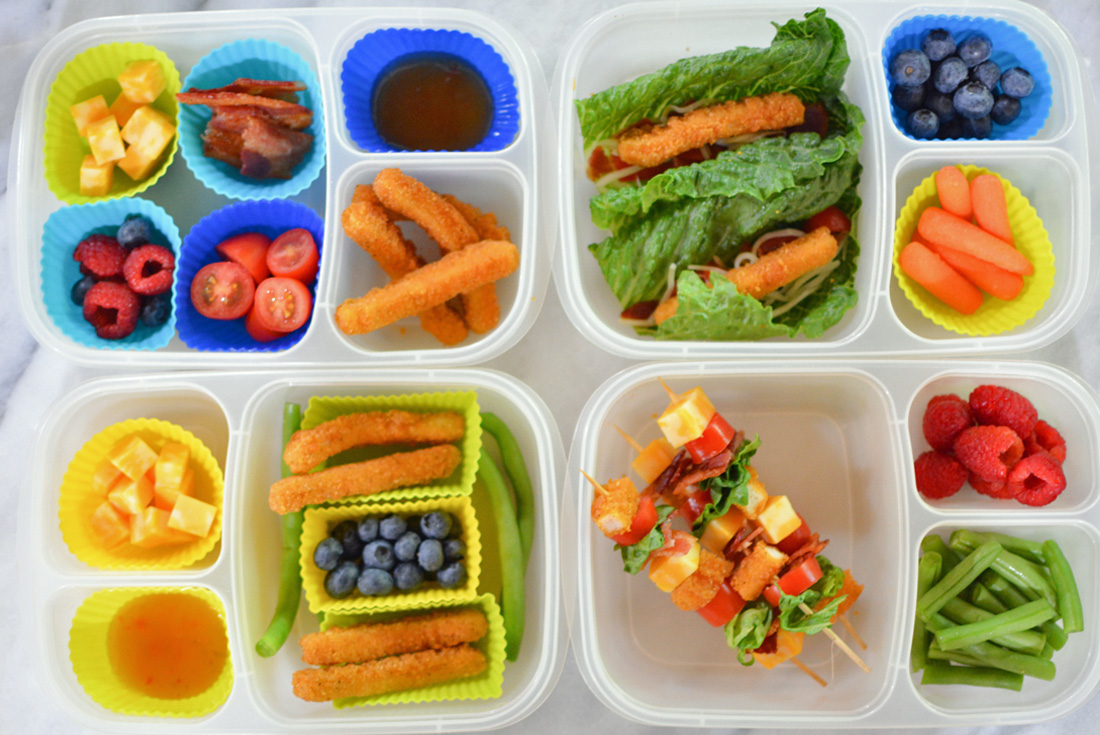 Back to School Lunch Ideas with Tyson Any'tizers Chicken Fries
Chicken Kabobs
Tyson Any'tizers Chicken Fries served with favorite sauce
Chicken Club Lettuce Wraps – use the large piece of lettuce as a wrap. Fill with Tyson Any'tizers Chicken Fries, shredded cheese, bacon bits, diced tomatoes, and mayonnaise.
Honey Mustard Chicken Lettuce Wraps – lettuce wrap stuffed with Tyson Any'tizers Chicken Fries & honey mustard dressing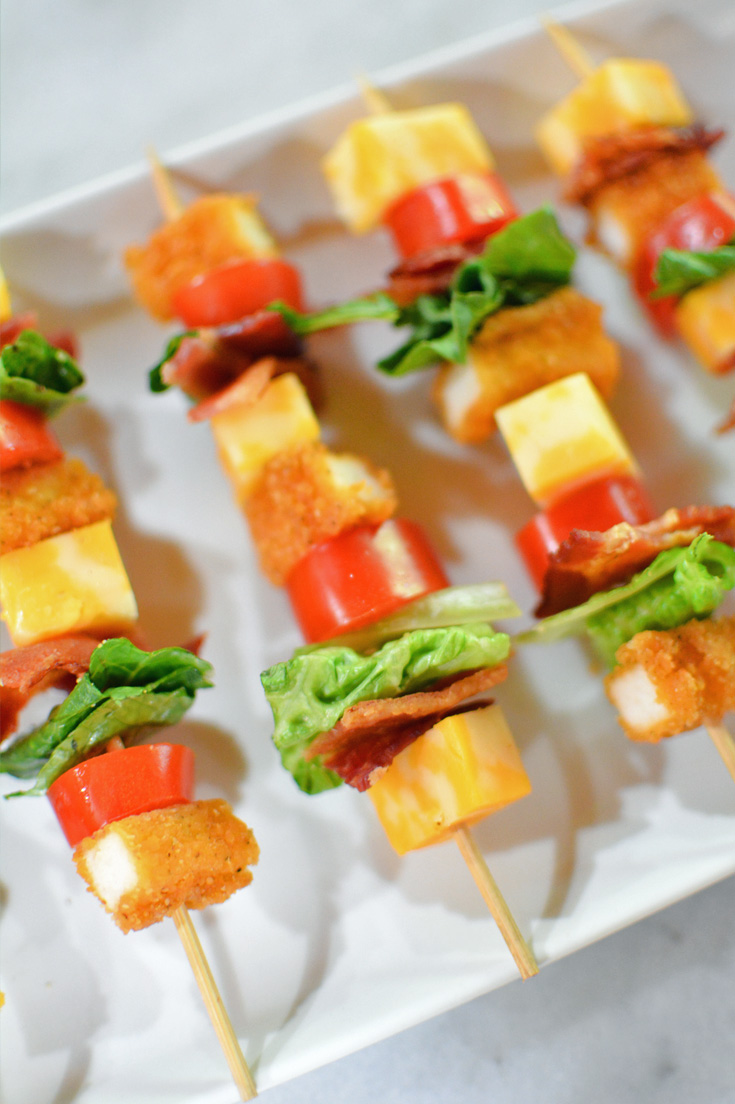 Chicken Club Kabobs
What you'll need to make these fun lunch kabobs for back to school:
Bacon
Romaine lettuce
Block of cheese, mozzarella, cheddar, or Colby jack
Cherry tomatoes
Tyson Any'tizers Chicken Fries
How to make Chicken Club Kabobs:
To make the chicken kabobs, pre-cook your bacon, and allow to cool. I prefer to cook the bacon in bulk. I'll often cook 1 1/2 pounds in the oven, and then place in a reusable container and store in the fridge for the week.
Once the bacon is cooked, you'll need to heat up the chicken fries. I prefer to bake them in the oven.
Preheat oven to 400 degrees Fahrenheit. Place chicken fries on a baking sheet and cook for 12-14 minutes. Remove and allow to slightly cool. Cut into bite sizes pieces.
While the chicken is warming up, cut the cheese into bite sized pieces.
Halve the cherry tomatoes.
Cut or break off pieces of lettuce.
Place all ingredients on the bamboo skewer: chicken fries, bacon, lettuce, cheese, tomato.
Serve immediately or place in a reusable lunchbox container for a fun school lunch.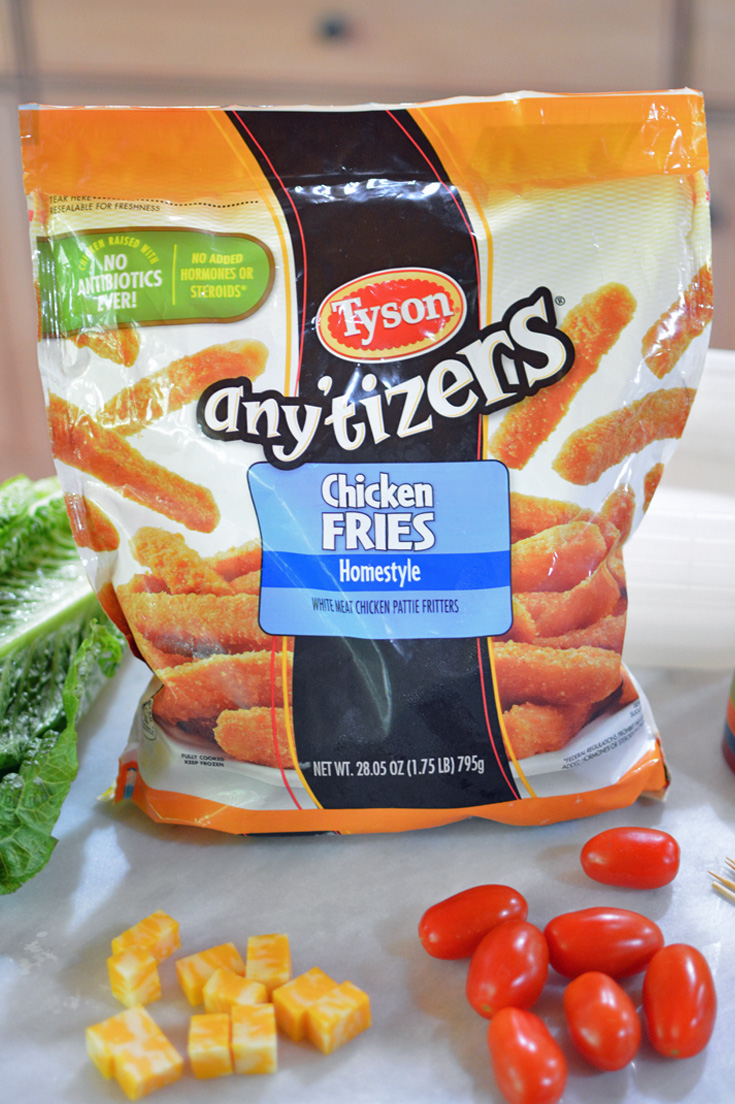 Tyson Any'tizers Chicken Fries are convenient and affordable for all of your family's mealtime needs. The chicken is raised with no antibiotics ever and each serving contains 12 grams of protein. The chicken fries are fully cooked and ready to eat. Just microwave and they're ready in seconds, or heat in the oven for a more crispy texture. My kids love them with their favorite dipping sauces, and they're easy enough to heat up for an after school snack to eat in between homework and hockey.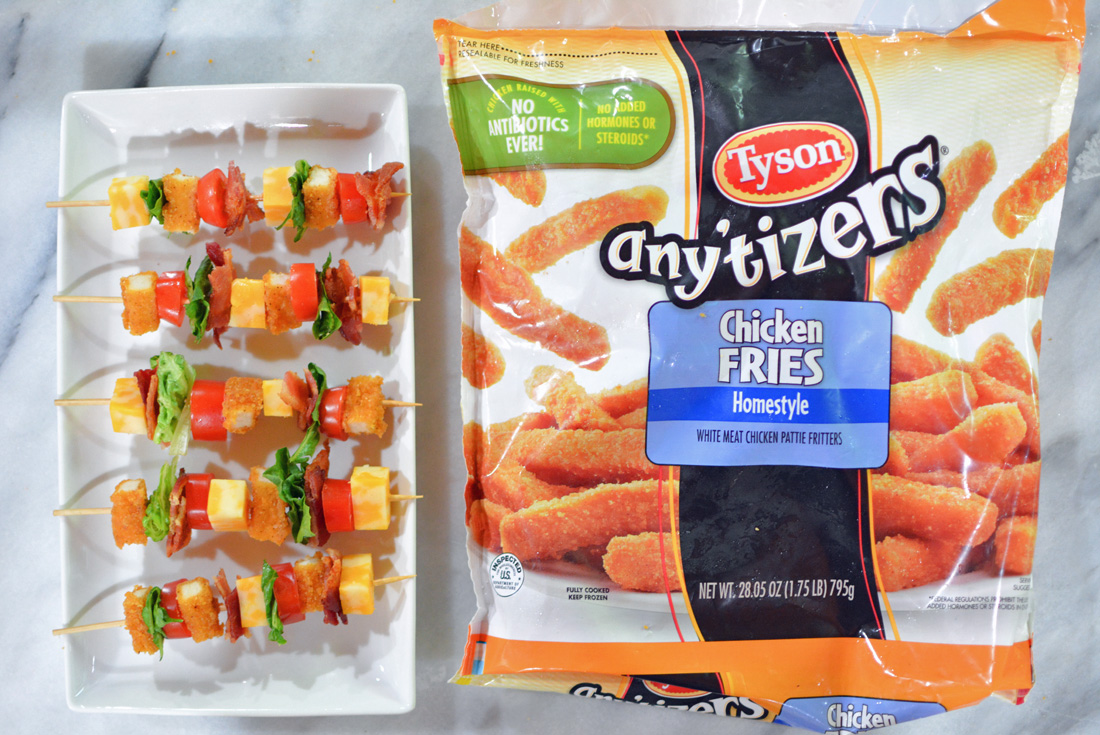 Tyson products can be purchased at Wakefern banner stores including our local Price Rite in Manchester, New Hampshire. The three varieties include Tyson Any'tizers Chicken Fries, Tyson® Chicken Nuggets and Tyson® Chicken Strips.
Find them in the frozen section near the chicken products.