My mom had a daycare years ago and she had a Step 2 Big Splash Pool. I have been looking everywhere for it since the beginning of summer and couldn't find one. It turns out Step 2 doesn't make them anymore, and you can only get them second hand. Step2 has a smaller circular one in the design of a crab or turtle, but we already have a small circular plastic one which was the same size. It's a little too small for Jacob and I wanted a bigger one. I searched in every store we went in and the only ones I could find were the blow up ones or the big ones that are like 3 feet deep – too big.
I finally turned to craigslist and after a month of waiting I finally found one in my area –  a step 2 pool with slide. I found a few before but they were either an hour away or they wanted $150 for the pool since it was rare! I would never pay that much! But here it is, when I bought it, the lady also had the slide that attaches to it which was a big plus. As you can see it got Jacob"s approval. He spends hours in it.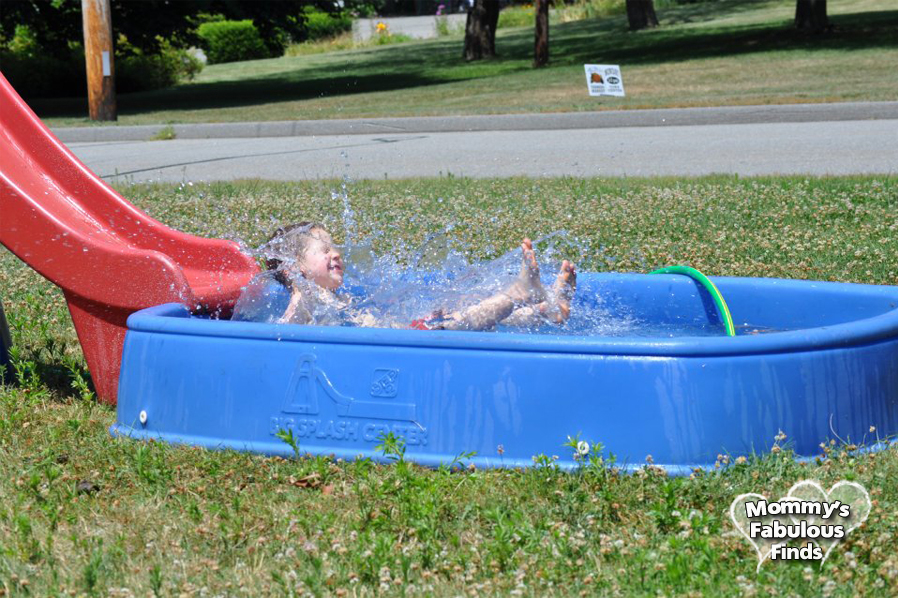 What kind of pool do you have for your little one? Do you prefer the hard plastic one or the blow up one?
I love the Step 2 Big Splash pool, this one is years old but still looks great and I"m sure it will last through all of my children. It is very easy to drain, there is a plug on the inside bottom that you just pull. I love not having to worry about rips or holes being poked in it with their water toys. The Step 2 Big Spash Pool is durable and as you can see it is in great shape for being at least a few years old.