Every so often I go through the Free List On Craigslist.org to see if there is anything I am interested in. I saw "Free Climbing Structure" in my town so I contacted the person giving it away and he said it was free to whoever dissasembled it and too it out of his yard.
So 3:30pm came around and we met him as soon as he got off work that day, there was also another man waiting at his house also who wanted the climbing structure. The other man had first pick since he was there first. But we had brought Little Man, our 2 year old, to check it out and he had a blast on it so the other man said we could have it since he saw how much fun Little Man was having on it. Bringing Little Man was the deciding factor, if not the other man would have taken it. It took us a couple hours to take apart and load into the truck and trailer but it was work it, it is made by Swing-n-Slide and goes for hundreds new.
We bought a can of paint, some new climbing rocks, they used little wood blocks before but I saw some new ones online I liked better.  I found an awesome deal on ebay for the Swing n Slide climbing rocks and ended up getting two sets of the climbing rocks for the price I would have paid for one set in Lowes. Each set came with 4 climbing rocks. We also had to replace a couple pieces of wood.
Before: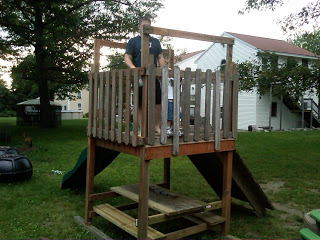 After: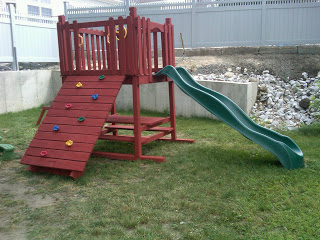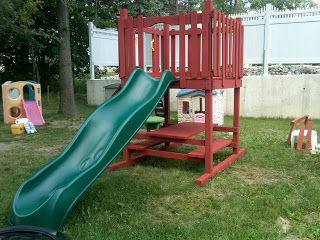 I also got this free through craigslist last week:
Go to Craigslist and see if there is anything good in your area,
you can also post stuff for free that you want to sell or giveaway.