Planning a Mickey Mouse birthday? Make these adorable Mickey Mouse Cupcake Cones with a homemade chocolate Mickey Mouse cupcake topper.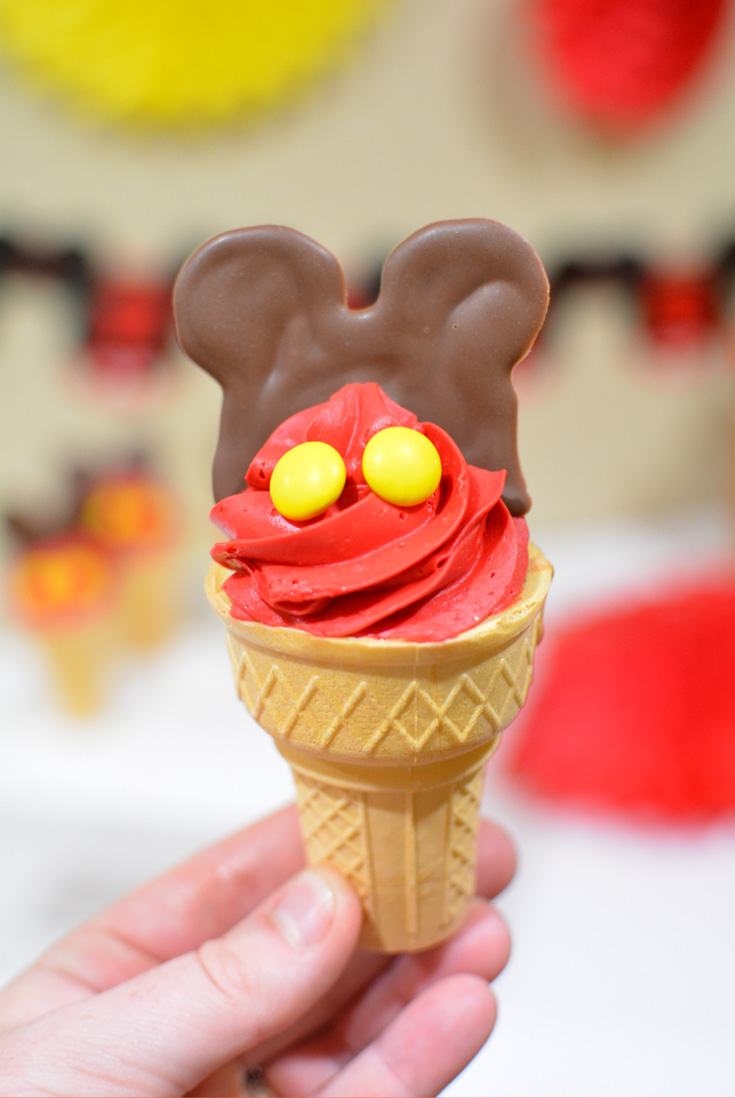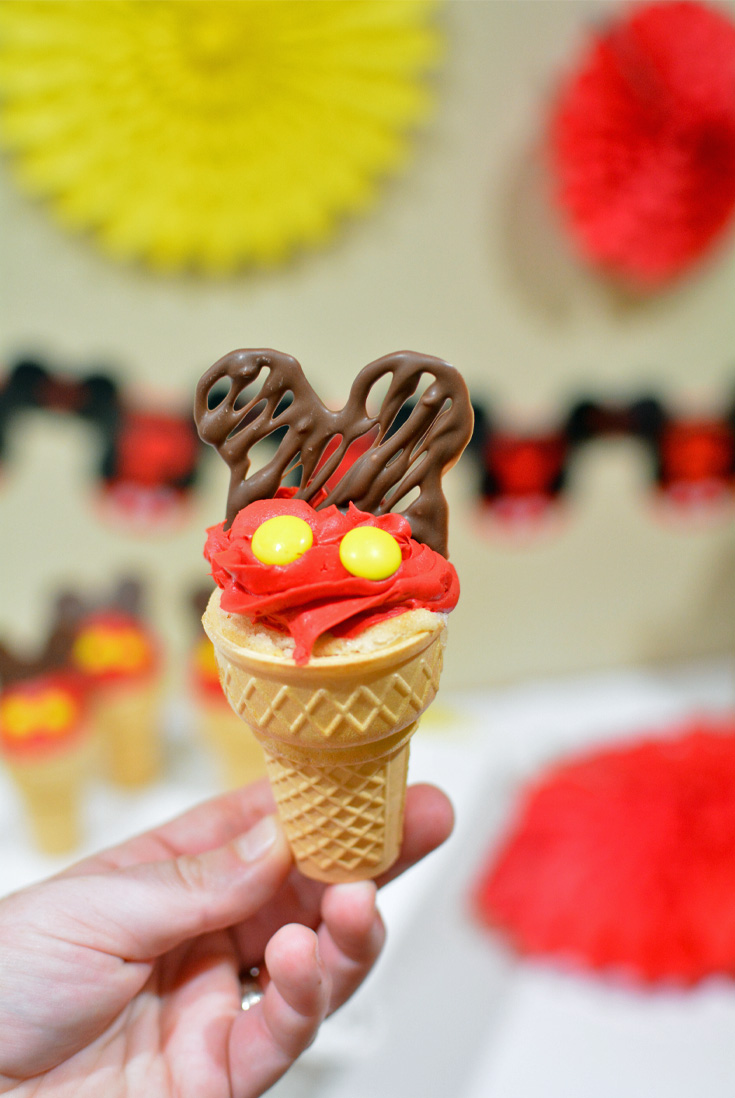 Mickey Mouse Cupcake Cones with Chocolate Mickey Ears
These vanilla cupcakes in a cone are the perfect addition to your next Mickey Mouse Birthday Party. Topped with red frosting and a homemade chocolate cupcake topper, these Mickey Mouse Cupcake Cones are sure to be a hit among the kids! You can even add a bow onto the chocolate to make a Minne Mouse cake topper.
How to make mickey mouse cupcake toppers with melted chocolate.
To make mickey mouse cupcake toppers out of chocolate, first find a picture of a mickey mouse shaped head or print a picture. Lay wax paper  or parchment paper on top of the mickey mouse head.
Melt chocolate in a microwave safe bowl in 30 second intervals, mixing in between, until chocolate is melted.
Place the melted chocolate in a piping bag or ziploc bag. If using a ziploc bag, snip the corner close to the tip for thin lines or a little further up for thicker lines.
Pip the outline of mickey mouse's head, the thicker the less likely to break. You can fill in mickey's head for a solid chocolate look or drizzle the chocolate on the inside, make sure if you drizzle the chocolate you connect to the outline.
Allow the chocolate to harden, or place in the refrigerator for 5 minutes to speed up the process.
When ready to use, remove the chocolate Mickey from the wax paper and press into the frosted cupcake.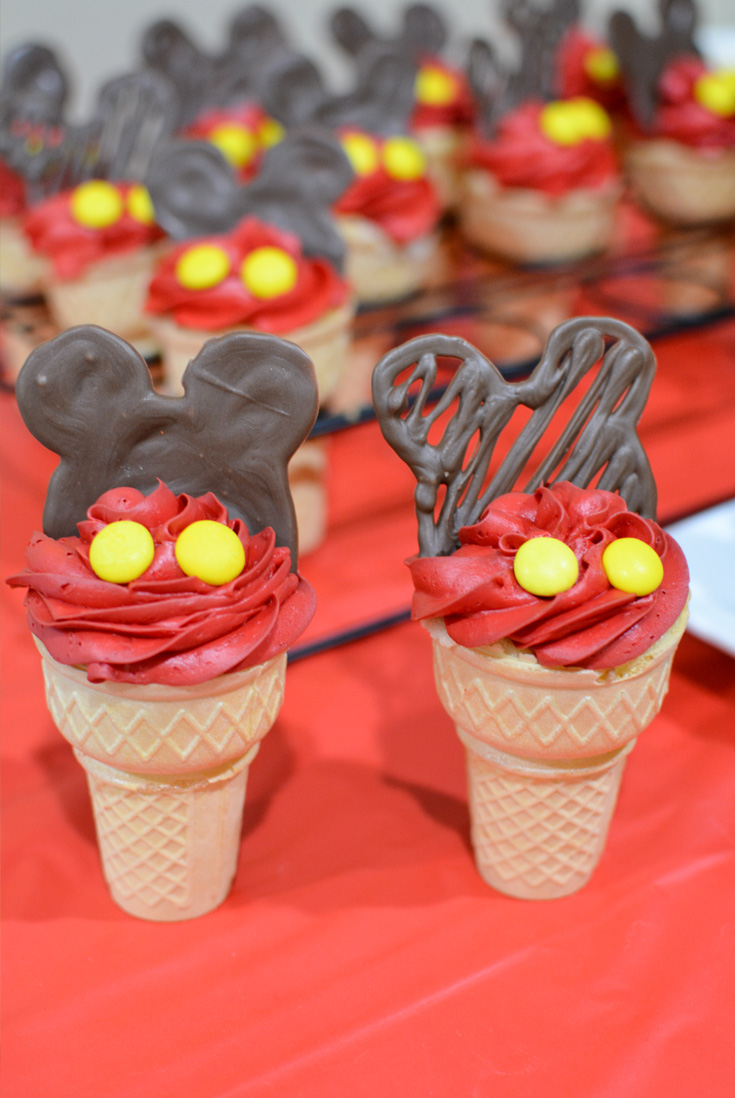 What you'll need to make Mickey Mouse Cupcakes in a Cone
How to Make Cupcake Cones:
Prepare cake mix according to directions.

Fill each cone about 3/4 full of batter.

Bake at 400 degrees F for 15 to 18 minutes or until inserted toothpick comes out clean.

When cooled, frost with red frosting.  I use the 1M tip to create the swirl pattern.

Cupcake Cone Alternative:
Instead of making these Mickey Mouse Cupcake Cones – place the Chocolate Mickey Mouse ears on homemade or store bought cupcakes.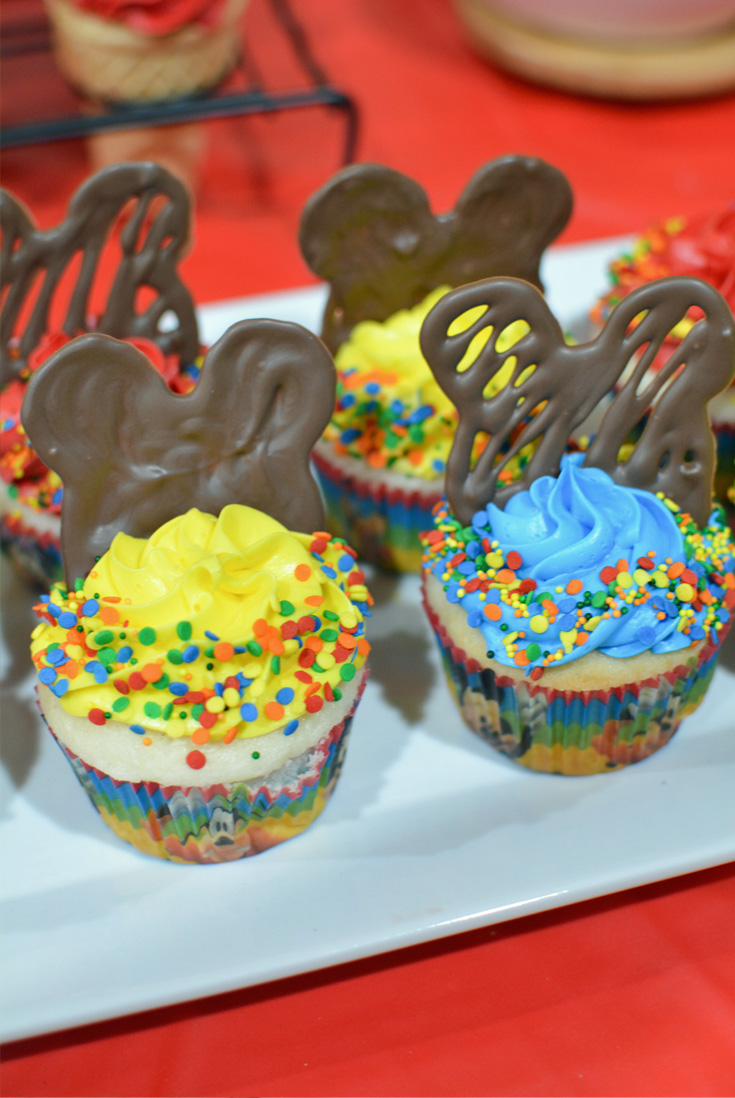 Have you ever made cupcakes inside of a cone? They were a childhood favorite, and my kids jump for joy every time I make them.
Check out our other Ice Cream Cone Cupcake Ideas:
Additional Mickey Birthday Party Ideas:
We have used a Mickey Mouse theme for my youngest son's 1st Birthday and 2nd Birthday parties. Check out the Mickey Mouse Birthday ideas from his first birthday, we went with the "Mickey's Fun to be One" theme.