Thank you PEBBLES™ Cereal for sponsoring this post. PEBBLES™ Cereal is gluten-free and a great inclusive option for your family!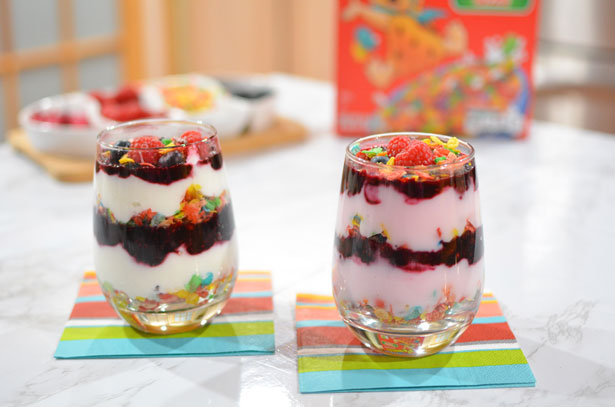 Add some fun to your morning or afternoon with Triple Berry Yogurt Parfait with Fruity PEBBLES™. With layers of berries, yogurt, and Fruity PEBBLES™ this yogurt parfait is perfect for breakfast or a fun snack idea.
Did you know that November is Gluten-Free Diet Awareness Month? Eliminating gluten from your diet doesn't mean that you have to sacrifice fun. PEBBLES™ Fruity and Cocoa cereals are gluten-free. Not only are they great on their own, but they also add fruity flavor and crunch when used in fun recipes.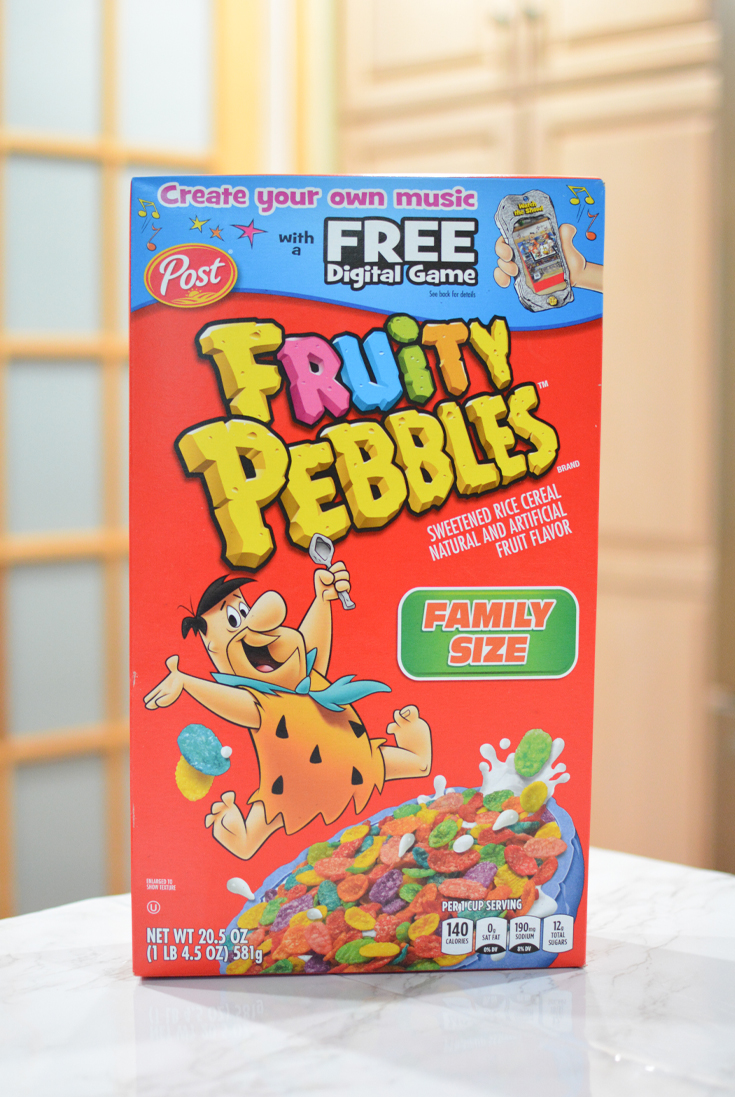 PEBBLES™ cereal is available in four different flavors including our two family favorites Fruity PEBBLES™ and Cocoa PEBBLES™. Since they're gluten-free, the whole family can enjoy them. I use them often to make cereal bars that are perfect for on the go, and the boys will often pack some in a small container to have "breakfast for lunch" while at school.
Triple Berry Yogurt Parfait with Fruity PEBBLES™
As a mom of three boys, I'm all about creating fun and colorful foods. I love to surprise the boys when they walk in from school with a tasty snack, it's a simple way to put a smile on their face, especially when they're having a bad day. My family loved this simple, quick yogurt parfait that was bursting with color and flavor.
One of the great things about yogurt parfaits is how easy they are to put together and how versatile they are. The fruit and yogurt parfaits are so easy to make, and the ingredients can be easily swapped out for ingredients you have on hand or your family's favorites. Fresh berries instead of mixed berry compote, greek yogurt instead of strawberry yogurt.

How to make Triple Berry Parfaits:
You will need:
Mixed berry compote
Gluten-free strawberry yogurt
Fruity PEBBLES™
In a small dish or mason jar, layer the Fruity PEBBLES™, yogurt, then berry compote.
Repeat.
Top with fresh fruit and additional Fruity PEBBLES™.
*you may need to repeat the layers depending on the size of the dish.
Mixed Berry Compote:
Not familiar with berry compote? It is like a chunky fruit mixture and similar to a jelly, but will have larger chunks of berries.
2 cups frozen triple berry blend, blueberries, black berries and raspberries
1 tsp lemon juice
1 tps honey (optional)
In a small saucepan, bring the berries and lemon juice to a boil and simmer over low/medium heat for 10 minutes, stirring frequently.
Allow to cool.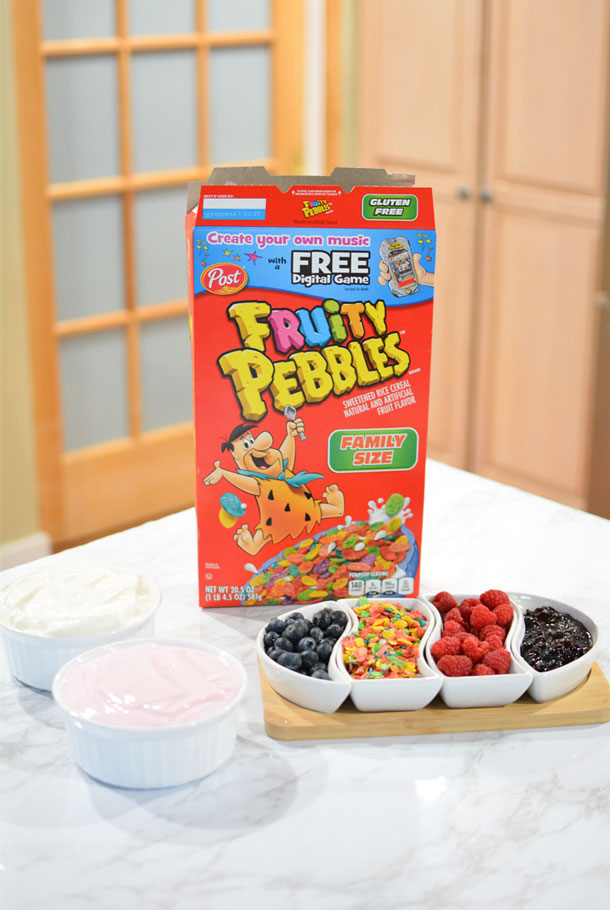 Ways to serve Fruit and Yogurt Parfaits:
In individual plastic or glass single serve cups (9 oz plastic cups, mason jars)
Large Trifle – layer yogurt, fruit compote, and Fruity PEBBLES™ in a trifle dish to serve at a birthday party or large gathering.
In a reusable container for a fun on-the-go snack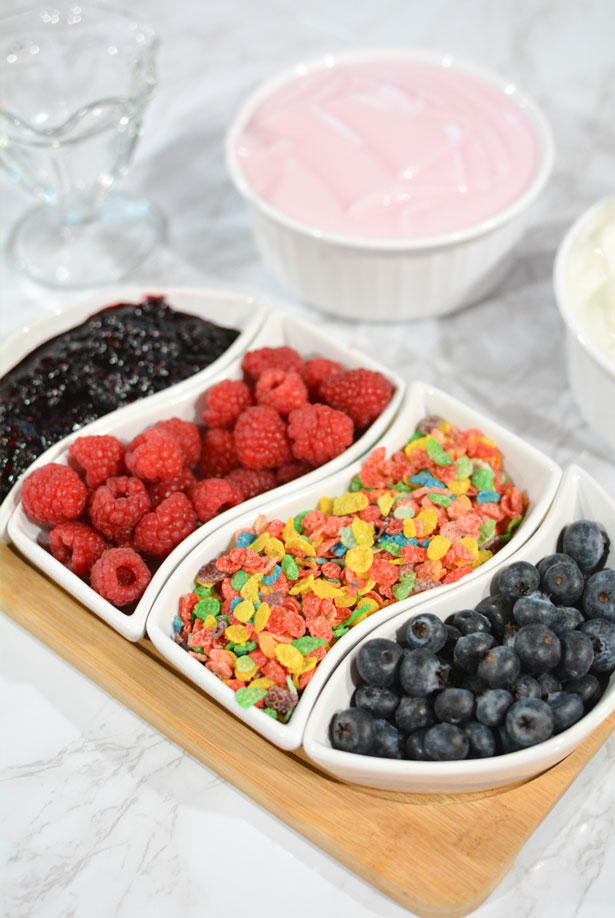 Yogurt Parfait Snack Bar Idea:
Prepare this gluten-free breakfast or snack ahead of time or make a "Create Your Own Parfait" station where children can make their own. The snack bar would also be the perfect addition to a birthday sleepover. Since it's gluten-free, all of their friends can enjoy.More Recipes & Craft Ideas with Fruity PEBBLES™
Visit postpebblescereal.com for more fun recipes and craft ideas.
*THE FLINTSTONES and all related characters and elements © & ™ Hanna-Barbera. (s19)