This post is brought to you in partnership with Sverve and Honey Bunches of Oats.
I thought that with the boys both heading off to school this year that morning time would be a little less hectic, but if anything it has gotten more hectic. Tuesdays and Thursdays are by far the most crazy as we are in a rush to get out of the door so that I can drop Trevor off at preschool before Jonathan starts school. Plus, with all of the snow that we have been getting this winter, I have to leave the house even earlier to make up for the traffic and slick roads.
When it comes to making morning time a little easier, I am always on the lookout for new on-the-go solutions especially on Tuesdays and Thursdays since myself and Jonathan have plenty of time to eat in the parking lots while dropping Trevor off at preschool and less time at home. We don't always have time to make it back to the house to catch the school bus, so we often head straight to his school and hang out in the car or outside if it's nice until school begins.
Honey Bunches of Oats Breakfast Biscuits: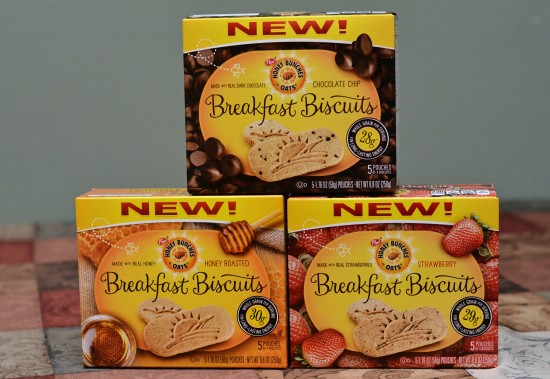 One of my favorite cereals, Honey Bunches of Oats are now available without a bowl. The new NEW Honey Bunches of Oats Breakfast Biscuits are a perfect on-the-go breakfast solution for those busy mornings. I can easily leave a pouch in my purse to have on hand for those busy mornings, and they are convenient for the children to eat in the car as they are available in individual servings and do not make a mess.
Available Varieties:
Honey Roasted
Strawberry
Chocolate Chip
The new Honey Bunches of Oats Breakfast Biscuits are available in three different flavors: Honey Roasted, Strawberry, Chocolate Chip. While I preferred the Honey Roasted, the Chocolate chip won the boys over. Each box comes with 5 pouches, and each pouch contains 4 biscuits. Not only are these 100% whole grain biscuits convenient for on-the-go breakfast, but they are also good for mid-morning or afternoon snacks. Theses three boxes of biscuits didn't last long in our house as soon as my husband tried them out, he enjoyed packing them to bring to work for a mid morning or afternoon snack.
Learn more about the new Honey Bunches of Oats Breakfast Biscuits by visiting www.honeybunchesofoats.com.