The new Simplay3 Adventure Climber is the perfect indoor our outdoor climbing toy for toddlers. The vehicle styled play center encourages active and imaginative play with places to climb, crawl, slide, and drive.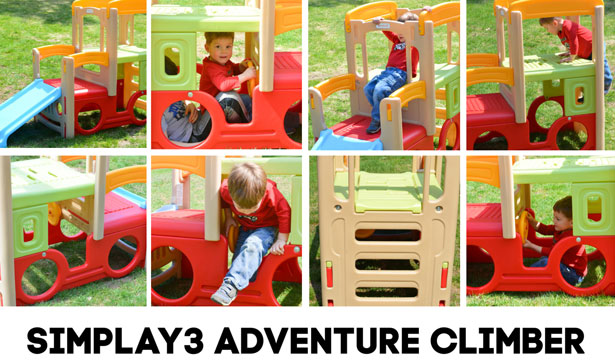 Thank-you Simplay3 for providing the outdoor playset for our toddler.
Growing up I was outside from the moment the sun rose until when the street light came on. Looking back at my childhood, my favorite part of summer was playing in our large sandbox, drawing roads in the driveway with chalk, riding bikes, and climbing on a play structure. You don't find kids playing outside as much as my generation did, they're so involved with video games and smartphones.
We lucked out with a neighborhood full of parents that are raising our kids with the same values, with outdoor play and limited time on electronics. On any given day, you can drive through our neighborhood and see children playing outside. We get a knock on our door daily at 9am, and the kids are outside until nightfall.
We moved a couple years ago and had to leave our playhouse and outdoor climbing toys behind, they were just too big to fit into the moving truck. With an active toddler who loves to climb around and slide, I was looking into replacing them this summer. I just started to shop for an ourdoor playhouse and climber when I came across the new Simplay3 Young Explorers Adventure Climber. I knew it would be perfect for my active toddler with places to hide, climb, and drive.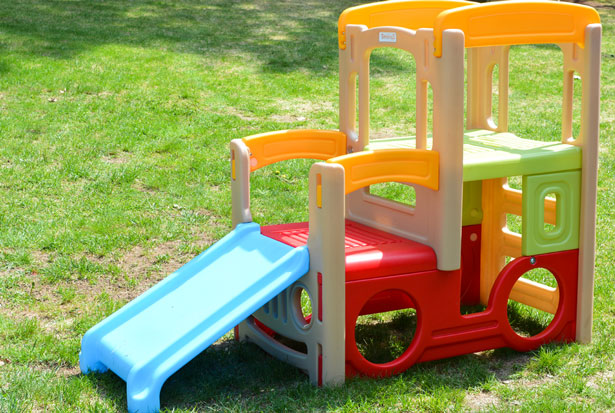 Young Explorers Adventure Climber:
Indoor or outdoor playset for children 1.5 – 6 years old
Extra wide children's slide with easy grip siderails
Children's ladder with handles for easy climbing
Large 2 tiered platform with"Jeep style" doors
Wheels that are crawl through that lead into children's secret hideaway fort
Play steering wheel with dashboard
Bright colors and child friendly rounded edges
Durable, double-wall construction is weather and UV resistant
Multiple children can play
Made in the USA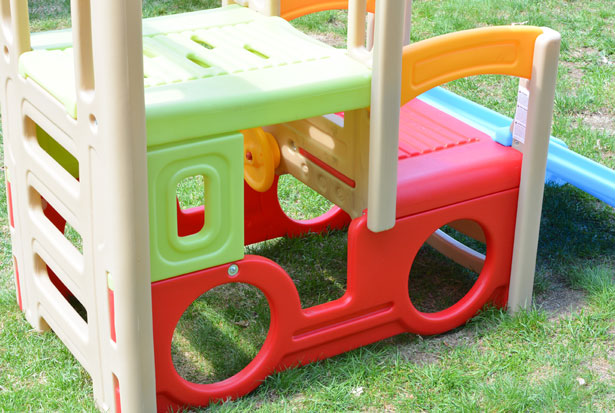 Adventure Climber Assembly:
The Simplay3 Adventure Climber arrived in one big box and was fairly simple to put together. Some pieces do have to pushed into place, and I found it helpful to have my husband's assistance. A drill is also recommended to speed up the process, but a screwdriver can be used.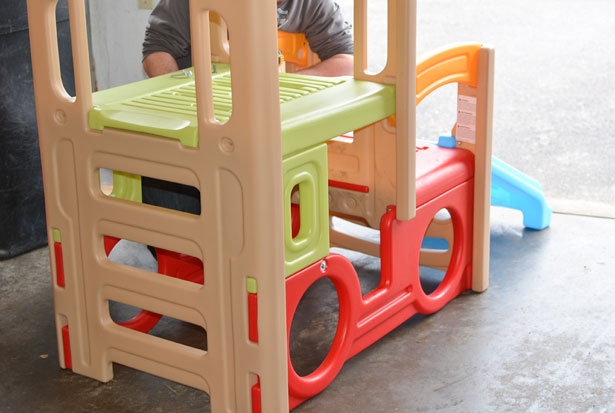 Climb, Crawl, Slide, and Drive.
The adventure climber is a backyard toy that will keep your toddler busy all summer long. It can also be used in a basement, toy room, or day-care center for active play all year long. We set up the climber outside, but plan to move it into our basement with a rubber mat underneath for indoor play during the winter.
The first thing my toddler noticed is the steering wheel, he is obsessed with anything that he can "drive" and making motor noises. It doesn't even have to be real or have a motor, he has driven all over town with this play jeep, and will pretend to drive back and forth between his outdoor playhouse to deliver food.
Children can play all day as they climb, crawl, and drive using the play steering wheel. To get to the steering wheel requires crawling through the bottom. The small space is also the perfect size for a secret hideaway fort.
Multiple children can play with this climb and slide toy. It has an off road vehicle theme with jeep style wheels, but kids can also use their imagination and use the climbing structure as a fort, house, or car.
Drive with the steering wheel.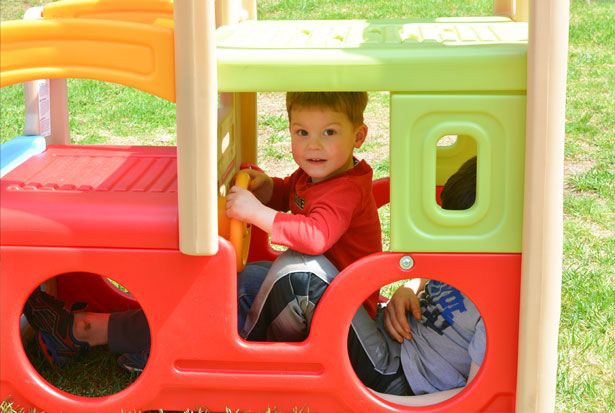 Climb up the ladder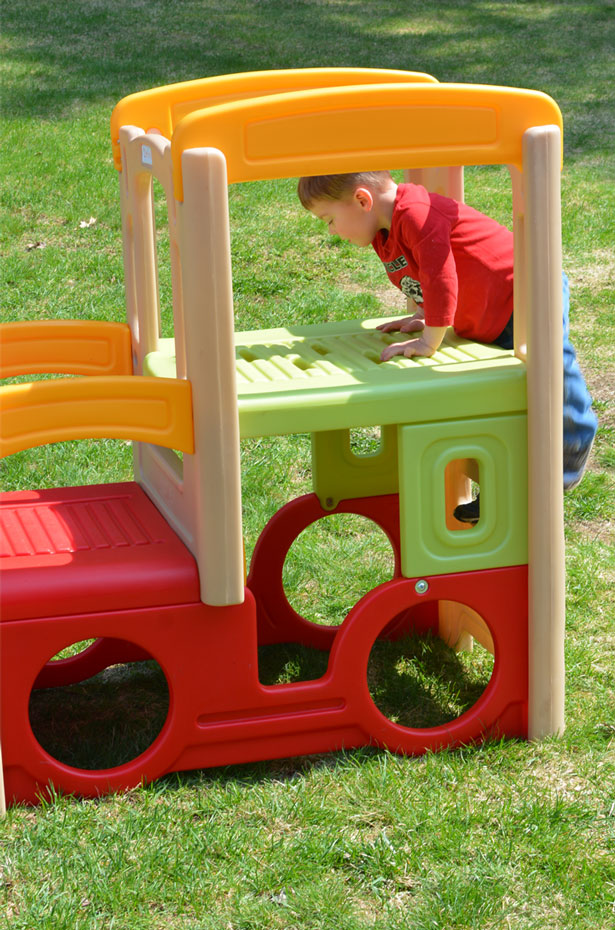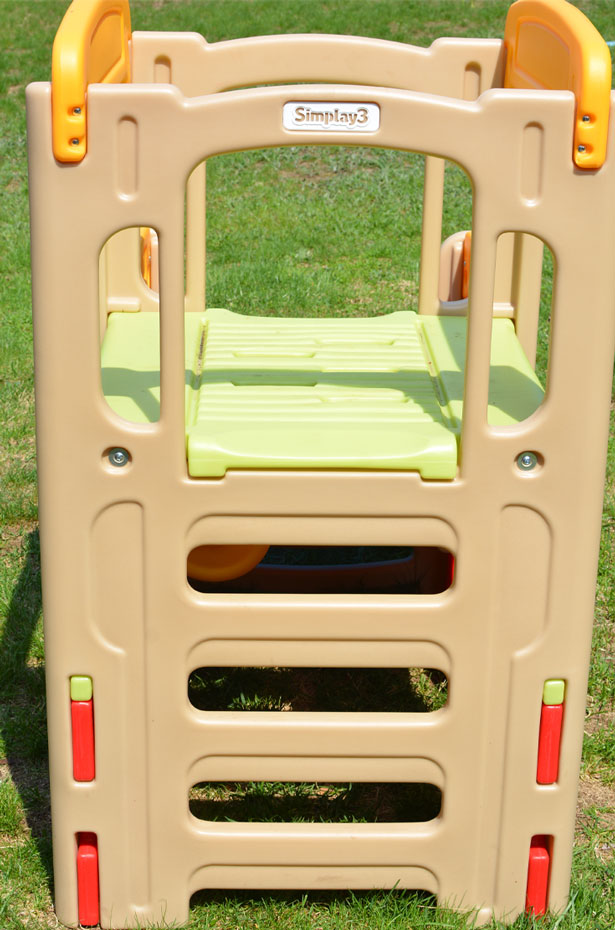 Crawl through the wheels / Climb in the sides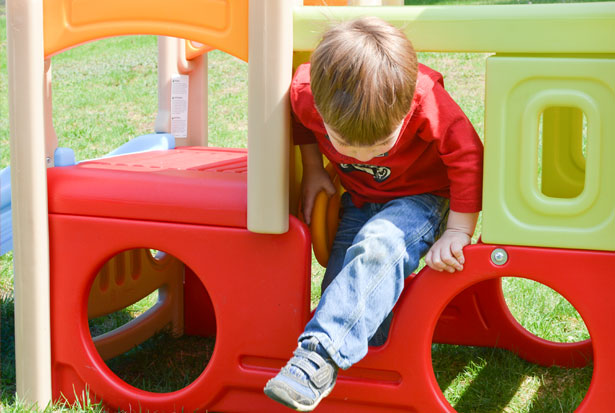 Slide down the slide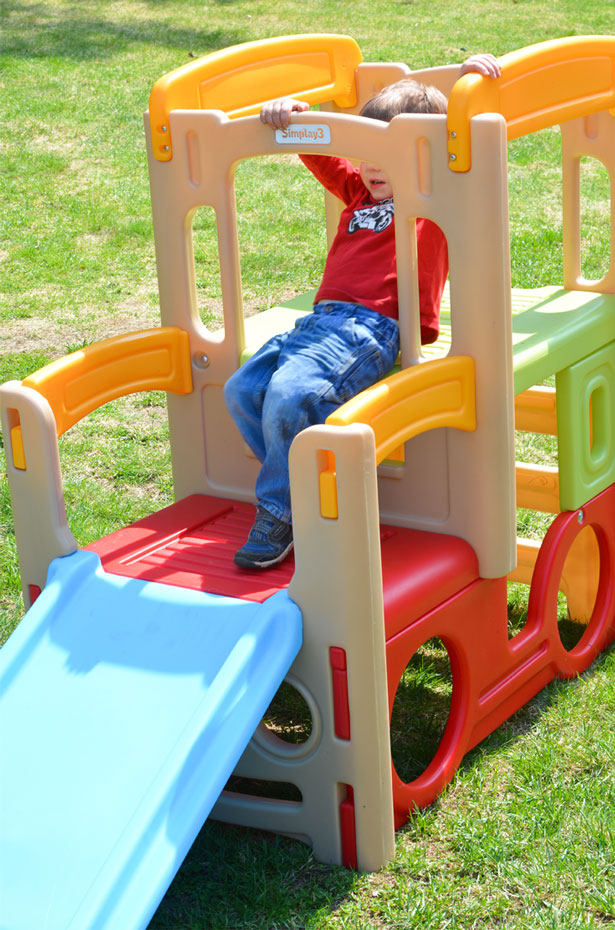 Where to buy:
Purchase this indoor outdoor playset on the Simplay3 website, or on Amazon.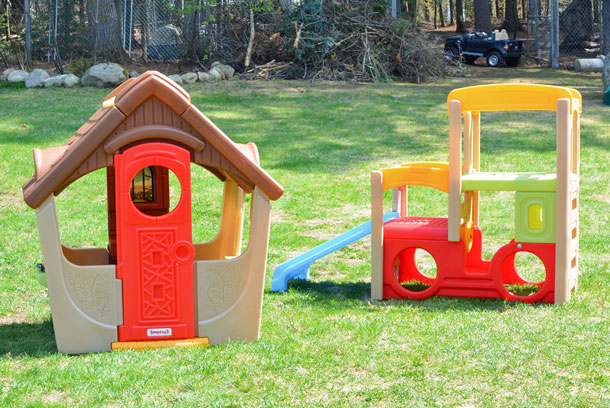 Once you enter this giveaway, head on over to enter to win a Simply3 Garden View Cottage!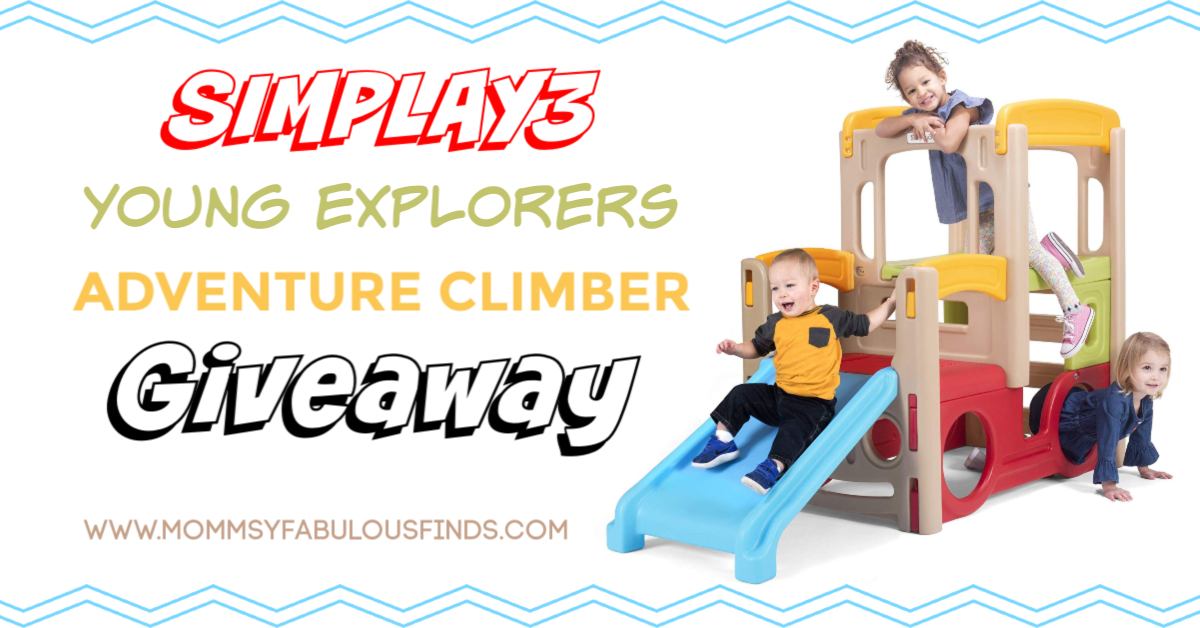 Win a Simplay3 Young Explorers Adventure Climber!
Thanks to Simplay3, one lucky reader will win this children's playset! To enter, simply fill out the form below. Open to continental U.S. Only. No P.O. Boxes. By entering this giveaway, you agree that your email address will be provided to Simplay3 for promotional purposes.
Product, information and giveaway prize provided by client. All opinions are my own personal and honest thoughts. By entering this giveaway you agree to the Giveaway Rules. This giveaway will end on July 9th at 11:59pm EST. The winner will be chosen via Rafflecopter. The winner will have 24 hours to respond or a new winner will be selected. You must be 18 years or older. Open to continental U.S. residents only. No P.O. Boxes.