This post brought to you by Better Sleep Council. All opinions are 100% mine.
May is Better Sleep Month and this year, the Better Sleep Council is telling everyone to Get on Top. Stop making excuses for not getting a good nights sleep, and get on top of a new mattress. This Memorial Day head out an purchase a new mattress. Not only will you be able to enjoy a good nights sleep, but you'll also improve your quality of life and health. I know first hand about making excuses and within the next month or so we will be purchasing a new mattress. Our old mattress is anything but comfortable, and after suffering back pain from a head on car accident a few years back, the aches are starting to take a toll. Every few months my husband and I will change sleep positions, we're currently sleeping sideways on our king bed to help us get more comfortable and to help us stop sagging to the middle.
Not only do I wake up sore but I feel exhausted after not getting a good nights sleep, I thought now that the boys are older and out of their infant and toddler years I'd finally be able to get a solid nights sleep, but they're still slim. We recently re-painted our bedroom to make it more relaxing, the next on the to-do list is to get a new mattress followed by new pillows. We have been trying to decide if we want to stay with a king bed or if we can survive on a queen bed to give us a little more space in our bedroom. I definitely enjoy the extra arm and leg room with our king sized mattress, and will have to spend some time testing out queen mattresses at our local mattress store.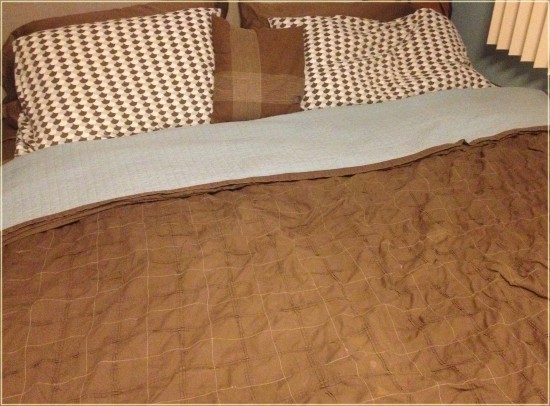 Shopping for a new mattress can be a little overwhelming, the Better Sleep Council has created a simple guide on how to buy a mattress that covers everything from determining budget, choosing the right store, talking with sales associates. choosing the right size and testing out mattresses first hand.
How do you know when it's time to buy a new mattress?
Is your mattress is five to seven years old? Check!
Do you wake up with aches and pains? Check!
Does your mattress shows signs of sagging, has lumps ect? Check! Sleeping sideways isn't normal?
Did you have a better night's sleep somewhere else? Check! My brother-in-laws in Michigan last week – didn't want to get out of bed!
In addition to the guide for buying a mattress the Better Sleep Council also has a guide for how to get better sleep that includes simple solutions for improving your quality of life and sleep. By making sleep a priority, and getting yourself into a relaxed bedtime routine you can help improve your quality of life and health. Leave the computers and tablets out of the bedroom, and replace your pillow every year.
Stop making excuses for being overtired and grumpy in the morning, and get on top of a new mattress this Memorial Day.
GET ON TOP, $1,000 GIVEAWAY!
Are you in need of a solid night's sleep like I am? Then head on over to the The Better Sleep Council Facebook page and enter the Get on Top, win $1,000 giveaway where they are giving away a $1,000 VISA gift card to help you Get On Top of a new mattress.
Comment below to win a $50 VISA gift card!
One lucky reader will win a $50 Gift Card. To enter, leave a comment with your sleeping troubles – How would a new mattress help?
Giveaway open to U.S Only; 18+. Contest ends 5/30. See official rules.