My dad has been talking about getting a Sodasteam for almost a year now, every time we head Bed Bath & Beyond or Kohl's he is always making comments after seeing them on display. While he enjoys diet soda, he is also a big fan of sparking water and drinks it on a daily basis. With Christmas right around the corner I thought it would be a great way to surprise him with a Sodastream of his own. No more running to the grocery store when he is low on sparkling water, he can turn tap water in sparkling water in under 30 seconds!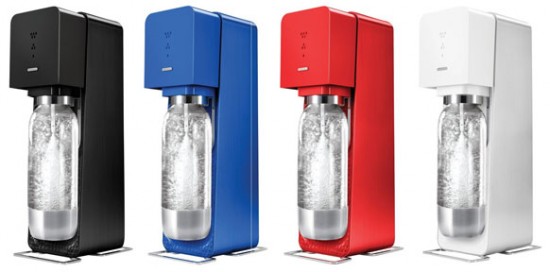 The Sodastream soda makers come in a variety of colors and are fashionable, fun, sleek and easy to use. With a number of options available, you'll be able to find one to match your kitchens decor.
Sodastream Features:
Save space with concentrated Sodamix
Save on plastics, use reusable carbonating bottles
No more lugging and storing heavy soda bottles and cans
No batteries or electricity needed
Over 60 flavors available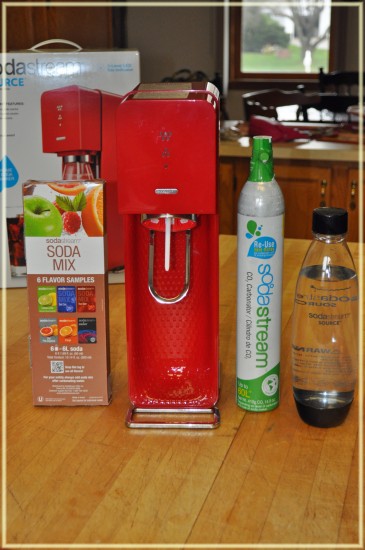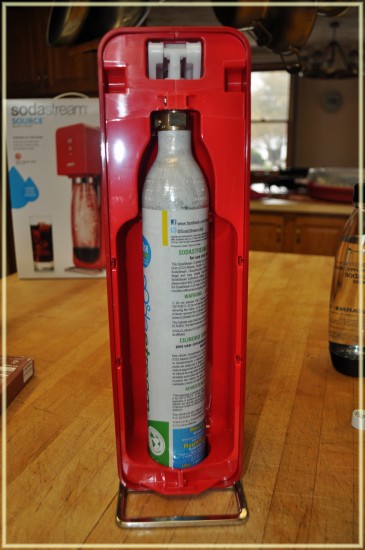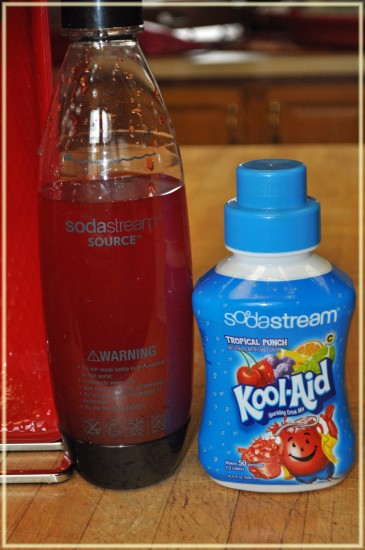 Sodastream sent us the new Source in red, and I was surprised at how quickly we were able to make a carbonated drink – under 30 seconds! Set-up was easy, after the CO2 canister is attached all you have to do is lock the water filled carbonating bottle into place with a single-push motion. Once it was locked into place, press down until the carbonation indicator lights illuminate, there are three different levels depending on individual preference. Once the water is carbonated, detach it from the Source and add in a cap full of flavoring. There's no need to mix it, it's ready to go.
With the Sodastream Source my father is able to protect the environment by not purchasing all of those plastic containers. He's able to choose his own flavors and also doesn't have to lug all those plastic bottles in the house when he goes grocery shopping.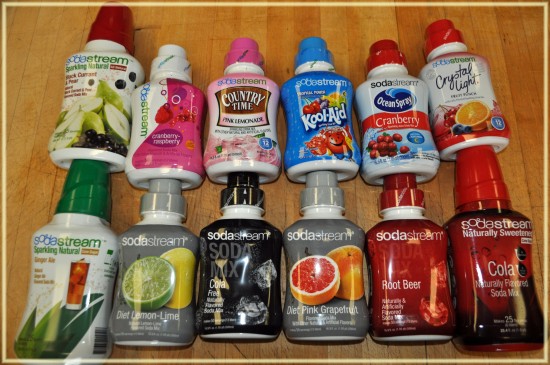 There are so many different flavor varieties now available compared to when I was first introduced to Sodastream a couple of years ago, in addition to soda flavors, there is also a new line of Kool-Aid, Country Time, Crystal Light, Ocean Spray & Happy Hour Cocktail Mixes.
Sodasteam soda makers can be purchased at retailers nationwide including Kohl's, Bed Bath & Beyond and http://www.sodastreamusa.com.

 Sodastream Giveaway:
Giveaway package is a Fountain Jet Soda Lover's Start-Up Kit  ($99.95)http://www.sodastreamusa.com/Fountain-Jet-Soda-Starter-Kit-P184.aspx. It includes:
Fountain Jet – winner's choice of color (black/silver, red/silver or white)
1 carbonating bottle, reusable for up to 3 years
Reusable carbonator to fizz up to 60L of soda
Variety 6-pack of popular sample-size flavors
3 full-sized flavors of the winner's choice
By entering this giveaway, you agree to the Giveaway Rules. This giveaway will end on December 30, 2013 at 11:59pm EST. The winner will be chosen via Rafflecopter. The winner will have 24 hours to respond or a new winner will be selected. Allow 6-8 weeks for prize fulfillment by sponsor. You must be 18 years or older. Open to U.S. residents only. No P.O. Boxes.