Thank-you to ShoeBuy for providing a product.
While toys are always at the top of my children's holiday wish list, we also make sure to add in a few things that they will be needing including new clothes and shoes. This year boots and outside accessories are on the top of the list as we recently moved and are now surrounded by cold temperatures and snow for the next few months. I've been shopping at ShoeBuy.com for the past couple of years for boots, sneakers and sandals for our family,  in addition to shoes they also have clothing, bags, and accessories from top brands including North Face, Timberland, Stride Rite, Sperry, and Merrell.
While I have majority of my shopping complete, there are still a few gifts that I need to purchase for siblings, my parents and my in-laws. Out of everyone I shop for, my parents and my in-laws are the hardest and I'm always double guessing myself not knowing what they need or will use. Shopping for the holidays can be a stressful time of the year, with the added cost and not knowing what gifts to purchase so below you will find a few tips on how to improve your  holiday gifting skills from ShoeBuy Style Expert Courtney Barry, as well as Hot Holiday Gifts Under $50" available on ShoeBuy.
Tips to improve your  holiday gifting skills:
Do your research and plan ahead: Map out your plan-of-attack a few days before to avoid the last-minute stress of figuring out gifts in-store. Have your lists built-out and research which retailers are having the best sales. Try to combine those promotions with coupons to maximize the savings. Keep an eye out for discounts and deals early (some deals are available months in advance), you'll be shocked at how much more you can save!
Stay on budget: Spending more money than you should can make both you and your giftee feel uncomfortable. Make sure you have a clear idea of how much money is appropriate to spend on each gift before you leave your house. Hitting the ATM and paying with cash will help make sure you don't go over your pre-determined limit.
It's their gift, not yours: When shopping for a gift, be sure to keep your loved one's style top-of-mind. While you may think your tween daughter would look adorable in a new pair of sequined candy cane socks, she may not agree. Take a peek at your giftee's closet to get a feel of their general style and color preferences before hitting the stores.  These Converse Chuck Taylor All Star Core Low are a great example of simple, clean style that is likely to be a crowd-pleaser.
Be prepared with extra goodies: you never know when that unexpected guest will arrive. Always be prepared with an extra little something to make sure no one feels left out this holiday season. Gift cards or movie tickets make great general gifts, and if you're feeling a little more personal, a cozy scarf, warm mittens or a knit hat are perfect gifts for this time of year.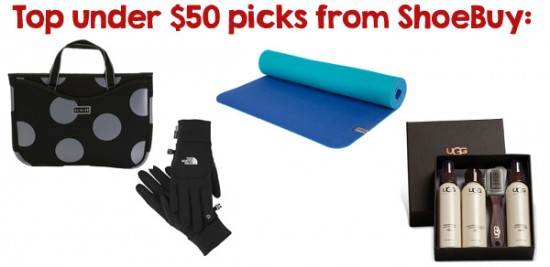 Top under $50 picks from ShoeBuy.com:
Prana Eco Yoga Mat
North Face Etip Glove
Ugg Sheepskin Care Kit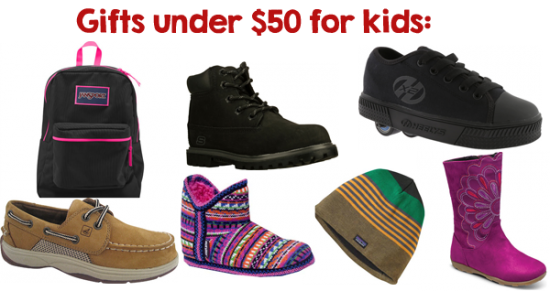 Additional gifts under $50 for kids
Heelys Pure
Sperry Top Sider Intrepid
Sketchers Mecca Bunkhouse
Patagonia Beanie Hat
Stride Rite Bianc

a

Timberland Earthkeepers® Timber Tykes Lace Boot:
Trevor has been wanting a pair of work boots that look "just like dads". He is a mini version of his dad and always has to wear the same style of clothing and shoes, but after his recent growth spurt he has outgrown his work boots. After browsing through the work boots, I decided on the Timberland Earthkeepers® Timber Tykes Lace Boot as Timberland is well-known for the quality and durability, which is a must with an active preschooler who is always on his feet and outdoors. Unlike a few boots that we have tried, these boots are comfortable and can be worn all day, not just for a couple of hours at a time. The Crash Blaster™ technology provides cushioning and comfort for all day active play while the Splash Blaster™ protector provides water and stain resistance, keeping the shoes looking good after a full day of jumping and running around.
ShoeBuy Coupons
Although the Timberland Earthkeepers® Timber Tykes Lace Boots are priced at $54.95, ShoeBuy is always offering coupons to help customers stretch their money, including Save 30% off today using promo code JINGLE (some exclusions apply).
Timberland Earthkeepers® Timber Tykes Lace Boot: $54.95 -$16.48 (30%) = $38.47!
ShoeBuy Rewards:
To help you save even more, sign up for the ShoeBuy Rewards, a free rewards program where you will receive points for purchases. 1 point per dollar.
200 points = $10 towards your next purchase
400 points= $20 towards your next purchase
Shoebuy.com Coupon
This holiday season, make sure to stop by ShoeBuy and check out their fabulous selection of apparel, shoes and accessories for the entire family.
Have you started or finished your holiday shopping?