Entenmann's® Little Bites® muffins are hitting the road, and just in time for the March 15th Alvin and the Chipmunks: Road Chip DVD and Blu-ray release! My two little's have been anxiously awaiting the release of Alvin and the Chipmunks: Road Chip on DVD as we missed it in the movie theaters.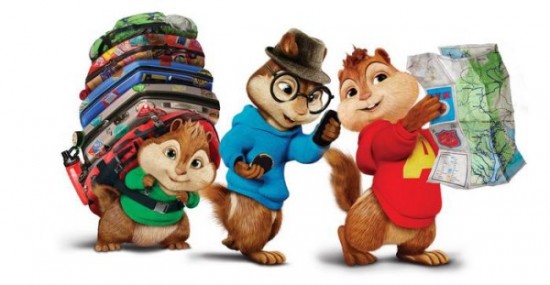 In the new movie, Alvin and the Chipmunks: Road Chip, Alvin, Simon, Theodore and their new companion, Miles, cross the United States in an epic road trip. They're in a race against time to get to Miami before their dad, Dave, makes a life-changing decision. And Entenmann's Little Bites® muffins are there to go right along with them as every family's favorite on-the-go treat! That's why they're teaming up with Alvin and the Chipmunks for their Road Chip adventure!
The Little Bites® brand number one seller, Chocolate Chip Muffins, has joined in on the Chipmunk madness! Keep an eye out for the specially marked Entenmann's Little Bites® Chocolate Chip-Munk Muffins! Purchase of one box includes a FREE Chipmunks song download from the movie, a fun on-box activity maze, along with a great coloring sheet inside of the box for kids! Jonathan and Trevor both enjoy Entenmann's Little Bites®, especially the chocolate chip flavor. They're perfect at home, on the go, and even on a road trip!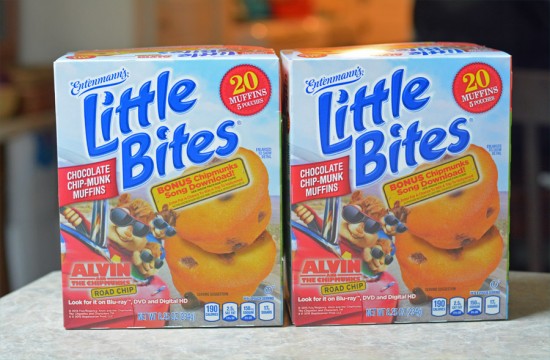 Through April 30th, fans can enter the Little Bites® "Road Chip" Sweepstakes for a chance for their family to win a 4 day/3 night trip to Hollywood, no purchase necessary.  Check out all the details on the Little Bites® Facebook page
Alvin and Chipmunks: Road Chip trivia questions
Q1. Where do the Chipmunks meet Samantha and Miles for the first time?
a1: A miniature golf course
Q2: Why were the Chipmunks not allowed to go to Miami with Dave?
a2: They were grounded from throwing a surprise birthday party for Dave
Q3: Who does Dave bring to Miami instead of the Chipmunks?
a3: His girlfriend, Samantha
Q4: Which Chipmunk let the animals out of their cages on the plane?
a4: Theodore
Q5: Where does the plane that the Chipmunks and Alvin are on land, instead of Miami?
a5: Texas
Q6: What song do Miles and the Chipmunks sing in the streets of New Orleans?
a6: "Uptown Funk" by Bruno Mars
Q7: What are the two tattoos Agent Suggs gets in New Orleans?
a7: "SuggLife" on his chest, the three Chipmunks on his back
Q8: What item are the Chipmunks and Miles hoping to steal from Dave in Miami?
a8: An engagement ring
Q9: Which Chipmunk gets hit by a car in Miami while trying to save Miles?
a9: Theodore
Q10: What TV show are The Chipettes judges for in the movie?
a10: American Idol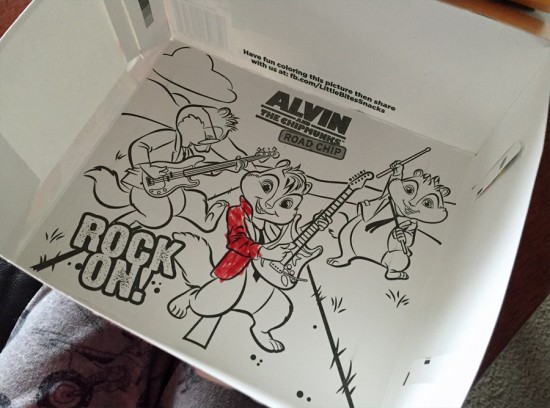 Alvin and the Chipmunks: Road Chip & Entenmann's Giveaway:
Enter below to win one download code to access the Alvin & the Chipmunks: Road Chip on Digital HD, two boxes of Entenmann's Little Bites Chocolate Chip-Munk Muffins and four Entenmann's Little Bites coupons.
Product, prize & information provided by sponsor. By entering this giveaway you agree to the Giveaway Rules. This giveaway will end on March 31, 2016 at 11:59pm EST. The winner will be chosen via Rafflecopter. The winner will have 24 hours to respond or a new winner will be selected. You must be 18 years or older. Open to U.S. residents only. Giveaway prize provided by sponsor. Allow 4-6 weeks for prize fulfillment.