Thomas Land at Edaville Family Theme Park in Carver MA is one of the newest family fun destinations in New England. Thomas Land theme park brings the Island of Sodor to life and covers 11.5 acres within Edaville Family Theme Park.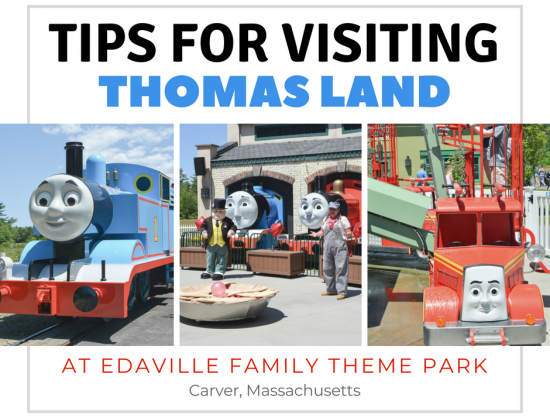 *admission provided for our family.
All you need to know about visiting Edaville Family Theme Park:
There are three different sections to Edaville Family Theme Park: Cran Central, Dino Land and the newest – Thomas Land.
During our first visit to Edaville Family Theme Park we started off at the back of the park at Thomas Land as that was one of the main attractions we wanted to see. I wanted to make sure we were able to see all of Thomas Land, take a ride on the train and see explore Dino Land in case the little one got cranky and we needed to leave. Since he usually naps around 2-3 we got to the park at opening to try and fit everything in.
What age is best for Thomas Land?
There was quite a few families with younger children, 2-8 years old, with lots of 3-6 year olds. Although there were some older siblings, most of the rides were geared for younger children.
There's quite an age gap between my three boys ages 10, 8, and 2 so I wasn't sure if the older boys would be too old and bored at Thomas Land. Both of the older boys LOVED Thomas during their preschool and early elementary years, and were excited when I recently took their Thomas the Train wooden trains and train table out of the attic for their little brother. The older kids had a good time at Thomas Land although Dino Land was a huge hit also (they both love dinosaurs and Jurassic World). Ages 3-5 in their prime "Thomas the Train" fan years would have been perfect but since the older boys are really close with their toddler brother they were excited to bring him on all of the rides.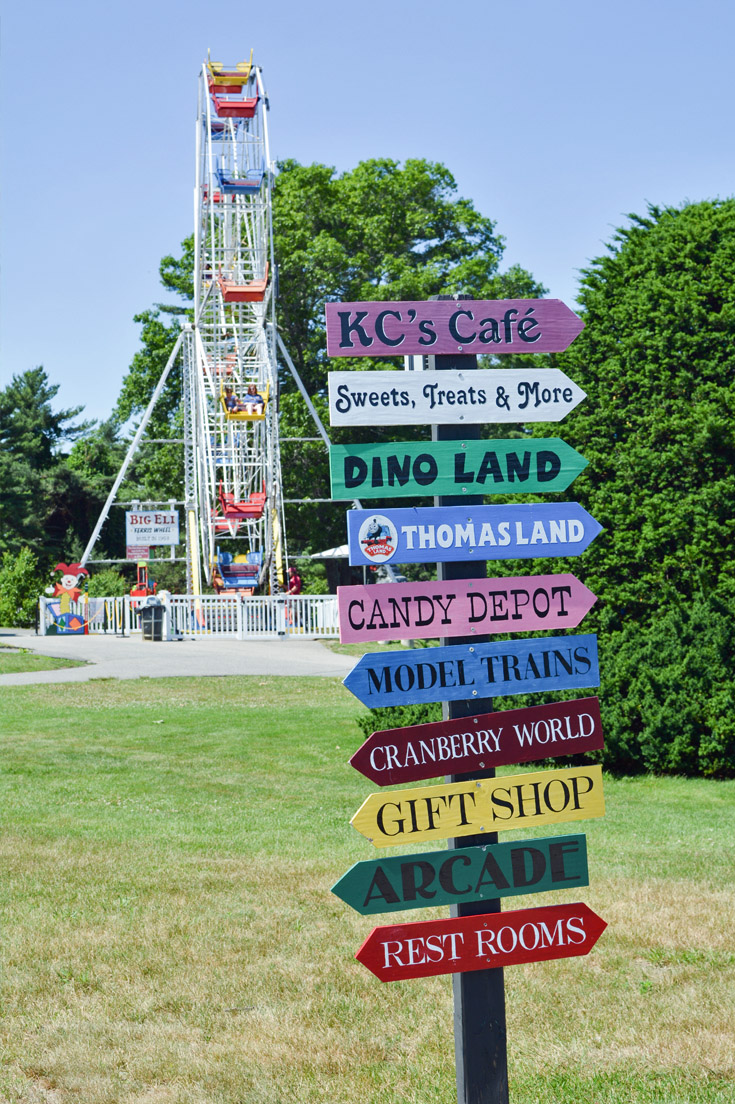 At Thomas Land, Thomas the Train fans can visit iconic destinations including Knapford Station and enjoy themed rides featuring favorite characters like Cranky the Crane, Flynn the Fire Truck, Harold the Helicopter, Winston, and more!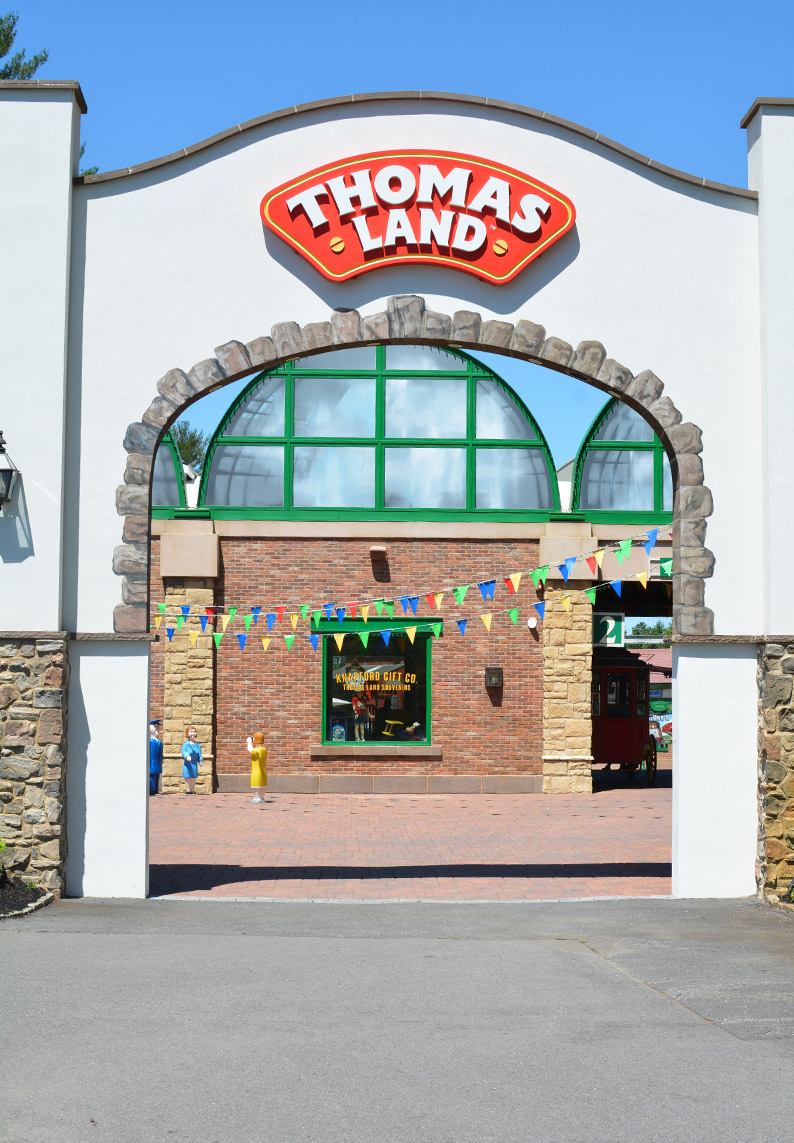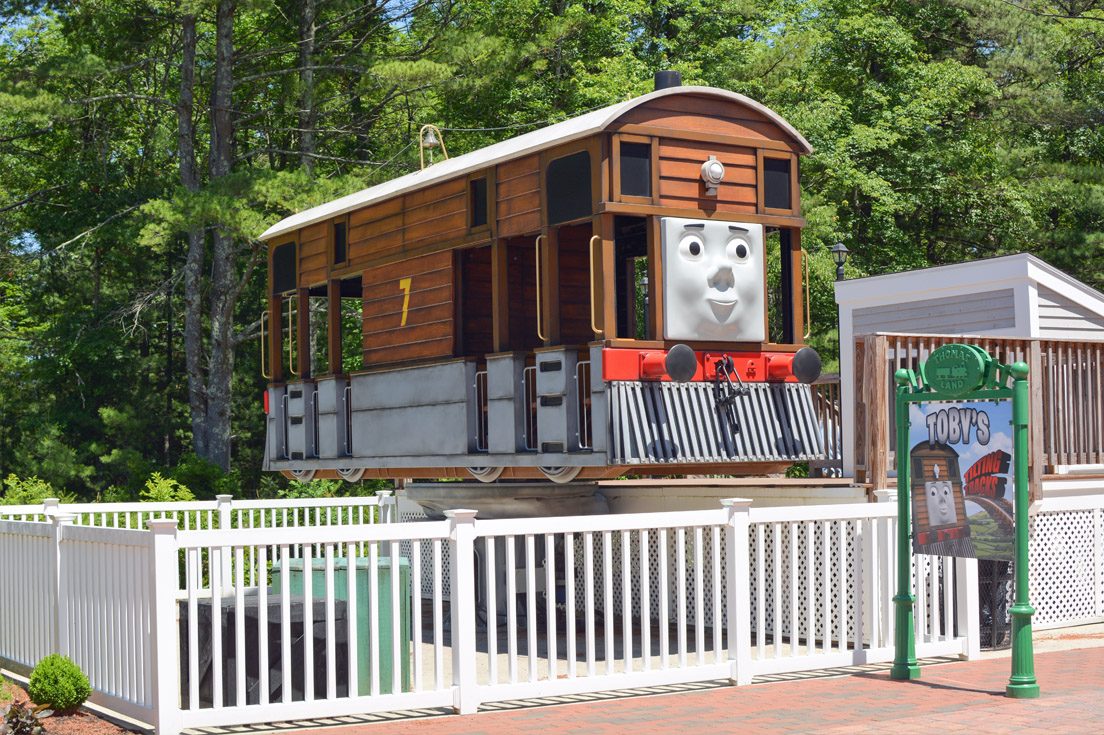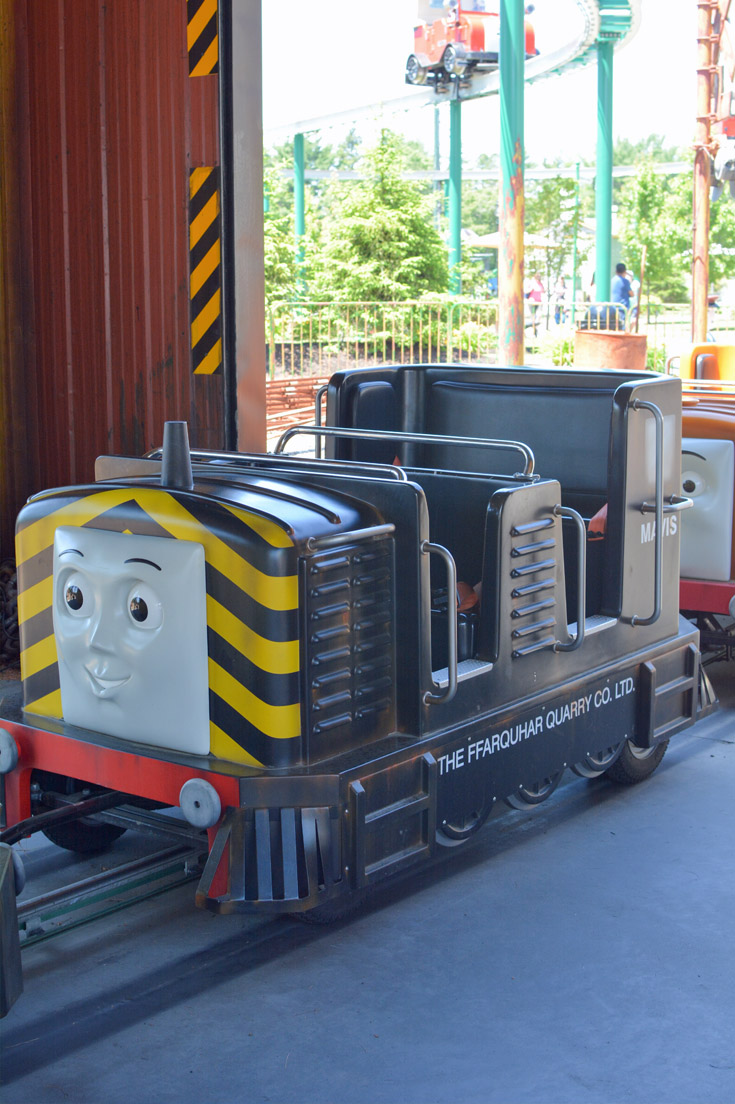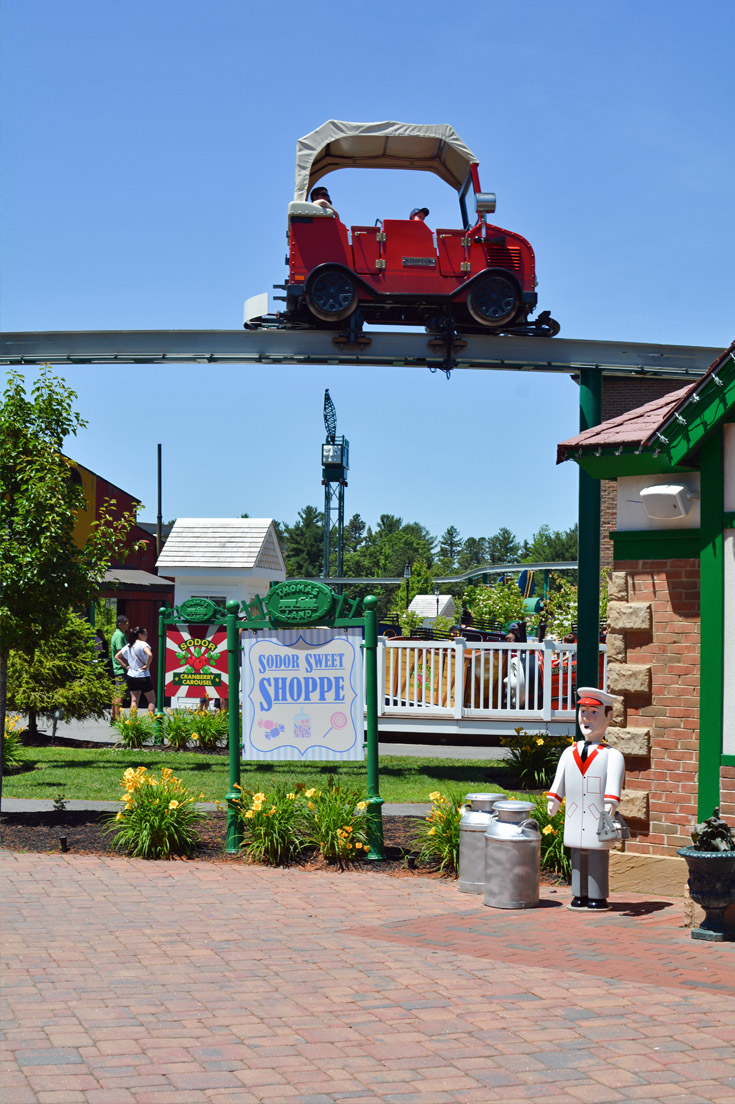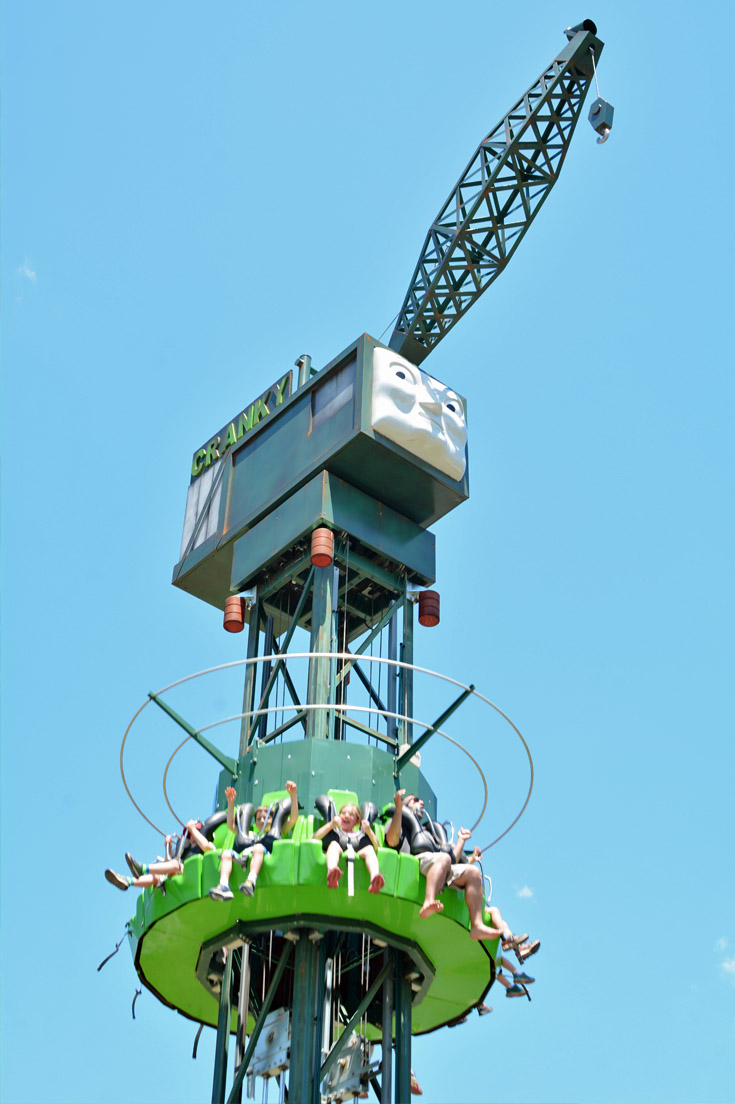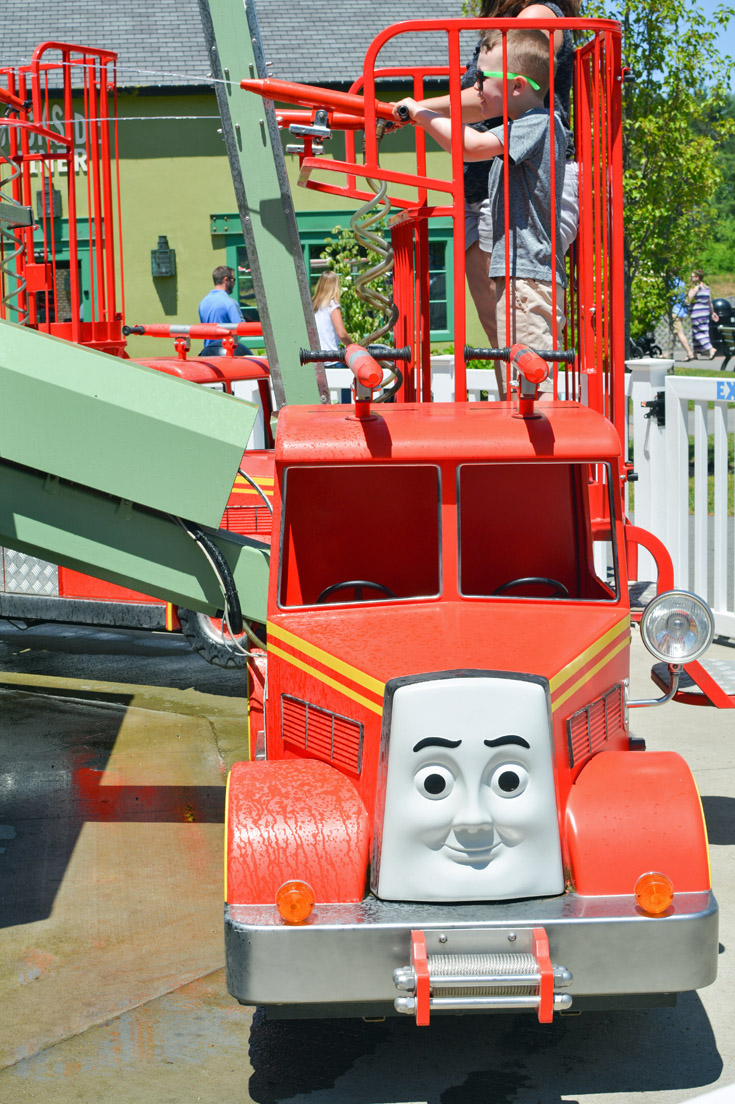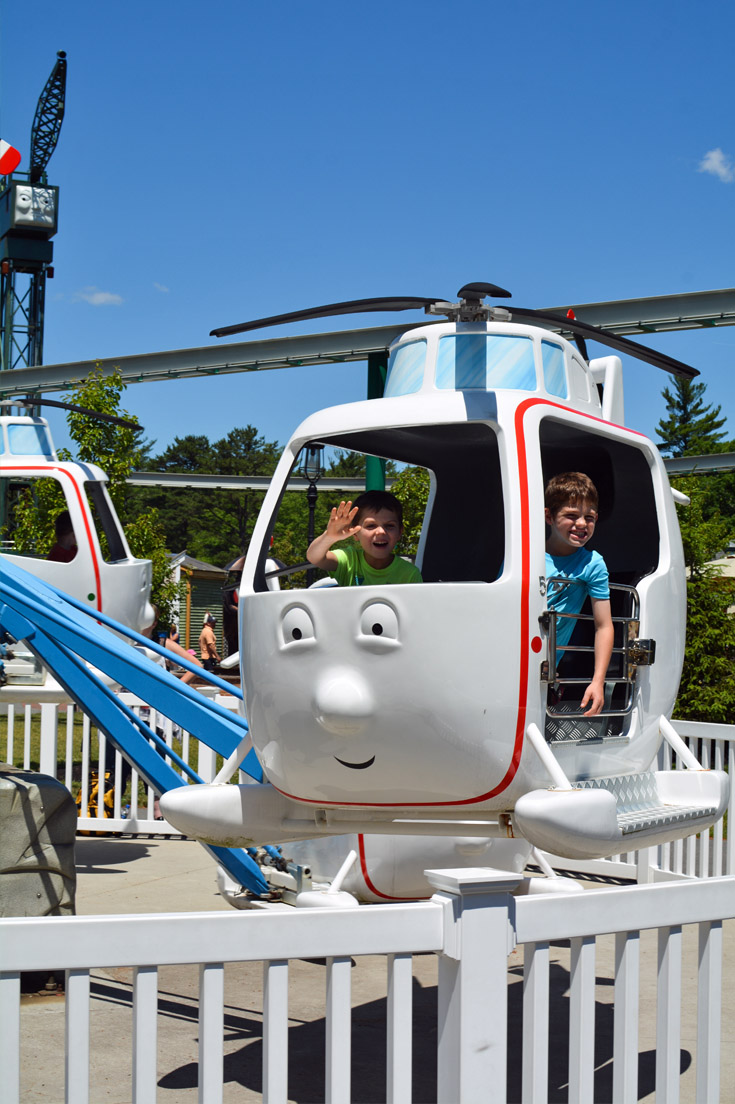 We visited midweek, on a Tuesday and it was great to see that there was little to no line at almost all of the rides. A number of rides the children got to go on multiple times back to back as there was no one else waiting.
Cool down at Sodor Play Zone: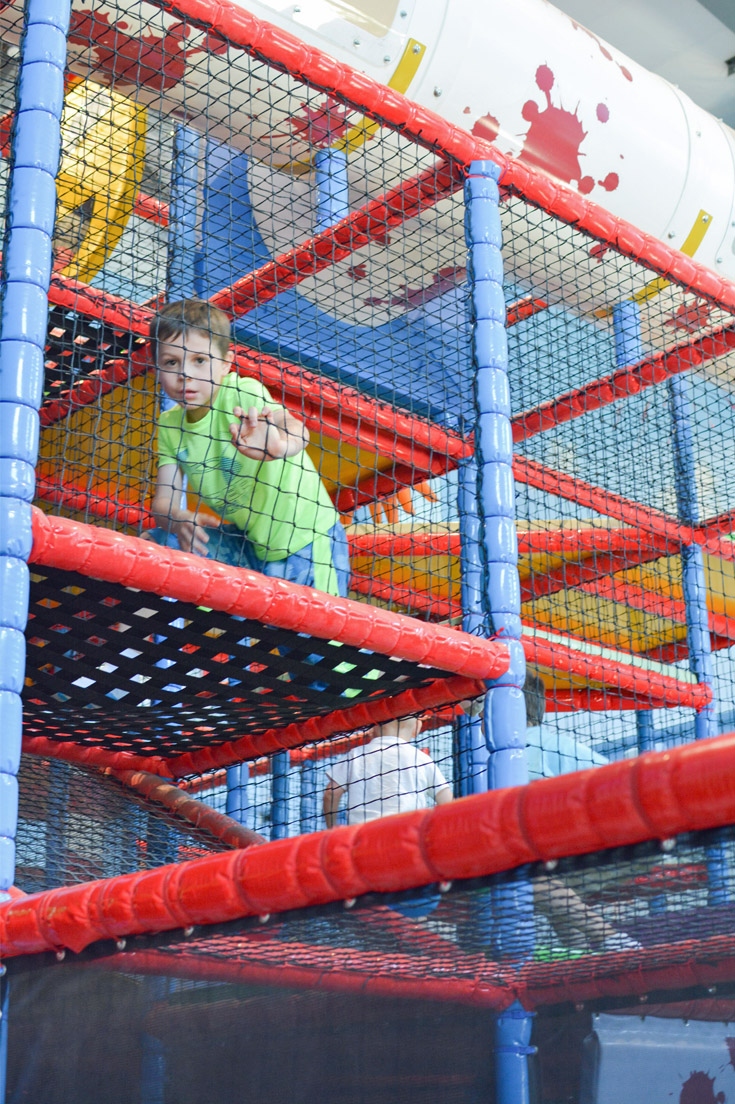 Escape the heat and cool down at the indoor Sodor Play Zone. Kids ages 4-12 can climb, slide and play in the soft ball area and ball pit. I was happy to see that this area is supervised by a staff member to ensure that kids are following the rules. There is a smaller toddler play area for the younger siblings. Socks are required, and are available to purchase for $2.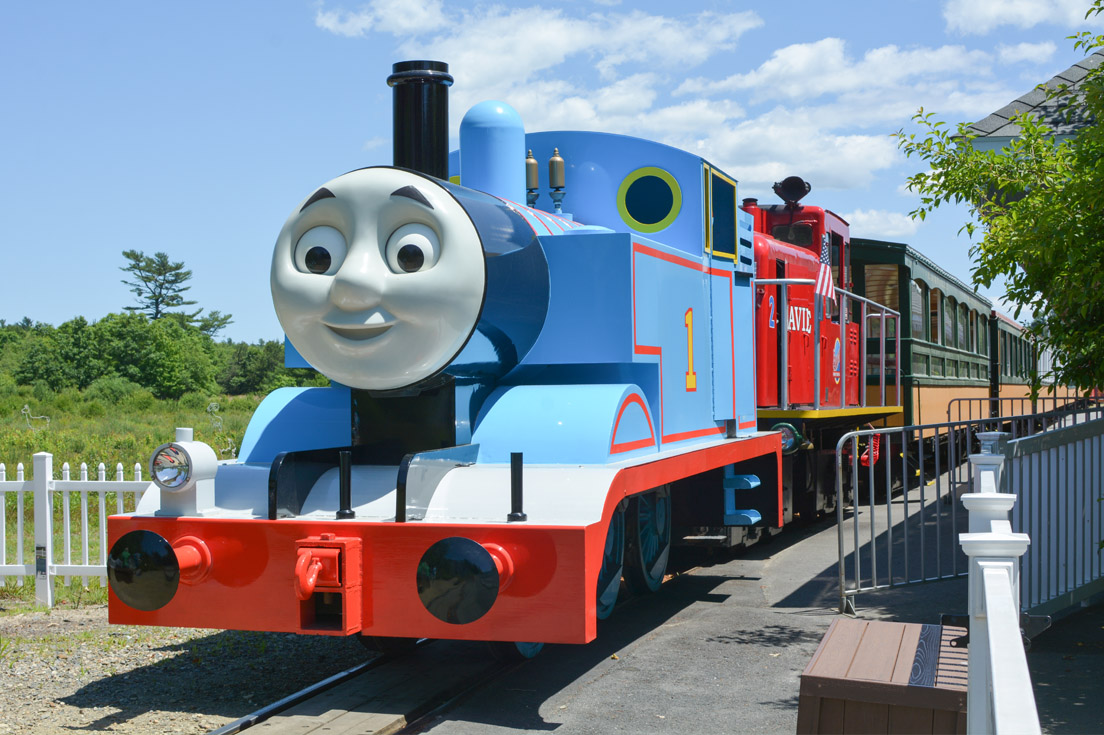 Check the Thomas the Tank Engine Train Ride Schedule.
Hop on board as Thomas the Train takes you on a scenic tour around Edaville and the cranberry bogs. During our midweek visit there was plenty of room on the train, but I would expect weekends to be busier. Arrive 10-15 before the train departure to make sure you get a seat.
The train left on the hour every hour during our visit, there was also an announcement to remind guests that the train was boarding for the upcoming ride. There are no bathrooms on the train, so make sure to have children try to go before boarding. There is no limit on the number of train rides you can take.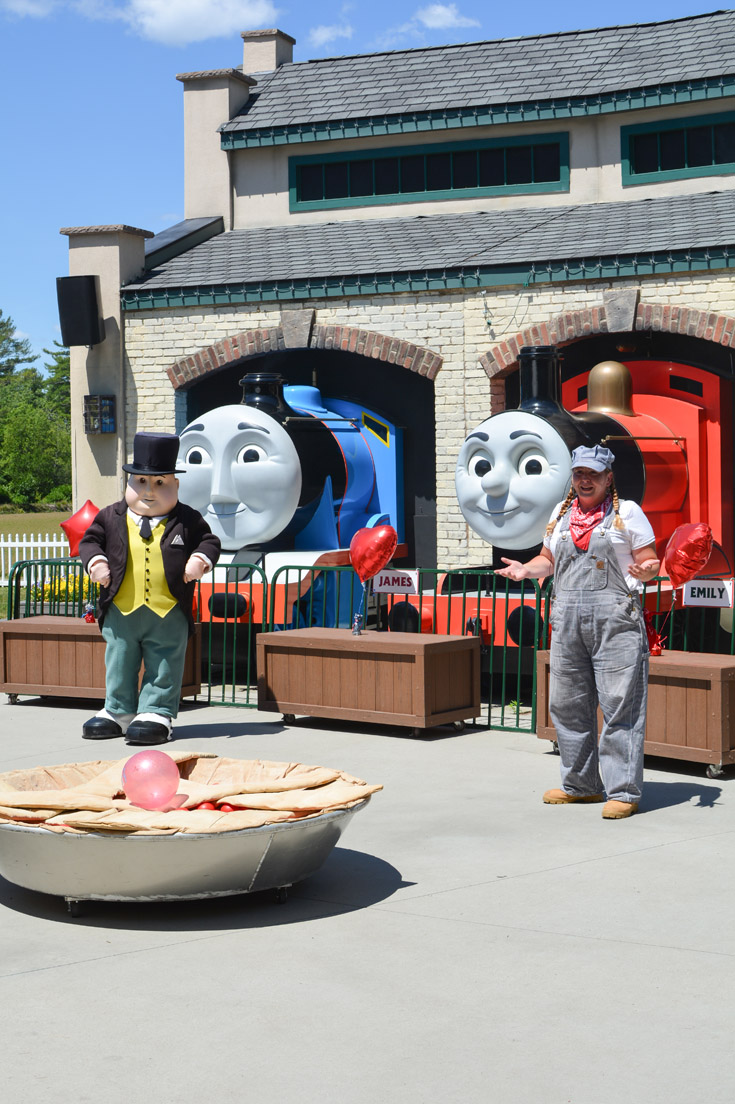 Watch the Cran-tastic Cranberry Jubilee Live Show:
The Cran-tastic Cranberry Jubilee Live Show has numerous show times throughout the day. Seating is limited, but depending on the day there may only be a small crowd. After the show is over there will be a short break before guests can meet and have their picture taken with Sir Topham Hat.
Character Meet & Greets:
Meet and take your picture with Sir Topham Hat, Gordon, James, Emily, Percy during designated times after the Cran-tastic Cranberry Jubilee Live Show
Thomas the Train is also available for pictures before and after the train rides.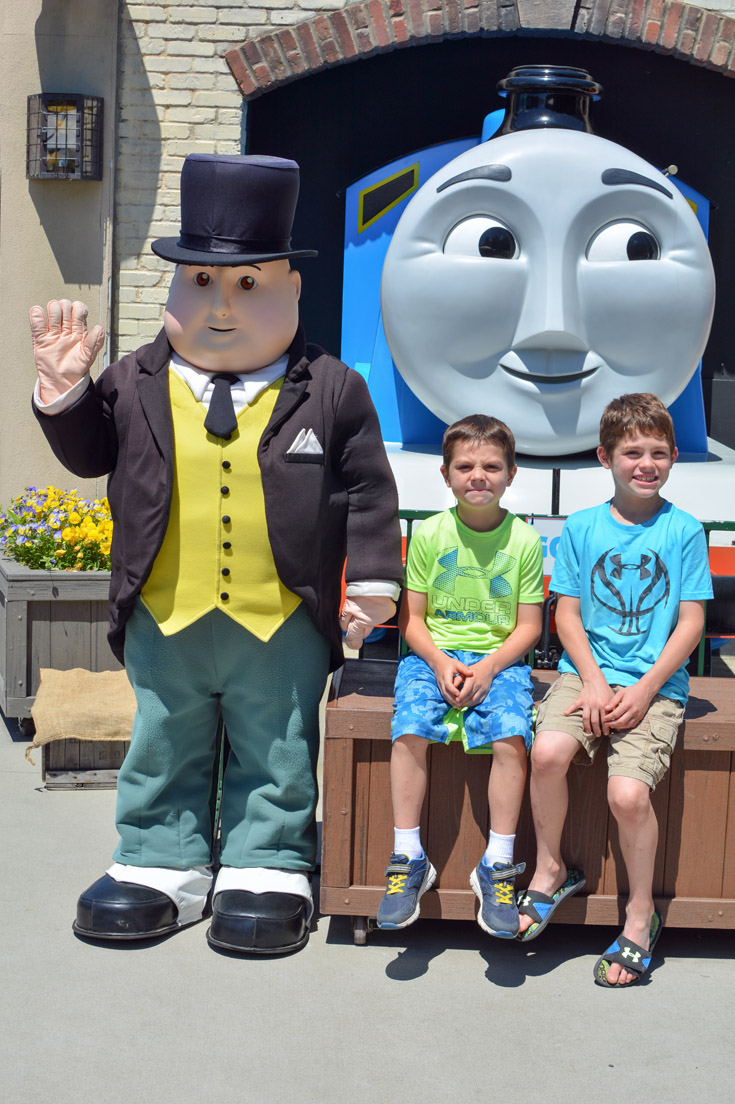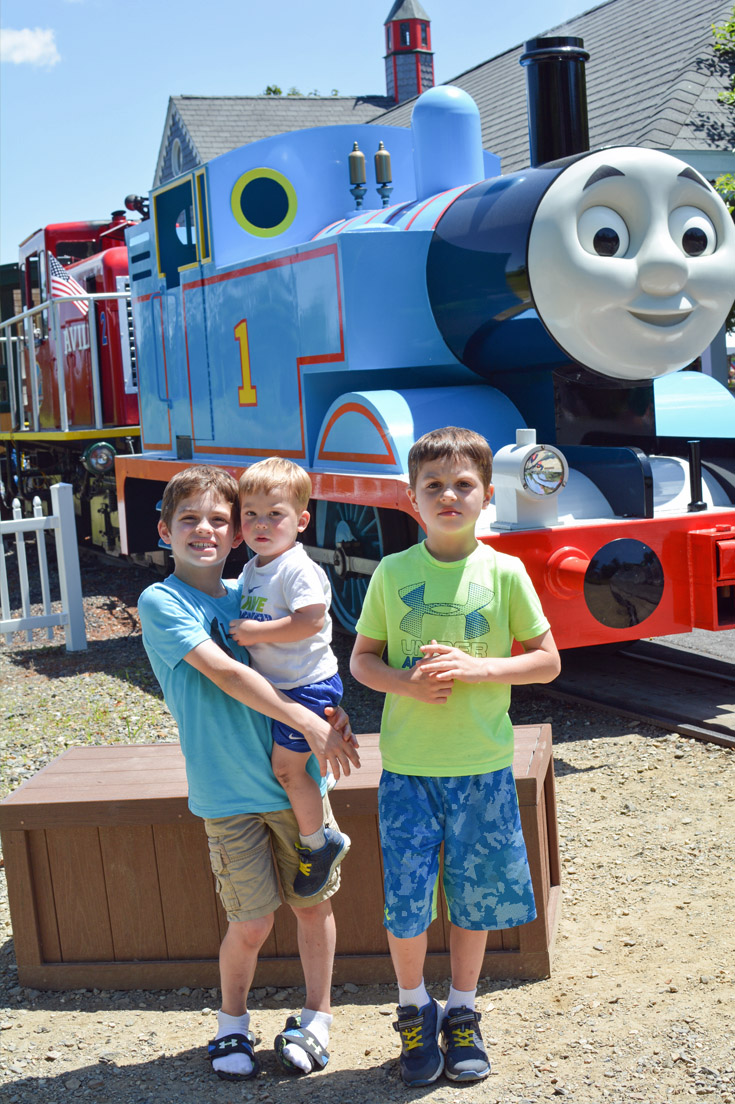 Stop by Cran Central Junction (Ellis' Playhouse)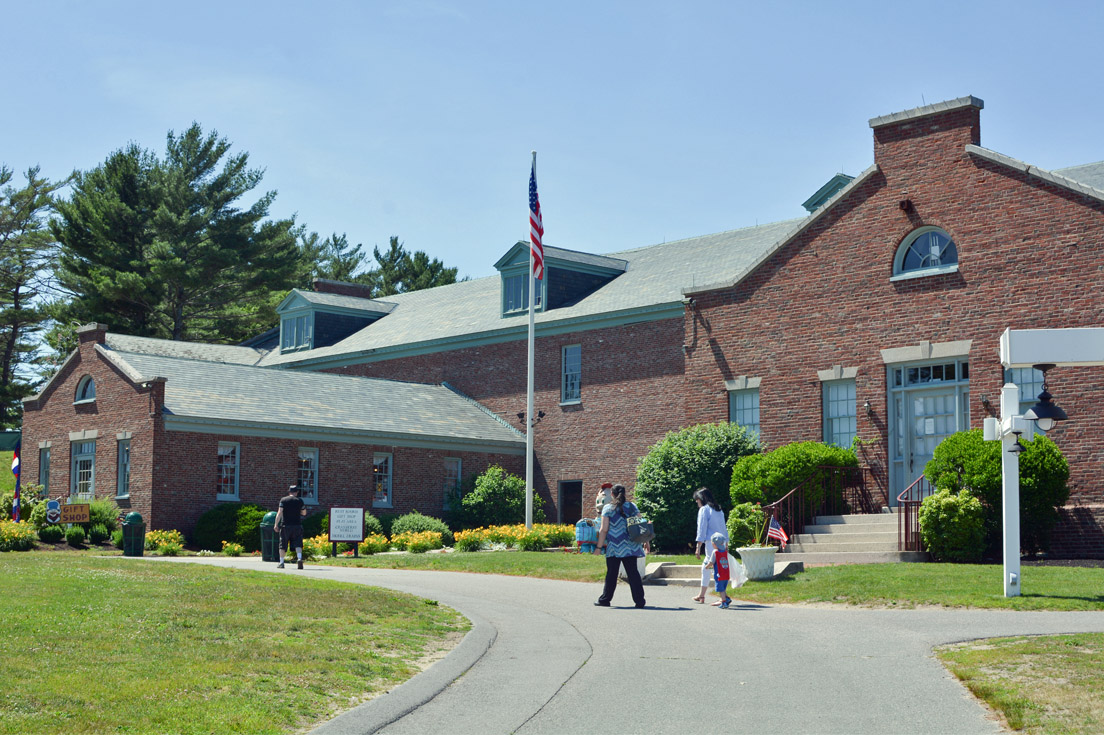 While strolling through Cran Central, make sure to stop by Elli's Playhouse. Although it may look like just a brick building, there's even more fun inside at Cran Central Junction. Escape the heat and play inside.
1st Floor: gift shop, bumper cars, arcade
2nd Floor: Mini Carousel, Gas Station ride, Model Trains, Cranberry Ball Pit and the Cranberry Museum. For those in wheelchairs, you can access the 2nd floor by following the side walk around to the building, which leads to the second floor entrance.
Learn all about Dinosaurs at Dino Land:
At Dino Land, families can go on a self-guided adventure through the walking trails. Children get to explore and learn all about the 23 life-sized animatronic dinosaurs.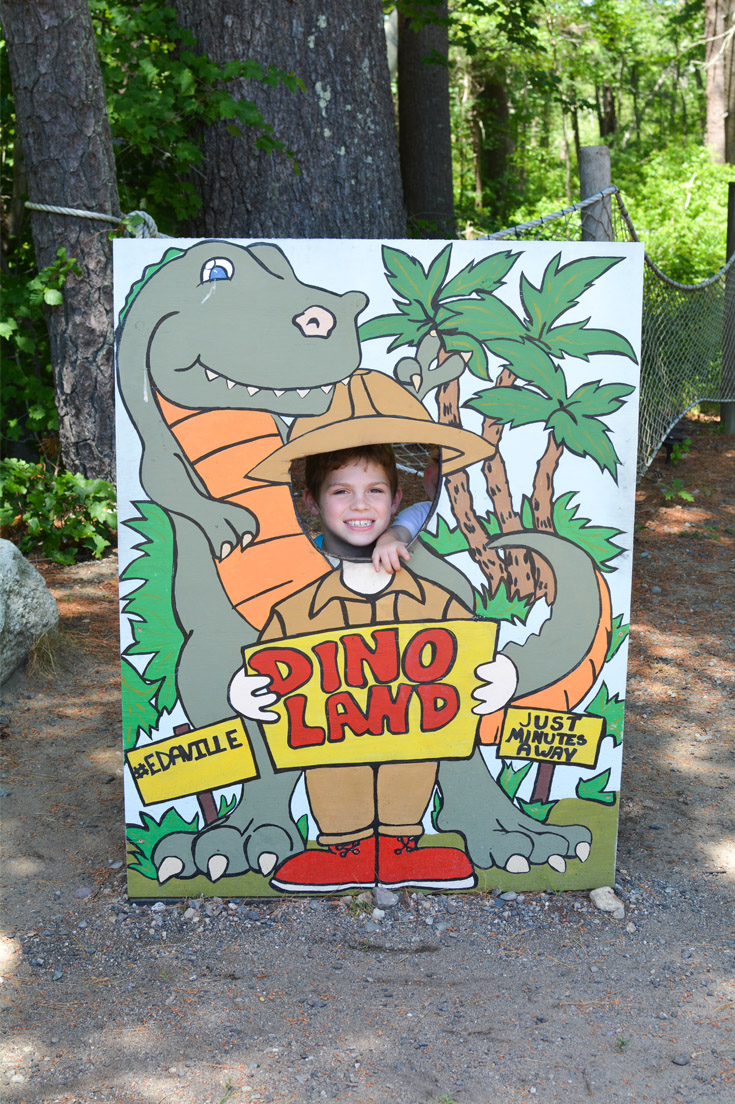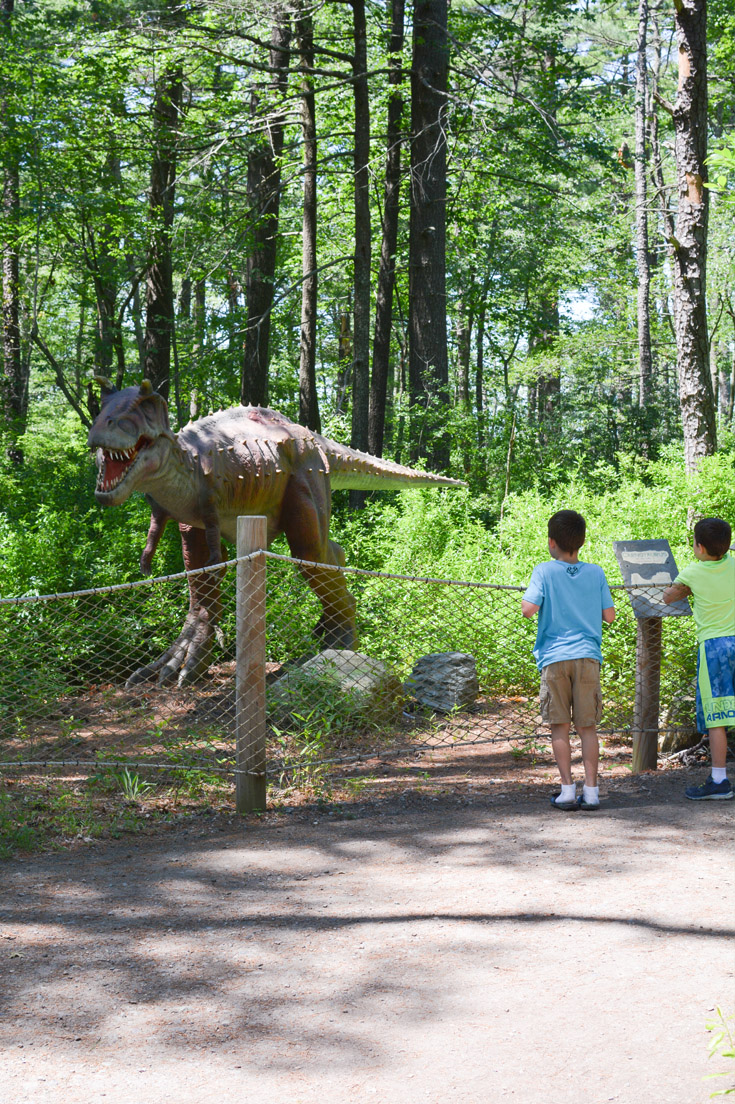 Knapford Gift Co., the Thomas Land Gift Shop
Pick up a souvenir, Thomas Land exclusive merchandise. or play with the wooden train tables at Knapford Gift Co., the Thomas Land Gift Shop.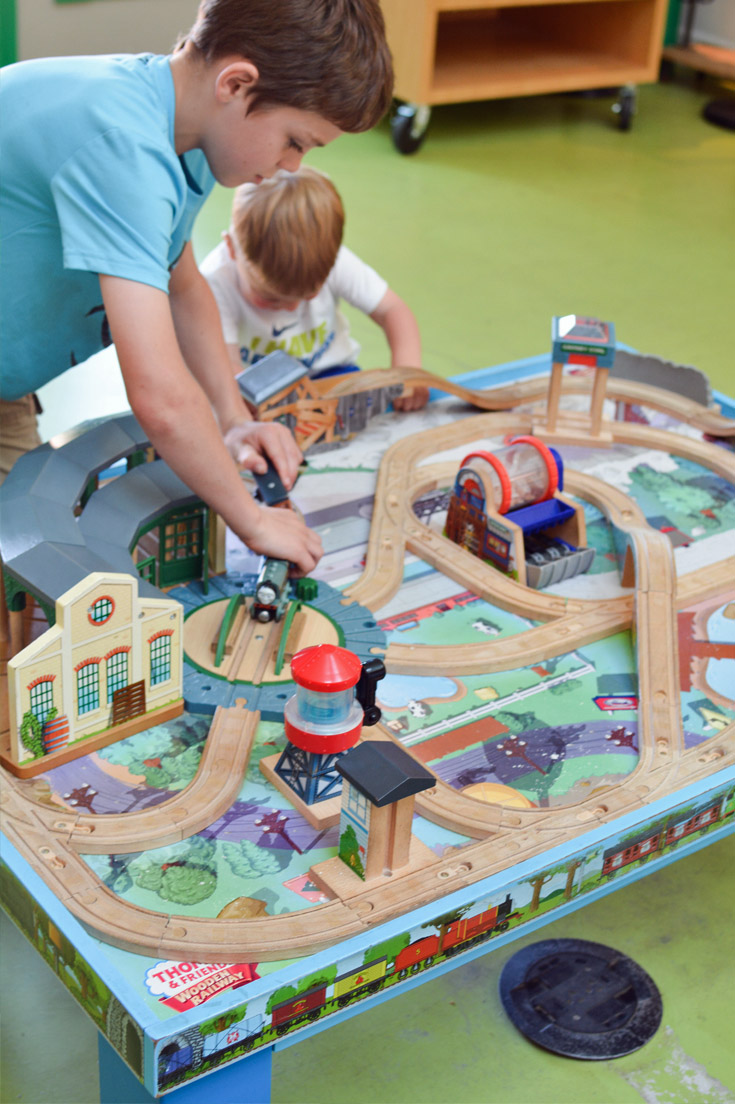 Pack a Picnic Lunch:
If you're looking for ways to save on your visit to Edaville Family Theme Park, I recommend packing a lunch. There are places to sit around the park, or you can also pack a sheet or blanket and enjoy a picnic style lunch on the grass, there is plenty of room around Thomas Land. Food and beverage concessions are also found throughout the park if you prefer to purchase lunch, drinks, or snacks. I found the prices typical to other theme parks ($6 for a slice of pepperoni pizza) and would pack a lunch on a return visit.  I'll usually pack a lunch and drinks and allow the kids to pick out a special treat during our visit; ice cream, pretzel, popcorn ect.
Wear Sunblock & Comfortable Shoes:
Be prepared to spend at least half of the day on your feet in the sun. There are a few areas of shade, but for the most part the rides are out in the open with no-shade. Apply sunblock before entering the park and reapply as needed.
Check for Ticket Deals
Massachusetts & Rhode Island residents – MA/RI  pay only $30 a ticket when purchasing tickets online. You will need to choose a specific date, once you enter your MA/RI billing address, the price will reduce to $30 a ticket, a savings of 23% off gate admission.
Breathe New Hampshire Fun Pass– Coupon includes one free admission with the purchase of one full-price admission at the gate only.
Twinning Tuesday– Every Tuesday in June, July & August one twin free with 1 full priced twin admission ticket. At the gate only.
Edaville Promotions- Check the calendar for special ticket promotions including Military Appreciate Day, Teacher Appreciation Day, Grandparent Day ect.