Disclosure: I am part of the Timewyse Locket blogger program with Influence Central and I received special perks as part of my affiliation with this group. The opinions on this blog are my own.

I always pictured myself raising my children in or near my hometown, close to family. I grew up living close to both my mother's side of the family as well as my father's side, and during the holidays and birthdays, both sides of the family would come together. I never imagined meeting my husband while on summer vacation 10 hours away, and with his family living in the mid-west, and my family on the east coast I would never have the opportunity to be just a few miles from both of our families. While we lived close to my family for a few years, my husband took a job opportunity and we are now a few hours from my relatives, and 12-16 hours from my in-laws.
My mother took it hard when we moved as she was used to seeing my children weekly, now she only sees them every couple of months. We have been able to stay in touch through phone calls, but she's not always able to get on the computer to see pictures of the children. Thanks to The Locket Digital Frame, designed by NixPlay, she is now able to instantly view photos when I upload them to the Timewyse Life Locket app. The Timewyse Life Locket app, is like a modern day baby book that allows users to capture and share milestones; pictures, videos, audio recordings, and short stories. I have been using the app for the past few weeks to email recent photos to my mother, but having a digital frame to automatically upload the photos, is more convenient.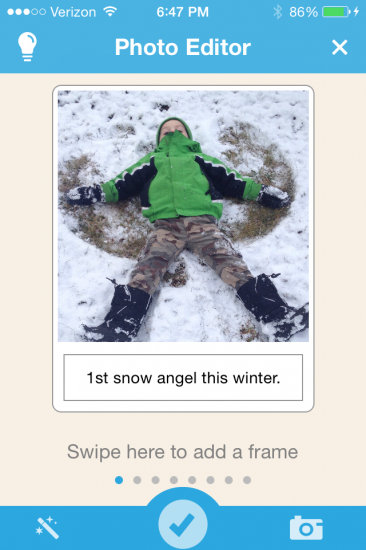 Timewyse Life Locket App
The Locket Digital Frame simplifies digital sharing with older generations, as they do not need to do anything to receive the photos, no logging into an account daily, or having to download an image. This past week while we were visiting my mother for Thanksgiving, I helped her to set up the digital frame. It is connected to the Wi-Fi in her house, so when I upload a photo on the Timewyse Life Locket app, it automatically uploads it to her digital frame, even though we're miles and miles apart. She doesn't have the hassle of checking her email for new photos, downloading and having to have them printed out in order to view them on her counter.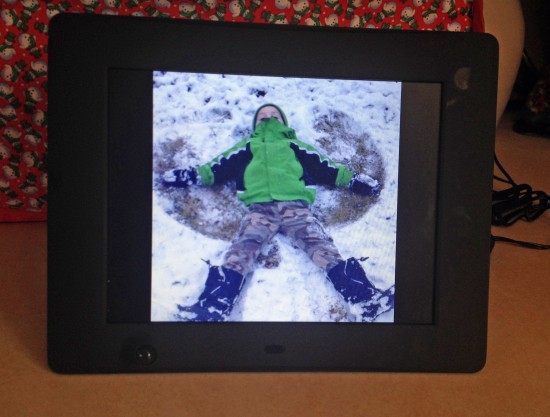 The Locket Digital Frame
The Locket Digital Frame:
Used with the free Timewyse Life Locket app
Connects via Wi-Fi
Sync up to 10 users on one account.
Stay connect with family and friends around the world.
Includes a motion sensor, turns on when you enter the room.
Photos available for instant viewing on the digital frame when uploaded on the app
The Timewyse Life Locket app is free and can be downloaded from iTunes. The Locket Frame can be purchased through the SHOP in the Timewyse Life Locket app, and is available in three different sizes: 8", 12" and 15". The retail prices for the digital frames range from $149.99-$280.99, but they are currently on sale from $109.99-$219.99.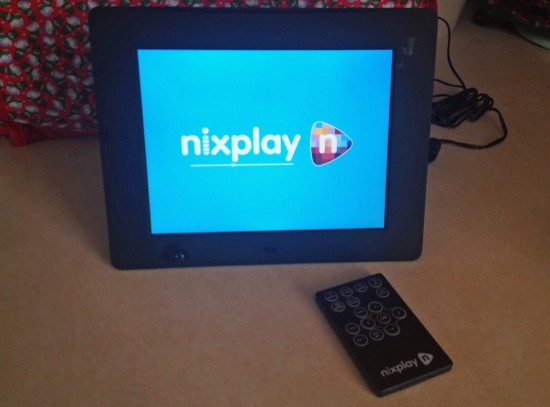 Give the gift of memories with the Nixplay Locket Digital Frame.
Do you live far away from family and friends? Would you be able to use a Nixplay Locket Digital Frame to help stay in touch?
Enter to win a Nixplay Locket Digital Frame!
One lucky reader to win a Nixplay Locket Digital Frame. To enter, simply fill out the form below. Open to U.S. only. No P.O. Boxes.
a Rafflecopter giveaway

Contest entrants are only eligible to win once per sweepstake, per household as part of a campaign sponsored by Influence Central. By entering this giveaway you agree to the Giveaway Rules. This giveaway will end on December 5, 2014 at 11:59pm EST. The winner will be chosen via Rafflecopter. The winner will have 24 hours to respond or a new winner will be selected. You must be 18 years or older. Open to continental 48 U.S. states only. No P.O. Boxes. Product & giveaway prize provided by sponsor. All opinions are my own personal and honest thoughts.