This is a Sponsored post written by me on behalf of Triad Retail Media. All opinions are 100% mine.
Do you have an iPhone, iPad or Android device and love dogs? Visit the Purina PetPark website and download the new Blippar app and have some fun with Hamlet an animated dog using the augmented reality app. Once you download the free app, visit the Purina PetPark website and focus your phone camera on the @Beggin' Strips package, you'll notice orange dots appear in the photo and once it is finished focusing Hamlet will magically appear.
Focus camera on the Beggin' Strips packaging. Hamlet will soon appear.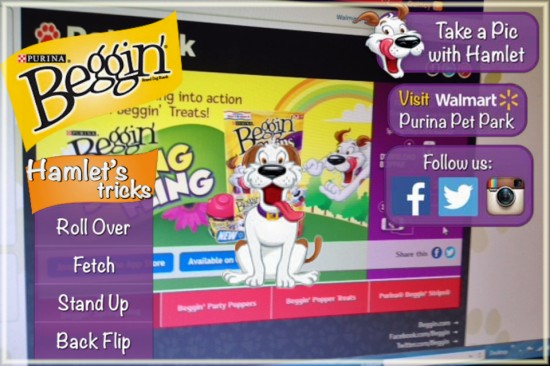 It didn't take long for word to spread that there was a cute dog on my iPhone wagging his tail around, both of the boys were anxious to check out the new app.
Take your picture with Hamlet:
Once Hamlet appears, click on the option to "Take a Pic with Hamlet." Move your phone around and take your picture with the friendly dog. J & T got a kick out of taking silly pictures with Hamlet, and pretending they were eating a Beggin'® Strip as well. If you are shopping in-store, there are also scalable displays that you can scan for fun pictures on-the-go.
Hamlet's Tricks:
Hamlet playing fetch.
Instruct Hamlet to do tricks including rolling over, fetching, standing up, and back flips. Once Hamlet finishes his trick you can toss him a Beggin'® Strip treat. Both of the boys had a fun time having Hamlet do tricks, they are determined to teach our dog to do a back flip now that Hamlet can do one. Kids will love talking their pictures and doing tricks with Hamlet.
Download the @Beggin Blippar app available on the App Store & on Google Play today and bring Hamlet to life.
Have you ever used an augmented reality app? Do you children enjoy talking talking pictures with their animated friends?