This post is part of a sponsored campaign with LeapFrog and MomSelect. All thoughts and opinions are my own.
Growing up I used to have a Mother Goose interactive stuffed animal that would read stories when you inserted a cassette tape in her back. I used to love sitting down and having Mother Goose read me a story as a child, especially around bedtime. Mother Goose is long gone, but some days I wish she was still around to read to my children. When I recently learned about the new LeapFrog Read with Me Scout it instantly reminded me of my childhood and of Mother Goose, I knew this interactive plus would be perfect for my preschooler, Tyler.
Tyler is quite familiar with Scout from LeapFrog, he has a couple DVDs with Scout that he loves to watch as well as a small stuffed animal that he sleeps with nightly. He was beyond excited when he I introduced him to LeapFrog Read with Me Scout.
LeapFrog Read with Me Scout:
Cuddly interactive plush
70+ different engagement and comprehension questions
5 board books
On/Off button
Ages 2-5 years
LeapFrog Read with Me Scout is an interactive plush dog that reads out loud, and responds to every pat and snuggle.LeapFrog  Scout comes with five different board books that are numbered 1-5, press the corresponding number on Scout's collar and he will read the story aloud. Throughout the story Scout will as questions to help build comprehension skills, and he'll also ask you to pat his head in order to turn a page. When it's time for relaxing or bedtime, switch the button into Sleepy Time Mode and listen to relaxing stories and eight minutes of lullabies. Ready for quiet time, turn the button to off.
"Pat my back to help me warm up."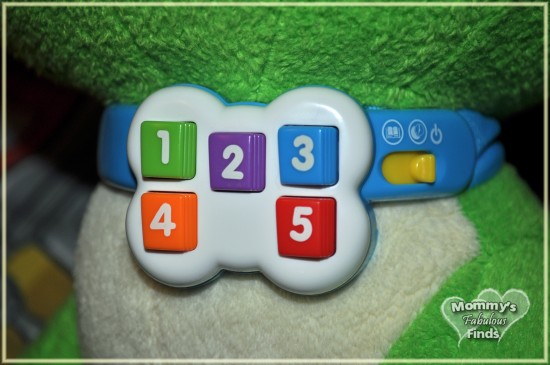 We've had Read With Me Scout for a couple weeks now, and he has become a favorite of not only Tyler, but Jacob also who is learning how to read in Kindergarten.  I love walking into their room and seeing them sitting on the floor reading a book and interacting with Scout. Read With Me allows us to bring the love of reading into our home,  while creating a fun atmosphere at the same time.
Buy Read With Me Scout:
Read with Me Scout is available at retailers nationwide for $34.99. In addition to Read With Me Scout, Read With Me Violet is also available. Scout is currently available on Amazon
for $25, while Violet is $21.29.